News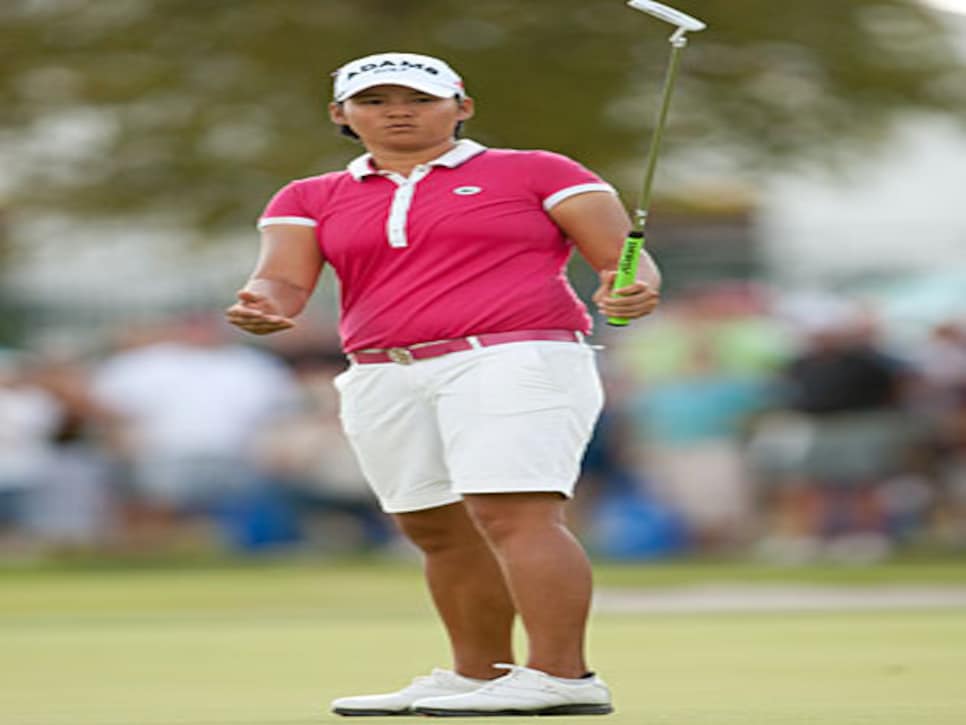 Tseng prevailed on the first playoff hole.
Those who thought it was a slow weekend in golf were right in one sense. The plague that is slow play was ubiquitous. More on that in a minute -- or five minutes, in golf time.
and reminding everyone that she has had the best year in golf and is now the game's most dominant player.
The victory was her fifth on the LPGA this year, but she also has won the Taifong Ladies Open on the LPGA of Taiwan, the ISPS Handa Women's Australian Open and the ANZ RACV Ladies Masters on the Ladies European Tour. Her eight wins in 2011 include two major championships, running her total of majors to five.
And she's only 22. Presumably the best is yet to come.
This, alas, is our modern game:
In the third round of the KLM Open on Saturday, India's Shiv Kapur was coming off a double-bogey and bogey and was taking an interminable amount of time lining up a birdie putt on the seventh hole. After a good 15 seconds of air silence as Kapur analyzed the putt from every conceivable angle, Golf Channel's understated anchor Renton Laidlaw apparently couldn't take it any longer.
"One of the biggest disadvantages of golf," Laidlaw said as Kapur continued to fiddle, "one of the reasons that people don't take it up readily, is it takes far too long to play a round. Today it seems to be taking forever."
Analyst Jay Townsend then chimed in.
"This seems like a pretty straight forward putt," he said. "There's not a lot of slope in this seventh green and it's taking Shiv forever to play. I understand he's coming off a little bit of a bad run and wants to make this one. Often times they say your first look is your best look."
Kapur finally hit his putt and missed it wide left by at least a foot.
"He certainly could have done that much quicker," Townsend said.
On Sunday, as Paula Creamer was surveying a long birdie putt on the 14th hole of the Walmart NW Arkansas Championship, Golf Channel's Kay Cockerill relayed this from Creamer, whose momentum from a front-nine 31 had become a victim of the languid pace:
"She came over to me and said, 'could it be any slower out here?'" Cockerill went on to note that the threesome that also included Sarah Brown and Morgan Pressel struggled with the pace of play. "[Brown] hit it OB on this hole," Cockerill said. "Morgan Pressel just chunked one in the water."
Fred Ridley, who as the Chairman of the Competition Committee at the Masters and a past president of the USGA ought to know better, was issued a slow-play warning in the U.S. Senior Amateur Championship.
Slow play and the weather. Everyone talks about them, but no one does anything about them.
on Sunday. Golf is not a team sport and the U.S. has more individuals (Patrick Cantlay, Peter Uihlein and Jordan Spieth, among them) likely to be factors in professional golf in the years ahead.
For a precedent, one needs only to look at the last Great Britain-Ireland team to have won the Walker Cup, in 2003: Gary Wolstenholme, Nigel Edwards (this year's GBI captain), Oliver Wilson, Michael Skelton, Graham Gordon, Stuart Wilson, David Inglis, Colm Moriarty, Noel Fox and Stuart Manley.
IF NICE WERE A STATISTIC...
Amy Yang apparently would be leading the LPGA in it. Yang, a 22-year old Korean, was on the losing end of a playoff with Tseng at the Walmart NW Championship.
"[Her] caddie Greg Johnston was talking to me on the range," Golf Channel's Jerry Foltz said. "I said, 'is she as nice as she appears?' He goes, 'she is the nicest person I ever caddied for' and he tagged it with, 'and I caddied for Lorena [Ochoa].'"
Ochoa, now retired and pregnant, was widely regarded among the nicest people in the game.
Two weeks away from the start of the Solheim Cup, nearly half the U.S. team missed the cut in the Walmart NW Arkansas Championship: Christina Kim, Vicky Hurst, Juli Inkster, Michelle Wie and Ryan O'Toole, the latter a controversial pick by U.S. captain Rosie Jones, who shot 73-81.
The good news? Four of its team members -- Cristie Kerr, Creamer, Stacy Lewis and Brittany Lincicome -- finished in the top 10.
A headline in a Daily Mirror story: "Tiger Woods will never win another Grand Slam says Nick Faldo."
Presumably the headline meant that he would not win another Grand Slam event. But is that what Faldo really said?
No, at least according to what was in the story. The writer, Neil McLeman, wrote that "the former Ryder Cup captain said the American cannot break Jack Nicklaus' record of 18 major titles."
"I do, personally, believe that," Faldo told McLeman. "I was one of the few guys that said it right after this all happened and he was trying to get back to the Masters last year."
The gist of McLeman's story was that Faldo, who has been divorced three times, was an authority on how broken relationships can affect one's performance on the course.
Brock Mackenzie, a Nationwide Tour player: "I wonder if Paris Hilton is mad at Kim Kardashian for being famous for doing nothing..."
Tiger Woods has moved precariously close to falling from the top 50 in the World Ranking. Woods, who began the year ranked No. 2, fell two more spots to 46th...Simon Dyson's victory in the KLM Open was his second win in his last six starts and moved him into the top 50 in the World Ranking at 28th (from 55th). He has now won the KLM Open three times in six years...Rory McIlroy has had consecutive third-place finishes since returning to competition after injuring his wrist in the PGA Championship.
PGA Tour: BMW Championship at Cog Hill Golf and Country Club, Lemont, Ill. Defending champion Dustin Johnson. LPGA: Navistar LPGA Classic at the Robert Trent Jones Golf Trail, The Senator Course, Prattville, Ala. Defending champion Katherine Hull. European Tour: Vivendi Seve Trophy at St. Nom La Breteche, Paris, France. Defending champion Great Britain-Ireland (2009).
The FedEx Cup playoffs resume after a one-week hiatus, but isn't the more interesting question than who will win the FedEx Cup is who will be the PGA Tour player of the year? The candidates include Luke Donald, Keegan Bradley, Webb Simpson and Charl Schwartzel.
Rory McIlroy's new girlfriend, top-seeded Caroline Wozniacki, lost to Serena Williams in a U.S. Open semifinal, 6-2, 6-4, on Saturday night.
Williams was to Wozniacki what the back nine at Augusta National was to McIlroy.