News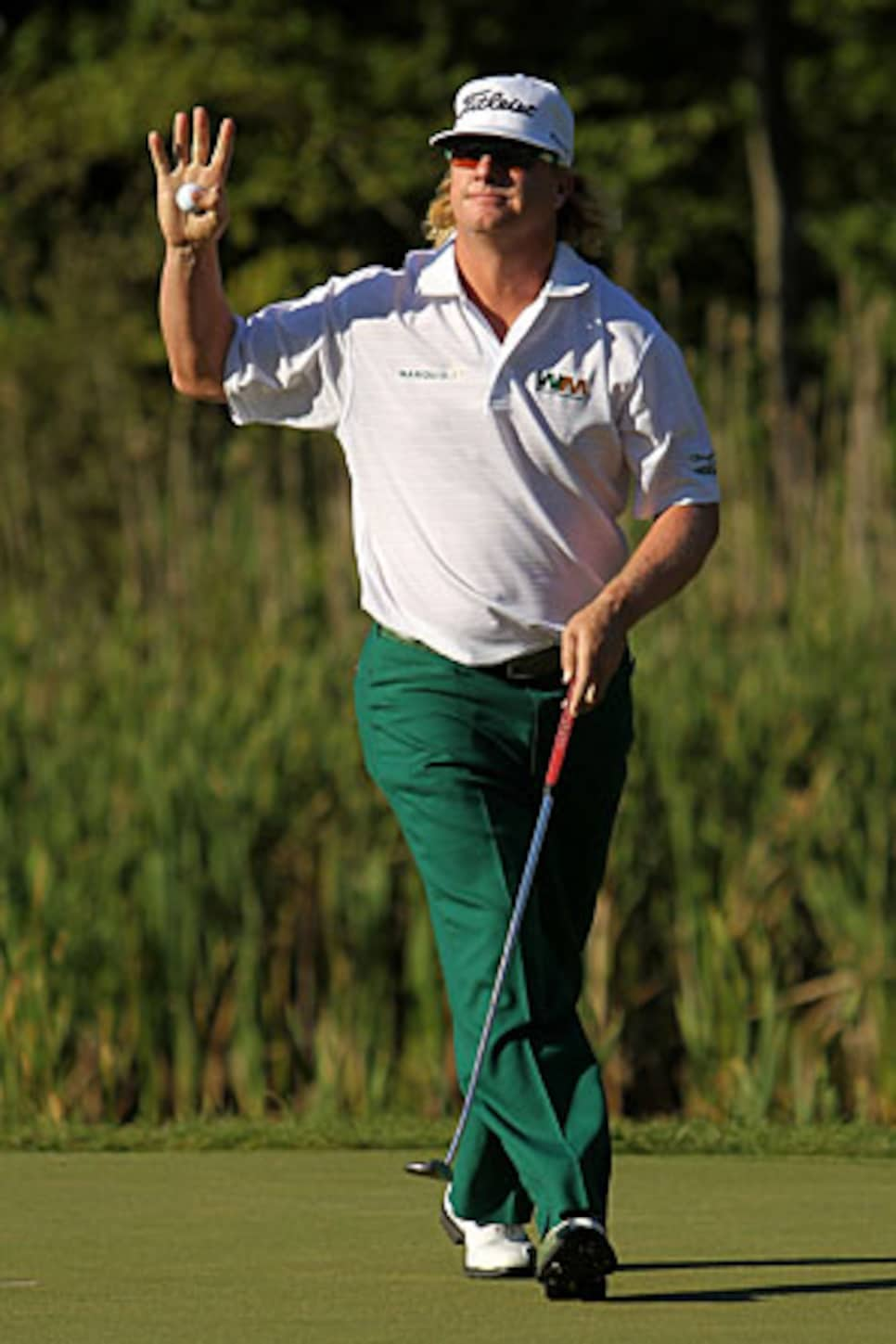 Hoffman made his case to make the U.S. Ryder Cup team with a closing 62 at TPC Boston.
Six months ago, for an obscure publication in San Diego, Charley Hoffman submitted to an interview during which the question of goals for 2010 came up.
"Win and make the Ryder Cup," he replied in the interview that appeared on HappyHourMagazine.com.
On Monday afternoon, a man who typically doesn't do anything halfway probably got it half right.
Hoffman won the Deutsche Bank Championship with a closing round of 62 at the TPC Boston, an impressive display of big-time golf against a quality field that in all likelihood has come too late in the proceedings to have an impact on U.S. Ryder Cup captain Corey Pavin's captain's picks. Pavin will announce those picks Tuesday morning.
It hasn't been a season worthy of Ryder Cup consideration for Hoffman, who entered the Deutsche Bank 88th on the money list. But in his last six starts, he has finished in the top 10 in three of them and represents a hot hand.
Pavin, however, already has enough to wrestle with without contemplating a latecomer as well.
Pavin will announce his four captain's picks at the New York Stock Exchange Tuesday morning and two of them are anyone's guess.
Woods is a lock. So is Zach Johnson, who has finished in the top 25 in 10 of the 22 tournaments he's played, winning one (the Colonial) and finishing third in the PGA Championship. He's the eighth American in the World Ranking (ranked 17th overall).
Beyond that, who knows? Anthony Kim might have been a given had he shown any form since his return from thumb surgery in August. He tied for 76th in his first start, then has missed four straight cuts.
Lucas Glover, who finished 10th in Ryder Cup points, has been wildly inconsistent (missed cut in the PGA Championship, seventh at the Wyndham Championship, missed cut at the Barclays and T-65 at the Deutsche Bank).
Stewart Cink is a possibility given his experience and recent form -- four straight top 20s. Ryan Palmer? He won the Sony Open in Hawaii, but had a miserable four-month stretch in the spring and early summer, missing the cut in 10 of 11 starts. He has regained his equilibrium in recent weeks (second at the WGC-Bridgestone Invitational, T-5 at the Barclays and T-11 at the Deutsche Bank.
J.B. Holmes might be the sleeper. He's finished in the top 25 in half of his 22 starts (including a T-11 at the Deutsche Bank), has made the cut in 20 and is remarkably consistent for a power hitter.
The unknown is where Rickie Fowler fits into Pavin's thinking. He's talented and exciting, but consistency hasn't been a strong suit yet.
THE (FUTILE) QUEST FOR NO. 1
Tiger Woods initially put the No. 1 World Ranking up for grabs in the spring, giving a trio of players (Phil Mickelson, Lee Westwood and Steve Stricker) a decent shot at supplanting him in the ensuing months. They're still chasing him.
If one of them doesn't wrest it from him soon, they may never get there. Imminently, it seems, Woods will restore order to his career.
No scorecard is necessary to conclude that this has been a dismal year by Woods' standards, but his scores can provide context.
His scoring average in 41 rounds is 71.097, or more than two strokes higher than it was in 62 rounds in 2009 (68.84). In 2000, at the height of his powers, it was 68.17. The highest it has been previously was 70.10 in 1998, when he had undergone a swing change.
That said, Woods' final three rounds at the Deutsche Bank, where he finished tied for 11th, were 65, 69 and 68 and he's trending in the correct direction.
14TH AT PEBBLE, SENIOR EDITION
The par-5 14th hole at Pebble Beach was widely panned during the U.S. Open, when it was ranked the toughest hole in both the second and third rounds and the third most difficult hole for the week, with a scoring average of 5.437.
The Champions Tour players did not find it much more agreeable in the Home Care & Hospice First Tee Open last week. It ranked the most difficult hole, with a scoring average of 5.385.
Golf's youth movement, teenage division, was in full flower on Sunday, beginning with Japan's Ryo Ishikawa, who won the Fujisankei Classic, his eighth victory on the Japan Golf Tour and second this year. Ishikawa is 18.
Italy's Matteo Manassero, 17, finished third in the Omega European Masters, while Seung-yul Noh, 19, finished fourth. Manassero earned European Tour membership
Players in their 20s, meanwhile, have won 12 PGA Tour events, as well as the PGA Championship (Martin Kaymer) and the British Open (Luis Oosthuizen).
Experience still counts, however. Miguel Angel Jimenez, 46, won the European Masters and became the eighth oldest ever to win on the European Tour. He's won three tournaments this year and 11 of his 18 victories have come since turning 40.
WHAT ABOUT LEADBETTER AND MCLEAN?
In a single interview with Robert Lusetich of Fox Sports, Sean Foley, the swing coach who has been working with Tiger Woods, took shots of varying degrees at Butch Harmon ("It [Woods' swing in 2000] was pretty looking. It just wasn't the most efficient way to swing"), Hank Haney ("Let's be honest about this, it's not like [Woods] was flushing it with Hank") and Andy Plummer and Mike Bennett of Stack and Tilt fame ("If it's such a great system, then why are people coming for a 'watered-down version' from me?"
Those he missed, David Leadbetter and Jim McLean among them, must feel slighted.
That's how tour players refer to a disqualification, a DQ, and they continue to occur for the oddest reasons.
Chad Campbell was the latest victim of these self-inflicted wounds. Campbell was DQ'd for failing to register prior to the Deutsche Bank Championship.
He joins recent victims Jim Furyk, DQ'd for arriving late for his pro-am tee time, and Juli Inkster, DQ'd for using a weighted device on her driver to keep loose during a 10th-hole backup.
Then there was Dustin Johnson, who wasn't DQ'd, but was penalized for grounding his club in a bunker that he failed to identify as such.
The rule book is winning.
Woods has played six straight tournaments on the PGA Tour without finishing in the top 10, a first in his career. In 2001, he went five straight out of the top 10, then won the WGC-NEC Invitational.
Woods' last top 10 was at the U.S. Open, where he tied for fourth.
Edoardo Molinari followed up his victory in the Johnnie Walker Championship at Gleneagles with a second-place finish at the Omega European Masters. In his last seven starts, Molinari has two victories, a second and a third, which explains why European Ryder Cup captain Colin Montgomerie made him a captain's pick...Laura Davis won the UNIQA Ladies Golf Open, her third victory on the Ladies European Tour this year and her 75th career victory. We ask again: Why isn't she in the World Golf Hall of Fame?...Hall of Fame quarterback John Elway tied or 52nd in the Colorado Senior Open. Elway shot 72, 76 and 81. The winner was former PGA Tour player Perry Arthur.
From Joe Ogilvie: "USGA to limit height, weight and strength of golfers, write the rules in Latin, should make golf more difficult, scores of golfers to quit."
"Yes a joke and yes reading way to [sic] much of The Onion, sadly though I fear it has been contemplated in Far Hills, NJ."
PGA Tour: BMW Championship at Cog Hill Golf and Country Club in Lamont, Ill. Defending champion Tiger Woods. Champions Tour: Posco E&C Songdo Championship at the Jack Nicklaus Golf Club Korea in Songdo, Korea. New event. LPGA: P&G NW Arkansas Championship at Pinnacle Country Club in Rogers, Ark. Defending champion Jiyai Shin.
-- Tiger Woods is still searching for a complete game as he returns to another course on which he's dominated. Woods has won five times at Cog Hill, twice in the BMW Championship and three times in the Western Open.
-- The Champions Tour begins its bid to cash in on Asia's expanding interest in golf when it plays its first event there.
"If you're not tired of being [ranked] 50th [among states], there's something wrong with you. If we're not careful, we're going to wake up one day down the road and find that we're still 50th, or 49th, or whatever, at the bottom of the list. It's time to get us in the game. That's all I'm trying to do." -- Greenbrier owner Jim Justice after the West Virginia State Legislature declined his request for $1 million in funding for the Greenbrier Classic.
It's hard to muster enthusiasm for the FedEx Cup with a tournament at stake.
Unless it's Tiger Woods on the FedEx Cup bubble, does anyone particularly care (other than the individuals involved, of course) what's transpiring around 70th place in the FedEx Cup standings, the cutoff point for advancing to the BMW Championship?
At the end of a career, the only numbers that will count are victories and majors. NBC's incessant FedEx Cup chatter notwithstanding, it's still about the tournaments.