News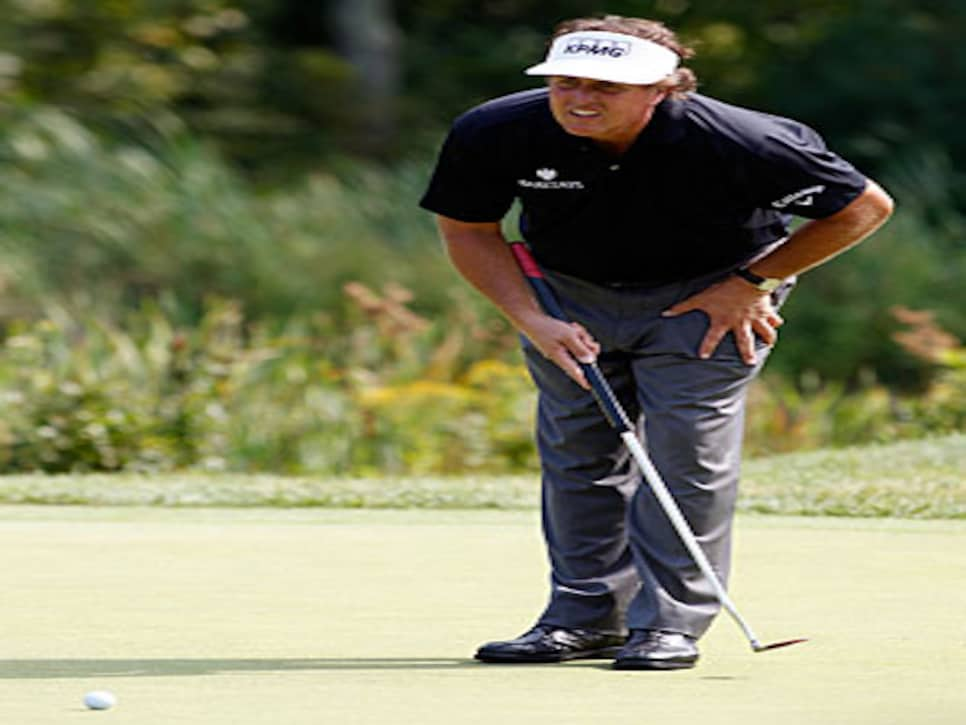 Mickelson had mixed, but encouraging results in his first go-round with a long putter.
Phil Mickelson has always been susceptible to gale-force whims, the 6-iron from the pine straw behind a tree on 13 at Augusta National the most prominent among them.
The latest evidence came at the Deutsche Bank Championship last week, when he turned to a belly putter, unbeknownst even to his putting guru, Dave Stockton.
"I was surprised," Stockton said from his Southern California home. "Ralph Cross, my agent, texted me that he's using a long putter and I was out in the field hunting doves."
An avid hunter for whom the dove opener in California is sacrosanct, Stockton might have been incommunicado even had his prize pupil sought an emergency consultation. But had he been available and learned from Mickelson himself he would have been no less surprised.
"It is surprising that a really good putter would switch to it," Stockton said. "When we first saw them [belly and long putters], they were for people with yips and couldn't putt. Now, good putters, great putters are going to them.
"I would be surprised if he went to it full time, but he likes to be ahead of the curve and obviously this is where the curve is going."
Mickelson, who tied for 10th in the Deutsche Bank, said he would work with it more, particularly from the 10 to 25-foot range. "If I can get effective with that, I think I'll try to stay with it," he said on Monday.
Stockton, meanwhile, had not yet seen footage of Mickelson's stroke with the belly putter. "He has such good hands. Obviously you're eliminating some of that [with the belly putter]," he said.
"It's a totally different look. Again, it's preparation and what you're thinking and what you're looking at, more than the physical stroke. I'm more into picturing and seeing what the ball's doing and how it's rolling."
Stockton has no experience with a belly or long putter and is disinclined to judge one's effectiveness other than to note its obvious benefit to certain players.
"Bruce Lietzke was not a good putter, but when he went to a long putter it resurrected his career," Stockton said. "It's an advantage to certain people. I don't understand how you can anchor an arm on your body and they've made it legal. But I'll go out and try it if I'm going to be teaching it. I think it's all well and good as long as the USGA allows it."
ANOTHER 'W' FOR THE BELLY PUTTER
Webb Simpson has officially arrived as a force in golf, winning for the second time in the last three weeks and running his earnings for the year past $5 million. Simpson uses a belly putter that worked quite effectively in the clutch on Monday.
Simpson holed a 27-foot birdie putt on the 72nd hole that put him in a playoff with Chez Reavie, then holed consecutive birdie putts on the two playoff holes to win.
He had help, however. Reavie came to the 72nd hole needing only a par to win and flew the green with his approach from 117 yards.
"I hate to say it, but that was a flat pressure meltdown," NBC's Johnny Miller said. "That was really a bad shot right there."
Earlier, Reavie's instructor, Peter Kostis, had posted this on Twitter: "Tell you one thing about Chez. He might or might not win... but he won't spit the bit."
Reavie was unable to save par, sending him to a playoff that he lost on the second hole.
Belly putters have been creeping into the mainstream for awhile, but victories by young players, Keegan Bradley, 25, in the HP Byron Nelson Championship and the PGA Championship and Simpson, 26, in the Wyndham Championship (and now the Deutsche Bank) have escalated their use.
Have they made them great putters? Bradley was 101st in total putting prior to the Deutsche Bank Championship. At the distances at which an anchored putter is supposed to provide the greatest advantage, he was 50th inside five feet and 144th from five to 10 feet.
Simpson was 41st in total putting and 76th inside five feet and 67th inside five to 10 feet.
Meanwhile, Adam Scott, a convert to the long putter, ranked 122nd in total putting, 181st inside five feet and 22nd from five to 10 feet.
Scott's re-emergence as a world-class player has largely been attributed to the long putter. In fact his comeback was in full flower while he was still using the short putter. He won the Australian Open late in 2009, then won the Valero Texas Open in 2010 using a short putter. In the latter tournament, he made 52 straight putts inside five feet, his only miss coming when he had a cushion on the 72nd hole.
Conclusion: Belly or long putters might have made them better putters, but they haven't made them great putters.
Was anyone else indifferent to NBC's frequent update of those players on the FedEx Cup bubble for advancing to the next round?
Darren Clarke, perhaps. He tipped his hand in response to this Twitter post from Associated Press golf writer Doug Ferguson: "[Geoff] Ogilvy makes his par. Wow. Goes to 18 needing birdie to get to Chicago."
Replied Clarke on Twitter: "Your [sic] trying hard to make it sound exciting Doug!"
THE SWISS ALPS VS. BOSTON
Not that there's anything wrong with Boston, but Lee Westwood apparently prefers the Swiss Alps, site of last week's Omega European Masters.
"I looked out my window this morning and I thought I'm in the right place," he said. Westwood was responding to a question as to whether he might have preferred being in Boston and playing in the Deutsche Bank Championship rather than the European Masters.
"There is no more beautiful place. I tweeted the view and put the picture on Twitter. It's spectacular, wherever you look. That's why I'm just happy playing here in Europe. I've got the option (of PGA Tour membership). If I wanted to be in Boston, I would be in Boston, but I don't as I want to be here."
Adam Scott, incidentally, was in Boston, but he likely would concur with much of what Westwood said. Scott owns a home in Crans-Sur-Sierre, site of the European Masters.
Angie Watson, Bubba's wife: "7 years ago today, I married @bubbawatson, my best friend! Never thought life could be so wonderful."
Bubba Watson's response: "Ur welcome"
"I wish he'd win a hundred tournaments so the young kids would copy his fast play instead of the opposite." NBC's Johnny Miller on Brandt Snedeker.
-- Thomas Bjorn's 62 in the final round of the European Masters. He won by four, his second straight victory on the European Tour.
-- Nick Dougherty's 63 in the first round of the European Masters. It was the impetus behind his making the cut for the first time in 2011. Dougherty had missed the cut in each of the 20 previous events, a year in which he had had more rounds in the 80s than the 60s (five to four). Dating to the end of the 2010 season, he missed 21 straight cuts. The 63 was an aberration, however. Dougherty followed with rounds of 72, 72, and 73 and tied for 45th.
This courtesy of Johnny Miller: Dustin Johnson led the field at the Deutsche Bank Championship in both driving distance and accuracy, a first since the PGA Tour began keeping on-course stats in 1983. Johnson averaged 344 yards on the holes in which drives were measured, and hit 79 percentage of the fairways.
It did not pay off for him, however. Johnson tied for 42nd.
Rory McIlroy finished third in the European Masters in his first start since injuring his wrist at the PGA Championship...New Zealand's heralded Danny Lee, 21, has finally moved to the threshold of the PGA Tour. He ranks 11th on the Nationwide Tour money list following his sixth top 10 of the season (T-8 at the Mylan Classic). In 2008, Lee became the youngest winner in the history of the U.S. Amateur (18 years, one month). The following February, he won the Johnnie Walker Classic to become just the second amateur to win on the European Tour, as well as the youngest winner in its history. In 2009, he turned pro after the Masters and failed in his bid to play his way onto the PGA Tour.
PGA TOUR: Idle. LPGA: Walmart NW Arkansas Championship at Pinnacle Country Club, Rogers, Ark. Defending champion Yani Tseng. USGA: The Walker Cup at Royal Aberdeen Golf Club, Aberdeen, Scotland. Defending champion U.S. European Tour: KLM Open at Hilversumsche Golf Club in Hilversumsche, the Netherlands. Defending champion Martin Kaymer.
-- The FedEx Cup playoffs take a week off before concluding with the BMW Championship at Cog Hill in Lemond, Ill., and the Tour Championship at East Lake Country Club in Atlanta.
-- The reigning U.S. Amateur champion Kelly Kraft and the man he defeated, Patrick Cantlay, head a U.S. team seeking its fourth straight victory in the Walker Cup.
-- The KLM Open features a strong field for a European Tour event in September. Among the entrants: Kaymer, Westwood, Rory McIlroy and Louis Oosthuizen.
-- Two-time U.S. Women's Amateur champion Danielle Kang will make her professional debut in the Walmart NW Arkansas Championship.
Tiger Woods' decision to play in the Frys.com Open in the shadow of Silicon Valley in October was a good one for him, but a better one for the tournament.
Last year, the Frys.com Open, sans Woods, was competing for Bay Area attention with a 49ers-Raiders game, a Boise State at San Jose State game, the NHL San Jose Sharks' home opener and the Giants playing the first two games of the National League Championship Series. Golf had no chance.
It still has competition this year: The 49ers are hosting Tampa Bay, Stanford is hosting Colorado and the Sharks are playing their season opener. But this time it has a chance in a crowded sports marketplace. It has Tiger Woods.