News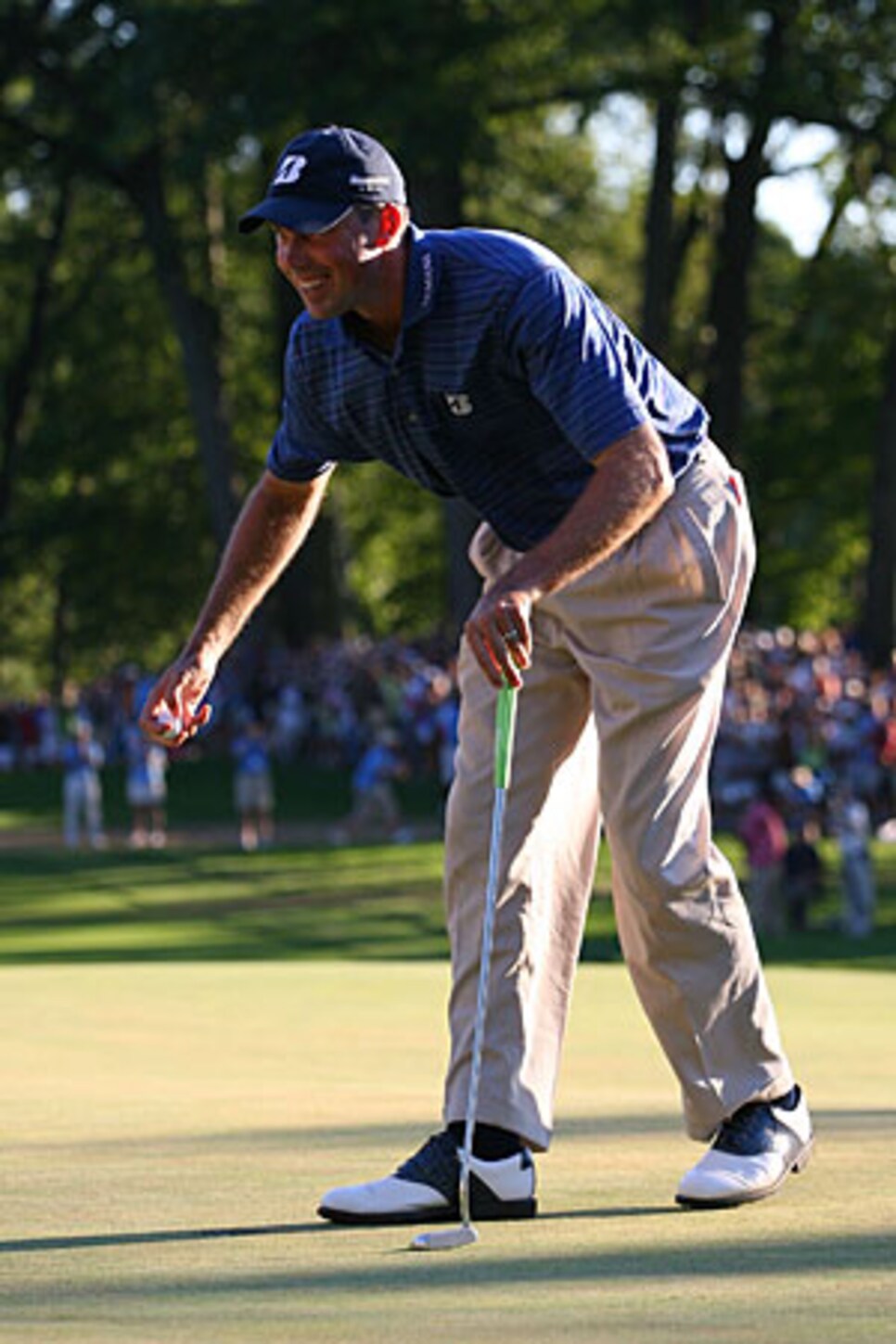 Kuchar has had plenty to smile about this summer.
Matt Kuchar's smile always seemed to have been permanently affixed, which didn't always jibe with a game so adept at inflicting pain. But these days? Why wouldn't he smile?
He never seems to play a bad round. His victory in the Barclays on Sunday was his PGA Tour-leading 10th top 10 of the season and it continued a three-month streak of the most consistently strong golf played by anyone in the world.
It began with a T-8 at the Memorial. His results since: T-6 (U.S. Open), T-27 (British Open), T-4 (RBC Canadian Open), T-21 (Greenbrier Classic), T-9 (WGC-Bridgestone Invitational), T-10 (PGA Championship) and first.
More to the point, his smile is infectious. See a beaming Corey Pavin. Kuchar's victory elevated him to No. 10 in the World Ranking, giving the U.S. Ryder Cup captain four of the top 10-ranked players in the world on his team (Phil Mickelson, Steve Stricker, Jim Furyk and Kuchar) and probably a fifth (Tiger Woods) when he announces his captain's picks next week.
On a day in which Pavin's European counterpart, Colin Montgomerie, spoke of an "embarrassment of riches" at his disposal, Kuchar gave Pavin a reason to smile, too.
Montgomerie has spent the better part of two years incessantly talking Ryder Cup to the point that when he performed the one truly important task of a captain, announcing his captain's picks, it was certain to be anticlimactic.
It refreshingly was not, however, in no small measure the result of Edoardo Molinari's victory in the Johnnie Walker Championship at Gleneagles on Sunday. Also contributing was the controversy surrounding the decisions of a foursome of candidates not yet qualified on points -- Luke Donald, Padraig Harrington, Justin Rose and Paul Casey -- to remain in the States to play the Barclays in lieu of returning to Europe for the Johnnie Walker.
Montgomerie's choices seem above reproach -- Harrington for his experience; Molinari for his hot hand (two victories in his last six starts, including a come-from-behind win on Sunday), and Donald, for his consistency and past Ryder Cup performance.
But can the system for determining the team be said to be above reproach as well when the eighth-ranked player in the world, Casey, is omitted?
Of course, it speaks to the depth that Europe has, as does the fact that a Scot who wasn't on the Ryder Cup radar nearly won the Barclays, against a stellar field. Only a three-putt bogey on the 72nd hole prevented Martin Laird from winning the Barclays.
NANTZ' ERROR: ON THE SIDE OF CAUTION
It was commendable, though entirely unnecessary in this case, that CBS' Jim Nantz avoided a mention of Titleist on Sunday's telecast of the Barclays when he announced that Peter Uihlein had won the U.S. Amateur. He noted that Peter is the son of Wally Uihlein, without adding that Wally is the chairman and CEO of the Acushnet Company, for which Titleist is the leading brand. Nantz does voice-overs on Titleist commercials.
It can cause one to wince on those occasions when broadcasters sneak in a mention of a company they represent, but this time it was warranted given the fact that when the son of one of the more powerful men in golf wins the U.S. Amateur, the father's identity is part of the story.
It's likely, too, that a large segment of the audience might not have known who Wally Uihlein is and were wondering why he warranted a mention by Nantz.
An interesting aside to Peter Uihlein's victory, this provided by Nantz, was that CBS' Peter Kostis gave Uihlein his first golf lesson.
Course architect Robert Trent Jones II understandably was elated with how the course that will come to define his long and illustrious career, one he defined as his "Beethoven's Ninth," performed in the U.S. Amateur last week, a dress rehearsal of sorts for the U.S. Open scheduled to be played there in 2015.
"It played beyond our expectations," Jones said of Chambers Bay on the shore of Puget Sound south of Tacoma, Wash., on Friday. "And I had high expectations. I had a long meeting with the USGA officials and it performed beyond their expectations and they had high expectations.
"The highly creative and imaginative players, they love it. The ones who aren't, they're not here any more. The players' responses were interesting. The ones still in there, like [Scott] Langley, [Byeong-Hun] Ahn and Uihlein, they all love it. They came up to me and thanked me for it."
It is experiencing growing pains, of course. The heavily-contoured greens played too hard and fast early in the week. "The course was super baked out," Jones said. "They had a heat wave [the week before]. In addition, they had a high wind on Monday afternoon and it sucked it dry. So they irrigated heavily. The greens shouldn't be any higher than 11.5 [on the Stimp Meter] because of the contours. But it got them up to around 13."
Moving the crowds around was another issue, particularly given the treachery of navigating dunes with wispy fescue growing in them. One woman reportedly slipped and fractured her elbow. "It's a real concern," course superintendent David Wienecke told the Tacoma News-Tribune.
Chambers Bay will have its critics (some of them bemoaning its faux links), but it is among the most interesting new courses in the U.S. in recent years and is in a spectacular setting that Jones likened to "walking into Monet's Garden."
The Molinaris, Edoardo and Francesco, are the first brothers to have become Ryder Cup teammates, which in and of itself places them among the top brother combinations in golf history, though they don't yet crack the top five, noted here:
Arjun Atwal's victory in the Wyndham Championship did not garner much media attention, this reporter among the guilty, as a reader who identifies himself as "Cabrera Fan" noted last week in the comments to this column. "Hey writers," he or she wrote, "did your carrier pigeons forget to tell you about Arjun Atwal's win at Wyndham?"
Among the criticisms of golf is that it largely consists of colorless clones. Atwal is anything but. The first Indian-born player to win on the PGA Tour, Atwal, in the wake of his breakthrough victory, was asked by the Calcutta Telegraph to name his idols and to comment on them. They were Jack Nicklaus and Greg Norman, but there was also Mother Teresa, about whom Atwal said:
"She didn't lead her life for herself, but for others ... Frankly, I can't think of a more amazing individual .. She hasn't got sainthood, but in my eyes, she's a saint ...To come to Calcutta at such a young age and make it her home ...Then to make a difference in the lives of so many ... Only a saint could do all that. I don't know how many would put themselves in her position."
He regrets "not having met Mother," he added. "I've been to the Missionaries of Charity, though, and I've been making an annual donation ... It's something very personal and, obviously, Mother has had a big influence."
A wild guess, but this surely is the first time Missionaries of Charity and golf have ever been mentioned together.
ANOTHER WIE STEP TOWARD STARDOM
Michelle Wie's legend still is constructed largely with hype, but at least she occasionally provides evidence that the hype might have been warranted. Her performance at the CN Canadian Open was one of those occasions, a wire-to-wire victory that began with a round of 65 (including a hole-in-one) and ended with a three-shot victory, her second in her two full seasons as an LPGA member.
Inconsistency is the obstacle between her and the stardom expected of her. It was only her fourth top 10 in 15 starts, which ranks her 13th on the LPGA. By way of comparison, Jiyai Shin has 10 top 10s in 13 starts.
In the first round of medal play in the U.S. Amateur, 21 penalty strokes were assessed for slow play. Those assessed weren't happy, but those who lament the often languid pace of play in elite golf (or golf in general) have cause to celebrate.
Hopefully it was a warning shot across the bow of the game's elite. Pick up the pace.
Christina Kim seems determined to call out, one by one, every player guilty of slow play. Last week, she added Sandra Gal to her list, in response to a Twitter follower who noted he would "really love to see this foursome playing," identifying Suzann Pettersen, Kim, Michelle Wie and Gal.
Kim's response: "I wouldn't mind the first two, but Gal is the slowest player on tour. Never will that happen"
Earlier this year, via Twitter, she targeted Sakura Yokomine ("slower than trying to bake a pie with a lighter") and Tamie Durden ("slower than evolution") for their pace of play.
I can't vouch for whether any or all of them belong in the plodders' Hall of Shame, but I'm all for identifying the guilty.
Miguel Angel Jimenez elected to forgo his nephew's wedding in an effort to seal his berth on the European Ryder Cup team, which he did with his T-3 at the Johnnie Walker Championship at Gleneagles...Bernhard Langer completed a sweep of the Washington State Champions Tour events. Earlier this month, he won the U.S. Senior Open at Sahalee. On Sunday, he won the Boeing Classic...Fred Couples, a Seattle native, was the also-ran champion. He finished second in the Senior Open and third in the Boeing...Alexis Thompson, 15, missed the cut in the CN Canadian Open, her first start since tying for second in the Evian Masters.
PGA Tour: Deutsche Bank Championship at TPC Boston in Norton, Mass. Defending champion Steve Stricker.
The Deutsche Bank Championship is the second event in the FedEx Cup playoffs, but it also is the last event for those not on the U.S. Ryder Cup team to make an impression on captain Corey Pavin. A day after the tournament (it ends on Labor Day), Pavin will announce his four captain's picks.
Does anyone else get the sense that Tiger Woods is homing in on victory?
A single wild swing, on the first hole on Saturday, derailed his bid at the Barclays. It led to a triple bogey. Had he parred the hole, he'd have finished T-2. Instead, he tied for 12th, earning him a start in the Deutsche Bank Championship this week.
The notion that Woods' days as a dominant player are behind him, advanced on several media fronts, will likely have been shown to be misguided at best, wishful thinking at worst, in the weeks ahead.