News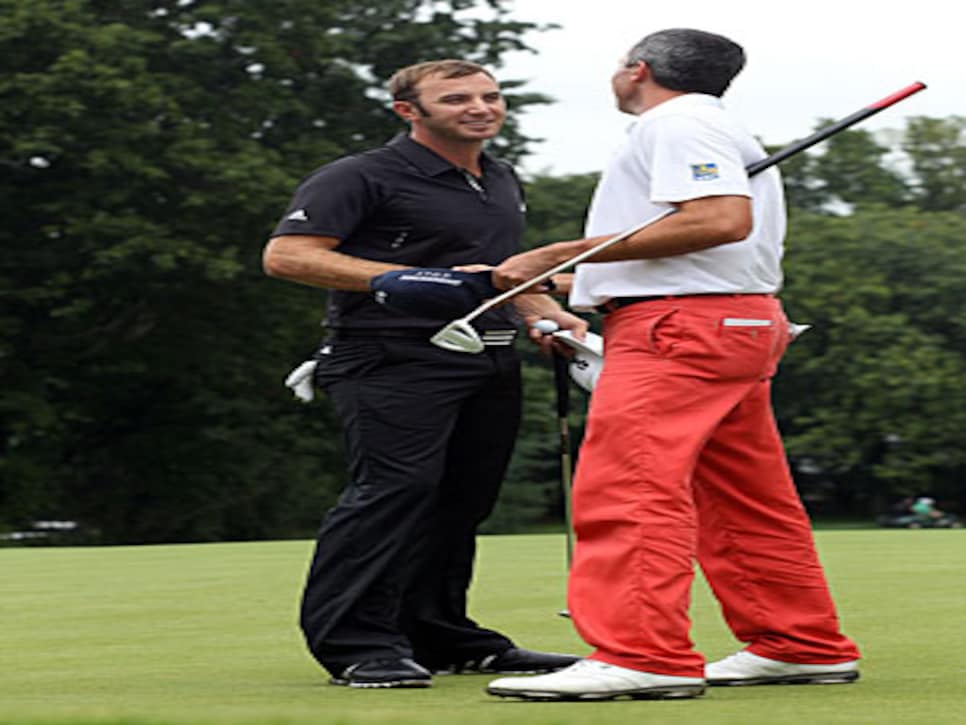 Dustin Johnson held off Matt Kuchar for his first win of the season.
Playoff fever is not contagious, for those who were wondering. No immunization is necessary. It's harder to catch than Tiger with a Sunday lead -- as best as we can remember, at any rate.
The Barclays produced an eventful (though premature) ending last week, two of the PGA Tour's best, Dustin Johnson and Matt Kuchar, dueling in a finish moved to Saturday in advance of Hurricane Irene. Johnson prevailed with a final-round 65 that included a front nine of 29.
Playoff drama, meanwhile, was conspicuous by its absence. In other sports, it is derived from the do-or-die nature of the game or series. Johnson and Kuchar were advancing to the next round, regardless how they fared last week, and those who failed to advance rated indifference.
Therein lies the rub for the FedEx Cup. The sum of the parts is considerably less entertaining than the parts themselves.
The winners of last week's tour events, Dustin Johnson (aka DJ) at the Barclays and Brittany Lincicome (aka Bam Bam) at the CN Canadian Open, have a lot in common beyond their victory totals that have now reached five.
Both are young (Johnson is 27, Lincicome 25) and among the longest hitters on their tours, and their potential remains greater than their productivity, notwithstanding their success.
Only consistency eludes them. Johnson has finished in the top 10 in only six of 18 starts, Lincicome in four of 15 starts (two of them victories).
The late great baseball manager Casey Stengel spoke a language all his own. It was known as Stengelese and often veered into the nonsensical ("Good pitching will always stop good hitting and vice-versa").
Stengelese came to mind last week when U.S. Presidents Cup captain Fred Couples attempted to explain his rationalization for adding Tiger Woods to the U.S. team ahead of the deadline for making his captain's picks.
"The question came up, and there's no reason for me to wait until Sept. 26th to pick Tiger," Couples said. "He's the best player in the world forever."
One might construe that Couples, who has his own meandering speech style, was attempting to say that Woods was the best player in history. In fact (we think), he was attempting to say that Woods was the best player in golf for an extended period of time. It's true, but also irrelevant to the Presidents Cup discussion.
"Is he playing well right now?" Couples asked. "No. He almost won Augusta three, four months ago, so you don't do that by playing poor golf."
This would make some sense only if the inverse were true, that he was playing poorly three, four months ago, but that now he's playing considerably better. As it stood, it was incoherent.
All Couples had to say was that others might be more deserving, but the object is to win and that Woods gives the U.S. the best chance to do so, meanwhile citing Tiger's 5-0 record on the last U.S. Presidents Cup team that Couples captained, in 2009 (and perhaps adding his 3-1 record in the Ryder Cup last year).
It wouldn't end the debate, but it would clear up the confusion. In the meantime, as Casey might have said, it's a good pick, unless it isn't.
Kelly Kraft's upset victory over Patrick Cantlay in the U.S Amateur Championship on Sunday has its rewards, of course, but it also creates a dilemma. Should he forgo turning professional in the fall to reap the rewards?
His victory in the Amateur has earned him invitations to the Masters, the U.S. Open and the British Open, so long as he remains an amateur. His eligibility at SMU having expired, he had initially intended to turn pro in the fall. His thoughts now?
"I haven't thought about that yet," he said Sunday after his 2-up victory over Cantlay, No. 1 in the World Amateur Golf Ranking. "I mean I definitely want to play in the Masters. So I don't know. That's something I'm going to have to think about. I'll start thinking about that after the Walker Cup."
Kraft might want to consider the precedent of another SMU golfer who faced a similar decision in 2007. Colt Knost won both the U.S. Amateur Public Links and the U.S. Amateur in the summer of '07, but stuck to his decision to turn pro that fall.
"Foregoing my invitations to [the major championships] was a very hard decision," Knost said in September of '07. "But I feel like now is the time to begin my professional career. I hope to play in many of their championships in the years to come."
So how many major championships has Knost played? None. And with only $256,467 in earnings on the PGA Tour this year, he's likely facing a return to PGA Tour Qualifying in the fall.
The decision for Cantlay is easier than it will be for Kraft. Cantlay will only be a sophomore at UCLA and has steadfastly insisted he was returning to school. Given that the finalists in the U.S. Amateur both are invited to play in the Masters (provided they retain their amateur standing), Cantlay will be playing in Augusta in April.
However, the temptation to pursue professional golf must have been overwhelmingly tempting. Cantlay played four PGA Tour events this summer and finished in the top 25 in all of them, including a T-21 in the U.S. Open. He also shot a 60 in the Travelers Championship and finished T-9 in the RBC Canadian Open.
Kirk Triplett, recognizable more for his bucket hats than his not inconsequential PGA Tour career (three victories, $14 million in earnings), became the oldest winner in Nationwide Tour history on Sunday, winning the News Sentinel Open by two strokes.
Triplett, 49, is attempting to stay competitive in anticipation of playing the Champions Tour next year. He turns 50 in March.
For the better part of two decades, Dee Darden was among the more popular denizens on the LPGA, a caddie and photographer, whose photographic work appeared in Golf World, among other publications. He was best known as Nancy Lopez' caddie during the height of her career. He also was her friend.
Darden passed away last week. He was 82. He last caddied at the Nippon Travel MBS Classic in Buena Park, Calif., in 1989. On the night before the final round, Lopez threw a surprise retirement party for him at which she tearfully read a poem she had written about him. It ended this way:
"It saddens me so to see you depart. But, Dee, I'll always hold you close to my heart.
"I'll always remember that friendly smile, you made the word 'caddie' stand for style."
Last week, the words were more poignant than ever.
Paul Azinger: "Facts: Potus has played more golf this month than I have: I have created more jobs this month than he has"
Bubba Watson: "When someone says they are going over Yonder, I have never been able to find Yonder on a map. Where is that?"
"I think it'll eventually lead to the nostril putter and you'll have to work out whether you're left or right-nostril dominant." David Feherty on the Golf Channel, in a discussion of Jim Furyk's belly putter and Vijay Singh's long putter.
Camilo Villegas seems to have found his form in time for the FedEx Cup dash for cash. Villegas had his second straight top 10, this a T-6 in the Barclays...Vijay Singh has had consecutive top 10s for the first time since winning the Barclays and the Deutsche Bank Championship back to back in 2008, his last PGA Tour victories...Ryan O'Toole tied for last in a field of 155 at the CN Canadian Women's Open in the wake of her selection to the U.S. Solheim Cup team. O'Toole shot 75-79, 10 over par. Vicky Hurst, captain Rosie Jones' other selection, tied for 70th.
PGA TOUR: Deutsche Bank Championship at TPC Boston, Norton, Mass. Defending champion Charley Hoffman.
-- A year ago, Hoffman shot 62 in the final round to win by five. Can he repeat? He has had an indifferent year, the highlight a T-2 at the Valero Texas Open, but he tied for 10th in the Barclays. That said, Luke Donald and Jason Day, each of whom have had strong seasons, each tied for second at the Deutsche Bank last year, while Adam Scott, nearing the end of his own productive season, tied for fifth. Then there's Brandt Snedeker, who also tied for fifth a year ago and is coming off a closing 61 at the Barclays.
Television is a dictatorial enterprise on the sports front, dictating when games (and tournaments) start and when we can watch them. What it can't dictate is the weather.
So it was that neither telecast of the final round of the Barclays on Saturday or the LPGA's CN Canadian Open on Sunday was aired live. In both cases, tee times were moved up in anticipation of inclement weather.
The broadcasts of each were not similarly adjusted, given that networks are generally tied to a schedule.
The Internet, meanwhile, waits for no one, and already knowing how a tournament has played out -- shot by shot on PGATour.com -- and hole by hole on LPGA.com -- kills the incentive to watch all but the final hole or two when the broadcasts finally do air.