News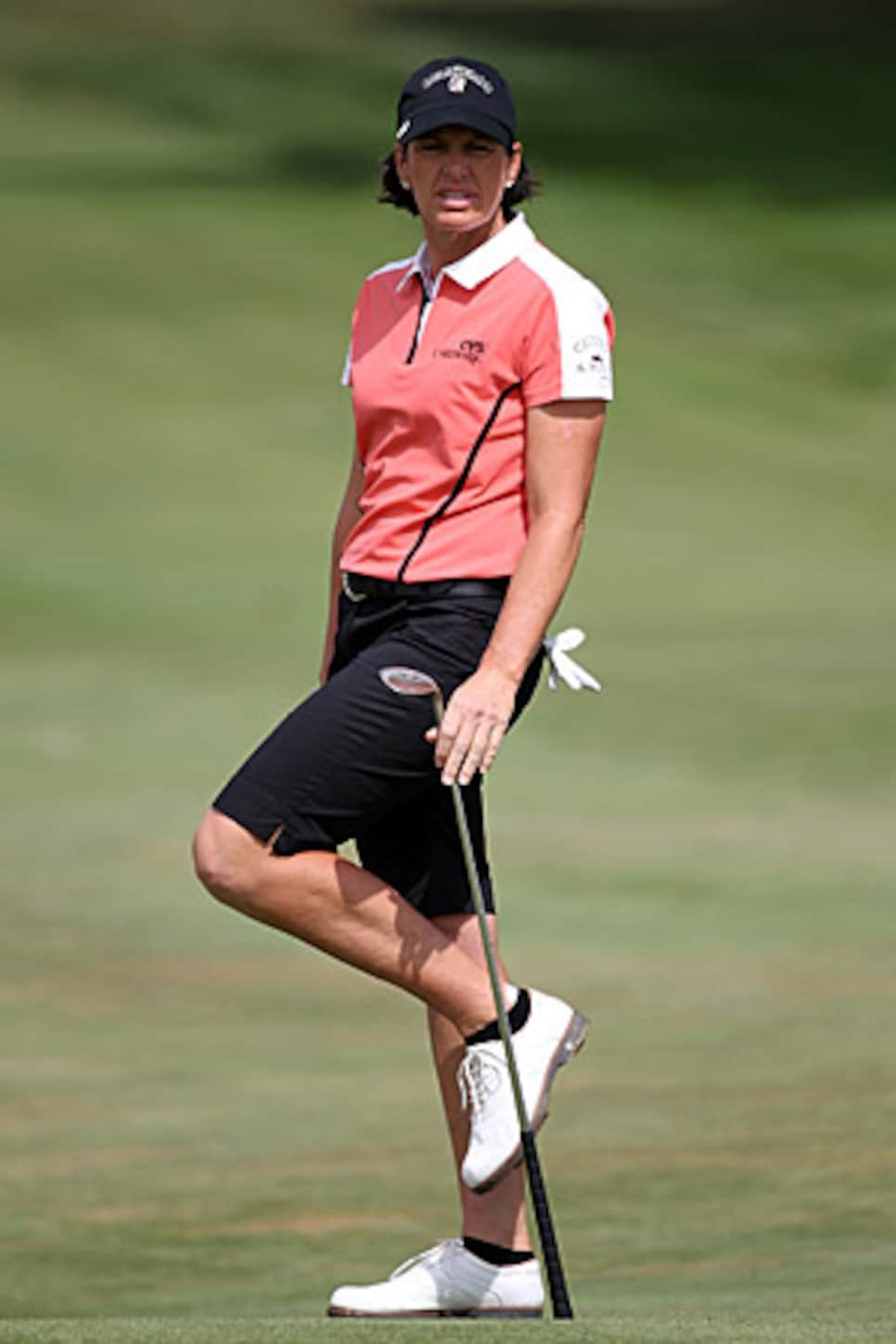 Juli Inkster's disqualification came in the direct wake of the Dustin Johnson flap at the PGA.
The word of the week was "arcane" and, like John Daly, it would not go away. It was ubiquitous in the wake of the Dustin dust-up and in the interest of gender equality hung around for the LPGA event later in the week.
"Arcane rules and a bunch of bunk," a column headline in the Philadelphia Inquirer stated in response to the two-stroke penalty Dustin Johnson incurred for grounding his club in a bunker on the 72nd hole of the PGA Championship two days earlier.
My old friend and former colleague, Baltimore Sun columnist Peter Schmuck, wrote that he was "trying to make sense of a sport that has no problem turning to instant replay to scuttle the guy's chance of joining a three-man playoff for the PGA Championship, but clings inflexibly to a set of arcane rules that create that kind of sad scenario."
Later in the week, "arcane rule" resurfaced when Juli Inkster was disqualified from the Safeway Classic outside Portland for using a weighted device in the shape of a small donut on her driver to help her stay loose when play backed up on the tee on the par-5 10th hole (see Rule 14-3 regarding practice devices).
Of course, one could argue that golf itself is arcane, defined by Oxford as "understood by few." The result is often an unflattering portrait of a game that generally deserves better (as it did with regards to those arcane rules that every golfer ought to know and understand), but occasionally deserves what it gets. See the following.
'DO YOU HAVE ANYONE BIGGER?'
Cameron Kiyokawa, 19, carries a handicap of 5, indicating more than a rudimentary understanding of the game. He signed on last week to caddie at the Safeway Classic. He was assigned the bag of veteran Dina Ammaccapane, who in these lean times (she's earned just $7,489 in 2009 and 2010) has taken to employing local caddies as a cost-cutting measure.
When he was introduced to Ammaccapane, according to Oregonian columnist John Canzano, she replied, "Do you have anyone bigger?" Kiyokawa is 5-3 and weighs 115 pounds, but he has caddied before and did not share the same concerns that Ammaccapane apparently had about his ability to tote a heavy tour bag for 18 holes.
Kiyokawa ultimately was denied the opportunity to caddie. Canzano concluded with this:
"Thing is, he wouldn't have been the smallest person on the course.
"That would have been Ammaccapane."
Daly delivered one of the more amusing quotes in recent memory. It came in response to criticism for his having withdrawn from the PGA Championship (with no chance of making the cut) and citing a torn rotator cuff that did not prevent him from playing the Wyndham Championship the following week. It's important to note that Daly has now withdrawn from tournaments 17 times since the start of the 2006 season.
"All I know is I've never ever faked an injury on this tour," Daly told Reuters last week. "I have quit plenty of times, but never have I faked an injury and the guys here know it."
It was the honor-among-thieves defense and he was not the first to invoke it in golf. Former PGA Tour player Richard Meissner confessed to robbing 19 banks in the '70s, but vehemently rejected a charge once that wayward shots were nefariously turning up in fairways. Wrote Tom Callahan in Time magazine:
"Here is the pertinent point: when he later faced the bar of justice, Meissner readily admitted poking his pistol in the nose of all those tellers, but he bitterly denied ever cheating at golf."
Like Meissner, Daly has his standards.
Who knows what Rory McIlroy was thinking, but is he aware of the old adage about waking sleeping giants?
Last week, McIlroy said, "I would love to face him [Tiger Woods, in the Ryder Cup]. Unless his game rapidly improves in the next month or so, I think anyone in the European team would fancy his chances against him."
If anything can spark Woods' return to dominance, it is a gauntlet landing at his feet. Flashback to February, 2006, when Stephen Ames said of Woods, his first-round opponent in the WGC-Accenture Match Play Championship: "Anything can happen, especially where he's hitting the ball."
Here was the post-match conversation: Were you aware of Stephen's comments yesterday?
What was your reaction when you saw that?
Woods had eliminated Ames on the earliest possible hole, the 10th, winning, 9 and 8.
ISLEWORTH FINDING ITS FORM
Woods once was Isleworth Country Club's anchor, dependably ensuring the exclusive club in Windermere, Fla., where Woods lives, a half dozen or so PGA Tour victories a year.
Until Stuart Appleby stepped up and won the Greenbrier Classic with a closing 59 recently, the club had been blanked on the PGA Tour side this year.
Now it has two wins, Arjun Atwal, who went through Monday qualifying to get in the field, winning the Wyndham Championship on Sunday. Atwal, incidentally, is a frequent practice partner of Woods at Isleworth.
Isleworth, meanwhile, does have a current major champion in its midst, Paula Creamer, who won the U.S. Women's Open. Creamer acknowledged Atwal's victory on Twitter: "Arjun Atwal wins the Wyndham Championship. Congratulations!!!"
It was a noble experiment, the Tradition, an attempt to establish an equivalent of the Masters for what then was called the Senior PGA Tour. Its defect was that it became a major championship by proclamation rather than reputation.
Last week, Jeld-Wen announced it was ending its sponsorship of the Tradition. A major that was supposed to have been a fixture at the Golf Club at Desert Mountain outside Scottsdale, Ariz., is moving for the third time, this time to Shoal Creek Golf and Country Club in Birmingham, Ala., with a new sponsor, Regions Bank, and a new date, in May.
Repackaging it isn't likely to restore its lost luster, notwithstanding a course ranked 50th in Golf Digest's 100 Greatest. It could be argued that even the players no longer consider it a major. Among those missing from the field this year were Fred Couples and Paul Azinger, neither of whom would have missed a major championship in their PGA Tour days for the reasons they apparently passed on this one.
Couples opted to play the PGA Tour's Wyndham Championship near Charlotte, N.C., home to a woman he apparently is dating. Azinger was disqualified for missing the Tuesday pro-am, the result of a speaking engagement he had at the PGA Fall Expo in Las Vegas that he was unwilling to cancel.
"Tour boots me from field at Tradition because I can't play tues. pro am. At PGA expo on tues. speaking to club pros from all over U.S.," he posted on Twitter.
"Now off to play the Tradition!! Oh wait...I can't...didn't play pro am today..I'm not allowed to play..oh well, rules are rules, no exceptions," he wrote in another Twitter post.
Majors, other than the traditional jabs at course setups, aren't usually mocked. The Tradition remains the fifth major on a tour that has one too many.
...Ryo Ishikawa? The Japanese wunderkind has largely gone missing since shooting a final-round 58 to win the Crowns on the Japan Golf Tour in May. He's fallen out of the top 50 in the World Ranking (to 54th).
His best finish in Japan since the Crowns has been a T-14 and he's seventh on the Japan Golf Tour money list, which includes money earned in international events. In 37 rounds since shooting that 58, including those played in Japan and major championships, he's scored in the 60s only five times.
The best player in golf? How about Ai Miyazato, who won the Safeway Classic, her fifth victory of the season and one that elevated to her No. 1 in the Rolex Rankings...Woods finished 112th in FedEx Cup points, earning him a berth in the Barclays...Atwal jumped from 450th in the World Ranking to 182nd. He has been ranked as high as 127th, in 2006...Early in the proceedings Sunday at the Wyndham Championship, there were 23 players in the top 10, 14 of them tied for 10th...Anthony Kim's post-operation struggles continue. In three starts since his return from March thumb surgery, Kim has finished T-76 in the WGC-Bridgestone Invitational and missed the cut in the PGA Championship and the Wyndham Championship.
From Angela Stanford: "I need some help out there: Of the 5 ryder cups tiger has played how many of those did the US squad win?"
Comment: It was a rhetorical question. She knows the answer is one. She wrote this in a follow-up post: "Thanks for all the replies! Nice to know all of you out there might feel the same way I do about tiger".
PGA TOUR: The Barclays at Ridgewood Country Club in Paramus, N.Y. Defending champion Heath Slocum. European Tour: Johnnie Walker Championship at Gleneagles in Perthshire, Scotland. Defending champion Peter Hedblom. LPGA: CN Canadian Women's Open at St. Charles Country Club in Winnipeg, Canada. Defending champion Suzann Pettersen. USGA: U.S. Amateur Championship at Chambers Bay in University Place, Wash.
The Barclays is the first event in the FedEx Cup playoffs and Woods has not yet qualified for the second event.
Paul Casey, Justin Rose, Padraig Harrington and Luke Donald have not qualified for the European Ryder Cup team and none are entered in the final qualifying event, the Johnnie Walker Championship. All are playing in the Barclays, much to the chagrin of European captain Colin Montgomerie. At least one of the four won't be playing in the Ryder Cup.
Chambers Bay, the dramatic public course built on the shore of Puget Sound south of Seattle, gets its first national exposure in the U.S. Amateur. The U.S. Open is scheduled to be played there in 2015.
A television viewer was responsible for bringing Inkster's rules violation to the attention of LPGA officials (via email), renewing an old debate about the fan's role in a competition. USA Today even asks the question in a poll: Should viewers be able to call golf infractions?
"No. It is laughable that golf allows this."
"Yes. A violation is a violation."
My vote is "yes." It's just another means of protecting the field, and other players aren't always the most reliable in doing so.
The weighted "donut" is even specifically mentioned in the USGA's Decisions on the Rules of Golf:
During a round, may a player make a stroke or a practice swing using a club with a weighted headcover or "donut" on it, or use any other device designed as a training or swing aid?
No. The player would be using an artificial device to assist him in his play in breach of Rule 14-3 but see also Decision 4-4a/7 for use of a weighted training club.
The viewer reacted properly, as did the LPGA rules officials. End of debate. I hope.