News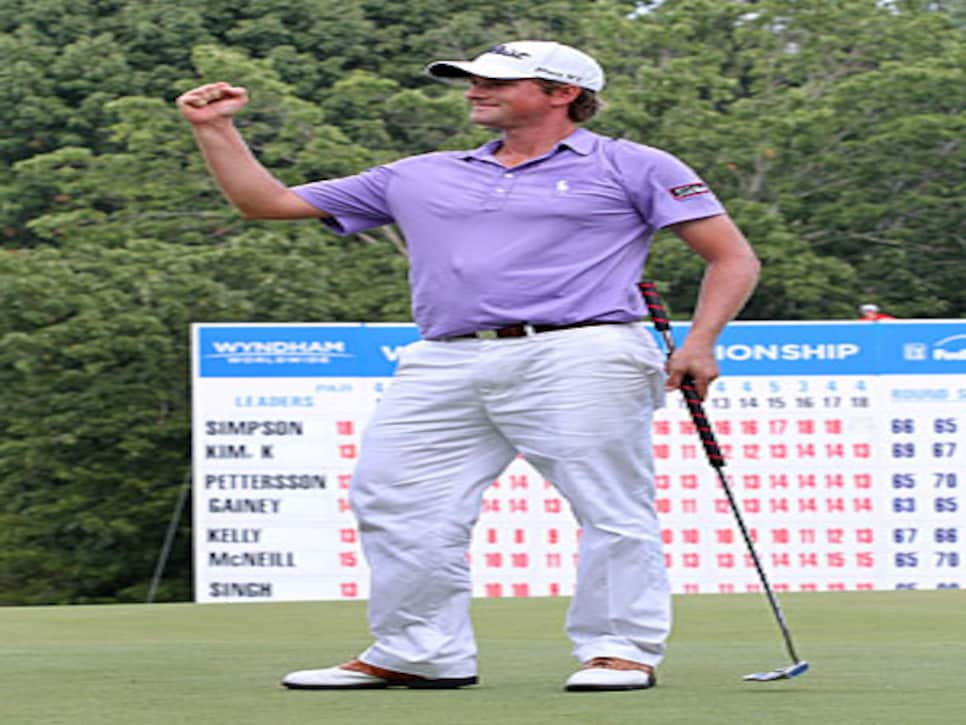 Simpson picked up his first PGA Tour victory and moved to No. 3 in the FedEx Cup standings.
Webb Simpson's victory in the Wyndham Championship on Sunday has set off alarms in some precincts that are concerned that the integrity of the game is being compromised by putter length.
The last three PGA Tour events have been won by those employing elongated putters -- Simpson and PGA Championship winner Keegan Bradley using belly putters and WGC-Bridgestone Invitational winner Adam Scott using a long putter. To boot, Fred Couples won the Constellation Energy Senior Players Championship on Sunday using a belly putter.
The objection is that these putters are anchored against the body, simplifying the putting stroke.
A quick history lesson: Billy Casper, one of the best putters in history ("he could make a 40-foot putt just by winking at it," Chi Chi Rodriguez once said), anchored the putter.
In the book "What's a Golfer to do?" by Golf Digest's Ron Kaspriske, Casper explained the key to putting fast greens. "Positioning your hands very close to your body will give you a great deal of club control during the stroke," he said. "I even go so far as to anchor my left hand against my left leg on short putts, keeping it there throughout my stroke."
Anchoring the putter in some fashion is not a new development and isn't going to spell the demise of golf as we know it.
It would be hard not to project Simpson as a star, based on his linear improvement since joining the PGA Tour in 2009. His scoring average has improved each year (it's now 69.39, fourth on the PGA Tour). In 2011, he has a victory and two seconds, one in a playoff in which he assessed himself a one-stroke penalty in the final round. He also is the PGA Tour's statistical all-around leader and has been in the top 25 in 15 of 20 tournaments, twice in major championships.
-- Justin Leonard missed a 13-foot par putt on the last hole, costing him a berth in the FedEx Cup playoffs. Leonard began the tournament 142nd and needed to get into the top 125. He finished 126th. William McGirt finished 125th.
-- Camilo Villegas gave himself a chance to salvage an entirely forgettable season to this point by playing his way into the FedEx Cup playoffs at the Wyndham. Villegas tied for ninth to move from 125 on the points list to 109th.
-- Ernie Els kept his season alive with a T-30 that moved him to 118th in points. He began the tournament in 126th place.
-- Paul Casey, 17th in the World Ranking last week, failed to advance to the playoffs. Casey, who has played only 13 tournaments, finished 144th in points.
For nearly two years now, Tiger Woods has been verbally battered by virtually everyone, including his former caddie, Steve Williams. Does anyone have anything nice to say about him?
Well, at least one man does, a caddie who works for Woods' principal rival, Phil Mickelson.
Jim Mackay and Jim Furyk's caddie Mike Cowan were the guests of David Feherty's Golf Channel show last week. Feherty was discussing the kind of living that they were able to make.
"There isn't anything else I can do right now, or any time in my near future, that I could make the kind of living that I'm making doing what I'm doing," Cowan said.
Mackay then interjected. "And let's point out also that we both caddie in the Tiger Woods era," he said. "You can't overstate or thank Tiger enough for what he's brought to the game and what he's done to the purses in this country and around the world and we should always be grateful for that."
It marked the second straight week that Mackay had praise for Woods. Earlier, he was a guest on Dan Patrick's radio show and expressed his appreciation for what Woods has done on behalf of players and caddies.
'THE PACE OF PLAY IS PITIFUL'
A caddie's ability to be insightful already established (see previous post), here's more evidence, the result of Feherty asking these same caddies what they perceive to be the game's shortcomings.
Mackay: "If I could change one thing it would be the long putters, that players not be allowed to attach putters to their body. It's bad for the game, at least at the professional level."
Cowan: "The only bad thing I can say about the game, the way I see it, the pace of play is pitiful. The pace of play is bordering ridiculous. To think that they can't play in less than five hours, I can't buy into that."
What Cowan failed to mention, for obvious reasons, is that his employer is among the game's plodders on the greens.
. The latter choice will invite criticism, but no more so than when U.S. Ryder Cup captain Corey Pavin chose Rickie Fowler a year ago. O'Toole has played only seven LPGA events, though she has finished in the top 10 in two of them, including a T-5 in the Safeway Classic on Sunday.
Jones' options were severely limited by a weak U.S. bunch, best exemplified by the fact that no one was able to bump Christina Kim from the team via points.
Kim began the year ninth in points (the top 10 earn automatic berths). She has played 14 tournaments this year and missed the cut in five. Her best finish is a T-13 in the Avnet LPGA Classic. She missed the cut in all four women's major championship. She finished T-77 in the Safeway Classic on Sunday.
In other words, she virtually could not have done more to not make the team, yet she still finished 10th in points.
Katie Futcher had the best chance to bump Kim heading into the Safeway Classic, but missed the cut. At that, Futcher has had only six top 10s in six years on the LPGA, one this year.
Kim made the Solheim Cup team virtually entirely on her performance the year before, which was not all that good, either. She was 26th on the LPGA money list in 2010. But here's the point: She was eighth on the money list among American players.
It is yet another argument on behalf of including the best players in the world in the Solheim Cup competition. This would require an Asian team be added to the biennial team competition.
The U.S. Solheim Cup team members have only two victories among them this year: Stacy Lewis (Kraft Nabisco Championship) and Brittany Lincicome (ShopRite LPGA Classic).
European team members have won four tournaments: Suzann Pettersen (Skybase Match Play Championship and the Safeway Classic), Maria Hjorth (Avnet LPGA Classic) and Sandra Gal (Kia Classic).
Were an Asian team added to the Solheim Cup, it would be an overwhelming favorite to win.
Joe Ogilvie: "One of my favorite lines from 2008 applies today: Only two positions you should be in right now: cash and fetal."
"Keegan Bradley deserves to be on the Presidents Cup team. He's a young golfer on a huge roll. Bradley has never played on any [Ryder Cup or Presidents Cup] team. But he can get on this team if he keeps telling me that I'm his golfing idol." -- U.S. captain Fred Couples (from Rich DePreta of the Greenwich Time)
Furyk birdied three of his last four holes on Sunday to finish in the top 10 for the first time since the Arnold Palmer Invitational in March. Furyk finished T-9...Jason Dufner missed the cut a week after his playoff loss to Bradley in the PGA Championship...Simpson crashed the top 50 in the World Ranking, jumping from 55th to 33rd...Woods fell three more spots, to 36th in the World Ranking.
PGA Tour: The Barclays at Plainfield Country Club, Edison, N.J. Defending champion Matt Kuchar. European Tour: Johnnie Walker Championship at Gleneagles, Perthshire, Scotland. Defending champion Edoardo Molinari. LPGA: CN Canadian Women's Open at Hillsdale Golf & Country Club, Mirabel, Quebec, Canada. Defending champion Michelle Wie. USGA: U.S. Amateur at Erin Hills, Erin, Wis. Defending champion Peter Uihlein.
-- The FedEx Cup playoffs begin with the Barclays, but without Tiger Woods, who failed to qualify. The defending champion is Jim Furyk.
-- The U.S. Amateur marks Erin Hills' coming out party, a dress rehearsal (albeit six years out) for the U.S. Open scheduled to be played there in 2017.
The fall of Tiger Woods has turned now to where he will land in his quest to convince U.S. Presidents Cup captain Fred Couples to select him.
Couples last week made it sufficiently clear that he expects Woods to play more than the Australian Open in advance of the Presidents Cup in an effort to find his game. The options aren't attractive.
There is the PGA Tour's Fall Series, which is beneath him, by his reckoning. Or there is the European Tour, featuring a series of lesser events this time of year.
At least he's previously played in and won two of the four tournaments that now comprise the Fall Series (though under different names) -- the Justin Timberlake Shriners Hospital for Children Open in Las Vegas and the Children's Miracle Network Hospitals Classic in Orlando.
If he again has to swallow some pride, why not do so on behalf of tournaments that support children's hospitals?