News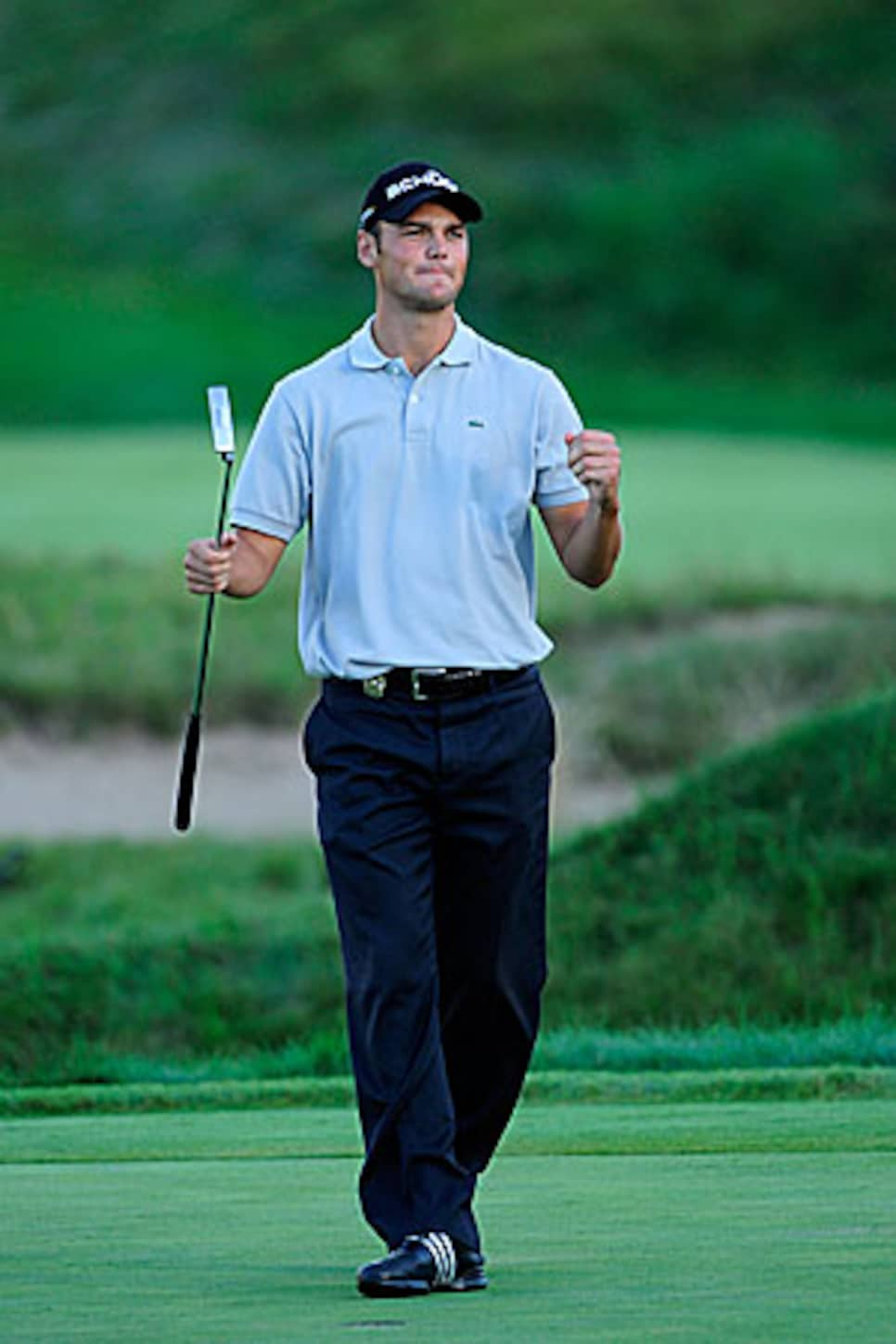 Martin Kaymer may have won his first major at Whistling Straits, but most of the talk revolves around Dustin Johnson.
Whistling Straits' manifold defenses were apparent last week, or were until the tournament hung in the balance late on Sunday afternoon. How does it defend itself against this?
When the bunkers are almost too numerous to count (Golf Digest's Ron Whitten set the unofficial number at 967), so many that a gallery can't help but tramping through any number of them, even leaving some of them unidentifiable, do they not cease being an architectural nuance and expose the course to scorn?
The 92nd PGA Championship turned on one of those bunkers late on Sunday, when Dustin Johnson was unaware his ball was in one on the 72nd hole. He grounded his club, resulting in a two-stroke penalty that downgraded this PGA Championship from one that history would recall for its entertainment value to one that will be remembered for its controversy.
Blame Johnson for failing to read the PGA of America's warnings about the bunkers, "the number one item on our local rules sheet," Mark Wilson, co-chairman of the PGA of America rules committee, said, "simply to explain that all of the bunkers that were designed and built as sand bunkers on this golf course would be played that way."
The PGA of America was working with what it had. Where there was sand, there was a bunker, it said. Still...
For the record, the winner of the PGA Championship was Germany's Martin Kaymer. The loser, clearly, was Whistling Straits.
Lost amid the bunker controversy was this: Where was Johnson's caddie, Bobby Brown, to warn him about the possibility his ball was in a bunker? The caddie is responsible for knowing the rules, too, and with Johnson preoccupied with attempting to win a major championship, Brown bears some blame for not identifying potential pitfalls.
A Twitter check of players' reactions to the Dustin Johnson flap produced a consensus: Whistling Straits has bunker issues.
From Ian Poulter: "Gutted for Dustin shocking rule, 900+ bunkers and probably only 100 rakes I don't get it, sorry Dustin you deserved to be in the playoff"
From Stewart Cink: "I like Dustin Johnson. It's too bad. Maybe Whistling Straits should rethink some of those obscure bunker-ish features."
From Stuart Appleby (in part): "I'm very [ticked] and angered that this is way the 2010 PGA came to an end...Dustin and caddy are ultimately responsible for their actions....but WTH. I think that they need to make significant changes to the course that has hundreds of pointless bunkers that patrons have to walk through to view players."
From Trevor Immelmann: "That is ridiculous, since when can a 1000 spectators walk through a bunker? Stupid!...This is an unfortunate finish to the PGA! Just goes to show that you should never have this many bunkers on one golf course"
From Oliver Wilson: "There was always going to be issues with those traps, massive shame it was those circumstances"
From Rickie Fowler: "Proud of the way my boy DJ handled the ruling...I think a bunker that fans have been standing in all day should be considered a waste bunker"
From John Daly: "was that so called 'bunker' manicured & maintained all week to be classified as a bunker--if not I would be appealing it DJ! You deserve to be in that playoff!"
The future of golf won't unfold without Tiger Woods, notwithstanding those who already have written the obituary to his career. Even conceding them the point, the forecast isn't bleak.
Kaymer is only 25 and is emerging as a major star. He has finished in the top eight in four of the last five majors. Prior to his victory in the PGA Championship on Sunday, he had finished seventh in the British Open, eighth in the U.S. Open and sixth in the '09 PGA Championship. He finished 54th in the Masters.
Johnson is 26 and is on the threshold of stardom -- provided, of course, that his psyche is not irreparably harmed by his U.S. Open and PGA championship pratfalls.
Then there is Rory McIlroy, 21, who in his last three tournaments, each of them featuring the best players in the world, he has finished T-3 in the British Open, T-9 at the WGC-Bridgestone Invitational and T-3 in the PGA Championship.
Besides being one of the most entertaining players in the world, Bubba Watson is among the most unusual, too. This was his first Twitter post after losing to Kaymer in a playoff:
"Ryder cup!!!!!!!!!!!!!!!!!!!!!!!!!!!!!!!!!"
Watson finished third in Ryder Cup points to secure a spot on the U.S. team.
THE PGA TOUR PLAYER OF THE YEAR IS…
Who knows? Either Watson or Johnson could have made a significant move toward securing the honor with a victory on Sunday, which would have made either the only multiple winner with a major championship.
The PGA of America is shameless in using its showcase event, the PGA Championship, as a public relations platform for promoting the Ryder Cup, the most hyped (or overhyped) event in golf.
So it may have been unperturbed that the U.S. captain, Corey Pavin, was involved in a kerfuffle with the Golf Channel's Jim Gray last week. Gray reported that Pavin told him that Woods would be a Ryder Cup captain's pick. Pavin denied it. Gray confronted him in the media center, conveniently ensuring international headlines. Any publicity is good publicity, right?
But was it really necessary, especially on the eve of a tournament of substantially greater importance? Why were Pavin and European captain Colin Montgomerie even in the PGA field, other than to provide them another forum for publicizing what in essence is an exhibition, albeit an entertaining one, that is still 2 1/2 months off?
By the way, Pavin can prevail in his spat with Gray. All he has to do is forgo naming Woods to the Ryder Cup team, negating Gray's claim.
The Ryder Cup, naturally, came up when CBS' Jim Nantz had Jim Remy, the president of the PGA of America, in the television booth.
"Just a quick word before you go, about your captain, Corey, who's going to do a great job for you. He already has," Nantz said.
"He has," Remy replied. "He's doing a great job."
A great job as defined...how? Choosing uniforms? Generating publicity? No disrespect for Pavin intended, but what else is there until he announces his wild-card picks, the first decision a captain makes that will have an impact on the actual competition?
The sport of Tiger watching is endlessly entertaining, be it his talent when he's hitting it stiff or his genius when he isn't and still posting a good score.
Woods tied for 28th in the PGA, his worst finish in the four major championships (he tied for fourth in the Masters and U.S. Open and tied for 23rd in the British Open). Yet he'll still be interesting to watch, in this case to see how he recovers his enthusiasm, given that the tournaments that matter most to him won't begin anew for eight months.
Apparently he'll have a new coach, Sean Foley, but he'll need some new goals, too. It's conceivable he has only a single PGA Tour event left, the Barclays, the first event in the FedEx Cup playoffs (and on Sunday he wouldn't verbally commit even to playing it). And he's no certainty to make the Ryder Cup team.
Heretofore, winning begat winning for Woods, who used his tour success as the impetus for continuing to drum the competition in post-season events. No doubt it was fun for him, fun the ingredient missing as he faces uncertainty in the near future.
He used to own them, of course. At Whistling Straits, he played them in even par. This year, he ranks 182nd on the PGA Tour in par 5 performance (a 4.72 scoring average). As a point of reference, in 2000, his scoring average on par 5s was 4.37.
THE HARRINGTON EXPERIMENT
Is it time to render a verdict on Padraig Harrington, that undergoing a swing change after winning the last of three major championships in 2008 might have been career mismanagement? The cost has been two years from the prime of has career, an investment for which he has zero victories to show.
Harrington, 38, missed the cut in three of the four majors this year, including the last two. In the eight majors he's played since his last victory, in the PGA Championship at Oakland Hills in 2008, he's missed the cut in four and had only a single top 10, a T-10 in the PGA Championship in 2009.
Of those in the mix on the back nine on Sunday, the least likely winner would have been Steve Elkington, 47, who hasn't won a tournament since 1999 and likely won't win another until the Champions Tour beckons.
Elkington came up two strokes short, but he did earn a valuable consolation prize. Recall that earlier this year he was part of a controversy when it was revealed that PGA Tour Commissioner Tim Finchem was soliciting sponsor exemptions on his behalf. For the first time in 24 years, Elkington no longer had a PGA Tour exemption.
He has rectified that for 2011. By virtue of his T-5 finish, he earned $270,833, running his season total to $938,494, or enough to finish in the top 125 on the PGA Tour money list this year, restoring his full exemption.
Why is it called the U.S. Women's Amateur when the two finalists are girls? Jessica Korda and Danielle Kang are each 17. Kang won, incidentally, 2 and 1.
Two of the four major championships were won by members of the same country club. Phil Mickelson, who won the Masters, and Kaymer are members at Whisper Rock Golf Club in Scottsdale, Ariz. (as are two members of CBS' broadcast crews -- Gary McCord and Peter Kostis)...Stuart Appleby can be excused his indifferent performance in the PGA Championship -- he finished T-68th. It was the 13th straight week that Appleby had played, a streak that began with the Verizon Heritage on April 15. He had scheduled a break after the Greenbrier Classic on Aug. 1, but his final-round 59 there produced a victory that earned him a start in the WGC-Bridgestone Invitational and the PGA Championship the following two weeks...Wisconsin native Steve Stricker tied for 18th in what might have been his final tournament (save, possibly, for the Champions Tour) in his home state. Stricker might have been a factor were it not for a triple-bogey six he made at the 17th hole in the second round. Stricker will be 48 when the PGA Championship returns to Whistling Straits in 2015 and he'll be 50 when the U.S. Open is played at Wisconsin's Erin Hills in 2017.
PGA Tour: Wyndham Championship at Sedgefield Country Club in Greensboro, N.C. Defending champion Ryan Moore. LPGA: Safeway Classic presented by Coca-Cola on the Ghost Creek Course at Pumpkin Ridge Golf Club in North Plains, Ore. Defending champion M.J. Hur.
The PGA of America bills the PGA Championship as Glory's Last Shot. What then does that say for the FedEx Cup playoffs? Or the Ryder Cup? Of the final WGC event on the schedule, the HSBC Champions?
The PGA Championship doesn't need artificial hype, notwithstanding its status as the fourth major (not in reference to its place on the schedule, but for its importance relative to the other three majors).
It consistently delivers among the most entertaining shows in major championship golf, as it did again last week.
But about those bunkers at Whistling Straits...