News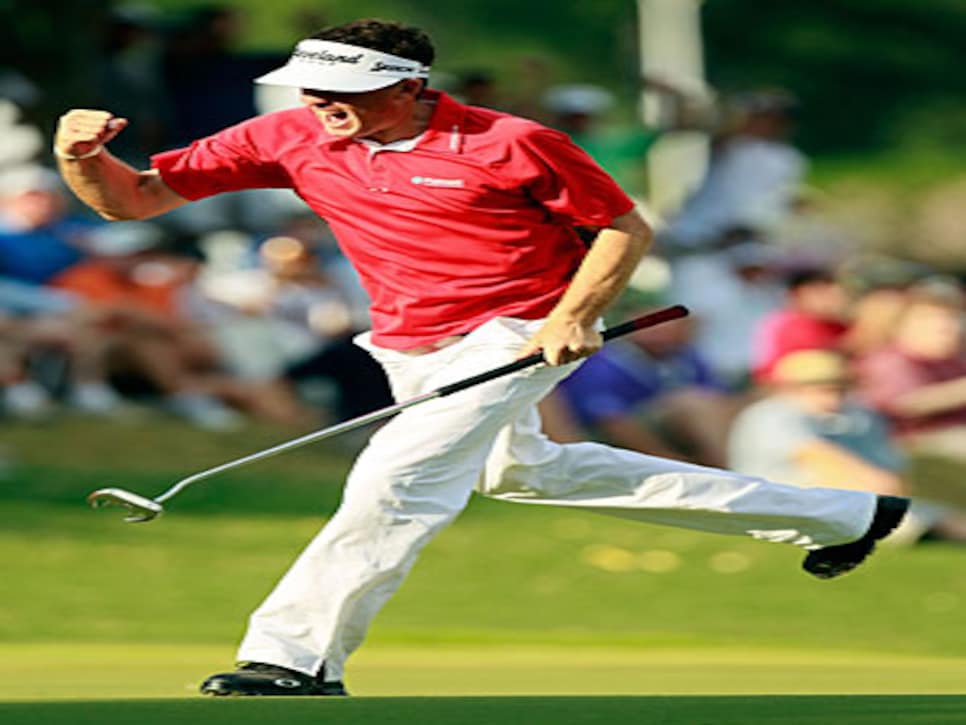 Bradley rallied from a five-shot deficit with three holes to play at Atlanta Athletic Club.
It would be reasonable and wrong to conclude that the stars went missing last week, leaving the PGA Championship in the hands of understudies, Keegan Bradley foremost among them. Bradley may not be Tiger Woods, but he isn't Shaun Micheel, either.
What Bradley is is the leading candidate to win PGA Tour Player of the Year and Rookie of the Year honors.
of other multiple winners of PGA Tour events in 2011 -- Mark Wilson, Bubba Watson and Steve Stricker.
Of the four, he's the only one to have won a major championship. Other tour members have played consistently better -- Luke Donald foremost among them -- but if winning is the measure and majors are weighted heavier, Bradley is the frontrunner.
His stiffest competition will be from Donald and Charl Schwartzel, the latter also a tour rookie who has won a major. The FedEx Cup Playoffs, usually about money that all players welcome but none of them need, will again have the benefit of determining the player of the year.
It won't be Tiger Woods, who failed to qualify for the playoffs. It could be Keegan Bradley. At the outset of the year, neither was plausible.
Bradley has a champion's pedigree -- he is the nephew of former LPGA star Pat Bradley, a World Golf Hall of Fame member. But he also has a champion's fortitude. He overcame a debilitating triple bogey on the 15th hole on Sunday with birdies at 16 and 17, then defeated Jason Dufner in a three-hole playoff.
"He's got a lot of good things going for him," Dufner said. "He's got a great pedigree with Pat Bradley in his family. So I'm sure he's picked up some things from her about winning and attitude and golf in general. He's probably got a pretty strong future out here."
He was, rather than an understudy, the biggest star on one of golf's biggest stages on Sunday.
Dufner on Twitter, on June 21: "Gotta love that St Louis cardinal bullpen, they are vomit zone every night."
Dufner found himself in said vomit zone on Sunday afternoon. He stood on the 15th tee with a four-stroke lead and hit his next shot into the water, leading to the first of three straight bogeys. Then he pulled a short birdie putt on the first playoff hole.
The Cardinals' bullpen would surely enjoy the irony.
LEE WESTWOOD CHANNELING SNOOPY
Charles Schulz once penned a Peanuts strip that had Charlie Brown caddying for Snoopy.
"Is there anything special you think about before each shot?" Charlie Brown asked Snoopy, as he addressed the ball.
"Just before I swing," Snoopy replied, "I think to myself, 'you haven't hit a good shot all day, what makes you think you're going to hit one now?'"
Lee Westwood, meanwhile, was lamenting his putting again on Saturday, when he was asked whether he might shoot 63, 64 or 65 on Sunday should his putter respond.
"I'd like to think they are going to drop tomorrow but they haven't dropped all year, so why should they change tomorrow?" he said, echoing Snoopy.
Westwood tied for eighth -- yet another respectable performance in a major championship, but not a winning one.
The rise of European golf largely has been driven by its three highest-ranked players, all of whom have held the No. 1 position in the World Ranking in the last year. Here's how they fared in the majors:
-- Luke Donald, fourth in the Masters, 45th in the U.S. Open, missed the cut in the British Open and tied for eighth in the PGA Championship.
-- Lee Westwood, 11th, third, missed cut and tied for eighth.
-- Martin Kaymer, missed cut, 39th, 12th and missed cut.
Opinions on Tiger Woods don't seem to vary much, at least in their conclusions, that however his future plays out, it isn't likely to resemble his past.
Greg Norman said that Woods, who missed the cut in the PGA, has forfeited one of the most important weapons in his arsenal, his ability to intimidate.
"He'll come back and win, there's no question," Norman told Neil McLeman of the Sunday Mirror. "He's just too good a player. But losing his intimidation factor is probably the biggest thing. He just walked out there and he was a hard guy to beat. Now he's trying to beat them instead of them trying to beat him. The kids growing up haven't seen Tiger's dominance. The role reversal is the big difference."
Mike Lupica of the New York Daily News, meanwhile, managed to indict Woods and take a gratuitous shot at instructor Sean Foley, all in the same sentence.
"Somehow a guy who's won 14 majors can only manage to hit the ball straight now for a few holes at a time," Lupica wrote. "And when the round is over, when Woods is talking about this new swing that a golf hustler named Sean Foley has sold to him like swamp land in Jersey, he sounds like Foley has brainwashed him."
Tom English in Scotland on Sunday declared Tiger's quest to overtake Jack Nicklaus' record of 18 professional majors finished.
"Tiger found 22 bunkers and four water hazards in his two rounds in Atlanta," English wrote. "He found the sand twice on seven different holes. Made five double bogeys, the most he has ever made in any tournament as a professional. Missed his first ever cut in this championship...Shot 10-over, his worst performance in a major. The numbers are grotesque and the future, such as it is, is deeply worrying. Jack Nicklaus can relax. Kick your shoes off, Jack. Light a cigar, pour yourself a drink. Tiger's pursuit of your golden 18 is all but over."
Hank Haney was asked on Twitter whether he thought Woods would break Nicklaus' record of 18 majors.
"It has moved to flip a coin for me now, he has plenty of time if he has the passion," Haney wrote.
It's tough to get inside Woods' head; it's off limits to the public. His level of passion for the game is certainly part of the equation and is one of those questions to which we'd love to hear honest, unfiltered answers. It would behoove him to ask them of himself, Norman suggested.
"You have to wake up every morning, look yourself in the mirror and the questions you ask yourself you must answer truthfully," Norman said. "You're the only one who can do that. I hate to see a great athlete like Tiger go through this, but it's up to him. Happiness comes from within. It doesn't come from anywhere else. He will work it out."
IN CASE YOU WERE WONDERING...
-- The logo on Dufner's shirt is that of Greenway Medical Technologies, a company he began representing only a month ago. Good timing on Greenway's part.
-- Dufner's putting grip is called the Super Stroke, the same kind of grip that K.J. Choi has on his putter. Dufner just put the Super Stroke grip on this week.
Phil Mickelson's caddie Jim Mackay, better known as Bones, was a guest (via telephone) on Dan Patrick's radio show last week.
"How many wins do you have?" Patrick asked Bones, his question spurred by Steve Williams' claim the week before that he has 145 wins.
"I don't have any," Mackay said.
"Look at you. Well done, well done," Patrick said, laughing. "How many wins have you been a part of?"
"I don't know," Mackay said. "I know Phil's won 39 PGA Tour events. All I know is I've got a great gig. I'm damn happy to have it and hope he keeps me around a little bit longer.
"One of the most important things for me out here as a caddie is to show the appropriate respect to Tiger, who is the greatest player of all time and has made all of us out here -- players, caddies, whomever -- significantly more money than if the guy had never shown up."
Brooke Pancake, an Alabama senior, has a name that begs that one root for her. The downside is that it will spawn these kinds of headlines (this from from the Providence Journal last week as she moved toward the semifinals of the U.S. Women's Amateur): "Pancake was really cooking."
Pancake lost to defending champion Danielle Kang, 1-up, in the semis. Kang then successfully defended her championship with a 6-and-5 victory over Thailand's Moriya Jutanugarn in the final.
Golf Digest's Dan Jenkins: "I'll tell you how exciting Thursday was: it knocked Steve Williams out of print."
Thursday's newsmakers were Tiger and his opening round of 77, Rory McIlroy and his wrist injury, and Steve Stricker and his opening 63.
Bradley moved from 108th to 29th in the World Ranking. He started the year ranked 329th...Woods fell to 33rd in the World Ranking. He began the year ranked second...Illinois golf coach Mike Small was the only club pro to make the cut. Small, who has won the PGA Professional National Championship three times and is a former PGA Tour player, finished T-69...Dustin Johnson, who finished second in the British Open, missed the cut in the PGA Championship.
PGA Tour: Wyndham Championship at Sedgefield Country Club, Greensboro, N.C. Defending champion Arjun Atwal. LPGA: Safeway Classic presented by Coca-Cola at Pumpkin Ridge Golf Club (Ghost Creek course), North Plains, Ore. Defending champion Ai Miyazato.
-- Tiger Woods has not qualified for the FedEx Cup playoffs and passed on one last opportunity to extend his PGA Tour season. Woods has his kids this week.
Winning majors define careers, but not winning them does, too. As great as Greg Norman's career was, it is defined more by his failures in majors than his successes in them.
So it stands with Westwood, who is now 0 for 55 in major championships. He is 38, so there is still time. But now he is dragging the stigma with him to the first tee, as well as a faulty putting stroke.
Bradley's victory on Sunday in the first major in which he played reinforces the notion that it is easier to win with talent and no expectations than it is to win with talent and the burden of great expectations.