News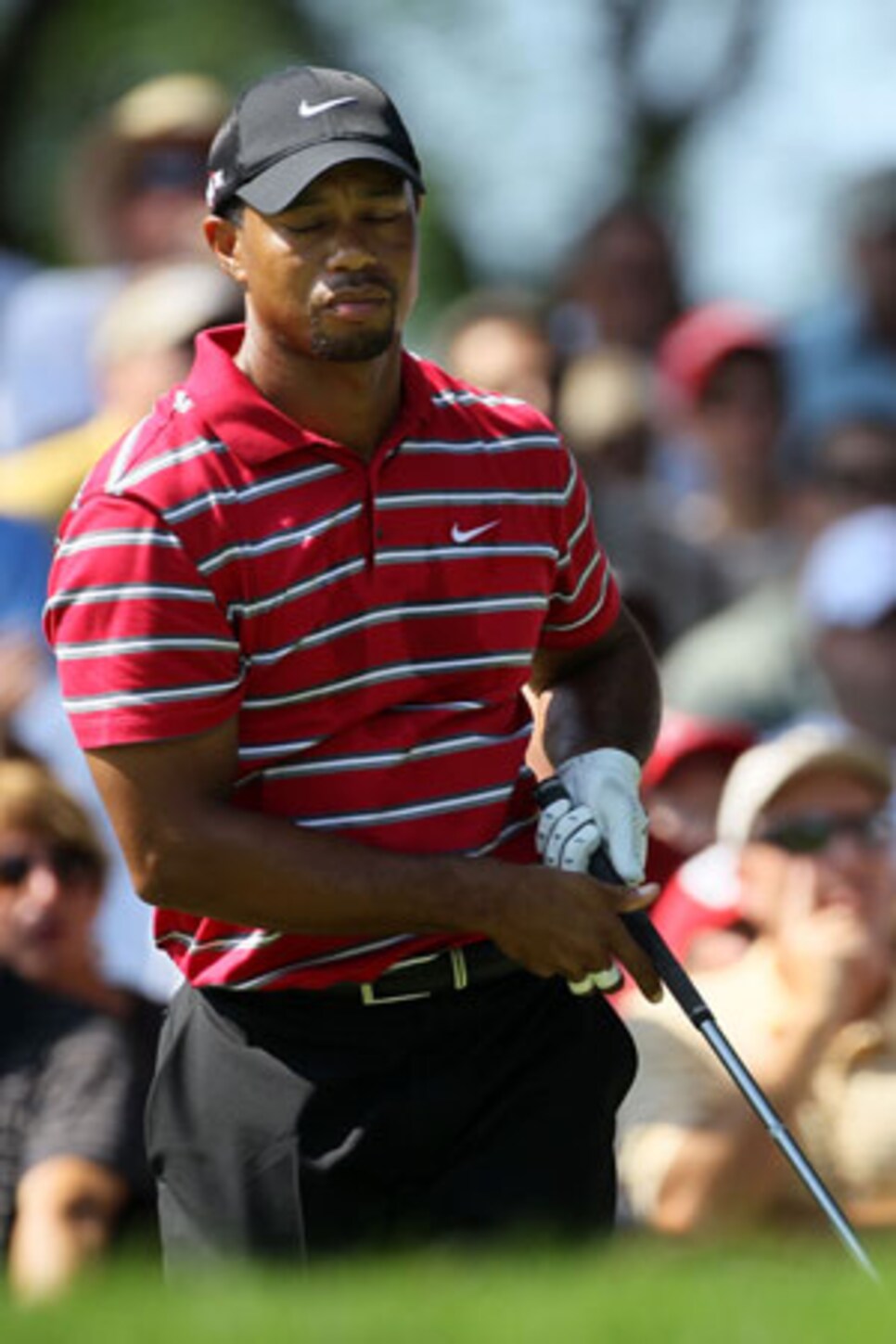 Woods finished the Bridgestone at 18-over, the worst 72-hole score of his career.
The game is too fickle to allow one week to be a harbinger of the next, which on the eve of the last major championship of the year holds the promise of its redemption. Otherwise, it has some explaining to do.
The best players in the world were gathered at Firestone Country Club last week for the WGC-Bridgestone Invitational, and sifting through the debris one has to wonder whether Bridgestone will care to invite any of them back.
Q ratings are everything in golf. The three most identifiable players in the Firestone field were Tiger Woods, Phil Mickelson and Ernie Els, who collectively were 21-over par on Sunday alone.
Woods was done playing before CBS' telecast came on the air. He shot 77, finished next to last and was headed directly to Whistling Straits, site of the PGA Championship this week, to begin working on a remedy. "I'm up there today," he said. "I can probably play 18 and still watch the guys finish [on television]."
Mickelson and Els each began the final round in contention, but failed miserably to end it there. Mickelson shot 78 to fall from a tie for 10th to a tie for 46th. Els shot a 76 to go from a tie for fourth to a tie for 22nd.
They inconsiderately left the stage on Sunday to Hunter Mahan, Ryan Palmer and Sean O'Hair, each of them an accomplished player, but not on a scale that would permit them to override the news created by the bumbling of their more identifiable brethren.
Mahan prevailed. At 27, he seems to be an emerging star, but in a field of established stars his victory was an anticlimactic one.
Whistling Straits, the onus is on you.
COOK ON TIGER: 'HE'S CLOSE'
John Cook seems to have supplanted Mark O'Meara as Woods' mentor of choice these days, the two of them apparently playing frequently when both are home in the Orlando area. Cook told Tadd Reeve of the St. Paul Pioneer-Press that Woods is slowly recovering his equilibrium.
"He's a lot different now, and in a good way," Cook said on the eve of the 3M Championship in Blaine, Minn. "He's like the old Tiger. For a couple of years, he wasn't the same Tiger, and I mean that in a not-so-good way. I didn't know what was going on with him, and I still don't care to know, but I could just tell things were not right with him."
As for Woods' progress on the course, Cook apparently got it half right. Woods will stumble along, he told Reeve, "until he gets all this [personal issues] behind him. It's not an overnight thing. But he's making progress. When he gets everything settled, he'll be his old self again."
So far, so good. But Cook also said this: "You can see it starting to happen. He's not searching for something every time he plays, like he was for a while there. He's confident in his golf swing again. He's close."
That might have been the case on the eve of the WGC-Bridgestone Invitational, but it would be a stretch to make that argument today.
__MICKELSON: HE'S (STILL) NO. 2 __
Tiger Woods' lock on the No. 1 spot in the World Ranking has been in jeopardy since Mickelson won the Masters. On Sunday, Mickelson had his best chance to wrest the position from Woods, who nearly finished last at Firestone. Instead, Mickelson, who remains No. 2 and has never held the No. 1 spot, shot 78 and tied for 46th.
"I'll probably spend tonight licking some wounds and work on it Monday and Tuesday," Mickelson said.
TELEVISION: TIGER STARING AT EVEREST
The best players in the world generally failed to live up to their billing at the Bridgestone Invitational, beginning with Woods, who was done playing before CBS' Sunday telecast began. The network nonetheless made the best of it, with Nick Faldo leading the way.
Faldo pointed out the flaws in Woods' golf swing, which Woods' echoed in his post-round interview. Then Faldo summed it up this way:
"He knows what he's got to do with his golf swing. He knows how he gets underneath it, loses his level. And for him to find his new feeling it's going to feel so drastic for awhile. He's got to get the club back on plane...to get steep to better produce this kind of go-to fade. That feeling is going to take awhile. So he's going to take some giant plaster, or bandaid, on his game to get himself ready for Thursday."
Is there a way he conceivably could win the PGA Championship, anchor Jim Nantz asked?
"I would be extremely surprised, unless he grabs something in the next couple of days," Faldo replied. "I haven't seen him rehearse anything different from what he's been doing. He's been swinging the same way for a while and I guess trying to expect a different result. I think he's got to make some drastic moves in the golf swing to get the plane of the shot, to get steeper on the back, steeper on the downswing. It's an Everest to get to the winner's circle next week."
-- Gary McCord, teeing himself up. Japan's Katsumasa Miyamoto was using an orange golf ball, prompting Nantz to ask this of his colleague Gary McCord: "Gary, you seem like a guy that would have done quite well with an orange golf ball. Ever try one?"
"The orange golf ball reminded me of a clown," McCord replied.
"Yeah," Nantz said, "you're still in the game there."
-- Faldo on Anthony Kim's first tournament since undergoing thumb surgery in March: "How do you think Anthony Kim would have felt if you'd said to him, 'on Sunday you're going to play with Tiger Woods and beat him by two shots your first week back?' [He'd have] probably thought, 'wow, worst he's ever finished is fourth. That means I'm second or third.'"
-- "He's got his teeth marks on that one," Faldo said after Woods putted out for bogey and then tossed his ball to a fan he hit with his tee shot.
PGA CHAMPIONSHIP: THE FAVORITES BY DEFAULT?
Here's the status of the top three players in the World Ranking:
-- No. 1 Woods is entirely out of sorts.
-- No. 2 Mickelson shot a 78 on Sunday.
-- No. 3 Lee Westwood is out of the PGA because of a lingering calf injury.
That leaves No. 4 Steve Stricker, who tied for ninth at Firestone, or No. 5 Jim Furyk, who tied for sixth.
Meanwhile, the betting odds, according to Ladbrokes, favor Mickelson at 12 to 1, while Woods has fallen to 14 to 1 (anyone think that's a good bet?), while Stricker is 25 to 1, Mahan is 33 to 1 and Furyk is 40 to 1.
Ryder Cup questions have gained in frequency these days, most of them pertaining to Woods, who stands to fail to qualify for the U.S. team on points. He's 10th with only the PGA Championship to go.
No one is privy to what Woods really thinks at times, but does he really want to play in the Ryder Cup, this or any other one?
I've long suspected that he has played team events from an obligation to do so (or more precisely to avoid the fallout in the event he declined to represent his country). He has been the best player in an individual sport and as such not necessarily receptive to shared glory. It might even explain his indifferent record in team play (28-24-1, a record buttressed substantially by his 5-0 record in the Presidents Cup last year). His record in five Ryder Cups is 10-13, the 13 losses second only to Raymond Floyd in Ryder Cup history (while acknowledging that the more matches one plays the more opportunities there are to lose).
He has never expressed the enthusiasm others have for playing in the Ryder Cup. In 1999, he was part of the chorus calling for players to be paid for their effort. In 2002, at the WGC-American Express Championship in Ireland, he said flatly that he would rather win that event than the Ryder Cup.
"I can think of a million reasons why," he replied, alluding to first-prize money.
Then there was the question he asked once in defense of what seemed to be his ambivalence toward the Ryder Cup relative to major championships: "What was Jack Nicklaus' record in the Ryder Cup?" The point was that few could cite Nicklaus' Ryder Cup record, while everyone knew he had won 18 majors.
Then on Sunday, he was asked if he wanted to play in the Ryder Cup.
"Not playing like this, definitely not," he said, essentially ducking the question.
Aside from having to answer the Tiger question, U.S. captain Corey Pavin can take some positives into the final week of qualifying.
-- Mahan, who has won twice this year, moved to second in points to secure a place on the U.S. team for the second time.
-- Jeff Overton, 27, remains among the hottest players in the game over the last three-plus months. In that span, he has had five top-three finishes and a T-6 at Firestone. He's fifth in points.
-- Matt Kuchar, who tied for ninth at Firestone, has four top 10s in his last six starts and is seventh in points.
-- On the veteran front, Jim Furyk and Steve Stricker, third and fourth in points, each placed in the top 10 at Firestone.
Tadd Fujikawa, 19, won his first professional tournament outside his native Hawaii, winning the eGolf Professional Tour's Tour Championship by nine shots. Fujikawa earned $25,000 for the victory and finished fifth on the tour's money list with $63,347…Gavin Hall, 15 and playing on a sponsor exemption, shot 78-71 and missed the cut in the Turning Stone Resort Championship...Sweden's Sophie Gustafson won the AIB Ladies Irish Open at the site of the 2011 Solheim Cup, Killeen Castle, which isn't the only reason she could grab a spot on the European team next year. There's this, too: She's won five times in Ireland and Northern Ireland and has won the Irish Open four times...How to win in a landslide: Start with a share of the lead and birdie, birdie, eagle on the first three holes, then close with an eagle to shoot 61. That was how David Frost won the 3M Championship by seven shots on Sunday, his first Champions Tour victory.
From Kristy McPherson, commenting on a photo she posted from Ireland: "The gates where arthur guinness and his 21 children lived! No wonder he started drinking!"
PGA Championship on the Straits Course at Whistling Straits in Sheboygan, Wis. Defending champion Y.E Yang.
Questions. Can Woods recover his missing game? Can Mickelson overtake Woods in the World Ranking? Can Stricker win his first major in his home state?
"Been a long year." -- Woods' response to a question as to why he wasn't surprised by his performance at Firestone.
Watching Woods and Mickelson resemble skilled batters more than skilled golfers by hitting to all fields on Sunday, it brought to mind the Peanuts comic strip, in which Charlie Brown is caddying for Snoopy and asks, "Is there anything special you think about before each shot?"
Snoopy's reply: "Just before I swing I think to myself, 'you haven't hit a good shot all day, what makes you think you're gonna hit one now?'"