News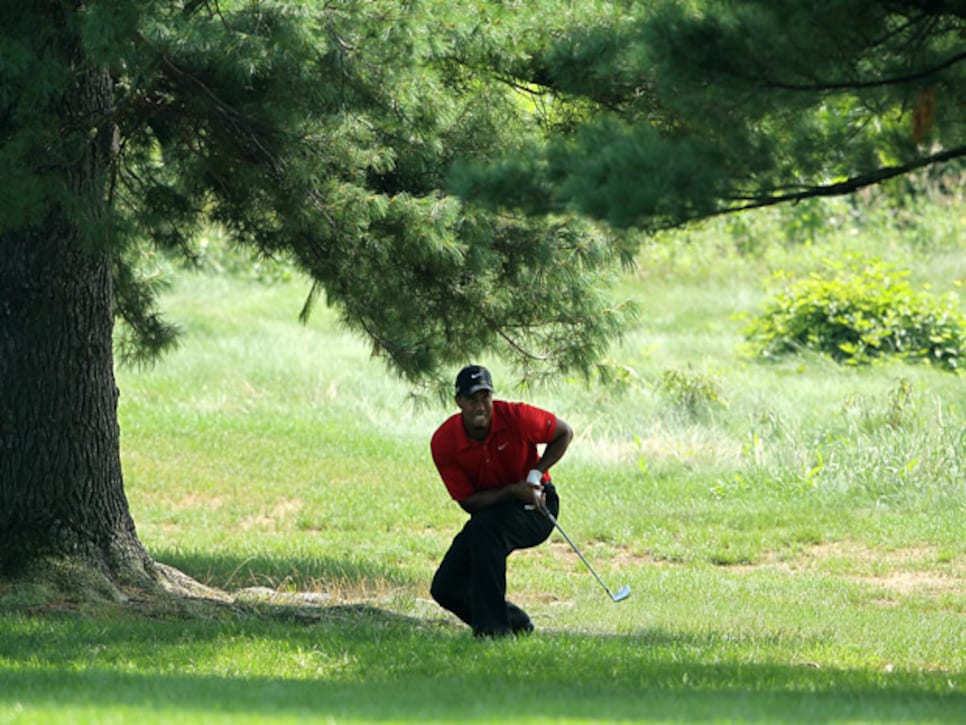 Despite ample evidence to the contrary, Woods said he was encouraged by his play at Firestone.
A cursory check on Sunday night of the latest odds on the PGA Championship revealed that Steve Williams is off the board. The only explanation is that too much action flowed his way in the wake of his astounding victory in the WGC-Bridgestone Invitational.
Tiger Woods, meanwhile, is still garnering enough action that he remains at 20/1, according to Jeff Sherman of GolfOdds.com and the assistant director of the Las Vegas Hilton Sports Book.
Woods has been at 20/1 since Sherman first released his PGA Championship odds in the wake of the British Open, this before anyone knew whether he'd be playing in the year's fourth major at the Atlanta Athletic Club this week.
Now that we know he's playing, there is no less uncertainty, this time over how he'll play. Woods tied for 37th at Firestone Country Club and provided no indication other than his own assessment that he's progressing.
"I'm absolutely encouraged," he said on Sunday.
The numbers, meanwhile, shouldn't promote confidence. Woods was last in a field of 76 in driving accuracy (39.3 percent), tied for 26th in greens in regulation (65.3 percent), and tied for 43rd in putts per round (29.3).
"He drove it so bad Sunday, he can't feel good about that," his former instructor Hank Haney wrote on Twitter.
Woods was either predictably rusty following his long layoff or still somewhat lost.
Oh, and by the way, Williams did not actually win the Bridgestone. Adam Scott did. We think.
WHO REALLY WON THE BRIDGESTONE?
At times it was difficult to tell whether Scott or Williams won.
"From tweets and articles in some places, [it] looks like Steve Williams shot a career best 62 today. I wonder what Adam Scott did," NBC Sports' Ryan Ballengee wrote on Twitter after the first round.
On Sunday's telecast, CBS' Gary McCord contributed to the Williams glorification to which Ballengee had alluded. When Scott was on the tee at the 16th hole, the leader by four, McCord said, "Tell you what, Nick, Steve Williams looks like he's got him a little more focused. What do you think?"
"Absolutely," Nick Faldo replied.
"Totally different demeanor," McCord said.
Scott was No. 17 in the World Ranking entering the Bridgestone Invitational. His performance was not a shocking development.
Scott tied for second in the Masters without Williams on his bag. He missed the cut in the U.S. Open with Williams on the bag. What's it mean? Nothing. That's the point.
Peter Kostis, thankfully, set the record straight on the impetus for Scott's revival and his win at Firestone: An improved short game, notably his putting.
Meanwhile, after Scott holed out on 18, David Feherty interviewed Scott. Then he interviewed Williams. When did golf become a team sport?
"To have that man on your bag, Steve Williams, just that kind of strength and character behind you, on your side, did it make a difference?" Feherty asked Scott.
By character, presumably Feherty was not referring to how gracelessly Williams handled his dismissal by Woods, compounding his gracelessness by going on national television and dissing the former employer who made him a multimillionaire and the wealthiest caddie in history.
"I've got to tell you, David, I've been caddying for 33 years and that's the best week of my life," Williams said in his interview with Feherty. "I've caddied for 33 years now, 145 wins, and that's the best win I've ever had."
"Wow," Jim Nantz said. "Pretty interesting comment."
"Obviously, there's an underlying message in that," Faldo replied.
Obviously. And it was not one that suggests a man of strong character.
Woods was asked 10 caddie questions during his Tuesday news conference.
At the risk of diminishing Williams' importance, we note that in the Pacific 10 Championship in 1996, Woods had rounds of 61 and 65 in a single day, in 95-degree heat on a hilly course, Big Canyon Country Club in Newport Beach, Calif. On one of the finest days in a career of great ones, Woods was carrying his own bag.
It is immaterial who Woods' caddie was, is or will be.
Williams has escorted the winner of the Bridgestone on eight occasions, the first seven with Woods.
He also earned more money than Tiger last week. Woods earned $58,500 for finishing T-37. Williams, assuming Scott paid him the customary 10 percent for a win, earned $140,000 from first prize money of $1.4 million, plus whatever weekly allowance he is paid.
Woods is an easy target these days, but some of it he brings on himself. He took his own thinly-veiled shots last week, these at Haney, who responded via Twitter.
"I'm hitting it just so much more flush, and I'm just not used to that," Woods said on Thursday. "[Before] my swing was more of a wipey swing, just kind of wiping it out there, so I wasn't getting a full transfer of energy. Now I'm swinging easier. I am not even hitting it hard yet, and that's what's fun. I'm hitting it farther without any more effort."
"I have no idea," Haney said on Twitter. Haney then had some fun at Tiger's expense. One Twitter follower suggested that Haney's new motto should be, "Come to the Hank Haney Golf Schools and learn the wipey swing."
"That would be 'the winning wipey swing,'" Haney replied.
A while later, after Scott had won the Bridgestone, Haney posted this: "I have to admit that Adam Scott's swing looked kind of wipey today."
Just kidding. When Woods is in the field, however one views him these days, it does increase interest in the tournament. Then again, no man is bigger than the game, as Arnold Palmer often said. We were reminded of this again at the Bridgestone.
Tiger played his way out of the story, but the story remained compelling, with Rickie Fowler, 22, Ryo Ishikawa, 19, Jason Day, 23, and Rory McIlroy, 22, all in contention and all eventually finishing in the top six.
The bottom line: The future of golf is as promising as it has ever been.
The PGA Championship is widely considered the least important of the four majors, yet it often produces some of the most memorable majors, last year's bizarre finish at Whistling Straits a case in point.
The aforementioned youth heading into the Atlanta Athletic Club in peak form bodes well. So do the performances last week of Luke Donald and Lee Westwood, Nos. 1 and 2 in the World Ranking. Donald tied for second at the Bridgestone, Westwood tied for ninth.
The weather, hot and humid, will be a factor, too. The predicted high each day ranges from 90 to 93, with isolated thunderstorms called for on Monday, Friday and Saturday, according to Weather.com .
At one point on Friday, a day after the stock market went south, a check of Google News' Top Stories produced this list in this order:
Tiger Woods Rise of the Planet of the Apes Jersey Shore Dow Jones Industrial Average
Patrick Cantlay, No. 1 in the World Amateur Ranking and playing in the wake of a stellar run in PGA Tour events, was the proverbial lead-pipe cinch to win the prestigious Western Amateur. His opponent in the final was Ethan Tracy, relatively unknown.
Yet Tracy defeated Cantlay, 1-up, to become the second Columbus, Ohio-area native to win the Western Amateur. The first? Jack Nicklaus, 50 years earlier.
Cantlay's four previous tournaments all took place on the PGA Tour and he finished in the top 25 in all of them: T-21 U.S. Open, T-24 in the Travelers Championship, T-20 in the AT&T National and T-9 in the RBC Canadian Open.
Tracy's form chart, meanwhile, included an eight-place finish in the Ohio Amateur last month.
J.J. Killeen won the Nationwide Tour's Cox Classic, giving him two-straight victories. He won the Utah Championship the week before with an identical score of 22-under par 262. His scoring average for those eight rounds: 65.5.
Killeen is 29 and is a graduate of TCU who has played on the Nationwide Tour for four years. He has never played in a PGA Tour event, yet is now guaranteed to earn his PGA Tour membership for 2012.
Hunter Mahan: "Had a fun 9 holes with @TigerWoods today. The swing looks great and the knee looks even better!"
Paul Goydos in response: "Was he wearing shorts?"
Hale Irwin, 66, shot his age in a tournament for the second straight week. Irwin closed the 3M Championship with a 66 to finished T-8, his seventh top 10 in 15 starts on the Champions Tour. Jay Haas, 57, won, his first victory in nearly two years...Norway's Suzann Pettersen won the Ladies Irish Open, a Ladies European Tour event, by six shots...Scott Piercy, a native and resident of Las Vegas, became the first Nevadan to win the Reno-Tahoe Open.
PGA Tour: PGA Championship at the Atlanta Athletic Club, Johns Creek, Ga. Defending champion Martin Kaymer.
The new era vs. the establishment. Will the winner emerge from a talented group of those in their 20s, including Day, McIlroy, Ishikawa and Dustin Johnson? Or will one of the veteran stars -- Woods, Phil Mickelson, Steve Stricker, Westwood -- step up and make a statement on behalf of experience?
Woods lost another endorsement last week, this one with watchmaker Tag Heuer.
Maybe Tag Heuer intends to give it to Steve Williams instead. After winning 145 tournaments, he deserves something more than a Valvoline endorsement.