News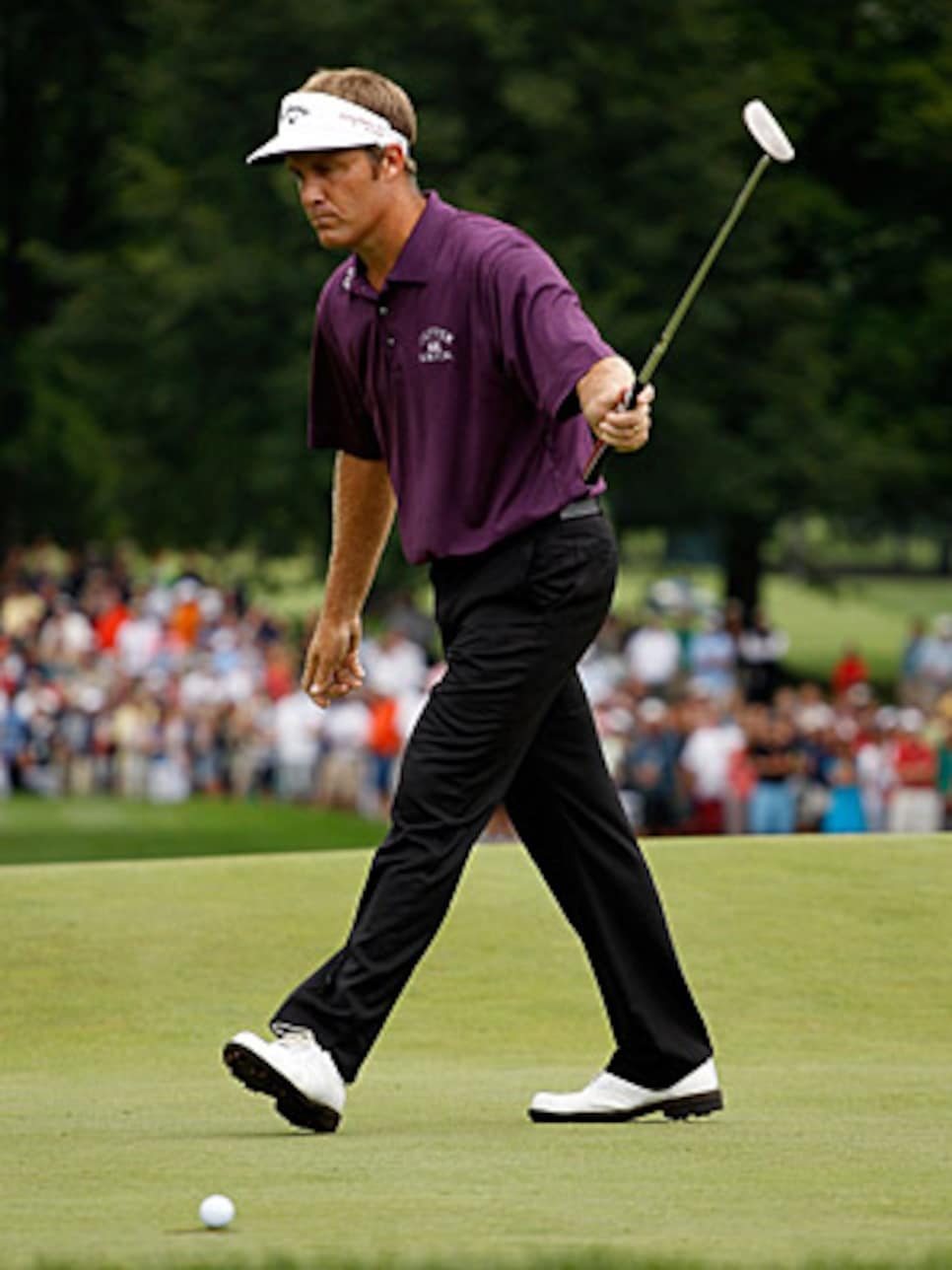 Appleby's 59 was just the latest in a string of alarming low numbers.
Say this for Stuart Appleby: He had the decency to wait until August 1 to shoot his 59 so they couldn't say it happened twice in the same month.
What has gotten into the game, other than high-tech ammunition propelled by rocket launchers turning courses into manicured pitch-and-putts? Has the game gotten easier? Have they surreptitiously increased the size of the hole?
The new grooves the USGA ordered were supposed to help restore the integrity of par. But on the soft greens at the Greenbrier Resort, the new grooves were an advantage, as CBS' Nick Faldo pointed out on Saturday. They allowed the ball generally to stop in its tracks, in contrast to how the ball might have reacted with the old grooves, perhaps spinning back off the front of the greens.
Joe Ogilvie concurred. "Maybe I owe USGA an apology, groove rule has made golf easier, controlling wedge spin a breeze, I hope it is easier for ams too?!?!?" he wrote on Twitter. "USGA repeat after me, more spin is harder, less spin is easier."
J.B. Holmes flirted with 59 and shot 60 in the third round of Greenbrier Classic. Later that day, D.A. Points seemed a cinch to shoot 59, before a careless bogey at 17 derailed his bid. Then on Sunday, Appleby, who hadn't had a top 10 since April, produced a 59 that enabled him to win the inaugural Greenbrier Classic by one.
Stand by for the equipment debate to begin anew.
YOU COULD SEE THIS COMING
Greenbrier owner Jim Justice in response to the low scoring there last week: "We added a couple hundred yards of length this year. There's probably a real good chance that we'll add another two, three hundred yards to the length. We may pinch the fairways in just a little bit."
Fifty nine? Appleby shot the fifth 59 in PGA Tour history only 24 days after Paul Goydos became the fourth to shoot 59, in the first round of the John Deere Classic. U.S. Open champion Graeme McDowell shot 59 in a friendly round on the Valley Course in Portrush, Northern Ireland eight days ago, and predicted someone soon would shoot the same score in a European Tour event.
Fifty-eight? Japan's Ryo Ishikawa shot a 58 in the final round of the Crowns, a Japan Golf tour event, earlier this year to win by five.
Fifty-seven? Bobby Wyatt, 17, one of the nation's leading juniors, shot 57 in the Alabama Boys State Junior Championship last week, winning the tournament for the fourth straight year.
Fifty-six? Two weeks ago, Trevor Murphy shot a 56 in the pro-am for the Nationwide Children's Hospital Invitational, a Nationwide Tour event, albeit on the Gray Course at Ohio State, which measured only 5,800 yards. Chris Sauer, general manager and head pro at Cedar Creek Golf Course in Albertville, also shot a 56 in a men's club tournament last week.
Fifty-five? Fifty-four? Stay tuned.
The 54 in the Vision 54 concept developed by the noted teaching tandem of Pia Nilsson and Lynn Marriott represents the idea that there are no limits -- 18 holes, 18 birdies, a 54, why not?
Yet who thought 54 actually was attainable? From what we've seen in recent months, weeks and days, maybe we ought to reconsider.
Or maybe we've been duped. "I assume this score was made in a video game... right?" an anonymous reader commented on the Local Knowledge blog regarding Wyatt's 57.
It comes from CBS, and we'll leave the fact-checking to others (for obvious reasons). When it appeared that D.A. Points might shoot a 59 before a bogey at 17 derailed his bid on Saturday, CBS put up a graphic showing that in the last five events, totaling 1,666 rounds, there was one 59 and three 60s recorded. In the previous 1,488 events covering 612,335 rounds there were three 59s and and 14 60s.
BERNHARD LANGER: UNDERACHIEVER?
One might wonder, in the wake of the methodical way in which he won the U.S. Senior Open, why Bernhard Langer did not win more major championships.
The reason: The demon putter. Langer has had several bouts with the yips through the years and attempted to counter them with a variety of putters and putting methods.
His putting was not an issue at Sahalee Country Club last week -- he did not three-putt once -- and accordingly he won his second consecutive senior major.
It was too good a script to follow, Fred Couples returning home to Seattle and winning the U.S. Senior Open there, and he didn't follow it or his own instincts.
He lost to Langer on the second hole on Sunday, when Langer made birdie and Couples a triple-bogey eight. Afterward, Couples conceded he made a bonehead decision by laying up at No. 2, when the prudent play was to blow it past the pond fronting the green. Couples chunked his third into the pond, the first domino in a number of them that eventually added to eight.
"Going down the third hole I was asking my caddie if I've ever laid up on a par 5," he said. "And I did on the second hole and walked away with an eight."
-- "Thanks for coming," Points said to the crowd at the Greenbrier, even after missing a short par putt at the 18th green that cost him $71,800 by dropping him from solo fourth to a five-way tie for fourth.
-- Langer gave Couples a high-five after the latter holed a 25-foot birdie putt with a big left-to-right swing at the 16th hole on Sunday, to cut Langer's lead to two.
...Alexis Thompson, who finished T10 in the U.S. Women's Open and second in the Evian Masters, would have gotten into the Ricoh Women's British Open if she had signed with IMG rather than Blue Giraffe Sports. The answer surely would have come back "no." However...
The Women's British Open is an IMG event (staged in conjunction with the Ladies' Golf Union). IMG is not averse to altering qualifying rules to buttress a field; in 2007, when it became apparent that Annika Sorenstam (an IMG client) would not qualify for the Samsung World Championship (an IMG event), it created a Hall of Fame exemption that it awarded to Sorenstam, who, showing better judgment than her representatives, graciously declined the invitation.
Thompson, incidentally, had an exemption into a final qualifier by virtue of her having played on the U.S. Curtis Cup team. But she forfeited it by turning professional and the Ladies' Golf Union denied her request for an exemption into the qualifier.
THIS ISN'T PROGRESS, IT'S REGRESS
The notion was that once Michelle Wie joined the LPGA full time and played regularly she would begin to deliver on her potential. To the contrary, all evidence suggests that she was a better player at 16 than she is at 20.
In 2006, her first full year as a professional, Wie finished in the top 10 in six of eight starts. In three of the four major championships, she finished no worse than fifth. In 2010, she has three top 10s in 13 starts and her best finish in a major was her T17 in the Ricoh Women's British Open.
Last year was not appreciably better, though she did win an event. She had eight top 10s in 19 events and finished no better than a T11 in a major, in the Women's British Open.
In her last four starts, starting with a victory in the Jamie Farr Owens Corning Classic on the Fourth of July, South Korean Na Yeon Choi has finished first, T2, T2 and T3, earning $837,004, or more than $209,000 a week.
Incidentally, she earned less for her victory ($150,000) than she did in each of her ensuing seconds and third.
Ross Fisher won the Irish Open on Sunday to become the fifth different Englishman to win on the European Tour this year, joining James Morrison, Simon Kahn, Luke Donald and David Horsey.
Two Englishmen have won on the PGA Tour -- Justin Rose (twice) and Lee Westwood -- while a third, Ian Poulter, won a World Golf Championship event in the U.S.
Jeff Overton has spent most of his career playing in obscurity, which has begun to change, first slowly and possibly quickly. Overton nearly won the Greenbrier Classic on Sunday and only a final-round 59 by Appleby prevented him from doing so.
His second-place finish, however, elevated him to fourth on the U.S. Ryder Cup team points list, behind only Phil Mickelson, Jim Furyk and Steve Stricker.
The most authentically animated player in golf, he's fun to watch, too.
Is Kenny Perry's late career run winding down? It's too premature to know definitively, but the fact is that he hasn't had a top 10 on the PGA Tour since the season opener, the SBS Championship, and at the Greenbrier he missed his third cut of the season, more missed cuts than he had in the last two years combined. Perry turns 50 next week...PGA Tour rookie Billy Horschel returned to competition, five months after undergoing surgery on his left wrist and announcing he was through for the year. Horschel missed the cut at the Nationwide Tour's Cox Classic Presented by Lexus of Omaha.
Last week, it said here that U.S. Girls Junior champion Doris Chen was Chinese. She is in fact of Taiwanese descent and holds dual citizenship in the U.S. and Taiwan.
From Rickie Fowler, reiterating why all of us should have been successful professional golfers: "Ritz Wednesday, Bear's Club yesterday, and Old Marsh right now...golf in the mornings...beach and fishing in the afternoons...tough to beat!"
From Joe Ogilvie: "Greenbrier Classic best rookie event since Quail Hollow, This place is the best."
"I told Commissioner [Tim] Finchem and Rick George [executive vice president and chief of operations for the PGA Tour], I won't stop -- if God gives me breath, I'm not gonna stop -- 'til they come to me and tell me this is the best event that they have on the PGA Tour." -- Greenbrier owner Jim Justice
PGA Tour: WGC-Bridgestone Invitational at Firestone Country Club in Akron, Ohio. Defending champion Tiger Woods. Turning Stone Resort Championship at Atunyote Golf club at Turning Stone Resort in Vernon, N.Y. Defending champion Matt Kuchar. LPGA: Off for two weeks.
-- The WGC-Bridgestone Invitational this week will provide the best test yet of where Woods stands with his game. He has won the tournament so often (seven times) that if he doesn't have Bridgestone (or Firestone) tires on his cars, shame on him.
Two weeks from today, Tiger Woods will have moved to the fore in the race for PGA Tour player of the year. Or not. But there's a chance.
You think his year is lost? Should he win the WGC-Bridgestone Invitational -- and there's no reason to suspect he won't, given his track record there -- then it would hint at one of his trademark late-season runs. With the PGA Championship to follow and momentum on his side, it would not be unreasonable to expect him to win at Whistling Straits, too.
Only one PGA Tour member has won a major, Phil Mickelson (the Masters), but he's won no other events. Those tour members with two victories, Ernie Els and Jim Furyk, haven't won a major.
It's teed up for Woods, who needs only a compliant putter to regain control of his destiny.