News
What Yani Can Learn From Tiger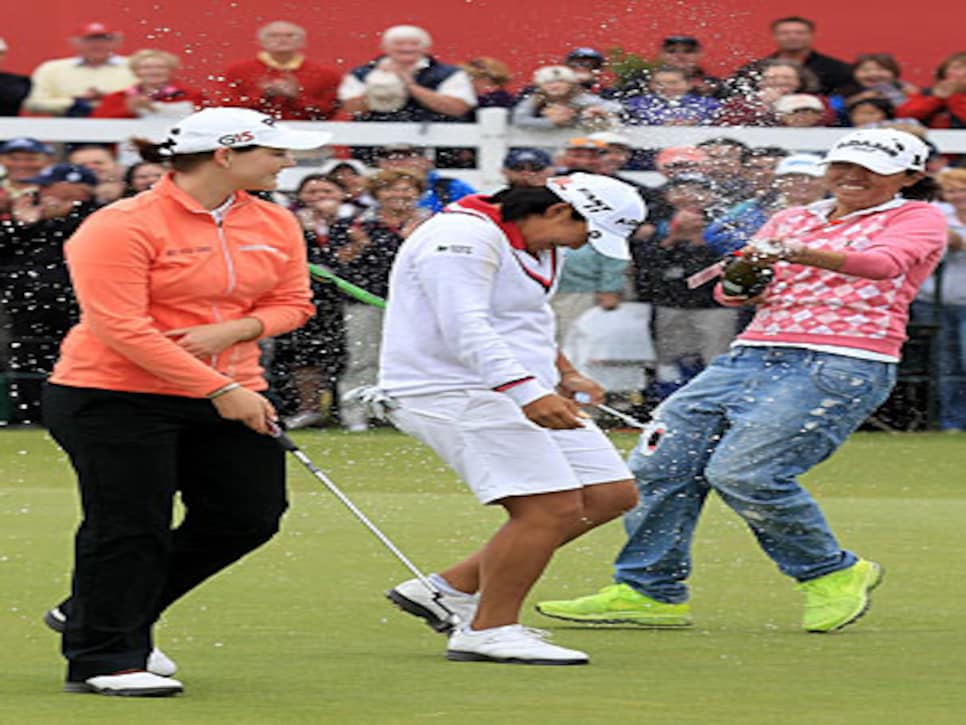 Tseng is doused with champagne after winning at Carnoustie.
It is too soon to know, but not too soon to consider the possibility. Yani Tseng, best ever? Smart money is bullish right now, encouraged by her own growing portfolio of major championships, now numbering five before the age of 23.
The Bear in the room suggests hedging your bet. Tiger Woods similarly was once stalking history, represented by the imposing figure of the Golden Bear, Jack Nicklaus, whose record 18 professional majors has again become elusive.
Last week, Woods announced that he was returning to competitive golf at the WGC-Bridgestone Invitational that begins Thursday. He was never a sure bet to overtake Nicklaus. Now he no longer approximates a good bet.
Woods, at 14 majors and holding, is at a crossroads of sorts. If at the Bridgestone or the PGA Championship the following week he encounters another setback in his recovery from an injury to a knee that already has been surgically repaired four times, one would have to conclude that his career is in full retreat and that Nicklaus' record is safe for another generation.
This is the cautionary tale for Tseng, who on Sunday won the Women's British Open for the second straight year and has won seven tournaments this year, four on the LPGA, including two majors.
"She's a little injury prone," said Glen Daugherty, her first American instructor and still a close friend ("she's like a daughter to me"). "She takes it a little shut to open to hit the fade and hits down on the ball. I'm not a kinesiologist, but I think it takes a little toll on her arms. Part of it was hitting balls on mats [at home in Taiwan]. That didn't help. It probably caused some of her wrist and elbow problems. And the clubhead speed she has, she swings so hard, it takes a toll. Look at Tiger. That leg drive takes a toll on her back."
It is OK to ponder Tseng's ability and to calibrate its potential over 20 years or more, but it's best to do so with the requisite caveats, one of which apparently is not the potential for burnout.
"She has enough money now," Daugherty said. "She's really only interested in winning. I don't think drive is going to be a question. That's been her life. She's not [Phil] Mickelson, who has these other things that he'd rather do than play golf. With Yani, it's golf and hanging around with her friends."
Her place in history is likely dependent not only on her health, but also her putting, Daugherty said.
"She used to be a really good putter, but, frankly, now she's kind of streaky. Putting can be a little bit elusive. I don't think she has figured out exactly how she wants to putt. That could be problematic. The sky's the limit for her, but you have to putt well consistently. That's the tool that bails players out."
In the meantime, the Tseng era has arrived and isn't ending anytime soon. However it plays out, the women's game is better for it.
Woods' scoring average in 48 rounds at Firestone Country Club is 68.31. As good as that is, it would be more than a half stroke lower were 2010 not part of the equation.
Woods, who has won seven times at Firestone, finished T-78 there last year, playing 72 holes in 18-over par 298.
His ability to contend at Firestone was once a given. This week, it's anyone's guess.
Woods, incidentally, is now 28th in the World Ranking, down from 21st last week and second at the start of the year.
OCCIDENTAL COLLEGE, CLASS OF '83
The two most prominent members of the Oxy Class of '83, for the moment, anyway, are its two most famous golfers, Barack Obama and Olin Browne.
Browne, a journeyman who squeezed three PGA Tour victories from whatever skill he could cobble together from having not taken up the game until he was 19, won the U.S. Senior Open by two strokes.
"When I started playing golf, we'd go to the driving range, a little dumpy par-3 course with a driving range called Arroyo Seco," he said, speaking of his wife Pam, then his girl friend, and the South Pasadena, Calif., facility. "She'd have her books out. She was pre-med and a French major and she was doing her homework. And I'd tell her, 'this is the U.S. Open. What's the shot here?' She would say, 'all right. U.S. Open, 700 yards, par-4.' I said, 'that's not how it works. How about 440, dogleg right?' And then I'd hit a shot. So this goes back a long way for us."
Browne handled the 440 yard par-4s beautifully last week. His more prominent classmate, meanwhile, faced the task of navigating the 700-yard par-4: debt ceiling negotiations and a looming deadline. We'll leave it to others to calculate Obama's score there. Suffice it to say that he gladly would have traded places with Browne on Sunday.
Rory McIlroy's tendency to speak (or write) sans filter makes for great copy, but it does not necessarily help his reputation.
He came across as petulant when he used Twitter to blast television analyst and former European Tour player Jay Townsend for criticizing his course management and his caddie J.P Fitzgerald.
"@JayATownsend shut up.... You're a commentator and a failed golfer, your opinion means nothing!" he wrote.
This brings to mind the old rejoinder that one needn't be an accomplished chef to know whether a meal is good.
McIlroy later explained that his remarks were in defense of his caddie. But it wasn't the first time he was moved to clarify what he had previously said or written, suggesting that he ought to choose his words more carefully, for his own sake.
The distinguished Northern Ireland triumvirate of major champions did not represent itself well in the Irish Open. British Open champion Darren Clarke missed the cut, Graeme McDowell tied for 25th and Rory McIlroy tied for 34th.
Two of them might have been hampered by the "man flu," as they noted on Twitter.
Clarke: "Not a bad start -2....still not at my strongest with my self inflicted man-flu! Nice being announced as The Open Champion on 1st tee today!"
McDowell: "@Theprincedc Good playing Open champ. Got a wee bit of the man flu myself. I have no excuse for self inflicting it though!"
Simon Dyson of England was the winner, this his fifth European Tour victory. It moved him to 48th on the World Ranking, earning him a place in the WGC-Bridgestone Invitational this week.
Scott Stallings' playoff victory in the Greenbrier Classic on Sunday was the 12th this year by a player in his 20s, keeping pace with 2010, when 16 PGA Tour events were won by players in their 20s. Stallings, 26, is a tour rookie.
Darren Clarke: "Going thru my mail...congrats notes from,among others, Jack Nicklaus,Arnold Palmer,David Cameron,Mary McAleese! Wow! :-)"
He mentioned Nicklaus and Palmer ahead of the prime minister of the U.K. and the president of Ireland. Wow, indeed.
A caddie, Damon Green, finished T-13 in the U.S. Senior Open. Green's day job is to caddie for Zach Johnson on the PGA Tour... Chris DiMarco's nephew, Patrick DiMarco, is a professional athlete as well. A former fullback at South Carolina, DiMarco was an undrafted free agent who last week signed with the San Diego Chargers...Former Masters champion Trevor Immelman came up two strokes short of his first top 10 since the 2008 Tour Championship. Immelman tied for 14th...It is inconceivable that Lexi Thompson won't be a full-fledged member of the LPGA next year. Thompson won first-stage qualifying by 10 shots. Though the fields get stronger at each of the two subsequent stages, they still lack depth and the track record she's already established on the LPGA probably casts her as the prohibitive favorite. It probably doesn't hurt, either, that she's a Florida native and all three stages are held in Florida.
WGC-Bridgestone Invitational at Firestone Country Club, Akron, Ohio. Defending champion Hunter Mahan.
Tiger Woods. It will be his first start since the Players Championship in May, when injuries forced him into a long hiatus.
A man who has 65 PGA Tour and Champions Tour victories, including three U.S. Opens, isn't given to celebrating moral victories, but allow us to do so on his behalf.
Hale Irwin, 66, tied for fourth in the U.S. Senior Open at Inverness, 32 years after winning the U.S. Open there. He even shot his age, 66, in the third round.
Earlier this year, Irwin finished solo fourth in the Senior PGA Championship and has had six top 10s this year, placing him among the Champions Tour leaders in that category.
One of the most stubbornly competitive players in golf history, Irwin steadfastly declines to surrender to the passage of time. It isn't his greatest achievement, obviously, but it is an impressive one worth noting and saluting. Hail, Irwin.