News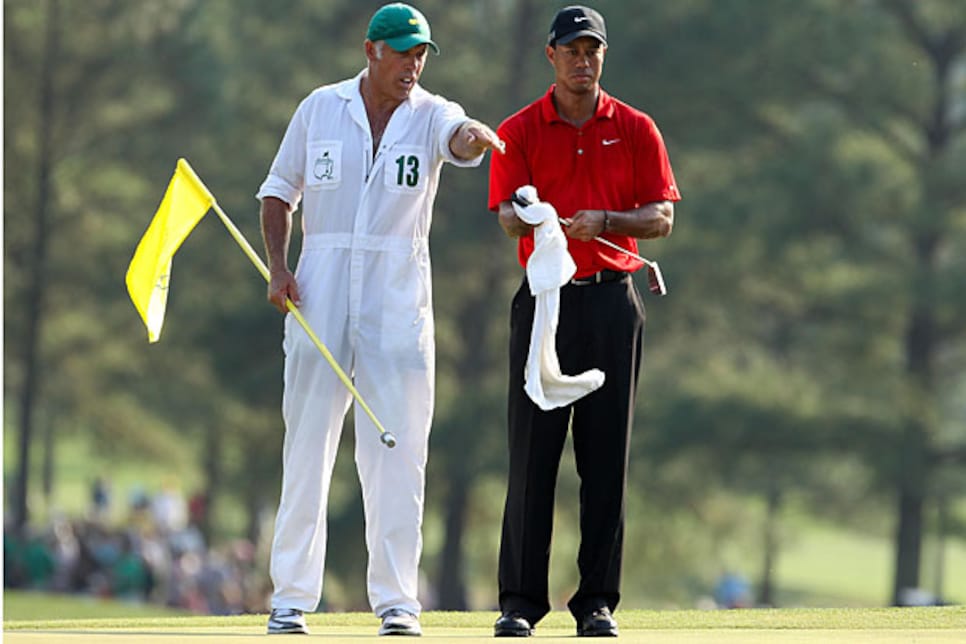 Woods and Williams had worked together for 12 years.
In the wake of Woods' firing of caddie Steve Williams, media speculation immediately began as to whom his replacement would be, not that it matters much. Woods once won the Buick Invitational with a friend, Byron Bell, toting his bag. Still, at least one bookmaker, Paddy Power, saw fit to squeeze publicity from Williams' firing by offering odds on potential replacements. For the record, Fanny Sunesson went off as a 2/1 favorite.
Williams' reaction to the firing generated its own news cycle. He spoke of his disappointment and Woods' lack of loyalty (see "Parting Thought" at the end of this column), then spoke of his intention eventually to write a book with "an interesting chapter" on Woods. Williams always showed up and kept up, but now that he no longer is in Tiger's employ, he apparently has no intention of shutting up.
All of this was too much for Scotland on Sunday's Richard Bath, who described Williams as "a superannuated porter who gets ludicrously well rewarded...to carry a bag of golf clubs."
Bath took exception to Williams' boorish behavior through the years, as well as his angry reaction to Woods canning him. "Is there a more loathsome man in golf than Tiger Woods' recently-fired caddy Steve Williams?" Bath asked in his opening sentence.
Talk about your loaded questions when the other man in the sentence is Tiger Woods.
Out of this bitter vortex, thankfully, emerged a couple of feel-good stories to rescue the week in golf.
One was Sean O'Hair, one of the more agreeable players on the PGA Tour, emerging from a long slump that resulted in his issuing his own pink slip (to coach Sean Foley) and winning the Canadian Open in a playoff with Kris Banks.
The other was Japan's Ai Miyazato, who won the Evian Masters for the second time, this one on behalf of her embattled homeland. An emotional Miyazato said she would share the $487,500 she earned with the people of Japan.
Big wins for them, small favors for us.
Two years ago, O'Hair was ranked 12th in the world. Last week, he was ranked 114th. His career had veered far from its intended path, which was expected to lead to stardom. So in May he replaced Foley with a former coach, Steve Dahlby, with whom he had worked "on and off since I was about 11 or 12 years old," he said. Together they began rebuilding his swing.
The payoff came on the weekend, when he shot 66 and 68, then beat Banks on the first hole of a playoff.
"I just don't know what to do," a tearful O'Hair said in the immediate aftermath. "It's been a humbling year. I just don't know what to say. Jackie, I love you. It's been a tough road."
Jackie is his wife, the mother of their four children.
When Keegan Bradley posted his Sunday tee time at the Canadian Open on Twitter, he used this hashtag: #usopenconditions.
An airborne Luke Donald, already several thousand feet up in his departure from Vancouver, posted a photo on Twitter on which he wrote this: "here's a pic of Vancouver. If you look closely enough you can still see the rough!!"
Was Shaughnessy Golf and Country Club really playing that hard? Well, the scores reflected the difficulty; only eight players finished under par and the winning score was four-under.
IF THEY THOUGHT THAT WAS TOUGH...
They could have been playing in the European Tour's Nordea Masters in Sweden on Sunday.
Impossibly strong winds turned the Bro Hoff Slott Golf Course into an amusement park, for those watching, at least. The two toughest holes were the par-5 13th and the par-3 17th, each of them playing more than a stroke over par. Fredrik Hed-Andersson played them in 13-over par, making a nine at 13 and a 12 at 17, the latter hole featuring an island green that in those winds had to appear the size of a manhole cover.
Hed-Andersson shot a 90, which wasn't the worst score of the round. Steve Webster shot a 91 that included an 11 on the 17th hole.
It was treacherous enough to erase an entire week's worth of quality work, as Christian Nilsson, among others, discovered. Nilsson would have tied for fourth with a par there. Instead he made nine and finished T-24.
"The only thing I thought of all day was the 17th," the winner, Alexander Noren, said. "I said it doesn't matter how I play up to that. I just have to survive 17 and I did. I've never seen wind like this in Sweden. Every hole was super tough and even downwind it was hard to choose the clubs."
Noren, a Swede for whom it was a home game, hit the green and made par at 17. He shot 77 in the final round and still won by seven.
Americans Dustin Johnson (74 in the final round) and Bubba Watson (78), the highest-ranked players in the field, tied for sixth.
Canadian Adam Hadwin, 23, a member of the Canadian PGA Tour, finished in a tie for fourth at the RBC Canadian Open, only his third PGA Tour event.
In eight Canadian Tour starts this year, he has finished better than that T-4 in only one of them, when he won the Pacific Colombia Tour Championship.
Hadwin finished T-39 at the U.S. Open this year and T-37 in the Canadian Open last year in his only other PGA Tour starts. He also had a T-27 in the Ford Wayne Gretzky Classic, a Nationwide Tour event, in 2010.
He earned $228,800 for his performance, the first top 10 by a member of the Canadian Tour since 1988, when Gordie Smith finished T-7. The top 10 also earned him a spot in the PGA Tour's Greenbrier Classic next week.
College players finished one-two in the Nationwide Children's Hospital Invitational, a Nationwide Tour event. Harris English of the University of Georgia beat LSU's John Peterson with a birdie on 18 (to Peterson's bogey). Another amateur, Oklahoma State's Peter Uihlein, tied for ninth.
The country's best amateur, Patrick Cantlay, meanhile, tied for ninth in the Canadian Open. In four PGA Tour starts this summer, Cantlay, a UCLA sophomore, finished in the top 25 in all of them, including a T-21 in the U.S. Open.
That was impressive, this less so: "The top guys in college, the top 20 or 30 guys, can beat the top 20-30 guys on the PGA Tour," Peterson said, according to a story by Golf World contributor Dave Shedloski. English concurred.
If they weren't drug-tested after their rounds on Sunday, maybe they should have been.
The 68 that Ernie Els shot in the first round of the RBC Canadian Open was his first round in the 60s on the PGA Tour since the second round of the Shell Houston Open on April 1.
Els, however, has had four rounds in the 60s on the European Tour, three of them coming in the Barclays Scottish Open.
He tied for 17th in Canada, equaling his best finish on the PGA Tour in this one of his most forgettable years.
A David Feherty follower: "Impressed you have an LP of the Faure Requiem on your set. Do you really like classical music or is that just a prop?"
Feherty: "No Gus, that is the greatest recording of Faure's masterpiece - the choir of King's College Cambridge. f."
Comment: Feherty isn't kidding (we think). In his book, "The Power of Positive Idiocy," he wrote in response to a question regarding a Faure selection he sang in a Cobra commercial that he once sang Faure's "Pie Jesu" as a treble (before his voice changed) and that he retains a love of choral music.
Russ Cochran's victory in the Senior British Open was his third on the Champions Tour, two more than he won in a long PGA Tour career that began in 1983...Stacy Lewis earned more for finishing second in the Evian Masters ($302,406) than she earned for winning a major, the Kraft Nabisco Championship ($300,000), in April...Daly finished T-9 at the Canadian Open, his first top 10 since October, 2005. It was his first top 20 in more than four years...Matt Kuchar, typically the model of consistency in recent years, missed the cut for the second week in a row.
PGA Tour: Greenbrier Classic at The Old White TPC, White Sulphur Springs, West Virginia. Defending champion Stuart Appleby. LPGA: Ricoh Women's British Open at Carnoustie Golf Links, Carnoustie, Angus, Scotland. Defending champion Yani Tseng. European Tour: Irish Open presented by Discover Ireland at Killarney Golf and Fishing Club, Killarney, Republic of Ireland. Defending champion Ross Fisher.
-- The Irish Open, starring Northern Ireland's three major champions: Rory McIlroy, Graeme McDowell and Darren Clarke.
-- The Greenbrier Classic got high marks from players last year, presumably in part by the scoring the course engendered. Appleby shot 59 in the final round to win. J.B. Holmes, meanwhile, had a 60, D.A. Points a 61, Jeff Overton a 62 and Woody Austin a 63. The field scoring average for the four rounds was 68.5.
-- Phil Mickelson has entered the Greenbrier Classic, as has Tom Watson, the pro emeritus there.
When Woods was still a teenager, his father Earl said that others have to earn Tiger's respect. Earl never considered that that being the case, then Tiger should similarly have been required to earn others' respect.
Thus the one-way street on which Woods lives was paved. Steve Williams' loyalty to Woods was not repaid in kind and the caddie was fired last week, presumably on the thinnest of reasons: Williams asked Woods for permission to work for Adam Scott while his boss remained on the disabled list.
Recall that Williams was more than a caddie; he was Tiger's friend. Woods was the best man in Williams' wedding, Williams a groomsman in Woods' wedding.
Woods' friends seemingly are required to be friends on Tiger's terms, a breeding ground for sycophants, but not necessarily for friendships.