News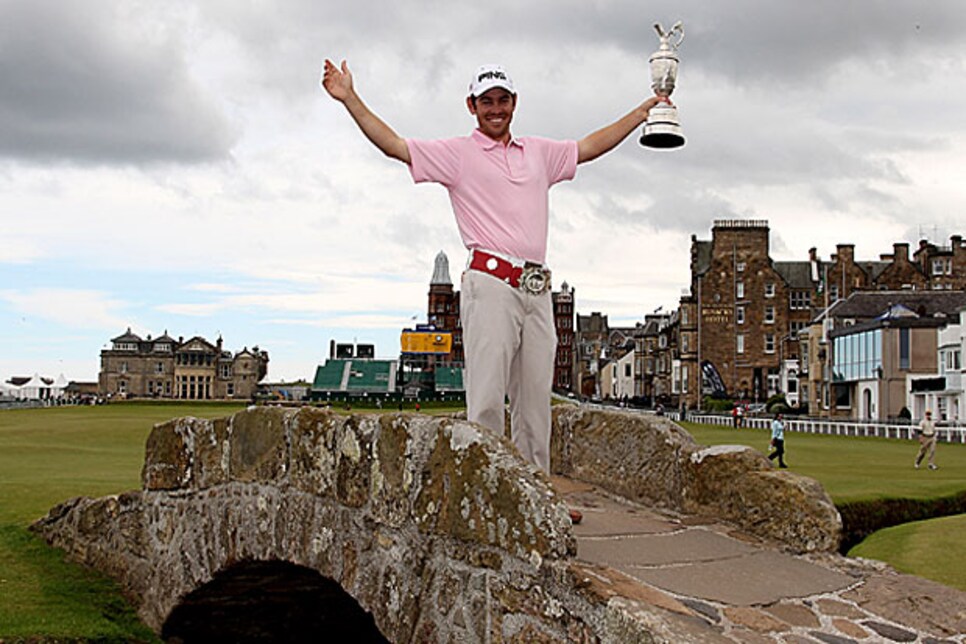 Oosthuizen poses with the claret jug following his unlikely major win at St. Andrews.
The British Open was won by a man of letters, none of them capable of spelling Mickelson or McIlroy, or even Woods, Westwood or Casey, however they're rearranged. So it goes in this game that doesn't follow a script, even when presented with a choice of compelling ones.
The Open at St. Andrews, its gilded history notwithstanding, is under no obligation to follow form, and so the list of winners at St. Andrews in the last 40 years now goes like this: Nicklaus, Nicklaus, Ballesteros, Faldo, Daly, Woods, Woods and...Oosthuizen?
Oosthuizen is a jumble of letters that don't work even when fed into an internet anagram generator -- "Eh I Stun Zoo" is as close as it gets to spitting out anything that makes sense.
Yes, Louis Oosthuizen (pronounced LEW-eee OOST-hazen) is your 2010 British Open champion, and he won in a landslide, by seven strokes, and, as they say, it wasn't as close as the score indicates.
How it played at home is uncertain, though my old friend Gene Wojciechowski (an impressive jumble of letters as well) at ESPN.com hazards a guess:
"Go to a mirror," he wrote. "Now spend the next 4½ hours watching your eyebrow hair grow. If possible, do so with the sound of seagulls squawking in the background. Do that, and you'll know exactly what it was like to watch the final round of the Open Championship."
It seems unlikely that a blowout would have been perceived similarly had the perpetrator been, say, Woods at the top of his game, working his artistry, or Mickelson adding to his growing legacy. So it was less the show than its star.
ESPN's Paul Azinger had another take, one with which I agree (sorry, Geno). "I hope the viewer wasn't bored to death by the blowout because what you saw was really a surgeon going around a golf course for four days," Azinger said afterward. "He took this place apart like with a scalpel. He put on a clinic. It was impressive to watch. I hope you enjoyed it because I certainly did."
Oosthuizen may have surgically removed the drama, but the manner in which this heretofore obscure and largely untested European Tour player from South Africa lapped a field of the best players in the world was as compelling as a blowout will get that doesn't feature Woods chasing history of some sort.
THE DEVIL'S ADVOCATE WEIGHS IN
Oosthuizen, 27, might prove to be the next great South African player in a lengthening lineage of them. Or he might not.
Tom Watson said he was "overwhelmed" by how well Oosthuizen played and how good he is. In a post-round interview, fellow South African Retief Goosen suggested that given his maturity and skill, Oosthuizen might win several major championships.
The consensus was that this is a star finally finding his footing, that his textbook swing and poise under pressure promise a long and distinguished career.
Here was how Oosthuizen performed in the run-up to the British Open (working back from his most recent start): Missed the cut at the Barclays Scottish Open, withdrew from the French Open, missed the cut at the U.S. Open, 20th at the Wales Open, 21st at the Madrid Masters, missed the cut at the BMW Championship, missed the cut at the Masters.
It's the record of a struggling journeyman, not an emerging superstar. His performance this year, even factoring in his first European Tour victory (at the Andalusia Open), suggests this major victory was an anomaly.
Lucas Glover was an emerging star, too. More than a year now has passed since his last victory, in the U.S. Open in 2009. A year has expired since Stewart Cink's last victory, at the British Open in 2009. Nearly a year has passed since Y.E. Yang last won, beating Woods at the PGA Championship last August.
Oosthuizen is young and gifted, but let's wait on the coronation.
It's got to be hard being a Phil Mickelson fan. One of the best and most entertaining players in history, he is as likely to disappoint as he is to dazzle.
The reigning Masters champion, Mickelson tied for 48th and was never a factor at the British Open, where form prevailed. In 17 Open starts, he's had only one top 10 (a third in 2004).
England's Ian Poulter obviously enjoys attention, garnering a fair amount of it with his colorful ensembles and nearly a million followers on Twitter. Remember, too, when he said this: "One day it will be just me and Tiger."
Last week, Poulter made headlines with his pointed analysis of American golf. America's best players are aging, he said, and its younger players are too inexperienced to replace them. "We have a 15-year window," Poulter said speaking on behalf of European golfers generally and Brits specifically. "The Americans have a gap and that gap is being filled by Europeans, guys who are in their late twenties, early thirties and who are doing the job right now."
It's hard to argue his point about the Americans. Only two of them finished in the top 10 at St. Andrews -- Sean O'Hair and Nick Watney (each tying for seventh), each in his 20s and potentially a star, emphasis on potentially. Of the four other Americans in the top 20, one is 51 (Tom Lehman) and the others (Dustin Johnson, J.B. Holmes and Jeff Overton) are in their 20s and still longer on potential than production.
As for the Europeans, they've had a string of victories in the U.S., including Graeme McDowell's win in the U.S. Open. But its core -- Poulter, Paul Casey, Lee Westwood, Luke Donald, Justin Rose and Rory McIlroy -- has yet to win a major championship. Until it does, it's an empty argument.
TELEVISION: IT'S 'WOOST-HAZEN'
ESPN's most formidable hurdle in telecasting every hour, every round of a major championship for the first time was the pronunciation of the winner's last name. It's not one to flow off the tongue, as several ESPN commentators proved.
"Oost, Oosthaven, Oosthazen, I'm sorry, how embarrassing," Azinger said on Saturday.
At the end of Saturday's telecast, Mike Tirico held up a piece of paper with Oosthuizen's name spelled phonetically, "Woost Hazen," it said.
"Here's one thing that has changed today," Tirico said, crumpling the paper. "All you guys [at ESPN] have been walking around with this. You don't need it any more. Everybody knows about him after today."
Replied Azinger, "Leave that for me for tomorrow."
Give him credit for acknowledging his limitations. On Sunday, Azinger called him Oosten-hazen before correcting himself.
Good thing for all involved that Louis doesn't go by his given name: Lodewicus.
Other highs and lows from ESPN's telecasts:
• On the technology front, ESPN's Ball Track succeeded and its Putt Zone failed. Its Ball Track was set up behind the 17th tee and allowed viewers to track the flight path of the ball as it cleared the Old Course Hotel sign, generally letting the viewer know whether a ball was going too far right or left to land in the fairway on their blind tee shots. The Putt Zone seemed pointless; usually there didn't seem to be a correlation between an actual putt and the zone.
• Always good to keep a camera on Mark Calcavecchia and a boom mic nearby. The camera caught him gesturing with his index finger as he was counting his strokes, in the manner of a weekend chopper, after he made nine on the fifth hole on Saturday. Later in the round, after hitting his approach shot on 17, the mic picked up his commentary: "That's a good place to hit it," he said, mustering his trademark self-deprecation, as his ball homed in on the dreaded Road Bunker left of the 17th green.
• Curtis Strange: "I like beer like the next guy, but that Guinness, that's like drinking motor oil." Honesty is always welcome, but the fact that he was talking about libations suggests that the telecasts were so long that they ran short of things to talk about.
• Tirico: "Forty-eight weeks a year you make a living. Four weeks a year you make history. You remember major championships. It defines the rest of your lives."
• Where was Monty? Colin Montgomerie was part of ESPN's crew and on Friday demonstrated that he has a future in television analysis. On Saturday, when shown on the course, Tirico said that we'd hear from him later, once his round was over. He did not reappear the rest of the weekend.
Once Tiger Woods won his first major championship, the Masters in 1997, by 12 shots, he has been favored to win every major in which he plays. He's won 14 of them. But the Woods' era also has produced a series of unlikely major champions, too. Here's our top-five list of the least likely of them:
ANOTHER IMPROBABLE WINNER
Matt Bettencourt's victory in the Reno-Tahoe Open was possibly less likely than Oosthuizen's in the British Open. Prior to winning, he had made 21 starts, missing the cut in 13 of them. In his other eight, his best finish was a T39, at the Bob Hope Classic.
"It was unplayable. It was a joke out there. Every single pin was on the high point on every green. I think they have made a mockery of the tournament and that's a bit of a shame." -- Oliver Wilson in the wake of the windblown second round of the British Open.
A footnote to Woods' year of discontent: His record in the prestigious Southern California Golf Association Amateur Championship has been erased. Scott Travers, 22, won with a score of 16-under par 268 at La Cumbre Country Club, eclipsing Woods' record of 14-under 270, established in 1994 at Hacienda Golf Club, when he was 18. Later that summer, Woods won his first U.S. Amateur...Oosthuizen moved from 54th to 15th in the World Ranking...Overton tied for 11th at St. Andrews to continue his run of quality play that began with a second at the Zurich Classic of New Orleans in April. Overton has had four top three finishes and six top-12 finishes in his last nine starts.
From Michelle Wie, "sooooo i just found out phi beta kappa is an academic society NOT a sorority...oops."
Backstory: At the U.S. Women's Open, in response to a question about her college life and whether she was a Phi Beta Kappa yet, she said, "No sorority for me yet, but it's been fun."
PGA Tour: RBC Canadian Open at St. George's Golf and Country Club in Etobicoke, Ontario. Defending champion Nathan Green. LPGA: Evian Masters at Evian Masters Golf Club in Evian-les-Bains, France. Defending champion Ai Miyazato.
The RBC Canadian Open will tout the 11 major champions in its field, but only one of them, Retief Goosen, is in the top 75 in the World Ranking. In other words, one of the PGA Tour's bedrock tournaments again has had difficulty attracting a strong field. Paul Casey, Luke Donald, Goosen and Canada's own Mike Weir are its headliners.
Newly-minted U.S. Women's Open champion Paula Creamer returns to work at the Evian Masters.
The last three major championships, men and women, have all been won by players considered amiable -- McDowell (U.S. Open), Paula Creamer (U.S. Women's Open) and Oosthuizen (British Open).
If it's a trend, good for golf. If it's not, at least it disproves the Leo Durocher notion that nice guys (and gals) finish last.