News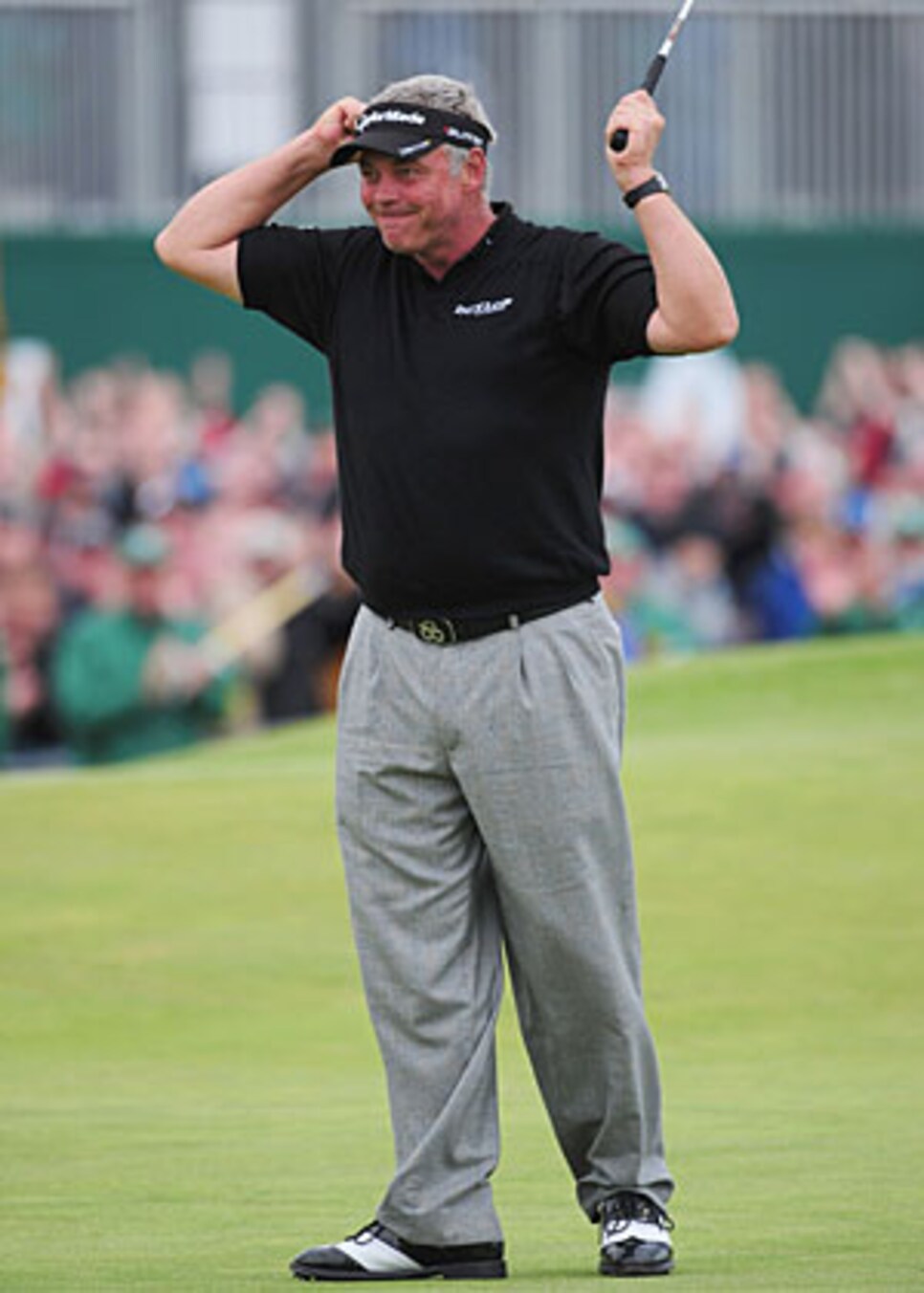 Clarke captured his first major at age 42.
Darren Clarke's friends call him the Prince of Darkness, his sunny disposition notwithstanding. The sobriquet was affixed by his trainer, who, one might surmise, became frustrated with his attitude toward training.
Flash back to 2003, the WGC-Accenture Match Play Championship, when a kneaded Clarke defeated a sculpted Tiger Woods in the final. Two Clarke quotes that stand out from then:
-- "We have a gym at home, yes. Gathering dust."
-- "Just goes to show after all this hard work I've put in the gym this winter my right arm is definitely stronger."
On Twitter, Golf World's Ron Sirak resurrected this from the late British golf writer John Hopkins, written that same year: "Darren Clarke knows the outside of a fine cigar, the bottom of a glass of Guinness and the inside of a Ferrari."
was a popular one for these reasons and more. ESPN referred to him as an "everyman," a descriptive word often used -- or misused -- to explain John Daly. The difference is distinct; Clarke is an everyman without the destructive tendencies that Daly has exhibited over the years.
Clarke is pudgy. "Well, Chubby [Chandler, his agent] has always said that I play better fat," he said on Friday. "I've obviously been adhering to that theory. And after having seen myself on television, I think he might have a point." He enjoys his pints and was occasionally glimpsed pulling on a cigarette during the British Open.
Wrap all that in his gregarious nature and you have a genuine Falstaffian hero, the kind that golf produces too few of these days.
Let the celebration begin, then. Where and when it will end, meanwhile, is anyone's guess.
Clarke seemingly attempted to smoke surreptitiously, but occasionally the television cameras caught him in the act.
The last major championship won by a cigarette smoker? The U.S. Open at Oakmont in 2007 when Angel Cabrera held off Woods by one. Cabrera had quit smoking by the time he won the Masters in 2009.
Phil Mickelson can console himself for letting another major championship elude him, particularly one in which he has seldom played well. Clarke is 42, is nearly two years older than Mickelson, and did not win the British Open until his 20th attempt. Mickelson has played 18 British Opens without winning.
In other words, in the wake of his best finish ever in the British Open, a T-2, there's still time.
American oddsmaker Jeff Sherman had Clarke at 150 to 1 prior to the start of the British Open, for good reason. Clarke had not had a top 10 in a major championship since the 2001 British Open, when he finished third.
This apparently was a lucrative week for Clarke beyond the $1.45 million he earned from the British Open purse.
," Dermot Gilleece wrote in the Independent. The payoff for winning a major: two million pounds, or $3.2 million.
WHAT HOME-FIELD ADVANTAGE?
Simon Dyson was low Englishman, tying for ninth at Royal St. George's, a course on the east coast of England. After that there were amateur Tom Lewis and Simon Khan tying for 30th.
Good for them, but this still represented an embarrassment for English golfers, notably those for whom greater things were expected.
Luke Donald and Lee Westwood, Nos. 1 and 2 in the World Ranking, missed the cut, as did Ian Poulter, ranked 16th.
ESPN's Paul Azinger noted on Sunday that had Martin Kaymer won the British Open, his second major championship in the last four played, he still could not have passed Luke Donald for No. 1 in the World Ranking.
When ESPN showed Rory McIlroy's swing, Tom Watson was in the broadcast booth and was asked his thoughts about it.
"I wish I could swing like that," he said.
There was another tournament last week, one in which the players wanted to wear fewer clothes as a hedge against the elements, rather than more clothes for the same reason.
As players bundled up for the British Open at Royal St. George's, Joe Ogilvie launched a Twitter campaign to allow players to wear shorts at the PGA Tour's Viking Classic in Madison, Miss.
"I've got 14 players and we are all wearing shorts during Viking Classic. Any other tour players with me? They can't DQ us all can they?" he posted early in the week. He followed with these Tweets:
"114 heat index in Jackson, MS today, who are the idiots in long pants this week? Tour pros."
"Professional golfers R not splitting the atom/curing cancer, they R playing golf & entertaining, does it matter if they R wearing shorts?"
"If heat index is above 110 it's logical & smart to allow shorts, very progressive, which isn't exactly golf's strong suit."
"I don't think we will be in shorts this week, but to change there needs to be a dialogue. I am trying to plant a seed."
Doubtful that it took root.
THE MARTHA BURK ISSUE, U.K. EDITION
It is either a tired argument or one worthy of a periodic airing, depending on one's viewpoint. Why is the British Open being conducted at a private club that does not grant membership to women?
The subject arises in the U.K. whenever the Open Championship is held at Royal St. George's, Muirfield or Troon, all private clubs without women members.
"We are running a golf tournament rather than a social-engineering project," Peter Dawson, chief executive of the Royal and Ancient, told Chris Barrett of the Sydney Morning Herald. "Equality law is not being broken."
Peter Alliss weighed in in an interview with Neil Squires of the Express.
"I don't care actually," Alliss said. "Clubs were formed by similar people with similar ideas. St George's is an old-fashioned gentlemen's club and they don't pretend to be anything other than that.
"I've always wanted to join the WVS (Women's Voluntary Service), but they won't let me in and I'm very brassed off about it. Nobody crusades on my behalf.
"Women can go and play there with their husbands, just the same as they can at Augusta, but the crusades have gone on and if you dare to stand up for the club that says, 'this is the way we do it,' there are 100 agitators who have a loud voice and access to a platform saying, 'you're an idiot.' There are all-women's activities which are never spoken about."
Dan Jenkins: "He's on the leaderboard, but isn't 'Pablo Larrazabal' what you say after your third martini?"
"We all know [Mickelson's] going in the Hall of Fame, but he might end up being the worst short putter in the entire Hall of Fame." -- Paul Azinger
Rickie Fowler finished T-5, his best finish of the year and best in seven starts in major championships...Anthony Kim also tied for fifth, his first top 10 since January. Kim's best finish since the Masters previously had been a T-54 in the U.S. Open...How impressive was Tom Pernice's T-2 at the Viking Classic? It's better than he has finished in any of the 12 Champions Tour events he's played this year...Chris Kirk entered the PGA Tour rookie of the year race by winning the Viking Classic. Kirk, a University of Georgia graduate, already had secured a PGA Tour card for 2012 before this victory, largely on the strength of his T-2 in the Shell Houston Open.
PGA Tour: RBC Canadian Open at Shaughnessy Golf and Country Club, Vancouver, B.C., Canada. Defending champion Carl Pettersson. LPGA: Evian Masters at Evian Masters Golf Club, Evian-les-Bains, France. Defending champion Jiyai Shin.
-- Appearance fees are not allowed on the PGA Tour, but RBC, sponsor of the Canadian Open this week, has used an old gambit to get around it. In the RBC Canadian Open field are Donald, the top-ranked player in the world, as well as Matt Kuchar, Ernie Els, Jim Furyk and Anthony Kim. All have endorsement deals with RBC.
-- The LPGA resumes with one of its more prestigious tournaments, the Evian Masters, which in 2013 is scheduled to count as a major championship.
For those who have become fans of Rory McIlroy (all of us?), it should be somewhat disconcerting to hear him express his discomfort playing in inclement weather.
"I'm not a fan of golf tournaments [where] the outcome is predicated so much by the weather," he said Sunday. "It's not my sort of golf. These conditions, I just don't enjoy playing in really. I'd rather play when it's 80 degrees and sunny and not much wind."
Who wouldn't? But that's not the point. Lanny Wadkins once said that he relished playing in inclement weather, because he approached doing so with the right attitude and concluded it gave him an advantage over those with the wrong attitude.
It is inconceivable that Tiger Woods ever would admit to anything that might give an opponent an edge, the way McIlroy has just done.
Then again, Woods has talent and a killer instinct. McIlroy has talent. The second part remains an open question.