News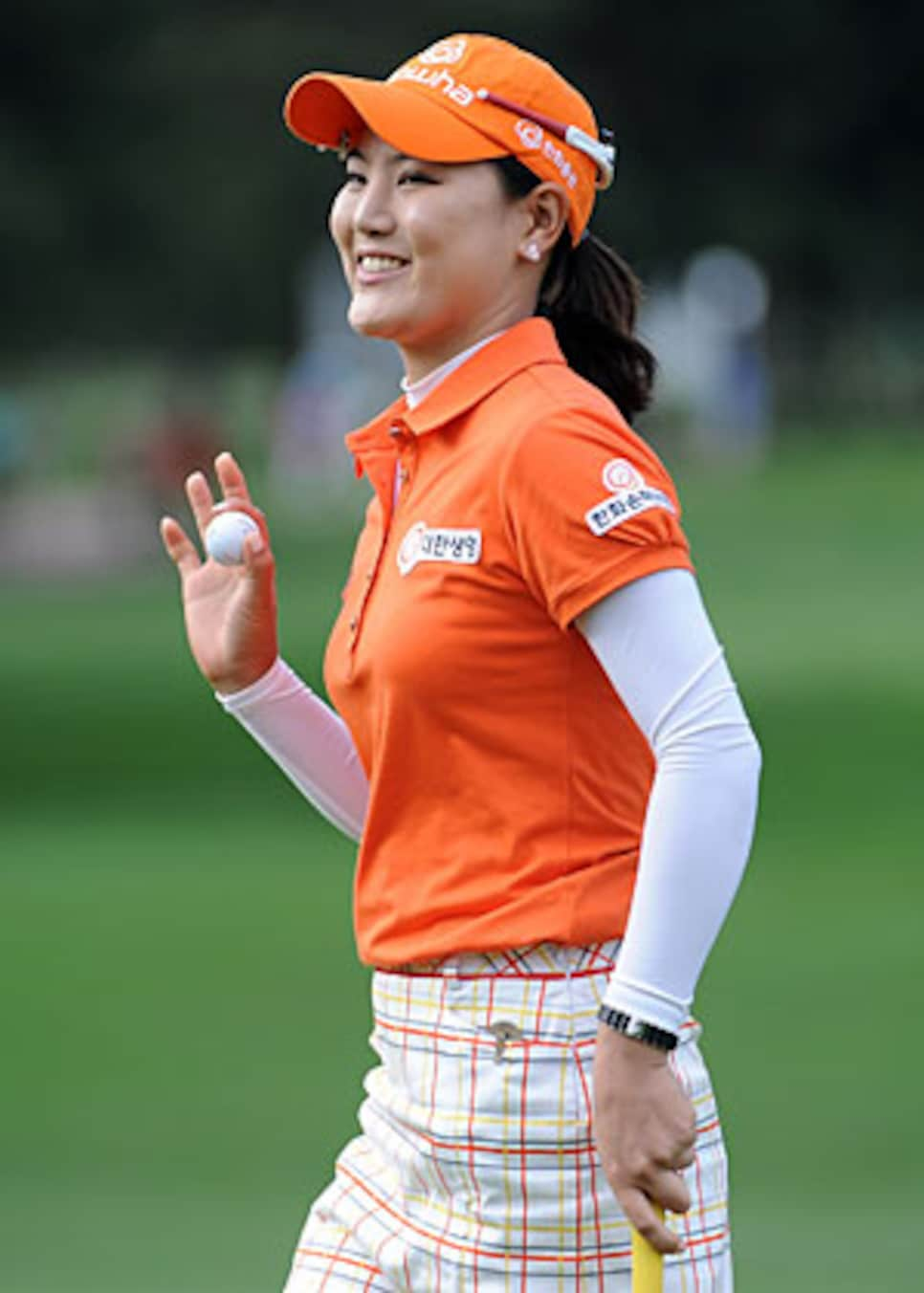 Ryu birdied the final hole of regulation to force a playoff.
that she seemingly had lost on Sunday, while countryman Hee Kyung Seo lost on Monday an event she seemed to have won on Sunday. Confused?
Join the crowd. The Women's Open at the Broadmoor in Colorado Springs, Colo., was played in fits and starts, the result of five weather delays that caused each of the four rounds to spill over to the next day.
Seo completed her 72nd hole on Sunday evening, finishing in three-under par 281 with Ryu, Cristie Kerr and Angela Stanford trailing by one, two and three strokes, respectively, and still playing Monday morning.
It's tough to come from behind in a U.S. Open whatever the circumstances, but more so when the target is already set, the leader no longer capable of helping facilitate one via an untimely bogey or worse. Ryu, who has won six Korean LPGA tournaments, birdied the 18th hole of the final round on Monday to send the event to a three-hole playoff that she won by three.
This will be recalled as a tournament hijacked by the weather and concluding with a victory more popular in Korea than America. But save your lament. None of it was a surprise.
Electrical storms hold sway over this Rocky Mountain region this time of year. The International, the old PGA Tour event played up the road in Castle Rock, experienced weather delays virtually every afternoon. And Koreans have now won three of the last four Women's Opens and four of the last seven.
It was business as usual.
Royal St. George's gave us Ben Curtis last time, not a fluke, certainly, but neither anything that required history to send a thank-you note. The onus is on it to do better this time around.
The British Open story line is teed up for it: Three of the top five players in the World Ranking at the top of their games, each of them yet to break their duck, as they say in England, in a major championship.
Luke Donald, No. 1 in the World Ranking, won the rain-shortened Barclays Scottish Open in a rout on Sunday, his four-stroke victory his third win of the year and a continuance of a remarkable streak of quality play.
Steve Stricker finished birdie-birdie to win the John Deere Classic for a third straight year. Stricker, No. 5 in the World Ranking, has won twice in his last three starts and, at 44, continues to play the best golf of his career after 40.
Lee Westwood, No. 2 in the World Ranking, has won twice this year, finished third in the U.S. Open and has finished in the top three in six of his last 12 starts in major championships.
History calls. Will any of them answer?
The desire to replace Tiger Woods with a more palatable superstar has heightened expectations to levels beyond reason for Rory McIlroy in the wake of his U.S. Open victory, and none other than Jack Nicklaus sounded the heretofore missing note of caution.
"Don't anoint him as the crown prince yet," Nicklaus told the BBC. "He has won one major. When he starts to win two, three or four, then you can say he's the guy we've got to watch, period. But until that time comes, he's one of a group of talented players that have got an opportunity to win."
AZINGER AND THE BRITISH OPEN
Paul Azinger doesn't shy from an argument, especially those that he starts. He started one on Twitter on Sunday with this innocuous comment: "I'm looking forward to tweeting ideas, questions and opinion from the British Open next week."
Uh-oh. He called it the British Open, not the Open Championship. Summon the protocol police. As if on cue, a follower weighed in: "Will you refer to it as The Open or The Open Championship as it was meant to be called?"
Azinger: "I'll say what ever comes naturally. It's the British Open to me tho"
Another follower: "onslaught of Brits ripping zinger in 3....2....1"
First up, Golf World contributor John Huggan, a Scot: "Paul.....it has NEVER been the British Open..."
Azinger: "not on this side of the pond John"
Azinger again: "Why is it any different for Europeans to call the Masters the US MASTERS, but us yanks cant call it the British Open?"
Finally, Azinger provided corroborating evidence that it has indeed been called the British Open, by none other than a representative of the Royal and Ancient. Azinger posted a link to a YouTube video from the awards ceremony in the wake of Bobby Jones' victory at the 1930 British Open, when the representative called it "the British Open."
John Daly, meet Ray Ainsley. The latter established a U.S. Open record for futility, taking 19 strokes to complete a single hole, most of them thrashes in a hazard. When he was done, a little girl was reported to have said, "Mommy, it must be dead now, because the man has stopped hitting it."
Daly needed 13 strokes to complete the fourth hole at the John Deere Classic on Friday. "It looked like he hit a few, then it looked like he was just trying to take out a bunch of hay," playing partner Todd Hamilton said. "I didn't know if that was anger or actual swings."
Anger? JD? The man who has made an 18, a 13, two 12s, an 11 and two 10s in his storied career?
Daly explained later that he had no other option than to play it where it landed. He either did not know the rules, or per his history, allowed anger and bad judgment to prevail and just decided to start slashing. The pertinent rule is 28, Ball Unplayable:
Play a ball as nearly as possible at the spot from which the original ball was last played (see Rule 20-5
, with no limit to how far behind that point the ball may be dropped; or
The first option, the one that would have been most favorable to Daly, is unambiguous; go back to the tee and hit again.
So, the question begs to be asked once more: Why do tournaments continue to give him sponsor exemptions? It isn't for his golf. He hasn't had a top-10 finish in nearly six years. He has placed in the top 25 only once in four years and has missed the cut in eight of 12 starts this year.
If the argument is that people want to see him, then pay him to do a clinic. Meanwhile, get him off the course. It isn't good for anyone, including whatever it was he was attempting to bludgeon to death in the hay.
John Daly: "what a story......USA to the SEMIS! Refs tried to take it away but never gave up! Doesn't hurt that the Goalie is HOT too! LOL"
"A lot of people have been injured in gyms over the years, an awful lot of people have been injured in gyms, and I'm not one of them." Colin Montgomerie on his workout regime, or lack of one.
Out-of-Nowhere Award: To Canadian Matt McQuillan. He tied for 54th in the Sony Open in his PGA Tour debut, then missed 10 straight cuts before tying for third in the John Deere Classic...Is it time for Kenny Perry to abandon the PGA Tour and play the Champions Tour full time? He's only two years removed from his last PGA Tour victory, but in 11 PGA Tour starts this year, he has missed the cut in seven of them, including the John Deere Classic...Charles Howell tied for fifth, his third straight top-five finish.
PGA Tour: British Open at Royal St. George's, Sandwich, Kent, England. Defending champion Louis Oosthuizen. Viking Classic at Annandale Golf Club, Madison, Miss. Last year's winner Bill Haas (Haas is playing in the British Open).
-- U.S. Open champion Rory McIlroy will play for the first time since his victory at Congressional Country Club. A month off seems an odd way to prepare for a major, opening himself to criticism in the event he does not play well.
-- Heat stroke? Joe Ogilvie is entered in the Viking Classic and posted this on Twitter: "I've got 14 players wearing shorts during Viking Classic. Any other tour players with me? They can't DQ us all can they?" He followed with this post: "114 heat index in Jackson, MS today, who are the idiots in long pants this week? Tour pros."
We don't hear much about Michelle Wie these days. Why is that? Here's a clue: "Michelle Wie finally hits a good one," NBC's Gary Koch said Sunday, on her third hole of the final round, the 57th hole of her U.S. Women's Open.
In 2005 and 2006, when she was 15 and 16, she played 16 LPGA events and finished in the top 10 in 10 of them. In 2010 and '11, she has played in 30 events and finished in the top 10 in 10 of them.
Want more? She was less a factor in this U.S. Women's Open than when she was 13, when she tied for 34th. At the Broadmoor, she tied for 55th.
Wie still is only 21 and superstardom, perhaps, still awaits her. But for now, who can be certain stardom awaits her?