News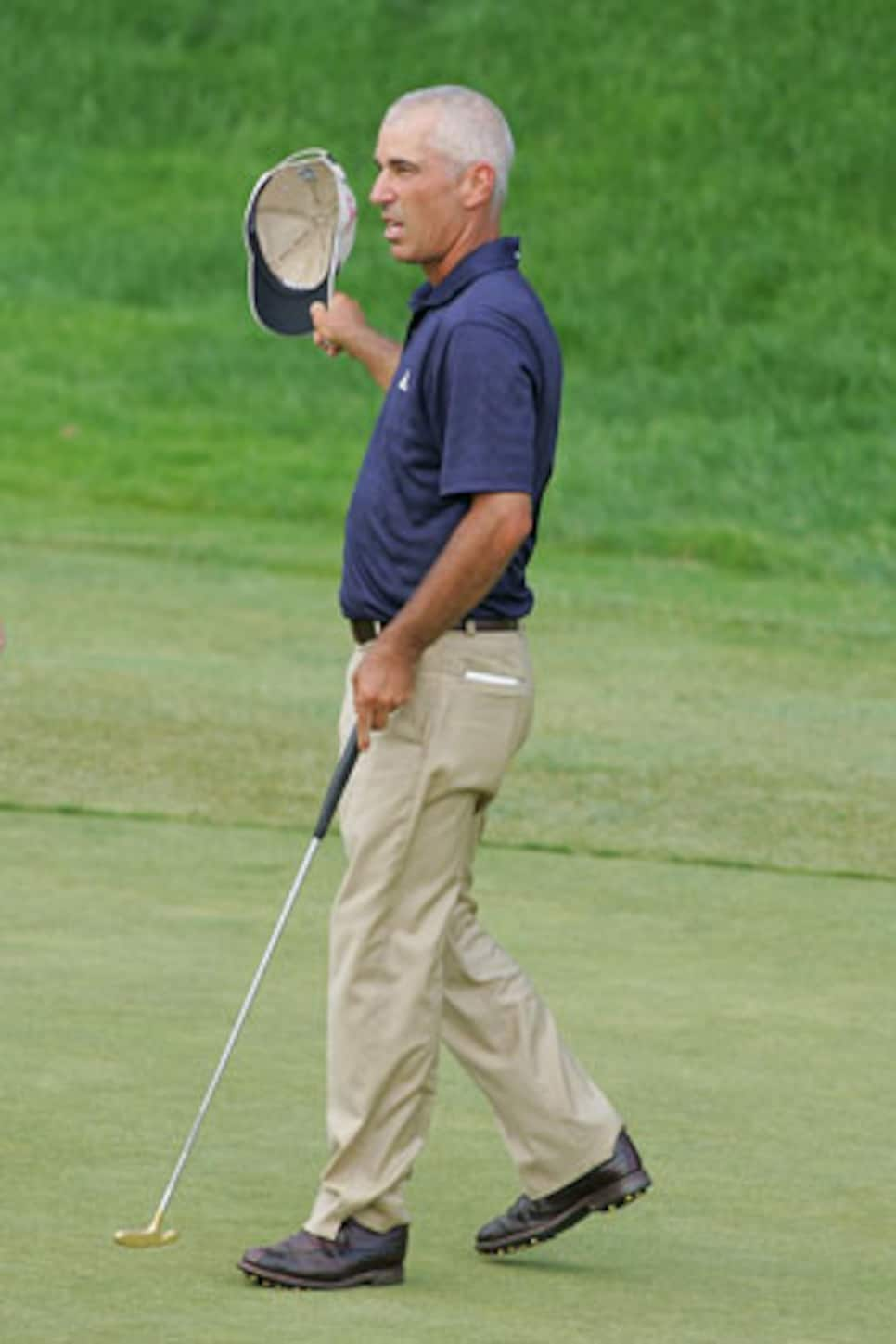 Corey Pavin's near win at age 50 was one subplot on a riveting weekend.
The encore is tricky in golf, major championships tending to leave the game deflated in their aftermath, but for those who weren't paying attention on Sunday, well, we'll let legendary broadcaster Al Michaels make the call.
When one of the great playoff baseball games in history, the fifth of the Boston Red Sox-California Angels American League Championship Series in 1986, went into extra innings, Michaels famously said, "If you're just tuning in … too bad."
A Sunday of golf in the wake of a U.S. Open at Pebble Beach obviously doesn't remotely rise to that level, but all the same, if you weren't tuning in...too bad.
It began with Cristie Kerr in the LPGA Championship presented by Wegmans, her 12-stroke victory as dominating as any in major championship history this side of Tiger Woods at Pebble Beach (more on that later). The win elevated her to No. 1 in the Women's World Golf Ranking, the first American to hold the position since the inception of the ranking in 2006.
Then came the Travelers Championship, the tournament with the dubious assignment of following the U.S. Open, at Pebble Beach to boot. The greater Hartford area, whatever its merits, isn't the Monterey Peninsula.
Aside from Justin Rose's and Ben Curtis' graffiti scrawls that defaced the back nine on Sunday, it was perhaps as entertaining as golf can get without Tiger or a major championship involved.
Who wouldn't find it interesting when one of the longest hitters in golf, Bubba Watson, tangles with possibly its shortest hitter, Corey Pavin, the latter 50 and the U.S. Ryder Cup captain? Throw in Scott Verplank, 45, a career grinder and good guy, and you had three players that warranted a rooting interest.
When the three of them were on the 18th tee for the start of the playoff, CBS put up a graphic that noted their driving distances at 18 in regulation: Pavin 242 yards, Verplank 318 yards and Watson 396 yards.
"Will it be small, medium or large?" CBS' David Feherty asked.
Small didn't fit, Pavin's second shot with a hybrid finding a bunker and resulting in a par that eliminated him. Watson, in fact, nearly holed his second with a sand wedge and had a tap-in birdie.
Watson won with a par on the second extra hole, then was overcome with emotion at his first PGA Tour victory, after having finished second on four occasions. He weeped unabashedly as he embraced his wife Angie and was still overcome when Feherty briefly interviewed him.
"I've just got to say thanks to my mom and dad," Watson said, tears streaming down his face. "Without them, I'm nothing. My dad's battling cancer right now. Dad, I'm praying for you. I love you."
Raw human emotion, even that provoked by an otherwise meaningless sporting event, is still compelling.
A Watson sampler after his round on Sunday:
"I'm a very emotional guy. I cry all the time. When I go to church on Sundays, I'm crying at church. I couldn't get the 'yes' or the 'I do' out on my wedding day. And the pastor said, 'You gotta say it. You can't just nod.'"
"If you look at Corey, me and Corey are just alike, except he's won 15 times and he's Ryder Cup captain."
THE LONGEST AND SHORTEST OF IT
CBS' Peter Kostis said the playoff was making history, the first time ever the longest and shortest hitters on the PGA Tour met in a playoff.
Who knows? But here are the numbers post tournament: Watson leads the PGA Tour in driving distance at 305.9 yards. Pavin ranks 191st at 257.5 yards, or nearly 50 yards shorter.
WHO SAYS THE CHAMPIONS TOUR IS EASIER?
Pavin, incidentally, has been virtually as successful on the PGA Tour as he has been on the Champions Tour this year. He's made seven starts on each tour and has a T2 and a T7 on each of them (two T7s on the Champions Tour). He has five top-25 finishes on the Champions Tour to three on the PGA Tour.
Of course, he's earned more for his effort on the PGA Tour: $839,193 to $325,867.
Kerr is now No. 1 in the Women's World Ranking, but it's only the first step. A ranking is fleeting. Her overriding ambition has been LPGA Player of the Year honors. That's history.
Moreover, it would break an international stranglehold on the honor. The last American player of the year was Beth Daniel in 1994. Since then, it has been won by a Brit (Laura Davies, once), a Swede (Annika Sorenstam, eight times), an Aussie (Karrie Webb, twice), a Mexican (Lorena Ochoa, four times) and a South Korean (Jiyai Shin, once).
Last year, Kerr was in contention heading into the tour's homestretch and emphatically related her desire to prevail.
"Player of the Year and all that is very important to me," Kerr said in September. "It's a very selfish personal goal that I want to accomplish, but at the same time, it's a bigger thing for women's golf and American golf to try to make it happen. I want to do those things. I want them more than anything."
She needed another victory last year, but the best she could muster in the final five tournaments was a tie for third. Shin was the player of the year.
The state of Kerr's game and her strengthened capacity to rein in her emotions gives her a second chance in 2010. Japan's Ai Miyazato retained her lead, but the margin is narrow.
An American golfer, at least (at last?), is in the midst of the debate. That's progress in this new world order in women's golf.
Kerr put together four rounds in the 60s at Locust Hill Country Club. No other player in the field had more than two and there were only two of those -- Song-Hee Kim , who finished second, and Morgan Pressel, who tied for seventh.
Kerr played all eight nines under par and played the second and fourth rounds without making a bogey.
She made 23 birdies and only four bogeys, the recipe for a 12-stroke victory in a major championship.
Watson's victory ended a string of three consecutive victories by Brits in the U.S.: England's Rose and Lee Westwood won the Memorial and the St. Jude Classic, respectively, and Northern Ireland's Graeme McDowell won the U.S. Open.
Rose threatened to make it four in a row before playing the back nine on Sunday in four-over par 39. He fell to a tie for ninth.
Rose's collapse notwithstanding, Brits extended their winning streak to four weeks. England's David Horsey, 25, won the BMW International Championship on the European Tour, his first victory. England's Ross Fisher finished second.
There are four Englishmen in the top 10 in the World Ranking, incidentally -- Lee Westwood (third), Luke Donald (seventh), Ian Poulter (eighth) and Paul Casey (ninth). Another two are in the top 50 -- Ross Fisher (31st) and Rose (35th). Horsey jumped to 94th.
The U.S. Ryder Cup captain makes headline for nearly winning a PGA Tour event at 50. The European Ryder Cup captain makes headlines for snubbing Nick Faldo (according to Faldo, who has unsuccessfully sought a meeting).
On the points front, Ricky Barnes climbed to 11th in the U.S. standings by virtue of his T-5, his sixth top 10 and third in his last four starts. Watson, meanwhile, jumped to 13th in points by defeating the captain.
Beating the captain, bad form, Bubba.
From Ian Poulter: "Laying in bed can't sleep, US Open does that to you, great week but is very mentally disturbing, it's like chopping your fingers off 1 by 1"
Pavin will return to the Champions Tour this week, playing in the inaugural Montreal Championship...Rickie Fowler earned $99,750 for his tie for 13th, pushing him past $2 million in earnings in this his rookie year...Mark Calcavecchia didn't win in his Champions Tour debut -- he tied for sixth -- but he has a lucrative future to which he can look forward. In 27 holes, Calcavecchia made only a single bogey...Nancy Lopez, 53, played her first LPGA event since 2008 and shot 87-86 and missed the cut at the LPGA Championship presented by Wegmans...LPGA veteran Cindy Figg-Currier, 50, won the Texas Women's Open. Figg-Currier, who won the State Farm Rail Classic in 1997, last played on the LPGA in 2006.
"You've got a lot of golf courses here." President Obama immediately upon arriving in Huntsville, Ontario, Canada for the G20 Summit, according to Canadian Industry Minister Tony Clement (from the National Post).
"It's a whole part of the atmosphere, the drums and the vuvuzelas. After a while you just drown it out...I've actually got four coming. My buddy sent me four. He Fed-Exed them over to me. My wife won't be too happy when the kids get hold of them." World Cup fan Nick Price
PGA Tour: AT&T National at Aronimink Golf Club in Newtown Square, Penn. Defending champion Tiger Woods. Champions Tour: Montreal Championship at Club de Golf Fontainebleau, Montreal, Quebec, Canada. New event. LPGA: Jamie Farr Owens Corning Classic at Highland Meadows Golf Club in Sylvania, Ohio. Defending champion Eunjung Yi.
Tiger Woods returns as the defending champion of a tournament he no longer hosts, the AT&T National, at a new site, Aronimink Golf Club. The tournament previously was held at Congressional Country Club, which is undergoing renovation in advance of the U.S. Open there next year.
Juli Inkster is hip and 50, a dichotomy that manifested itself last week in a birthday present she received from friends on the LPGA. They presented her with an iPad (hip), but she required assistance in making it work (hey, she's 50).
Fifty, as we were reminded again, doesn't carry the stigma it once did. Pavin, 50, nearly won the Travelers Championship on Sunday.
"And no, I am not trying to make the Ryder Cup team!!!! I'm not that good. Lol," the Ryder Cup captain wrote on Twitter.
Well, he is that good, so long as he sticks to courses that accommodate his lack of length. The TPC River Highlands at 6,820 yards is among them. There are courses for horses, even those long in the tooth.
Inkster, meanwhile, was playing in the LPGA Championship and even made a brief appearance on the leader board. She made the cut and tied for 62nd, and though she has had only a single top 10 this year (and only one in '09), she's still grinding in the manner of a 25-year-old attempting to prove herself, which is why she'll likely continue to turn up on leader boards occasionally.
The game is still royal, but ancient? Even the Old Course is not so old that it can't host the British Open.
It really is an endless summer, isn't it?