News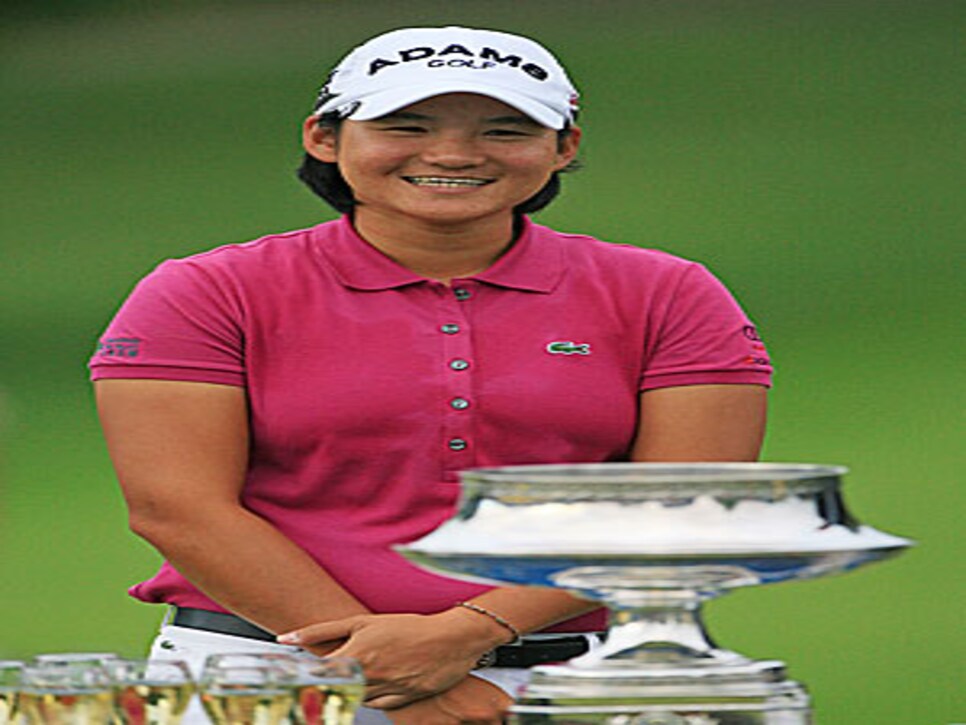 Tseng is the youngest player, male or female, to have four career major titles.
Yani Tseng is an exceptional pool player, who keeps her game honed on the table that Annika Sorenstam left behind when Tseng bought her house in Orlando's Lake Nona community.
What would her pool handicap be? "Maybe plus-two," she said recently. "I know what I'm doing. I really want to practice. I was thinking maybe in the offseason I want to play a tournament."
Her friend and agent Ernie Huang confirmed her prowess. "If you want to play her," he said, "bring your money. She can run the table."
was her fourth major. It was her sixth victory this year, third on the LPGA (she has won two Ladies European Tour events and one Asian Tour event), and has widened her lead in her bid to win Rolex Player of the Year for the second straight year.
She won by 10 shots, too. Running the table, indeed. As for the rest of the LPGA, it's squarely behind the eight ball, where, given Tseng's age (22), it is likely to remain indefinitely.
Tseng had the best score in the first and fourth rounds (66) and equaled the best score in the third (67).
When Erik Compton played in a PGA Tour event five months after having a second heart transplant in 2008, the New York Times' Larry Dorman wrote that the tournament "has a subplot of genuine hope real enough to move all but the most hardened cynic. Playing here…is Erik Compton, the 28-year-old pro who five months ago received his second heart transplant and whose recent play has been almost, well, fictional."
Charlie Gibson, on ABC World News, introduced a segment on Compton this way: "Every golfer, especially those of us who are duffers, knows how incredibly difficult it is to be a professional golfer, playing the tour. To do that and to have a serious health problem is close to unbelievable. But one PGA player, on the tour right now, has overcome incredible obstacles and his is an incredible story."
That was then. This is now: Compton won the Nationwide Tour's Mexico Open in a playoff on Sunday, is now second on the money list with $215,709, and is a virtual cinch to earn his PGA Tour membership for 2012.
"To win this is everything to me," he said. "I never thought I'd play golf again, at least not at this level, and I proved to myself I'm more than just a guy with two heart transplants."
WAS THERE A PGA TOUR EVENT?
There was, of course. It was the Travelers Championship. But once amateur Patrick Cantlay fell from contention after shooting 60 in the second round to take the lead, it dropped from the radar.
This was an eye-catching headline on ESPN's United Kingdom: "Rory hitting it better than Tiger ever did - Poulter"
Could Ian Poulter actually have said this?
There is no evidence he did, other than the writer of this unbylined story saying so in the first paragraph: "Ian Poulter is the latest to lavish praise on runaway US Open winner Rory McIlroy, claiming the Ulsterman is hitting the ball cleaner than Tiger Woods ever has." Nowhere in the story is Poulter quoted saying that.
The one actual quote from Poulter on McIlroy's ball-striking says nothing of the sort. "I haven't seen anybody that strikes a ball as well as McIlroy for a good number of years, and that's with everyone included. He's very impressive, he's got the whole package, and there's going to be more than one major in his trophy cabinet when he hangs his boots up."
That's a wild leap from "a good number of years" to "better than Tiger ever did."
Poulter isn't shy about tweaking Woods and doesn't need a media assist to do so. At Woods' Chevron World Challenge last November, after Woods had surrendered No. 1 in the World Ranking to Lee Westwood, Poulter called him "No. 2" in banter on the putting green. In April, Poulter predicted Woods wouldn't finish in the top five in the Masters (he was wrong; Woods tied for fourth).
Here's what McIlroy said about comparing his Open victory with Woods' 15-stroke win at Pebble Beach in 2000: "No, I don't think it's as impressive. Tiger was the only person under par in that field that week and I think there was 20 people under par at Congressional. The golf course was scorable and I was able to score a little lower than the rest of the guys but what Tiger did in Pebble to win by 15 shots was ridiculous. The performance I put in last week was good, it was great, but definitely not quite up there with what Tiger did in 2000."
McIloy's impressive victory in the U.S. Open seemed to have caused some in the golf world to hyperventilate.
Jason Dufner, for instance, posted this on Twitter: "Congrats to rory, could be the greatest week of golf in the history of the game. Unreal form."
Well, maybe not. See previous note.
McIlroy did not play last week, but still climbed in the World Ranking, to third. He supplanted Martin Kaymer, who needed to finish in the top eight in the BMW International Open. Kaymer tied for 18th.
That was a headline in the New York Daily News on a story on the state of American golf. The balance of power has shifted, yes, but a tragedy? One online dictionary describes tragedy this way: "an event causing great suffering, destruction, and distress, such as a serious accident, crime, or natural catastrophe."
Americans ceding their dominance to international players doesn't fit this definition of a tragedy.
The story by Hank Gola was a comprehensive analysis of why the American game has faltered. It deserved better than the headline.
He isn't Tiger Woods. He plays fast. What else is there to like? How about this, what he took from his pre-U.S. Open trip to Haiti on behalf of UNICEF:
"I think it had a huge perspective on how I handled myself throughout the tournament last week because it gave me a huge dose of perspective on everything, not just golf but life in general," McIlroy told European media.
"There was a nine-hole golf course in Port Au Prince and there were 50,000 people living on that course. Fifty-thousand people. The night we stayed in Haiti there was a tropical depression and 25 people were killed in the floods.
"The conditions people are living in there are terrible. If I can go and see that, then it is good for me and it is also good to raise awareness for what is going on out there."
Memo to the New York Daily News: There's the definition of a tragedy.
McIlroy's celebrity in the wake of his U.S. Open victory has expanded exponentially:
-- McIlroy on Twitter: "Just got a shout out from @jlsofficial at their concert.... Pretty cool!"
Note: JLS (Jack the Lad Swing) is a popular British boy band.
-- He will attend Wimbledon today: "I've been invited to Wimbledon on the second Monday and shall be in the Royal Box -- you can be certain that I'm seriously looking forward to that as I love my tennis," he wrote on his website.
Will it go to his head? Not likely. One of the better stories post-Open was his ride to Logan Airport in Boston following a charity outing on Monday, as reported by Brian McGrory in the Boston Globe. A canine officer, Barney Murphy, offered McIlroy a police escort to the airport. McIlroy, eschewing the limo, asked whether he could ride in the police car. The Irish-born policeman agreed, then pulled out an iPad, opened his Skype account and contacted his sister, Joan Dodd, in Dublin.
"You'll never guess who I have with me," Murphy said to her. He then turned the iPad's camera on McIlroy, who waved at her. McIlroy ended up speaking to her and her young son, Sean, who said he'd watched the entire Open telecast.
Garcia's quest to win for the first time since the Players Championship in 2009 was undone by his lingering nemesis, the short putt. Garcia missed a four-footer for birdie on the fifth playoff hole and lost to Spanish compatriot Pablo Larrazabal.
Garcia had played a six-hole stretch (six through 11) in seven-under par to open a two-stroke lead with seven to play, but bogeyed four of them to wind up in a playoff.
If he ever solves the putting riddle, he'll be a force again.
Holly Sweeney, McIlroy's longtime girlfriend: "I'm banking up the sleep til the curly one returns -- then it's carnage!"
Peter Uihlein won the prestigious Northeast Amateur at Wannamoisett Country Club in East Providence, R.I., a week after missing the cut at the U.S. Open. Among past champions: Ben Crenshaw, John Cook, David Duval and Luke Donald…Dustin Johnson tied for 18th in the BMW International Open…Hale Irwin's T-10 give him his fifth top 10s on the Champions Tour, nearly double the three he had in the three previous years combined. Irwin is 66…Paula Creamer made 18 pars in the third round of the LPGA Championship, ordinarily not a bad thing in a major championship. Nick Faldo won the British Open in 1987 with 18 pars in the final round. But Creamer was down three to Tseng starting the third round and wound up down eight.
PGA Tour: AT&T National at Aronimink Golf Club, Newtown Square, Penn. Defending champion Justin Rose. European Tour: French Open at Le Golf National, Paris, France. Defending champion Miguel Angel Jimenez.
Tiger Woods announced that his injuries will prevent him from playing in the AT&T National, a tournament of which he is the host. He will be in attendance, however.
Cantlay, in the absence of Woods, might rate as the headliner in the AT&T National. He's certainly gotten more headlines in recent weeks than other AT&T entrants Ernie Els, Jim Furyk, Adam Scott and Rickie Fowler (excluding the publicity Fowler received for the "Golf Boys" video). Cantlay was low amateur in the U.S. Open (T-21) and his 60 in the second round of the Travelers Championship thrust him into the lead.
The LPGA generally has been a hard sell, but it does benefit from a dominant player, who at least brings more attention to it.
The tour now has its successor to the Lorena Ochoa and Annika Sorenstam eras. Tseng, 22, potentially is better than either. And at the U.S. Women's Open in two weeks, she'll have an opportunity to complete the career grand slam.
The PGA Tour event that week will be the John Deere Classic. The women, then, ought to have center stage all to their own. Of course, they thought they had it all to their own last week. As the LPGA's Paige Mackenzie noted on Twitter: "[We're] playing a major this week and LPGA gets upstaged by amateur Cantlay leading PGA Tour."