News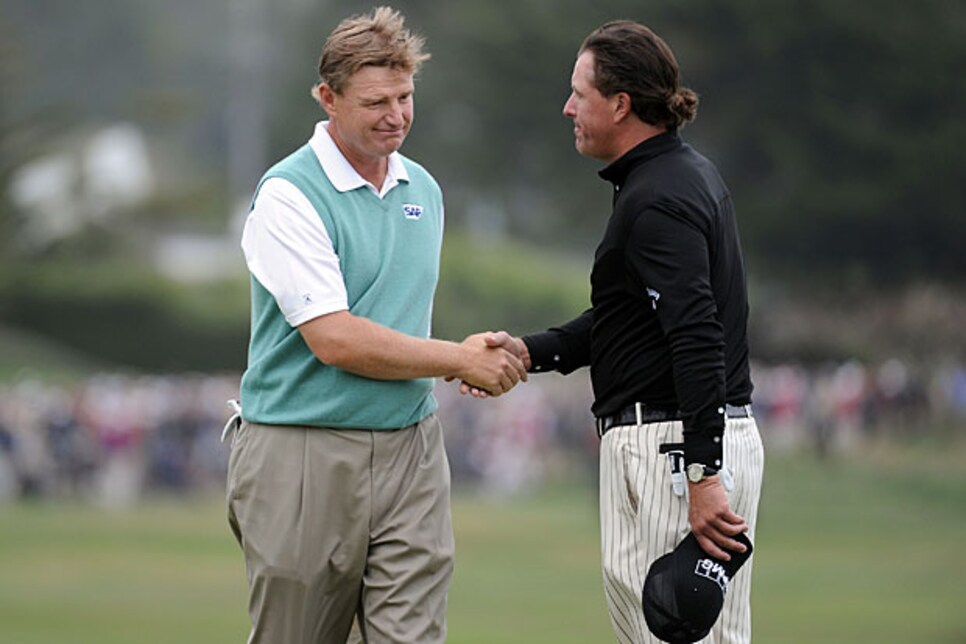 Ernie Els and Phil Mickelson both let chances to win slip away during Sunday's final round.
If it had been a horse race rather than a dog fight (emphasis on dog, incidentally), it would have made history, the first time ever that no exacta ticket would have been cashed.
Who other than the daft would have bet Graeme McDowell and Gregory Havret to finish one-two in the U.S. Open, at Pebble Beach, no less, with its history of gilded winners -- Nicklaus in '72, Watson in '82, Kite in '92 and Woods in '00?
Northern Ireland and France don't produce Open contenders, much less winners. But, as Kipling wrote in either a famous poem or his game story from a previous Open, "If you can keep your head when all about you are losing theirs…"
McDowell and Havret played well enough on the front nine to afford them the occasional lapse on the back (McDowell even, Havret one under). They were the last men standing.
Meanwhile, consider this: The five players with a reasonable chance at winning (McDowell, Havret, Tiger Woods, Phil Mickelson and Ernie Els) only produced two birdies on the back nine and were a collective 13 over par.
It was a recipe for losing an Open, not winning one, and seemed contrary to the unofficial Open mantra set down by the architect of the Massacre at Winged Foot, former USGA executive director Sandy Tatum, in 1972: "We're not trying to embarrass the best players in the world. We're trying to identify them."
The fact is that the best players required no assistance from the golf course on Sunday. They embarrassed themselves (i.e. Ernie Els' fanned 3-iron at 18, with a perfect lie).
It was their loss, not ours. The Open still delivered a worthy champion -- an affable, talented Northern Irishman for whom, in the end, it was impossible not to root.
"You're some kid," his jubilant father said on the 18th green on Sunday. Indeed.
"The biggest thing that stood out with him was that he always honestly believed in himself and it wasn't a facade," Jimmy Koosa said from the Weed Hill Driving Range that he owns in Columbia, S.C. Koosa was Dustin Johnson's first instructor. Taught his father, too. "I know that Dustin believes that his next shot is going to be perfect," Koosa was saying Sunday morning. "He honestly believes he's going to produce the shot he has in mind, whatever it is. If he fails, he knows he'll hit the next one perfect."
Johnson was thought to have been unflappable. His caddie Bobby Brown sold the notion last week, calling him a flatliner, his demeanor unaffected by his surroundings.
The truth is that a U.S. Open does not accommodate unflappability. Even Tiger Woods, in possession of the strongest mind in golf, copped to three mental errors on Sunday.
Johnson took a three-stroke lead into the final round, shot an 82 and tied for eighth. For one regrettable day, at least, his unshakeable faith in himself was indeed a facade.
It seems inevitable that a makeover will be in order for the green at the 14th hole at Pebble Beach, a diabolical patch of misery that wreaked havoc in the AT&T Pebble Beach National Pro-Am in February and again last week at the Open.
Par 5s in professional golf tend to be the most benevolent of holes, but the 14th ranked the third most difficult hole last week, behind only the par-3 17th and the par-4 second, its scoring average 5.44. For the week, 14 scores of triple bogey or higher were recorded on the entire front nine, a number matched by No. 14 alone.
It has only a small swath on which to stop the ball, and missing it will result in the ball rolling either off the front, back or side of the green. Derision was its unifying quality with one notable exception.
"I think there's plenty of room there if you hit a good shot," NBC's Johnny Miller said. "You just gotta hit a good shot. It's actually a great hole. The kind of hole you want. One of them. You don't want two of them. But one is enough."
A few moments later, he added, "Almost all the leaders are making six here. If everybody makes a six, it's a non-event, right?"
RETURNING THE GREAT TO BRITAIN
England's rise in international golf -- four players in the top 10 in the World Ranking -- suggested that Great Britain's Open futility might end at Pebble Beach. It did, though England was not responsible.
McDowell became the first from the U.K. to win the Open since Tony Jacklin won at Hazeltine in 1970.
As for the English, Lee Westwood tied for 16th, Paul Casey tied for 41st and Luke Donald and Ian Poulter tied for 47th. Another talented Brit, Rory McIlroy of Northern Ireland, missed the cut.
If you'd known in advance that Tiger Woods would hit nearly 70 percent of the fairways in a U.S. Open, wouldn't you have predicted a landslide victory?
Woods hit 39 of 56 fairways (69.64 percent), the same number produced by Fred Funk, one of the straightest hitters in golf.
Woods, incidentally, has tied for fourth in each of the first two major championships -- a T4 slam in progress?
TELEVISION: THE HUMAN VUVUZELA
Last week, I suggested that ESPN's Chris Berman on golf telecasts was not as bothersome as the vuvuzelas that plague the World Cup experience for so many.
Berman is a human vuvuzela, an incessant noisemaker and irritant that eventually has you reaching for the mute button.
After Thursday's telecast, I noted it was a good one if only because we didn't hear "ground control to David Toms."
Then, as if on cue on Friday, "We go to the 17th hole," Berman said, "where on the tee is ground control to David Toms."
Question: Is there anyone who finds Berman on golf (or anything else, for that matter) tolerable?
At least, we had Miller. Though not universally popular, the NBC analyst remains the best at what he does, providing opinion and analysis that doesn't aim to please, but to inform. An Open sampling:
-- On eventual winner McDowell: "His swing is awful quick. It's got a lot going on at the top of the back swing. Combine that with Great Britain not winning the U.S. Open since 1970, there's a lot of pressure on him...I'm not saying he can't do it, but I don't like his odds."
-- On Woods: "It seems like his game has became more normal. We're so spoiled for so many years. Now he does things like the rest of us. Poor chips or not getting it up and in."
-- Again on Woods: "Tiger wants to believe that he was better after that year, but in my opinion that was the top of his career, the year 2000."
Meanwhile, Curtis Strange, working for ESPN, provided this interesting analysis of Woods' swing: "You just didn't see him hit shots like this years ago. He's all over the lot. He lays the club off at the top of the swing, which means the club points to the left of the target. When that happens, it's so tough to bring it back to square at impact. He is laying it off now...Sam Snead told me years ago, you can play from crossing the line, but you can't play from laying it off."
It isn't Ryo Ishikawa, notwithstanding the tournament he won earlier this year with a final round of 58. It's Ai Miyazato, who won the ShopRite LPGA Classic on Sunday, her fourth victory in eight starts this year.
It doesn't guarantee player-of-the-year honors, but she's close. She is now ranked No. 1 in women's golf and is a worthy successor to Lorena Ochoa, who announced her retirement earlier this year.
McDowell is a cinch to play for Europe in the Ryder Cup at Celtic Manor in Wales this fall. He is second on the European points list, won the Wales Open at Celtic Manor and was the recipient of this praise from captain Colin Montgomerie (from the Daily Mail): "He showed great strength of character in getting the job done in such superb fashion. He is a world-class player and obviously I am delighted to have a 2010 major winner on my team this year."
On the U.S. side, Matt Kuchar, who tied for sixth in the Open, is now sixth in points. Kuchar has finished in the top 10 six times in 16 starts this year.
McDowell jumped from 37th to 13th in the World Ranking, Havret from 391st to 104th...Alexis Thompson, 15, missed the cut in her professional debut at the ShopRite LPGA Classic, shooting 71 and 76, the latter round including a triple-bogey, three double-bogeys and two eagles. Thompson next plays at the U.S. Women's Open...John Daly tied for 22nd in the Nationwide Tour's Fort Smith Classic. Daly had four rounds in the 60s for the first time since the WGC-American Express Championship in 2005. He lost to Tiger Woods in a playoff at the WGC event...Paula Creamer finished seventh in her return to competitive golf, after a four-month absence after undergoing surgery on her left thumb.
Ian Poulter on Tuesday: "played the whole 18 holes today, its absolutely awesome, very very good golf course, cant think of enough superlatives for the course."
Poulter on Friday: "Well that start today was a kick in the teeth, never missed a shot and was 5 over thru 5. 14th green is a little on the harsh side. Joke…"
"It's none of your business." -- Tiger Woods responding to a question about whether there is resolution in his marriage.
Comment: Woods may have made a mess of his personal life, but it's still his personal life and it's none of our business. Woods was right.
"Awful." -- Woods on the Pebble Beach greens on Thursday afternoon.
Comment: USGA executive director David Fay appropriately took Woods to task on national television for Woods' assessment. Poa annua greens inherently get bumpy in the afternoon, but they were less than awful and the grounds crew deserved better. Woods was wrong.
PGA Tour: Travelers Championship at TPC River Highlands in Cromwell, Conn. Defending champion Kenny Perry. Champions Tour: Dick's Sporting Goods Open at En-Joie GC in Endicott, N.Y. Defending champion Lonnie Nielsen. LPGA: LPGA Championship presented by Wegmans at Locust Hill Country Club in Pittsford, N.Y. Defending champion Anna Nordqvist.
The LPGA Championship found a new home, temporarily, at an old stop, Locust Hill, which has hosted an LPGA event since 1977. Wegmans, the title sponsor of the annual tour event, stepped up as the presenting sponsor of the LPGA Championship this year and will renew the Wegmans LPGA in 2011.
The USGA last week awarded U.S. Opens to a pair of venues open to the public, including a newcomer: Erin Hills in Erin, Wis., will host the Open in 2017. Pebble Beach, meanwhile, was awarded the 2019 Open, the 100th anniversary of the course.
Four of the next nine Opens, and possibly a fifth, will be played on courses to which the public has access (Pinehurst in 2014 and Chambers Bay south of Seattle in '15 are the others). Torrey Pines, which hosted the '08 Open, is bidding to host the Open in 2018 and is believed to remain in the running.
Taking Opens to public venues is a relatively recent development, beginning with Pebble Beach and the 1972 Open. Pebble was the only public facility to host the Open in the '70s and '80s. Prior to that, the Open was the exclusive domain of the private club.
Now we've seen five of the last 10 Opens played on courses open to the public. It's likely the start of a trend, one that might have been necessitated in part by private clubs' reluctance to surrender their courses to the Open and all it entails.
So be it. It's still a welcome change that more than ever emphasizes the Open in U.S Open.