News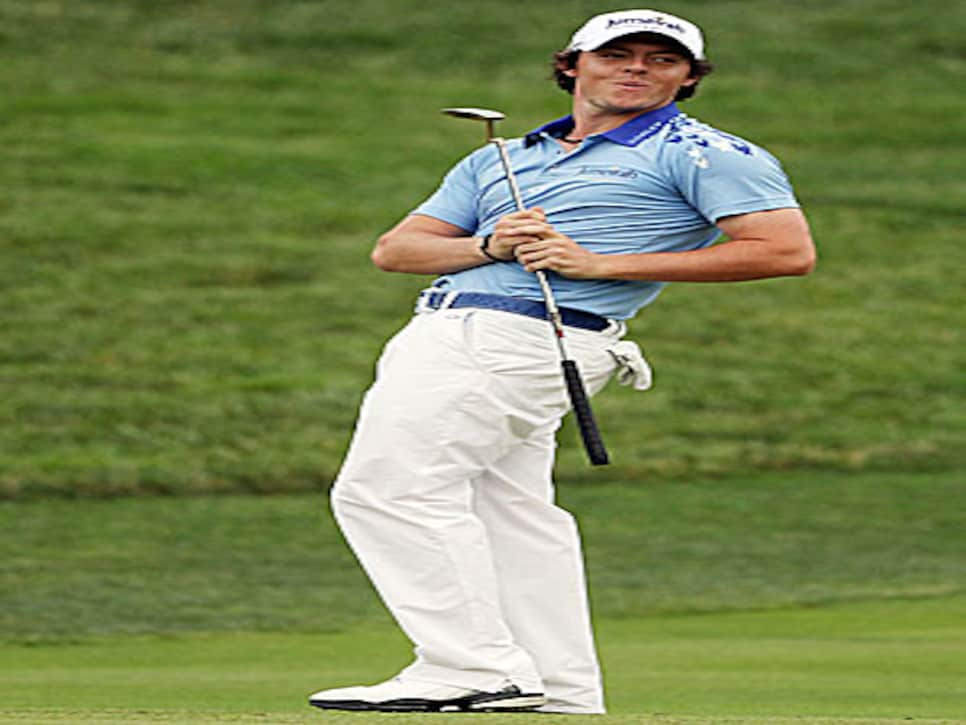 McIlroy won the Congressional crowd over with his play, pace and attitude.
The comparisons are inevitable, if premature and perhaps unfair. A Tiger Woods comes along, what, once in a lifetime? Rory McIlroy simply came along at the right time.
A game floundering in the wake of Tiger Woods' implosion and diminished aura has had a casting call out for a star capable and willing to help fill the void. McIlroy, 22, with a mop of curly hair, an infectious grin and a swing that won't require retooling every couple of years on a whim stepped up and embraced the challenge in record fashion with his eight-stroke victory in the U.S. Open on Sunday.
It was the most popular win in golf since Woods limped to the winner's circle at Torrey Pines in 2008 and one that is certain to ratchet up expectations for McIlroy. The deck is stacked against him; Woods has 14 majors on his ledger and McIlroy has one. Hence the need to avoid comparisons.
Rather, we should avoid them in all but one regard. He is Woods without the arrogance. Or, as Brandel Chamblee noted on Twitter, "Rory in 2011 = Tiger in 2000, with a splash of civility."
"He is simply a nice young man," NBC's Jimmy Roberts said on Sunday's telecast. "He has a good sense of humor about himself. And one can only hope for one thing above all else: That he doesn't change."
With professional athletes, this is always the risk, isn't it, that they might change?
It doesn't seem likely in this case. McIlroy's association with UNICEF and his trip to Haiti in the run-up to the U.S. Open suggest proper grounding.
McIlroy simply is more agreeable, more accessible and more likable than Woods. That potentially he's the best player in the world is only a bonus.
ANOTHER REASON TO LOVE RORY
"One thing that makes me smile as much as anything," NBC's Johnny Miller said on Sunday, "is maybe the kids will copy the quickness...instead of the slowness that we've had through collegiate golf and has carried onto the tour. He just gets up and plays."
"Refreshing, isn't it?" Roger Maltbie said.
"I'll say," Miller replied.
Several minutes later, Gary Koch weighed in as McIlroy pulled the trigger seconds after playing partner Y.E. Yang had hit his shot.
"You've got to love the pace of play here," Gary Koch said. "Ready to go."
You've got to love it, indeed.
McIlroy's lucrative week -- $1,440,000 for winning the Open and probably that and more from endorsement contract bonuses -- began with a $50 payday, courtesy of Shane Lowry, whom he beat in a practice round match on Tuesday.
The last four major championships have been won by players in their 20s: Louis Oosthuizen, now 29, Martin Kaymer, now 26, Charl Schwartzel, 26, and McIlroy, 22.
Jason Day, 23, belongs in that group even without a major championship. Day, who moved into the top 10 in the World Ranking for the first time (he's ninth), has finished second in both the Masters and the Open.
Remember the ruckus that Rory caused with his challenge to Tiger Woods prior to the Ryder Cup?
"I would love to face him," McIlroy said. "Unless his game rapidly improves...I think anyone on the European team would fancy their chances against him."
Luke Donald: "Thinking about moving to Northern Ireland!!"
Nick Faldo: "Hogan's accuracy for most just legendary stories. 500 million worldwide all witnessed something legendary from Rory!"
Paul Goydos: "I think there is a new sheriff in town!! Pretty impressive stuff!!"
Paul Stankowski: "@McIlroyRory Congrats! Sure was fun 2 watch u do something we've all tried to do our whole lives...play golf the way it was meant 2B Played!"
Dave Stockton's stock as a teacher has been on the rise for a few years now, but in the wake of McIlroy's victory it is certain to go even higher. NBC's Johnny Miller talked about Stockton's work with McIlory on several occasions over the weekend.
"The work I've done with Dave Stockton has been more about how to approach a putt, not focusing on technique so much," McIlroy said Sunday. "People often said to me, 'we think you're too quick on the greens.' But he thought the opposite. 'You're taking too much time. Why are you taking three practice strokes? Don't take any practice strokes anymore.' See the target, where I want to hit it, and just go with it."
Stockton's approach to teaching has always focused on the mental over the physical. "How hard is it to move a putter this far?" he said recently, holding his hands about 14 inches apart.
-- Day played the final 45 holes of the Open without making a bogey. Even on a course that was playing soft by U.S. Open standards, that qualifies as remarkable.
-- McIlroy had the fourth largest margin of victory in U.S. Open history, behind Woods (15 strokes in 2000), Willie Smith (11 in 1899) and Jim Barnes (nine in 1921).
The video made by the group that calls itself the Golf Boys -- otherwise known as Bubba Watson, Rickie Fowler, Hunter Mahan and Ben Crane -- is approaching 1.6 million views on YouTube.
The upside? Farmers Insurance has pledged to donate $1,000 to charities for every 100,000 views of the video.
The downside? Maybe none had the video been released on a week that a major championship wasn't being played. It evoked predictable responses given the foursome's collective performance at the Open: Watson was the only one to make the cut and he finished T-63. A sampling from the YouTube comments:
-- "another reason why europe dominates the ryder cup ;) ROOOORRYYY!"
-- "The four of them probably should of worked more on their game for the U.S open."
-- "Four American Hot Shots that will Never Win A Major :( This IS the Curse!"
If you're not going to make the cut and play is suspended moments before you have a tap-in to complete your second round, do you return the following morning or withdraw?
The answer was obvious to D.A. Points and others at the U.S. Open on Friday evening, when the second round was suspended by darkness.
Points was eight-over par, tied for 112th, when he posted this on Twitter on Saturday morning: "Headed to the course to tap in a one foot birdie putt. Disappointing week at the open. No WD though!"
Points was one of 21 players still on the course when play was suspended. Only one, Tim Petrovic, withdrew. Petrovic was seven-over par for the round, 11-over for the tournament, and on the final hole when play was suspended.
Kevin Chappell and Robert Garrigus were the low Americans in the Open (T-3) and the only Americans in the top 10 in their own national championship. Embarrassing?...Sergio Garcia finished T-7, his 16th top 10 in major championships. He is still seeking his first win in a major...Luke Donald, the top-ranked player in the world, tied for 45th, his first finish out of the top 10 since he missed the cut in the Northern Trust Open in February...Bubba Dickerson made eight bogeys and a double-bogey on the back nine of the second round.
PGA Tour: Travelers Championship at TPC River Highlands, Cromwell, Conn. Defending champion Bubba Watson. LPGA: Wegmans LPGA Championship at Locust Hill Country Club, Pittsford, N.Y. Defending champion Cristie Kerr. European Tour: BMW International Open at Golfclub Munich Eichenried, Germany. Defending champion David Horsey. Champions Tour: Dick's Sporting Goods Open at En-Joie Golf Club, Endicott, N.Y. Defending champion Loren Roberts.
-- Yani Tseng, who leads in her pursuit to win the Rolex Player of the Year for a second straight year, seeks her fourth major championship in the Wegmans LPGA Championship.
-- For the first time, Bubba Watson is a defending champion, at the Travelers Championship.
A U.S. Open victory continues to elude Phil Mickelson, who tied for 54th at Congressional. He's now 0 for 21.
He is also 41 and the clock is running. Only three players older than Mickelson have won the Open: Hale Irwin (45) and Raymond Floyd and Ted Ray (43).
His aggressive nature has never been a comfortable fit for the most penal of majors. Still, he ought to have won it by now as five second-place finishes suggest.
We do have to wonder at this point whether this is destined to remain one of the few blemishes on his otherwise stellar record.