News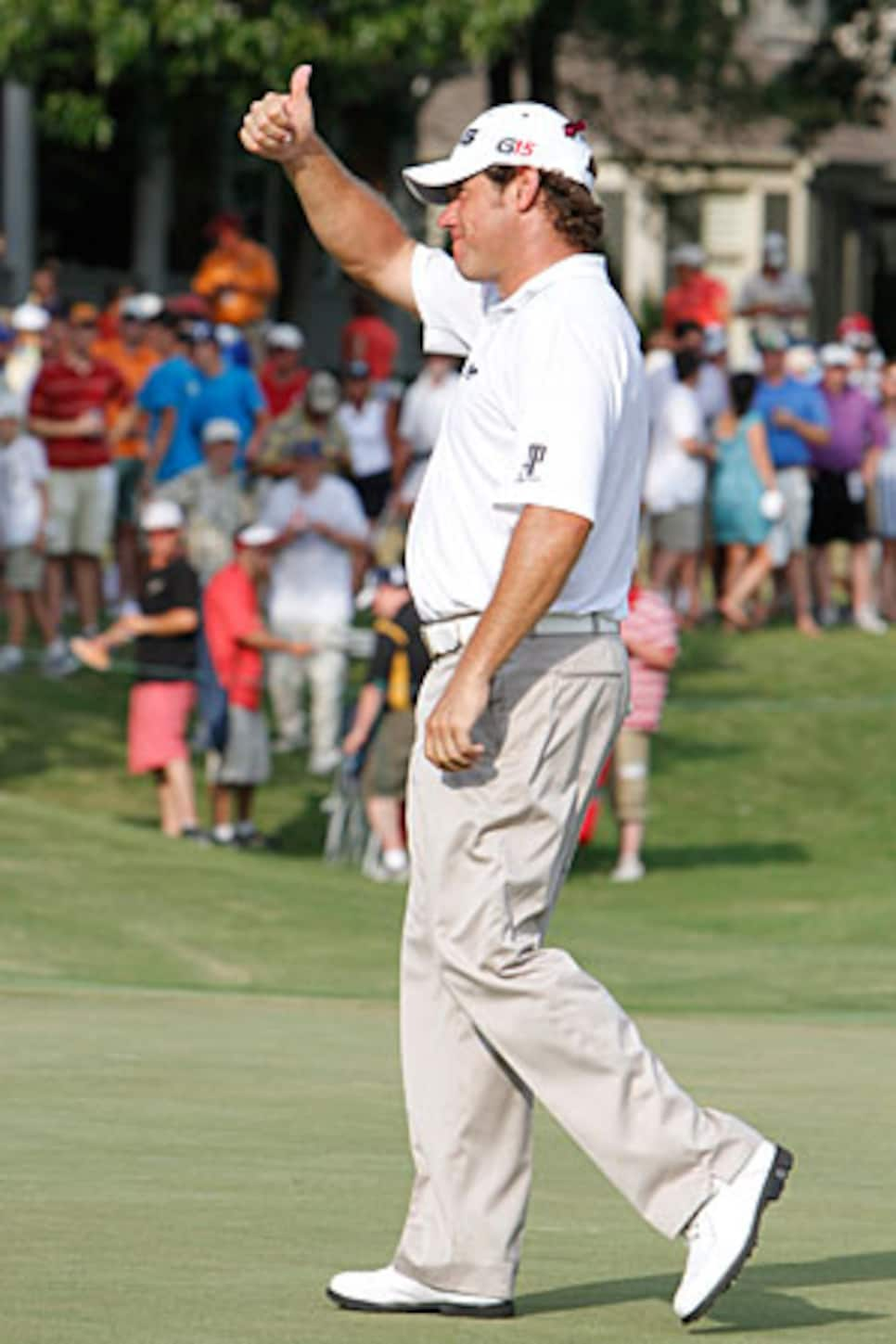 Westwood couldn't put it away in regulation, but got another chance in a playoff after a meltdown by Robert Garrigus on the 72nd hole.
The British are coming, which isn't necessarily a concern to the colonists with whom they'll exchange shots this week, so long as they remember to keep the back door closed.
That was Lee Westwood's entrance to the winner's circle at the St. Jude Classic on Sunday, his second PGA Tour victory, but first since 1998, a winless skein that had extended to 122 tournaments.
Westwood was moments from departing for a Memphis airport for his trip to Pebble Beach, site of the U.S. Open this week, when Robert Garrigus ignominiously surrendered all of the three-stroke lead he took into the final hole, allowing Westwood and Sweden's Robert Karlsson to join him in a playoff that Westwood won on the fourth extra hole.
The third-ranked player in the world, Westwood leads a strong contingent of English players -- a Fab Four, sans shrieking teenagers -- capable of giving England its first U.S. Open victory since Tony Jacklin won in 1972. Joining Westwood in the top 10 in the World Ranking and the Open field are Luke Donald (sixth), Ian Poulter (eighth), and Paul Casey (ninth). A fifth Brit, Northern Ireland's Rory McIlroy (who carries a British passport), is ranked 10th and also is a threat.
Westwood's appointment with history is overdue, as top-three finishes in the the last three majors demonstrate. He is the best player on the European Tour and his form -- second in the Masters, T-4 in the Players and a victory in Memphis -- hints that a breakthrough is imminent.
But here's the rub: golf doesn't always pay its debt. The game might owe him one, but so what? Another Brit, Colin Montgomerie, was perennially the best player in Europe, yet major championships always eluded him.
Moreover, Westwood has shown an inability to close of late. In the Players, he had victory in tow when he birdied the fifth hole. Then he played the last 13 holes in three-over par, allowing a journeyman (albeit a talented one), Tim Clark, to win. And in Memphis on Sunday, he never should have won. He birdied two, three and four and took a lead, but then failed to make a birdie the rest of the round and was a certain loser until Garrigus hit into the water and then the trees en route to a triple-bogey on the 18th hole.
Westwood has to rate among the Open favorites, but his recent tendency to stall on Sunday afternoon won't serve him well in major championships typically decided on the final nine holes.
Now for the rest of Fab Four.
• Poulter missed the cut at the Players and the BMW Championship on the European Tour, finished 76th at the Crowne Plaza Invitational and missed the cut at the St. Jude Classic.
• Donald won the Madrid Masters and finished third in the Celtic Manner Wales Open in his last two starts. His form is good, but he's never finished in the top 10 in six U.S. Open starts.
• Casey hasn't had a top 10 on either the PGA or European Tour in three months and in seven U.S. Open starts has a single top 10 (a T-10 in 2007).
As for McIlroy, he has yet to demonstrate the consistency required of a star. He missed two cuts (including the Masters) prior to winning the Quail Hollow Championship in spectacular fashion, then missed the cut in the Players Championship. He tied for 29th at St. Jude.
Incidentally, wind speeds at Pebble Beach this week are not expected to top nine miles per hour, according to the Weather Channel.
The Union Jack is ripe to stand out in a stiff breeze blowing off Stillwater Cove, but it may not get one.
THEN AGAIN, THERE'S THE FOOTIE FACTOR
Wouldn't the English contingent like to settle the score for the homeland losing to the U.S. in its World Cup soccer opener. At least that's how the New York Post saw the game, duly noted with this headline: USA WINS 1-1.
"How ridiculous is the New York post, I'm speechless, bunch of muppets," Poulter wrote on Twitter.
He also wasn't pleased with a Post subhead that confused British with English in calling it the "greatest tie against the British since Bunker Hill."
"You played England," he wrote on Twitter.
Thomas Bjorn's victory in the European Tour's Estoril Open de Portugal won't help greater Europe's quest to produce a U.S. Open winner. The Dane is not entered.
Europe does, however, feature a strong delegation of players in addition to the aforementioned British contingent. Foremost among them are Padraig Harrington of Ireland, Martin Kaymer of Germany, Sweden's Karlsson (who tied for second at the St. Jude Classic) and Henrik Stenson. All are ranked 26th or better in the World Ranking.
A SAINT IN NEED OF A PATRON
The St. Jude Classic is played on behalf of one of the better causes on the PGA Tour, St. Jude Children's Research Hospital, a Memphis institution that is rated the best children's hospital in the country by U.S. News and World Report.
But even a tournament named for a saint needs its own patron to survive (notwithstanding the fact that St. Jude is a patron saint), and for two years running, in the aftermath of Stanford Financial's implosion, the St. Jude Classic has been played without a title sponsor, imperiling its future.
In a show of support for the tournament, the players wore maroon ribbons at the behest of tournament director Phil Cannon. In a note to the players, Cannon wrote: "As you may be aware, the tournament is in danger of losing its place on the PGA Tour. With that in mind, we are asking you to wear a maroon ribbon to signal your staunch support for our cause."
Smith & Nephew, a medical device company, stepped up this year as a presenting sponsor, a stopgap measure; Joe DeVivo, president of Smith & Nephew Orthopaedics, told Geoff Calkins of the Memphis Commercial Appeal that his company is not financially prepared to take on the role of title sponsor.
That adds the St. Jude to the lengthening list of tournaments searching for benefactors. All of them contribute to worthy causes, but one that benefits children with potentially deadly diseases ranks at the top.
READY OR NOT, HERE SHE COMES
The competition removes its kid gloves in regards to Alexis Thompson next week, not because Thompson is no longer a kid. She's still 15. But she is shedding her amateur status and now threatens the livelihoods of those against whom she will be competing.
Maybe it will work out better for Thompson than it did for Michelle Wie, another who turned pro at 15, only to bump along, leaving in her wake a series of negative impressions, before finding her footing last year.
Thompson, 15, played a starring role in the U.S. victory over Great Britain and Ireland in the Curtis Cup last week, her amateur swan song. She drubbed Scotland's Sally Watson, a Stanford sophomore, 6 and 5, to run her Curtis Cup record to 4-0-1. This week she plays in the ShopRite LPGA Classic as a professional.
"There are really very few girls who have turned pro who have had success early," Stanford golf coach Caroline O'Connor told Emily Kay of Examiner.com at the Curtis Cup last week. "You don't have a support network on tour. They don't want you there, taking their money, so it can be difficult for a younger person to overcome by herself."
Another young Curtis Cup player, Jennifer Song, 20, also is turning professional. She at least has had two years of college golf, though what to make of her stated goals that recall a teenaged Wie? In her bio on USC's website, under post-college ambition, Song notes: Become a Top 3 LPGA player and become the first woman to play in the Masters.
The first is admirable, the second objectionable, at least when expressed for public consumption, as Wie also did.
Meanwhile, good luck to Thompson. She'll need it, notwithstanding a surfeit of skill.
Jordan Spieth, the 16-year-old who tied for 16th in the HP Byron Nelson Championship, missed the cut by a stroke in his second PGA Tour start, at the St. Jude Classic…Suddenly John Daly, the Wild Thing, has discovered consistency, albeit he has been consistently mediocre. Daly has made the cut in eight straight events (though he withdrew from two of them with a hip injury), but has only $81,254 in earnings. He finished 64th at the St. Jude Classic. "I'm so close to be playing great just not getting anything out of my rounds but feels great to be healthy in over 3 yrs -- the rest will come!" Daly wrote on Twitter...Garrett Willis, who won the Touchstone Energy Tucson Open in 2001, hadn't had a top-10 finish on the PGA Tour since 2007, his only top 10 since 2002. Until Sunday. Willis closed with a 67 to finish in a tie for fourth in the St. Jude Classic, earning $246,400, his largest payday since tying for second in the Valero Texas Open in 2002.
From David Ogrin, regarding the World Cup: "For all 6 Americans who care I hope Mexico is not happy with draw"
U.S. Open at Pebble Beach (Calif.) Golf Links. Defending champion Lucas Glover. LPGA: Shoprite LPGA Classic at Dolce Seaview Resort, Bay Course, in Galloway, N.J. Defending champion (from 2006) Seon Hwa Lee.
• The winners of the first four Opens at Pebble Beach are either in the Hall of Fame or headed there (Jack Nicklaus, Tom Watson, Tom Kite and Tiger Woods). It's a tough act to follow.
• Ordinarily, Woods would be regarded an overwhelming favorite to win the Open at Pebble Beach, having won in 2000 by 15 shots. This time? Who knows? Here's what we do know: The winning margin, whoever the winner, won't be 15 strokes, nor the winning score 12-under.
• Phil Mickelson eventually figures to win the Open, a championship in which he has finished second or tied for second on five occasions. Will this be the year?
• Paula Creamer is expected to return to competitive golf at the ShopRite LPGA Classic. Creamer has played one round on the LPGA this year, at the Honda PTT LPGA Thailand in February, after which she withdrew, returned to the States and underwent surgery on her left thumb.
Given their history, major championships are inherently an occasion to reflect, this U.S. Open more so than most.
Looking back at the last time the Open was played at Pebble Beach, we recall just how good Tiger Woods was and ponder why he ever changed swings and coaches. It wasn't a one-off occasion, either. He won that Open by 15 shots, then won the British Open the following month by eight.
Woods might win this Open anyway, but that, too, would serve as a reminder. Woods, a father of two, won't have an intact family with which to celebrate in the event he wins this tournament that always ends on Father's Day.
On a brighter note, the Open at Pebble recalls the game's greatest champions: Nicklaus winning in '72, Watson in '82, Kite in '92 and Woods in '00.
"Great venues have great winners," Geoff Ogilvy told the Associated Press' Doug Fergsuon. "Most members have it wrong. They think high scores validate their golf course. It's great champions that validate a golf course, don't you think? And they've all been great tournaments."
Expect another great champion on Sunday.