News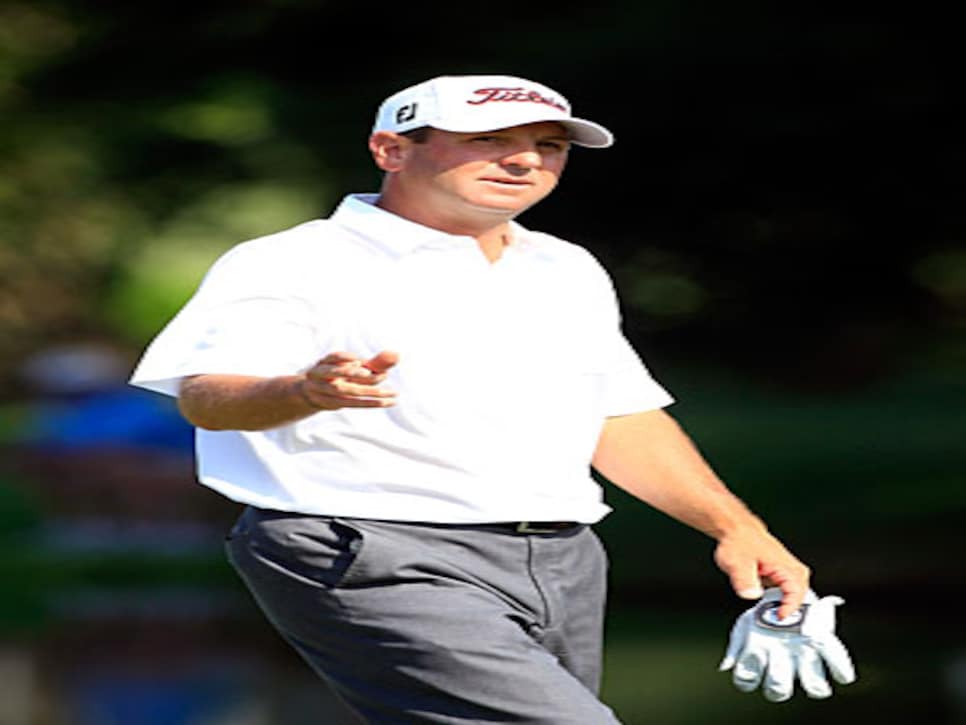 Frazar won for the first time in 355 starts on the PGA Tour.
On the eve of the U.S. Open, his isn't necessarily a story that will resonate even within the narrow confines of a sport that has resumed its niche role in the absence of Tiger Woods. But it should.
Golf is said to be a game of misses, but when you miss 354 consecutive times, what you miss most is home. Harrison Frazar, is 40, a genial journeyman with three kids vying for his attention, while retirement looms an attractive alternative. That was the backstory on Sunday.
Then in this, his 355th PGA Tour start, Frazar finally won a tournament, defeating Sweden's Robert Karlsson in a playoff at the FedEx St. Jude Classic.
"I never thought it would happen, to be honest with you," he said while fighting off tears seconds after securing one of the more improbable wins in golf. "The last couple years have been really long and really hard and tough. It's pretty cool."
No argument here. "He's paid his dues," CBS' Gary McCord said on Sunday's telecast. "He's one of those guys you root for."
Frazar, incidentally, shot 64 in the second 18 of U.S. Open Sectional Qualifying in Dallas earlier in the week to play his way into the U.S. Open.
A game that carries no debt to anyone has benevolently begun to pay him back anyway.
Tiger Woods' contributions to golf might be measured by the growing fleet of private aircrafts standing by to whisk players to their next appointments.
They owe him, too, for occasionally stepping aside -- either via swing change, injury, or misfire -- for extended periods and allowing others access to the winner's circle. The last 10 majors, for instance, have been won by 10 different players, none of them Woods.
It is the longest such streak since, well, the last time that Woods underwent a swing change. After he won the Masters and U.S. Open in 2002, the next 10 majors were won by 10 different players before Woods' victory in the Masters in 2005, his first major win under the direction of Hank Haney.
Now sharing the wealth and spreading the cheer is good for those on the receiving end, but is it good for the game? Golf is more interesting when dominant players emerge. It has an ample supply of stars, but where are the superstars?
Only two players on the PGA Tour have won twice this year: Bubba Watson and Mark Wilson. None has won three times. Luke Donald, No. 1 in the World Ranking, has won once in the U.S., once on the European Tour. Lee Westwood, No. 2, has one European Tour and one Asian Tour victory. None, incidentally, has won a major.
The top 10 players in the world have only eight victories among them in 2011. Four (Matt Kuchar, Graeme McDowell, Rory McIlroy and Dustin Johnson) haven't won.
Inasmuch as no one has stepped out, they're still playing in Woods' shadow, even as he isn't playing at all.
The winners of the last 10 majors: Charl Schwartzel, Martin Kaymer, Louis Oosthuizen, Graeme McDowell, Phil Mickelson, Y.E. Yang, Stewart Cink, Lucas Glover, Angel Cabrera and Padraig Harrington.
What jumps out from this list? A clarion call for the U.S. to step it up. Only three of them are Americans (Mickelson, Cink and Glover). See the following...
"The last time we were at Congressional was in 1997 when [Tiger Woods] had just won the Masters by 12 and everyone knew we were moving into the Tiger Woods era. Now look at the landscape. Over the next five years, the Europeans have got to be thinking to themselves that they've got this massive open goal to aim at, and I expect them to win at least 10 of the next 20 majors." -- Colin Montgomerie, in an interview with Derek Lawrenson of the Daily Mail.
Given that Tiger Woods is part of the U.S. Open story even from his couch, will NBC attempt to secure an interview with him during its broadcast and will it succeed?
From CBS' telecast of the FedEx St. Jude Classic on Sunday:
-- When Karlsson backed off his second shot at the ninth hole, his caddie said something to someone in the gallery.
"That's the voice of Alister Maclean, his caddie," CBS' Ian Baker-Finch said. "Caddied for Colin Montgomerie for many years. Colin had rabbit ears as well."
-- Arron Oberholser on Twitter: "[Gary] McCord is losing it, IF he hasn't lost it already. Trains! Really Gary. Must be a slow hot day in that tower at the St. Jude. Lol"
Indeed, McCord, in his inimical way, briefly veered off the rails when he began talking about a train passing adjacent to the TPC Southwind.
-- Baker-Finch, as Karlsson was facing a playoff loss at Memphis for the second straight year: "This could be like Hangover 2 for Robert Karlsson."
Karlsson lost to Lee Westwood in a playoff the year before.
The stop-and-go nature of the LPGA schedule these days only reinforces the notion that the women are playing in a vacuum.
The most successful player in the game right now is Yani Tseng. Has anyone noticed? Tseng's three-stroke victory in the LPGA State Farm Classic on Sunday was her fifth of the year and second on the LPGA as she reinforces her place as the logical successor to the Lorena Ochoa and Annika Sorenstam eras. Only 22, she has won six tournaments, three of them major championships.
Ryo Ishikawa made news in Japan last week for driving without a valid license. Apparently he obtained a license in the U.S. and assumed it was transferable to Japan. However, Japan does not allow driving with only an international license, unless the driver has spent at least three consecutive months in the license-issuing country.
A minor offense? A misunderstanding? One would think. The reaction of Ishikawa's principal sponsor argues otherwise. Panasonic felt the need to apologize emphatically on his and its behalf on the Japanese version of its Ishikawa support site. Here's the translation provided by the Times of India:
"Although this matter is all due to his own carelessness, we extremely regret it as his contracted company. We deeply apologise for disorder this has created in society."
Imagine what Panasonic might have said had it been Tiger Woods' principal sponsor in December of 2009.
At any rate, as a means of confirming that the Times of India's translation was accurate, we put Panasonic's original apology in Japanese through an Internet translator, which produced this:
"The carelessness of the person himself feels very regrettable despite the situation of the beginning as position contract company. I am sorry that I disturb society and did it deeply."
We prefer the Internet's translation better. More amusing.
MASON JARRED BACK TO REALITY
If Frazar's victory in the FedEx St. Jude Classic was shocking, what would a victory by James Mason in the Champions Tour's Greater Hickory Classic have been?
Mason is 60 and hadn't played a tournament since October. He had to Monday qualify just to get into the field. His only Champions Tour victory came more than nine years ago.
Yet Mason shot consecutive 65s on the weekend to finish tied with Mark Wiebe, before losing on the third hole of a playoff.
Incidentally, he was bidding to become the third straight player in his 60s to win on the Champions Tour, following Tom Watson (61) in the Senior PGA Championship and Bob Gilder, 60, in the Principal Charity Classic.
Good for him. As for the Champions Tour, we're not sure what his unlikely bid says about it.
Justin Rose: "Take 2.... At airport again after 1st flight was cancelled! First test of patience for US Open week!"
Robert Rock's victory in the BMW Italian Open on Sunday was his first in 209 career starts on the European Tour. Rock, 34, will make his U.S. debut in the U.S. Open this week...Camilo Villegas shot 64 on Sunday and finished T-3, his first top 10 in 15 starts this year. Villegas, who ended 2007 at 37th in the World Ranking, had fallen to 72nd...Fred Funk shot 62 on Sunday in the Champions Tour Greater Hickory Classic in a tuneup for the U.S. Open this week. Funk, 55 on Tuesday, finished T-3.
PGA Tour: U.S. Open at Congressional Country Club, Bethesda, Md. Defending champion Graeme McDowell.
-- The Englishmen Luke Donald and Lee Westwood, Nos. 1 and 2 in the World Ranking, have gaps in their resumes. Neither has won a major championship. Tiger won't be a factor. Each is at the top of his game. Is it now or never?
Here's how to handicap this U.S. Open.
The site is Congressional Country Club, which during World War II the government leased for $4,000 a month and transformed into the principal training site for the new Office of Strategic Services, the predecessor of the CIA. Among the skills taught: Silent killing.
So look for a silent assassin to win the Open.