News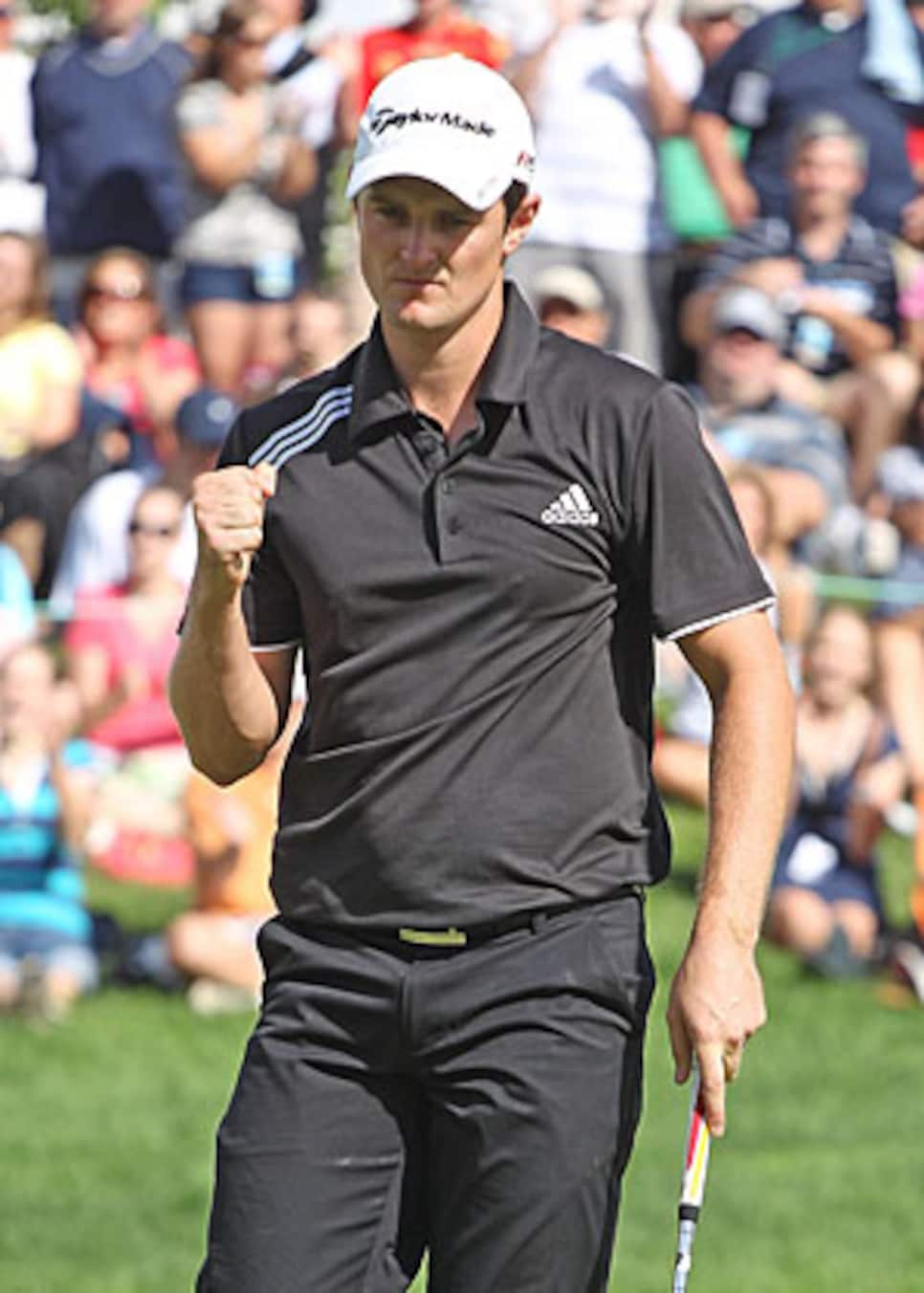 Justin Rose is the 10th player in his 20s to win on the PGA Tour this year.
It was never truly an old man's game, notwithstanding the stereotype that had colored the game gray. Those aren't canes they're swinging on the PGA Tour.
Columnist Arthur Daley of the New York Times wrote this in 1973: "If one of golf's earliest images was the picture of John D. Rockefeller taking daily links exercises after he was 90 years of age, along came an electrifying personality like Bobby Jones to propel golf to gaudy new heights while he was still in his 20s. The youth kick had taken over. It has not changed since."
It is a young man's game that is supple enough occasionally to accommodate those with hip replacements. Tom Watson, on the threshold of 60, nearly won the British Open last year. An anomaly, albeit a wonderful one, was all it was, a sentimental journey.
Justin Rose, 29, is the latest to testify on behalf of the youth. Rose won the Memorial Tournament, outlasting Rickie Fowler, 21. Rose became the 10th player in his 20s to have won on the PGA Tour this year, equaling the number of victories by players in their 30s. Only four in their 40s have won.
Fowler, meanwhile, threatened to become the third player under the age of 23 to win (Rory McIlroy, 21, and Jason Day, 22, have each won this year) and will join them eventually. Recall, too, the 58 shot by Ryo Ishikawa, 18, to win a Japan Golf Tour event earlier this year. And the victory by South Korea's Seung-yul Noh, 18, in the European Tour's Maybank Malaysian Open in March.
With apologies to the old Oldsmobile commercial, it's not your grandfather's game. It's your grandson's game.
ROSE: GETTING PAST THE THORNS
Justin Rose's first PGA Tour victory in and of itself is not his most impressive feat. It ranks behind the fact that he's still around and capable of playing at all.
Jack Nicklaus wrote in his autobiography that golf is "99.9 percent a mental game." As such, how does one summon the fortitude to persevere after missing the cut in their first 23 tournaments as a professional? How is their psyche not irreparably damaged?
This was Rose's millstone. He tied for fourth in the British Open in his last tournament as an amateur. He was young, talented, ambitious and never saw the abyss into which he disappeared.
Yet there he was on Sunday, accepting congratulations from Nicklaus himself, a PGA Tour winner for the first time.
"I feel like I've always had some sort of mental resilience and toughness," Rose said. "I've been through ups and downs. Sometimes you learn more from the bad stuff than you do from the victories."
He's a learned man, suffice it to say.
This is a rookie-of-the-year race that is certain to be interesting through the end of the year, Rory McIlroy vs. Rickie Fowler, a pair of 21-year-olds, neither of whom is likely to go quietly.
McIlroy has moved into a narrow lead by virtue of his victory in the Quail Hollow Championship. He tied for 10th at the Memorial, his second top 10. Fowler, meanwhile, has already finished second twice, has had five top-10 finishes and earned nearly $2 million.
Jack Nicklaus was renowned for many things, among them his course management. So it was that he was incredulous at Phil Mickelson's choice of club on the 18th tee on Sunday, never mind that he hit it in the fairway.
"Why in the world would he hit driver there?" Nicklaus said.
The CBS broadcast crew had some fun on both Saturday and Sunday with Rickie Fowler's unorthodox swing. After Peter Kostis analyzed his swing on Saturday, Faldo noted the necessity of perfect timing and wondered how well his hands would respond in, say, cold weather.
Kostis' analysis on Sunday demonstrated the contortions Fowler's back encounters on the backswing.
"He's not that big a guy, but boy does he get a powerful amount of clubhead speed. Where does it come from?" Kostis said. "A very good amount of shoulder turn against a very little amount of hip turn. You'd think that's proper separation between hips and shoulders. But not for Rickie. Because as he goes back this is almost freakish how much flexibility he has. Look at how much the shoulders have turned while the hips are already unwinding. That separation between the hips and the shoulders has to be the maximum on tour … That amount of flexibility is unbelievable."
Gary McCord's reaction: "That hurt to look at it. That had to be a 150 degrees of shoulder turn, and then his left hip started going before he finished at the top. Oh my goodness. Rickie, Rickie, Rickie. Stay in shape, my man."
Tiger Woods continues to flail in his bid to find the form that went missing in the wake of his off-course problems. There was this exchange between CBS' Jim Nantz and Nick Faldo on Sunday:
Nantz: "Nick, based on what you've seen, has this been a week of improvement for Tiger?"
Faldo: "I would say I'm leaning more toward the no. The driver, even the 3-wood, there are too many destructive shots. And he hasn't found a cure."
The Memorial was Woods' tune-up for the U.S. Open at Pebble Beach. By way of reference, Woods won the Memorial in 2000 in advance of his Open victory at Pebble Beach.
The curse of the Memorial is that it typically encounters inclement weather, as was the case again last week. There were a record six weather delays, adding up to more than 9 1/2 hours.
"A record?" J.B. Holmes told Bob Baptist of the Columbus Dispatch. "It feels like it's just normal."
PEBBLE BEACH: THE EARLY LINE
CBS' Ian Baker-Finch already cast his vote for Phil Mickelson, though that was some limb he went out on Sunday. "I think Phil Mickelson will be very hard to beat at Pebble Beach," Baker-Finch said on Sunday's telecast.
Mickelson could win. He's finished second on five occasions and is on what constitutes a roll in this thrill ride of a career -- winning the Masters, finishing second in the Quail Hollow Championship, tying for 17th at the Players Championship, missing the cut in the Crowne Plaza Invitational and tying for fifth in the Memorial.
But declaring anyone (save for Tiger when he's at the top of his game) hard to beat heading into an Open is a bad bet. Everyone to an extent is a longshot in an Open.
It's similarly a bad bet to dismiss Woods out of hand based on his form chart. That said, here's going out on a limb: I wouldn't bet against him, but I wouldn't bet on him, either.
England's Lee Westwood is an obvious early favorite based on his performance in major championships of late. He's finished in the top three in the last three majors.
Ernie Els also warrants consideration. Twice a winner in 2010 and a two-time Open champion, Els finished second to Woods at the Open the last time it was at Pebble Beach.
Ready for this? Ricky Barnes (Ricky Barnes?) is ahead of Tiger Woods in the U.S. Ryder Cup standings. Barnes, who tied for fourth at the Memorial, now ranks 11th. Woods ranks 12th. The top eight earn automatic berths, with the captain, Corey Pavin, selecting the final four players.
Barnes has had consecutive top-10 finishes, four in his last seven starts, and five in 2010, moving him into contention.
Fowler, meanwhile, also is gaining on earning a berth, moving to 13th in points.
The captain was watching, too. Pavin, writing on Twitter: "Last group at Memorial--two young RC potentials? @rickiefowler and ricky barnes. Play some good golf boys!!!!"
Mark Calcavecchia will happily ascend to the Champions Tour after finishing 66th at the Memorial in his final tournament as a member of the PGA Tour. Calcavecchia, who will turn 50 on Saturday, makes his Champions Tour debut at the Dick's Sporting Goods Open on June 25.
The PGA Tour will miss Calcavecchia, one of the game's few genuine characters, honest and self-deprecating to a fault. "New courses, new towns, new holes to screw up, new hotels," Calcavecchia said in his inimitable way.
Erik Compton has made the cut in all four of his PGA Tour starts this year. Compton, who twice in his life has undergone a heart transplant, finished 71st and last among those who made the cut at the Memorial…Graeme McDowell of Northern Ireland shot 64 and 63 on the weekend to win the Celtic Manor Wales Open, his fifth European Tour victory…Bo Van Pelt continued his roll, tying for third in the Memorial, his fifth top 10 in his last six starts.
__ON TWITTER (JOHN WOODEN EDITION) __
From Trevor Immelman: "'What you are as a person is far more important that what you are as a basketball player.' RIP - John Wooden."
From Zach Johnson: "John Wooden passes. An era ends. Class personified. Great coach, great mentor, great human being. Go bruins and rest in peace JW."
From Pavin: "One of the greatest coaches of all times-UCLA Mr. John Wooden-has passed away. Going to bed tonight with a heavy heart."
PGA Tour: St. Jude Classic at TPC Southwind in Memphis, Tenn. Defending champion Brian Gay. LPGA: LPGA State Farm Classic at Panther Creek Country Club in Springfield, Ill. Defending champion In-Kyung Kim.
Will John Daly get another restraining order against his ex-wife Sherrie, as he did at the St. Jude Classic last year?
Will Jordan Spieth's game travel? Spieth, the 16-year-old who dazzled the hometown crowd at the HP Byron Nelson Championship in Irving, Texas, two weeks ago, is playing the St. Jude on a sponsor exemption. "I guess this will be a truer test of whether I can go out and compete with those guys," Spieth told Brad Townsend of the Dallas Morning News. Spieth also is playing in a U.S. Open sectional qualifier today.
"For reasons best known to itself, the coalition government chose not to include in the Queen's speech legislation banning Ryder Cup captains yapping on inconsequentially in response to hypothetical questions about a sporting event that doesn't take place for months. The bad news is this means the new Government is putting all its energy into dreaming up potentially ruinous economic policies. The worse news is that it also means that, from a golfing perspective, it will continue to be all Colin Montgomerie, all the time. Excited? No, me neither." -- Lawrence Donegan writing in the Guardian.
It was a problem that the PGA Tour seemed unwilling to address or even to admit. The growth of the game internationally, in concert with the World Golf Championship events and the FedEx Cup playoffs, was undermining the tour's ability to provide its rank-and-file tournaments with representative fields.
When Anthony Kim chose to play in Dubai over the Bob Hope Classic in his hometown of La Quinta, Calif., in January, it incited a controversy over the tour's conflicting events releases that allow its players to eschew a tour event for an oversees opportunity that typically comes with an appearance fee.
Since then, a series of tournaments with payouts of $6 million or more (Zurich Classic of New Orleans, Valero Texas Open, HP Byron Nelson Championship) have been played with less than stellar fields.
Now comes word that the PGA Tour might be on the verge of admitting and addressing a problem it heretofore wouldn't even acknowledge existed.
Golf World contributor Dave Shedloski last week wrote this of a proposal under consideration: "The top 30 players from the FedEx Cup standings would be asked to pick from five events that had the weakest fields the previous year and add one of those five to his schedule."
Good idea, and here's to hoping the players see fit to ratify the proposal. For their own good.