News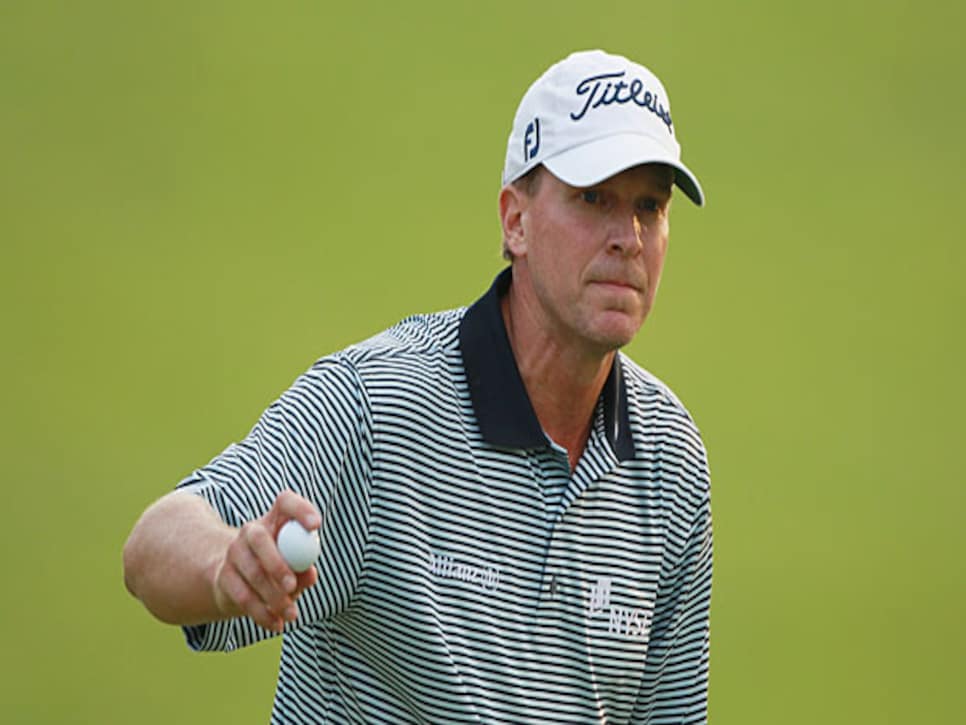 Stricker won for the seventh time since turning 40.
Steve Stricker has never been dazzling, on or off the course. He hits it straight, holes miles of putts, then goes home to Wisconsin, always more inclined to follow his heart than the sun.
Juxtaposed with the greatest player of his, or possibly any, generation, he more than holds his own. Some would suggest that he is the antithesis of Tiger Woods, but he is more than that. He is the antidote to Tiger Woods.
"He's been a superstar from the way he's behaved himself, the way he handles his game, the way he handles people and the way he handles fans," Jack Nicklaus said of Stricker on Sunday. "He's always done that, and that to me is equally as important as how well you score."
Tiger might be more fun to watch, but Stricker is a better representative of the game. Now, by virtue of his victory in the Memorial, he is the best the PGA Tour has to offer, on and off the course. For the first time, he's the No. 1 American in the World Ranking, fourth overall.
On Twitter, Associated Press golf writer Doug Ferguson cited the statistic that matters most: Three, the number of times that Stricker said "thank you" in his post-tournament news conference.
The game, it seems, owes him a response in kind.
Of Stricker's 10 victories, seven have come since he turned 40. Of his $30 million in earnings, two-thirds of it has come in the same time span.
Were he able to reclaim the lost years, 2002 through 2005, when his game abandoned him in his prime, we might be looking at a Hall of Fame career.
There's still time, of course, but at 44, likely not enough of it.
Luke Donald birdied two of the last four holes on Sunday to climb into the top 10 at the Memorial and continue one of the great runs this side of Tiger Woods.
Donald, who tied for seventh, has had 10 straight top 10 finishes on the PGA and European tours, including two victories and two seconds.
Rickie Fowler made 26 birdies and an eagle at Muirfield Village, yet completed 72 holes in only four-under par 284. Most of his good work was erased by 15 bogeys, three double-bogeys and one triple-bogey.
The birdie and bogey binges no doubt are the result of his aggressive approach. Late in Sunday's telecast (by then on Golf Channel), Jack Nicklaus spoke about the multitude of players asking him how they might minimize the higher numbers. Nicklaus seemed perplexed by their queries, but patiently explained course management to them, when to be aggressive and when to play conservatively.
Maybe Fowler was among those listening.
"Two Irishmen went into a bar," CBS' David Feherty said. "It's believable, isn't it?"
That's how Feherty, a native of Northern Ireland, began his interview with Northern Ireland's Rory McIlroy in the clubhouse bar during the Memorial rain delay on Sunday.
BEST PLAYER, CADDIE DIVISION
A familiar name was on the bag of Allison Micheletti at the Colorado Women's Open last week. It was Germany's Martin Kaymer, No. 3 in the World Ranking. Kaymer is Micheletti's boyfriend.
It wasn't the first time he caddied for her. He was toting her bag at a pre-qualifier for the Ladies European Tour in December.
Micheletti, incidentally, finished 42nd at the Colorado Women's Open, earning $320. If Kaymer received a typical caddie's bonus of five percent, he would have picked up an additional $16 for his efforts.
In the first two rounds of the Saab Wales Open, Ross Fisher was paired with Phillip Price and David Horsey.
Brittany Lincicome's victory in the ShopRite LPGA Classic on Sunday was only the fourth of her LPGA career and first in more than two years. The fact that her friends call her Bam Bam in deference to her power suggests that she ought to win with greater frequency.
Maybe she will. Only 25, Lincicome has won tournaments in consecutive weeks, her victory in the ShopRite following a win in a West Florida Golf Tour event playing with men. She partnered with Ryan Gildersleeve to win the better-ball event.
@eGolfProTour1: "The penultimate threesome just finished in 4 hrs. / 5 minutes. Golf should not take over 5 hours - on the eGolf Tour, it doesn't."
Comment: It failed to note that golf shouldn't take over four hours, either, particularly with a threesome.
Andres Gonzales: "Hey @TigerWoods, I heard jack [Nicklaus] used to dunk basketballs. I don't buy it. Youre thoughts?"
HEADLINES FOR A DIFFERENT REASON
Elliot Saltman of Scotland found a way to turn attention away from his three-month suspension for improperly marking his ball. He made holes-in-one on the 17th hole at Celtic Manor twice in four rounds of the Wales Open. Saltman aced it in the first and fourth rounds, en route to a T-12, the best European Tour performance of his career.
Saltman, incidentally, played the last two holes in Thursday's round in eagle-eagle, yet still shot a one-over par 73.
Ryo Ishikawa's form has gone missing in the run-up to the U.S. Open. The Japanese star shot 83 and 77 in the Japan Golf Tour Championship CitiBank Cup to miss the cut for the second straight week.
Ishikawa, 19, has nine Japan Golf Tour victories, but none this year and has only one top 10 in seven starts. In six starts on the PGA Tour, he has missed the cut three times. His best finish in the U.S. has been a T-20 in the Masters.
He was 36th in the World Ranking at the end of 2010 and fell to 53rd following his latest misadventures. He received an exemption into the U.S. Open by virtue of his world ranking, 49th, two weeks ago.
Seniors are said to have about a five-year window, from 50 to 55, before their performance begins to tail. That still might be the case, but even in their 60s they occasionally can summon enough of their fading skills to win.
For the first time in the history of the Champions Tour, two straight winners were in their 60s. Bob Gilder, 60, won the Principal Charity Classic by holing a 30-foot birdie putt at 18 on Sunday. It was his 10th Champions Tour victory, but first in five years. The week before, Tom Watson, 61, won the Senior PGA Championship.
SURPRISE PERFORMANCE OF THE WEEK Your winner, Steve Wheatcroft, who won by the Nationwide Tour's Melwood Prince George's County Open by 12 strokes. He came into the tournament with one top 10 and three missed cuts in seven starts.
Wheatcroft shot a 60 in the second round and finished play at 29-under par.
"I see a ton of talent that hasn't quite been harnessed yet. I think he's still learning how to play...I think he's just got a tremendous future. He's a great talent." Jack Nicklaus on Dustin Johnson
Brandt Jobe tied for second at the Memorial and established himself as the leading candidate for comeback player of the year honors. In 2006, Jobe severed the tops of his left thumb and index finger off. He had them reattached, but nerve damage forced him to remake his swing. He has earned $1,162,335, a career high and enough to secure his playing privileges in 2012...Jim Thorpe, 62, finished T-74 in his fourth start since renewing his career in the wake of his incarceration for failing to pay taxes. In 13 rounds, Thorpe has yet to break 70...Erik Compton tied for 11th in the Nationwide Tour event and ranks 14th on the tour money list. Compton, who has undergone two heart transplants, has positioned himself, via the Nationwide Tour money list, for a run at fulfilling his goal of earning a PGA Tour card.
PGA Tour: FedEx St. Jude Classic at TPC Southwind, Memphis, Tenn. Defending champion Lee Westwood. Champions Tour: Greater Hickory Classic at Rock Barn Golf and Spa, Conover, N.C. Defending champion Gary Hallberg. European Tour: BMW Italian Open at Royal Park Golf and Country Club, Turin, Italy. Defending champion Fredrik Andersson Hed. LPGA: LPGA State Farm Classic at Panther Creek Country Club, Springfield, Ill. Defending champion Cristie Kerr.
Lee Westwood, No. 2 in the World Ranking, returns to defend at the FedEx St. Jude Classic in his final prep for the U.S. Open the following week.
PowerPlay Golf was introduced to Golf Channel's audience a week ago, but it is not clear why this concept is considered a potential vehicle to introduce golf to those heretofore disinterested, as a means of growing the game.
We won't get into the scoring here, but it was reminiscent of Peter Jacobsen's one-and-done Pro Stakes Championship, a two-day made-for-TV event in 1993 that was confusing enough that tournament officials had the scoring wrong after the first day.
Gary Player nonetheless is among PowerPlay's leading proponents. "If golf is to grow and develop a grass-roots following in other parts of the world PowerPlay is a great idea," he said. "Just look at what Twenty20 has done for cricket. You would never have visualized anything like that."
It's also unclear how the success of a new form of cricket relates to a made-for-television golf event creating a boon to golf. At any rate, two thoughts about PowerPlay Golf and its ability to grow the game:
Tiger Woods was supposed to grow the game after he wrested control of it in 1996, by similarly appealing to a faction that was disinterested before. He brought more attention to golf, but the participatory numbers remained flat.
PowerPlay Golf doesn't address the principal impediments to growing the game: It's a hard game that costs too much and takes too long.