News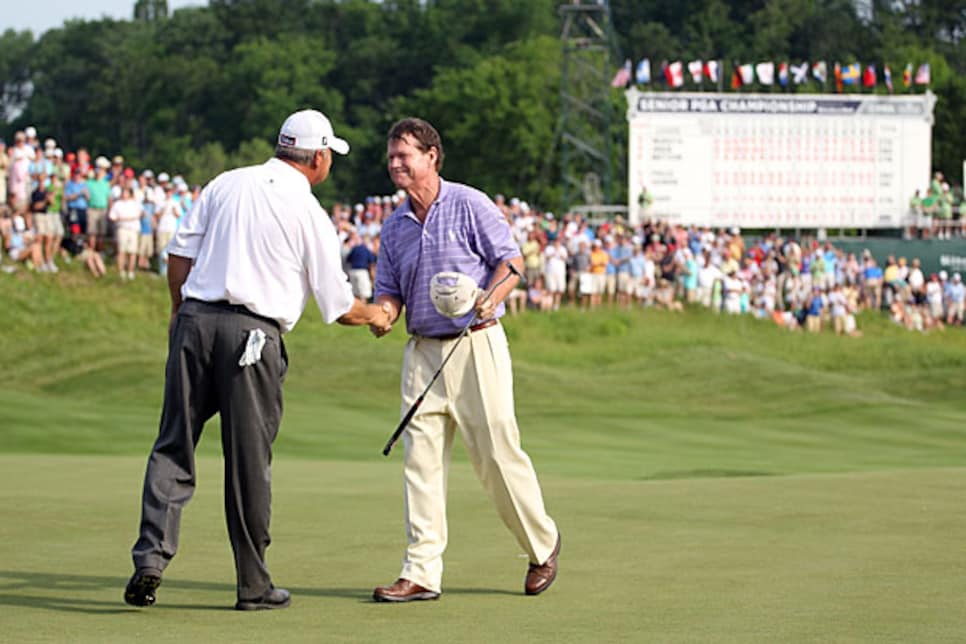 Tom Watson, 61, became the oldest winner of a major at the Senior PGA Championship.
Dan Jenkins and Dave Anderson say you root for the story, Golf World's Bill Fields reminded us on Twitter on Saturday, the story in this case Hale Irwin, a few days shy of 66, threatening to win the Senior PGA Championship.
The story doesn't always win, of course. Irwin finished third. Elsewhere, 17-year-old amateur Jordan Spieth finished 32nd in the HP Byron Nelson Championship, 18-year-old Matteo Manassero seventh in the BMW PGA Championship. So much for the oldest and youngest angles.
Yet the story doesn't always disappoint, either, as a wild Sunday so entertainingly demonstrated, in each case providing at least a worthy substitute and in one case a surpassing one.
in a playoff with David Eger. Spieth, a day after his high school graduation that he missed because of his late Saturday tee time, faltered on Sunday, but rookie Keegan Bradley, 24, filled the void capably with talent and nerve and an interesting backstory: His aunt is Hall of Famer Pat Bradley.
Then there was the BMW PGA Championship. Manassero, already a budding star and on the threshold of a victory against a world-class field, showed his age and shot 75. In his stead, the two best players in the world moved to the fore, Lee Westwood and Luke Donald eventually deciding the outcome in a playoff.
That's entertainment, at least as it would be defined in golf circles. The story in each case redeemed itself.
How, we ask in the wake of Donald's latest victory, did he ever miss the cut in the Northern Trust Open?
Since shooting a 79 in the second round on Feb. 18, Donald has not finished out of the top 10 in his ensuing nine starts. He's won twice (the WGC-Accenture Match Play Championship and the BMW PGA Championship), finished second twice (the Heritage and the Volvo World Match Play Championship), and tied for fourth twice (the Masters and the Players Championship).
Imagine what his record might be were he to drive the ball better (he ranks 114th in total driving on the PGA Tour).
The renowned sports psychologist Dr. Bob Rotella wrote this about Pat Bradley in his book, "Golf is a Game of Confidence":
"She is as mentally tough as any human being I have ever known."
Keegan Bradley learned the game from his dad Mark (Pat's brother), the head pro at Jackson Hole (Wyo.) Golf and Tennis Club. But he has looked to Pat for guidance.
"One of the ways I try to emulate her is her toughness and work ethic," Keegan told the New York Times earlier this year.
Pat Bradley was a Rotella client. Keegan is a devotee, too. "You know ur a golf nerd when doctor Bob Rotella audio tapes come up two times in a row on iPod shuffle," he wrote on Twitter last month.
A 68 in a Sunday gale while in contention and a PGA Tour rookie isn't the work of a weak mind. Apparently mental toughness is a Bradley family trait.
The cow bell that Pat Bradley's mother (and Keegan Bradley's grandmother) used to ring each time that Pat won a tournament is out of commission and wasn't tolling on Sunday in recognition of Keegan's victory. The bell is in its final resting place, the World Golf Hall of Fame in St. Augustine, Fla. It went there in 1991, the year that Bradley was inducted.
Pat Bradley won 31 times in her career and earned $5,755,951. Keegan earned more than one-fifth of that total ($1,170,000) with his first victory.
Winners of LPGA tournaments this year represent seven different countries, Mariajo Uribe adding Colombia to the list with her victory in the HSBC LPGA Brazil Cup on Sunday. The others: Taiwan (Yani Tseng), Australia (Karrie Webb, who has won twice), Germany (Sandra Gal), United States (Stacy Lewis), Sweden (Maria Hjorth) and Norway (Suzann Pettersen).
Only one American has won, Lewis at the Kraft Nabisco Championship. Yet this represents one more victory than Americans had at this point in 2010.
No Koreans have won yet, shockingly, given the number of Koreans on the LPGA and the manner in which they've dominated in recent years. A year ago, three Koreans had won by this stage of the season.
Isabelle Beisiegel, a native of Montreal and better known as Izzy, won't realize her goal of playing the PGA Tour, but she earned a nice consolation prize: She tied for ninth at the Canadian PGA Tour's spring qualifier to earn playing privileges.
A former LPGA player and honorable mention All-American at Oklahoma, Beisiegel is adamant that a woman can compete with men.
"I've always believed it's a myth that women can't play against men," she told the National Post in 2008. "The ball doesn't know whether it is a man or a woman hitting it."
Curiously for one who has been unable to retain her LPGA playing privileges, Beisiegel ultimately wishes to play the PGA Tour. She went to the a pre-qualifier for the Tour Qualifying Tournament last year and just missed advancing to the first stage. She tied for 47th in a field of 87 players, while only the top 43 and ties advanced to the first stage. She also attempted Q School in 2004 and played a U.S. Open local qualifier in 2002.
The West Florida Golf Tour event last week was misidentified as a two-man best ball. It was a better ball; more than two players are necessary for it to be a best ball. But the more egregious error was that half the winning team was a woman, the LPGA's Brittany Lincicome, who partnered with her friend Ryan Gildersleeve to win the event that featured 19 two-man teams and one mixed team.
The pair split $1,500 for winning, Lincicome's first victory in a men's competition. Lincicome occasionally plays men's mini-tour events to keep a competitive edge during some of the LPGA's schedule breaks.
Lest anyone is of the notion that the competition on the West Florida Golf Tour is weak, consider that its leading money winner is Robert Gamez, who has three PGA Tour victories. Gamez did not play in the Two-Man Bestball. He was playing in the HP Byron Nelson Championship, where he tied for 50th.
Rory McIlroy on the Volvo World Match Play Championship: "@Luke_Donald, drive home wasn't as long as it took you to play the last few holes!! Your group were holding the rest of us up!"
Donald: "@McilroyRory 2 groups on 17 when I got there, must have been 1 of the morning groups. probly @IanJamesPoulter, he was messing around on 18!"
Poulter: "@Luke_Donald it was I got the club caught on the way down on that cheque from last week, Christ it was a big. No wonder why I hit it."
Note: Poulter defeated Donald, 2 and 1, in the Match Play final to earn approximately $811,000.
"Do these guys really want to play on a course that's fun where you can shoot 62s and 63s and end up winning with 26 or 28 under par? I don't think that's fun, that's easy golf. Fun is Disneyland. This is a challenge to a golfer." -- Richard Caring in an interview with Reuters, responding to criticism of the Wentworth course.
Colin Montgomerie's T-7 in the BMW Championship was his first top 10 and best finish since June of 2008, when he finished second in the French Open. "I led the stats in driving accuracy this week and I told you, if I can do that I can play and I can compete then and I can contend, which is key," he said...Matt Kuchar, who led the PGA Tour in top 10s last year, finished T-6, his seventh top 10 of the year, tying him for the tour lead. Hunter Mahan and Luke Donald also have seven top 10s...Jason Day, 23, finished fifth, his sixth top 10 (in 11 starts), eclipsing the five he had in 2010.
PGA Tour: The Memorial Tournament presented by Nationwide Insurance at Muirfield Village Golf Club, Dublin, Ohio. Defending champion Justin Rose. LPGA: ShopRite LPGA Classic at Seaview, Galloway, N.J. Defending champion Ai Miyazato. European Tour: Saab Wales Open at Celtic Manor Resort, City of Newport, Wales. Defending champion Graeme McDowell.
Graeme McDowell of Northern Ireland will forever be linked to Celtic Manor, site of the 2010 Ryder Cup. McDowell defeated Hunter Mahan in singles, the deciding point in Europe's victory. Earlier in the year, McDowell had won the Wales Open at Celtic Manor.
The news on the Memorial is less who's playing that who's not playing. Tiger Woods, a four-time champion and Muirfield Village, did not enter as he continues to rehabilitate his injured knee and Achilles tendon in an effort to return by the U.S. Open to weeks later.
One year on, players were still complaining and Ernie Els was still defensive on the matter of Els' renovations to the West Course at Wentworth, site of the BMW PGA Championship.
"I don't like this golf course. Period. End of story," Ian Poulter said on Friday. "I don't have a problem with tough golf courses and level par is hanging in there. But I'm walking off the golf course and I'm absolutely headless. Absolutely fuming. It's not fun golf. You're watching, you tell me. Is it fun?"
Els was disturbed with Poulter's comments and said he would address it with him. "He's done a lot of damage to the flagship event," he told Lawrence Donegan of the Guardian. "He's a Ryder Cup player, and to come out with things like that is uncalled for. He should think twice when he does that."
If Ian Poulter thought twice before rendering an opinion he wouldn't be Ian Poulter. His disinclination to self-edit contributes to his colorful persona in an otherwise bland sport. Just the same...
Yes, Ian, it was fun, highly entertaining. The BMW Championship is the European Tour's flagship event, as close as it gets to a major beyond the British Open. It isn't supposed to be easy. And the fact that it produced a duel and eventually a playoff between the two best players in the world is the only refutation necessary. You were wrong.