News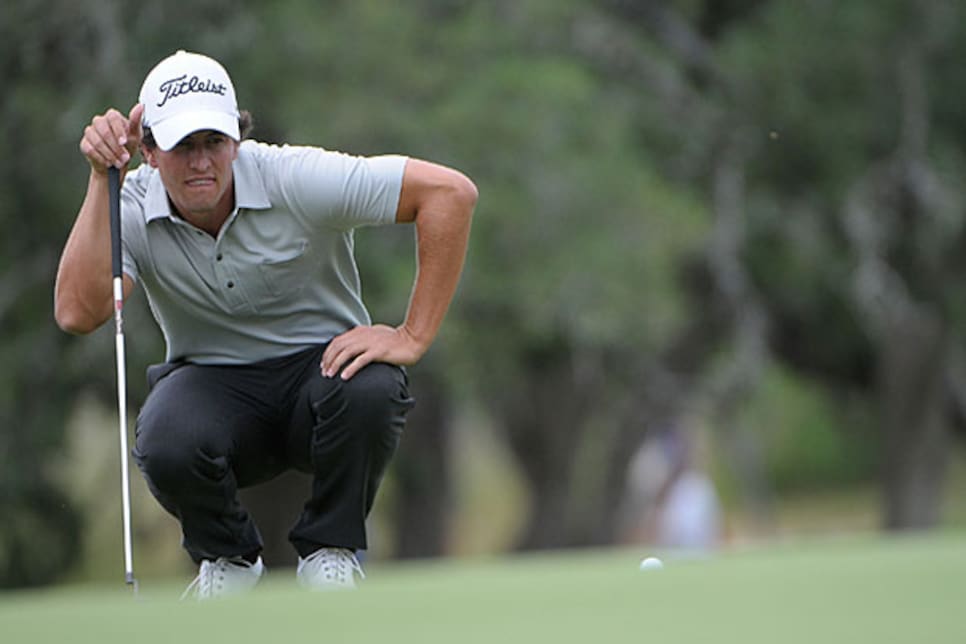 With his victory in Texas, Adam Scott ended a two-year winless drought.
Tiger Woods' swing still looks great, though it's now in the possession of Adam Scott, who had it on display in the Valero Texas Open last week. This time, Scott had a putting stroke that was its equal, carrying him to his first victory on the PGA Tour in two years.
Scott, like Woods, was tutored for several years by Butch Harmon and his swing is a virtual copy of that employed by Woods in his best years with Harmon, circa 2000.
This is duly noted here because Harmon's successor in the Woods' camp, Hank Haney, resigned last week. The debate, meanwhile, lives on: Harmon or Haney, who was better for Tiger's career? The answer: Who knows?
Here's what is known: In May of 1999, Woods was on the range at the GTE Byron Nelson Classic when he reached for his cell phone, dialed up Harmon and said, "I've got it." What followed was a remarkable two-year stretch that included 19 victories and five major championships, four of them in a row.
Maybe there was a "got it" moment with Haney, too, maybe that two-and-a-half hour session with him on the range at the Western Open in '06 that he credits with propelling him to seven straight victories, including the British Open and the PGA Championship. More often, though, Tiger seemed to win in spite of an inability to control his golf ball in a manner befitting the game's best player.
Still, it's all about results. Maybe it wasn't as pretty under Haney as it was under Harmon, but Haney's spirited defense of Tiger's record while he was in Woods' employ can't be ignored. "In the last two-and-a-half years, he has finished in the top ten 85 percent of the time, won 44 percent of his tournaments," Haney said in an interview with the Sporting News. Woods also won six major championships while working with Haney.
Here's a suggestion: Call it a draw and conclude that Woods' talent would have made any coach resemble a genius.
HOLD OFF ON THE LAST RITES
What can we expect from Tiger Woods this summer (health permitting), that he'll pause on the Swilcan Bridge at St. Andrews, a la Nicklaus, and bid adieu to the game? Is it really over? Has one of golf's great runs been stopped dead in its tracks by a rogue tree that leaped in front of his SUV in the dead of a November night?
This is what some of last week's headlines seemed to suggest.
"Time running out in Woods' quest to break Nicklaus' majors record," read one from the Chicago Tribune.
"Fading Tiger may never recover from scandal," an NBC Sports headline declared.
"Is Tiger's career starting to wind down?" Yahoo! Sports asked in teasing a story.
For the first time in his career, Woods has played two tournaments in succession without compensation, the second of them the result of his withdrawing from the Players Championship with a neck injury. Woods revealed last week that an MRI showed an inflamed facet joint in his neck.
Certainly it's possible that Woods won't break Nicklaus' record of 18 professional majors. As Johnny Miller said in an ESPN Radio interview last week, "He's at 14 already, and to get to 18, that's a whole career. Look at Phil Mickelson. He's worked his butt off to get to four majors. I know it's Tiger Woods, but he's really going to struggle to just tie Jack's record."
That was the case pre-scandal, same as it is post-scandal.
He's the most skilled player in the history of the game and he's only 34. Time running out? May never recover? Career winding down?
Aren't we getting ahead of ourselves?
Whoever is responsible for Alexis Thompson's website has done her a disservice by anointing her a star before she's hit a single shot as a professional. Thompson, 15, announced last week that she was going to turn pro at the ShopRite LPGA Classic next month.
Thompson's website (alex-thompson.com) is trumpeting her decision to turn pro with one headline that proclaims, "A new star is born," and another that calls her "golf's next big star."
Given her enormous talent and potential, it likely will prove prophetic, but as Peter Dixon wrote in the Times (U.K.), "Win first, win big, win often. Then let everybody else shout your name from the rooftops."
It was a two-over par 74, but the fact that it was shot by an amputee in a Champions Tour event moves it from unexceptional to exception.
Ken Green, who had his right leg amputated below the knee last summer, made his return to the Champions Tour, the Regions Charity Classic marking his first regular tournament (he previously played in the Liberty Mutual Legends, a two-man team event) since the accident that claimed the lives of his brother and girl friend.
Green followed with rounds of 76 and 75 and finished T-73. He might call it a disappointment. Anyone else would call it a triumph.
IF ONLY OTHERS WOULD FOLLOW SUIT...
A golfer on the Japan LPGA was penalized two strokes for slow play at the World Ladies Championship then walked off the course in protest, earning a fine of more than $21,000 in the process.
But it's what happened next that is saluted by those advocating the abolishment of slow play: Yuko Mitsuka suspended herself. Mitsuka has voluntarily decided to sit the next 11 tournaments.
Vijay Singh had never gone four straight tournaments out of the money (in 1994, he had a three-tournament stretch where he withdrew from two of them and missed the cut in the other). His streak is intact; he made the cut on the number at Texas and finished T-64 ... It doesn't qualify as a comeback, but John Daly has now made the cut in five straight events, save for the Zurich Open in New Orleans. He would have made the cut there, too, but he withdrew with a hip injury. Daly, however, withdrew after the third round, his hip continuing to bother him ... Arron Oberholser underwent surgery on his left hand for the third time. Earlier this year, he underwent surgery on his hip. He is expected to be cleared to begin hitting balls again in three or four months, the San Francisco Chronicle reported, and to rejoin the PGA Tour in January ... Michelle Wie finished 73rd and last among those who made the cut in the Bell Micro LPGA Classic.
From LPGA player Liz Janangelo, a former Duke All-American who has missed the cut in both her starts this year: "If I had known id be such a mediocre pro golfer, I would have went out more in college."
From Bo Van Pelt: "Michael irvin88 in first class with me. I asked him if he has given fur coat to dez Bryant yet?? No comment!!"
Dez Bryant, for those who might not know, is a wide receiver from Oklahoma State and the Dallas Cowboys' first-round selection in the recent NFL draft.
PGA Tour: HP Byron Nelson Championship at TPC Four Seasons Resort, Irving, Texas. Defending champion Rory Sabbatini. European Tour: BMW PGA Championship at the Wentworth Club, Surrey, England. LPGA: Sybase Match Play Championship at Hamilton Farm Golf Club in Gladstone, N.J. Inaugural event.
The European Tour's flagship event, the BMW PGA Championship, has five of the top-10 players in the World Ranking in its field, while the HP Byron Nelson has none. Playing in Europe are Lee Westwood (fourth), Ian Poulter (sixth), Ernie Els (seventh), Paul Casey (eighth) and Rory McIlroy (ninth). The highest ranked player in the Nelson is Hunter Mahan (17th). Dallas Morning News golf writer Bill Nichols noted that five years ago, the Nelson had the top five players from the World Ranking in the field: Woods, Singh, Ernie Els, Phil Mickelson and Retief Goosen.
The Sybase tournament marks the LPGA's return to a match play format, its first since the HSBC World Match Play Championship concluded a three-year run in 2007. The winners were Marisa Baena, Brittany Lincicome and Seon Hwa Lee.
Last week, the Nationwide Tour's BMW Charity Pro-Am used one of its sponsor exemptions on a retired football star, Jerry Rice, the latest in a procession of professional athletes who have convinced themselves against all logic that they might play golf well enough to have a go as a professional.
The BMW was rewarded with this: Rice had rounds of 92 and 82. He couldn't break his uniform number (80).
Juxtapose this with the Valero Texas Open, which used one of its sponsor exemptions on the winner of the 2009 Armed Forces Golf Championship, John Little, a senior airman in the Air Force and a former golfer at Auburn and Georgia State.
San Antonio has a huge military presence -- two Air Force bases (Lackland and Randolph) and one Army base (Fort Sam Houston). Providing an opportunity for a serviceman to play in the big leagues -- and paying homage to the military in the meantime -- was a judicious use of a sponsor exemption, notwithstanding his rounds of 82 and 78.
"I played all my life wanting to play on the tour and with the big boys and see how I stood up," he said. "I can't thank the Valero Texas Open enough for the opportunity."
One tournament got it right, the other embarrassingly wrong.