News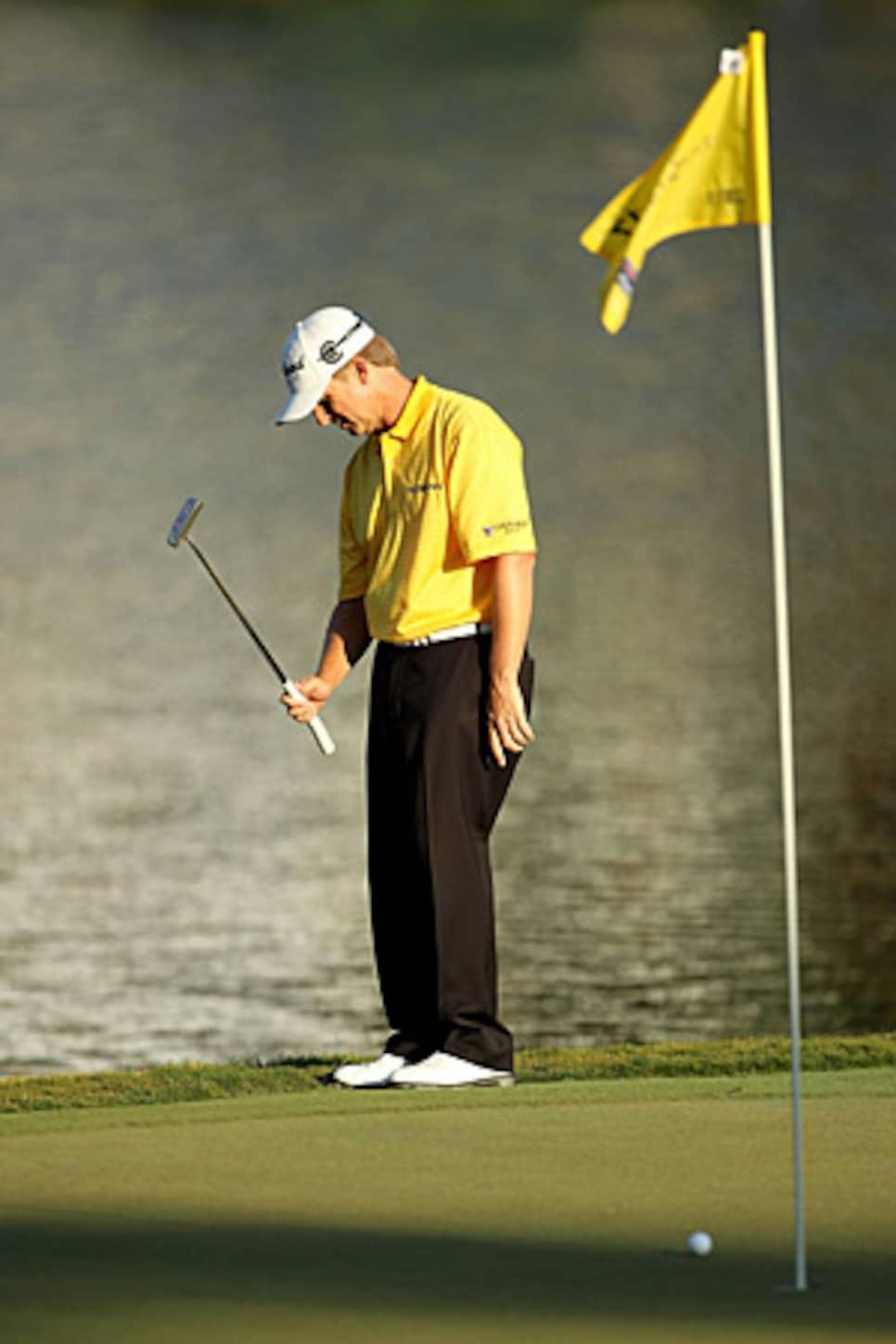 Toms was looking for his first win in five years at the Players.
It was David Toms' introduction to a new generation that might have known him by name, but not by reputation.
"One of the best ball-strikers on the planet," Paul Azinger called him a decade earlier. Azinger reiterated the point Sunday on Twitter: "I'll say it again, in my 30 yrs on tour, David Toms hit more shots at the flag than any player I've ever seen."
This was the player with whom Jason Day, 23, played the first two days of the Players Championship. "I've played with short hitters before, but I haven't played with a guy that hits it so straight and so solid all the time," Day said. "I think it was [Paul] Azinger back in the day that said David Toms is one of the best ball-strikers he's ever come across. After the last two days I believe that. He played wonderfully and he putted even better."
These were the skills that delivered 12 victories including a PGA Championship in 2001, when Curtis Strange noted as a matter of fact that "when he gets in the hunt he wins."
They were, to his chagrin, the skills that also took untimely hiatuses late on Sunday afternoon. The swing that betrayed him was his second to the 16th green, when he might have laid up and instead went for the knockout punch. It wound up in the water.
The putt that went awry came on the 17th green of the first hole of a playoff. Time is an enemy of nerves, capable of transforming a routine three-and-a-half foot par putt into a moving target. So it was for Toms, who at 44 and seeking to win for the first time in five years missed the hole entirely, allowing K.J. Choi to wrest a victory, his first in three years and the biggest of his career.
It's likely that we haven't seen the last of Toms, whose own son Carter, 13, was among the new generation that was introduced to the game that once made him one of the best in the world. Carter's own interest in golf has helped revive Toms' career.
Next time, Toms' reputation will precede him.
Azinger suggested on via Twitter that "David Toms should be next American Ryder Cup captain after Davis [Love]."
Interesting thought. Toms has played on three Ryder Cup teams (2002, '04 and '06) and won the PGA of America's showcase event, the PGA Championship.
There was a time that Choi, 40, seemed destined to become the first Korean to win a major championship, but Y.E. Yang beat him there with his victory over Tiger Woods in the PGA Championship in 2009. Choi still hasn't won a major, but his victory in the Players reminded the homeland who the better player is.
This was Choi's eighth PGA Tour victory and 15th overall. Yang, 39, has won twice on the PGA Tour and nine times overall.
Or so Johnny Miller seemed to be suggesting on Friday's telecast of the Players when the subject turned to Tiger Woods and the knee and Achilles tendon injuries that forced him off the course nine holes into the tournament.
"That's a tough one to figure, really where he's at," Miller said. "He could have taken four or five Advil or something, sort of use no legs, and gut it out."
It is always dicey questioning the severity of one's injuries or the degree of his pain, but, as Sports Illustrated's Michael Bamberger pointed out, it's not always easy separating fact from fiction where Woods is concerned. After Woods described the pain that caused him to withdraw after playing only nine holes on Thursday, Bamberger wrote that "when he climbed a small set of steps en route to his waiting white Mercedes sedan, he took them by two."
Then again, Woods' father Earl taught him to listen to his body and to shut it down when it was telling him to do so. Maybe this time he heard it. Perhaps to his detriment, he paid it no heed in June of 2008, when he won the U.S. Open with a knee that required major surgery.
"We'll have to wait and see," his former coach Butch Harmon said presciently in 2009. "It's either the most phenomenal feat ever in the game of golf or not a very smart thing if he played and he doesn't come back healthy."
TIGER'S KNEE: THE BACKSTORY
This from a story Jaime Diaz wrote for Golf Digest in 2004:
"'It's because of the stuff I did as a kid,' [Woods] says. 'Wiping out on skateboards, crashing on dirt bikes, jumping off things, I banged it up pretty bad.' When Woods had surgery on the knee in 1994 to remove a cyst that was putting pressure on the joint, doctors found substantial scar tissue from what they termed childhood injuries."
"'Old man' Woods may have played his last round of golf."
It was from sifi.com , an Indian concern that describes itself as an Information Communications Technology company. It wasn't alone in wondering whether the finish line is closing in fast for Woods.
"Are we truly seeing the end of Tiger Woods' career?" A USA Today headline asked.
"I think his whole future is up in the air," Harmon said during the Players last week. "Does this mean he needs more surgery? If he does who knows what will happen."
Darren Clarke of Northern Ireland dedicated his first victory in three years to the man who made it possible.
"We wouldn't be here without Seve [Ballesteros], simple as that," Clarke said after winning the Iberdrola Open in Mallorca, Spain. "The European Tour would not be in the position it is today without Seve. He was the first man to do so many things and make so many breakthroughs that we have all followed, so to win in his homeland in the week that he passed away is a real honor."
Lee Westwood and Rory McIlroy passed on the Players, inviting criticism from Johnny Miller and Golf Channel's Brandel Chamblee, among others.
Chubby Chandler, agent to both players, was at the Players, but apparently tired of the criticism and left early.
"I got tired of listening to Americans having a pop at Lee and even me and flew back on Weds," he wrote on Twitter.
"I'm afraid they [sic] are Americans that don't recognise that there is a big world of choices out there. Media Hype I think !"
Chamblee, in response to a question about the worst that can happen at the 17th hole at the TPC Sawgrass: "the worst that can happen? You can lose your mind, dignity, job, friends, confidence, love of a good woman, caddie & several balls!"
"I'm a professional athlete...Just kidding, America." -- Paul Goydos, responding to a question from NBC's Jimmy Roberts about whether fatigue was a factor in the long day on Sunday.
Luke Donald ran his top 10 streak to seven straight with a T-4...Paul Goydos, who lost to Sergio Garcia in a playoff in the Players in 2008, finished third, his best tournament of the year and best since finishing second at the John Deere Classic last year when he shot 59 in the first round...Jason Day's back nine of 31 on Sunday gave him his fifth top 10 in 10 starts, a T-6. Last year, he had five top 10s in 24 starts...Charley Hoffman deliberately broke his putter on his last hole of the first round and he might have wanted to break a wedge or two on the 17th hole of the final round. Hoffman hit two in the water, made a 7 and fell to a T-26. He would have finished T-6 had he parred the 17th.
PGA Tour: Crowne Plaza Invitational at Colonial, Colonial CC, Ft. Worth, Texas. Defending champion Zach Johnson. LPGA: Sybase Match Play Championship at Hamilton Farm Golf Club, Gladstone, N.J. Defending champion Sun Young Yoo. European Tour: Volvo World Match Play Championship at Finca Cortesin GC, Casares, Andalucia, Spain. No tournament in 2010. Ross Fisher won in 2009.
Martin Kaymer, Lee Westwood, Luke Donald, Graeme McDowell and Masters champion Charl Schwartzel headline the 24-man field in the European Tour's Volvo World Match Play Championship.
The LPGA players will finally have a chance to get some traction, playing the first of four straight tournaments (though one is the limited-field HSBC LPGA Brasil Cup).
Why, some have asked, would the Players Championship start a sudden-death playoff on the infamous par-3 17th hole at the TPC Sawgrass, one of the most harrowing tee shots in golf? Why not start it there?
It can prove anticlimactic should the first off the tee hit it in the water, as Goydos did in his playoff with Garcia three years ago. So it goes.
Every shot there is an adventure, do or die.
"Sudden death means sudden," Johnny Miller said on Sunday. "Not prolonged."