News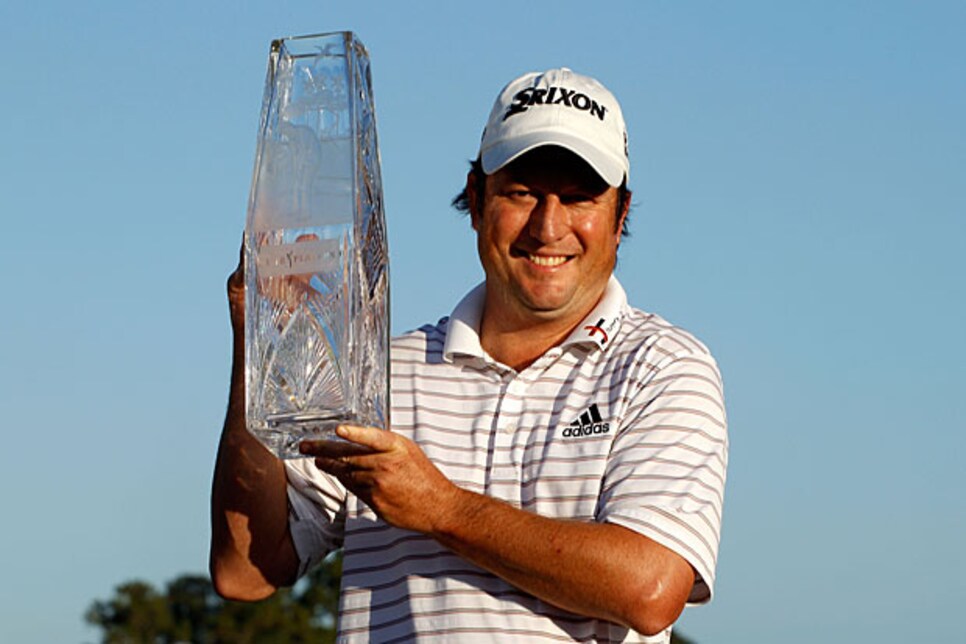 Tim Clark joins Craig Perks, Fred Funk and Mark Hayes on the list of surprise winners at TPC Sawgrass.
The inestimable Dan Jenkins once lamented a managing editor who held him responsible when lesser men than Nicklaus or Palmer won a major championship. "In 1971," Jenkins wrote, "I committed the heinous crime of Charles Coody."
The managing editor would have hated the Players Championship, which often snubs the game's elite in favor of, well, a Tim Clark.
Maybe it's not in the game's best interest that Lee Westwood or Phil Mickelson or Tiger Woods failed to win the Players on Sunday, but Clark's improbable victory reinforces the notion that this might be the best kind of tournament, a democratic one, featuring arguably the strongest field in golf, with virtually anyone capable of winning it.
Clark had played 204 PGA Tour events previously without winning. He had finished second on eight occasions. He's a short, straight hitter in a power game, yet on a brutally difficult Sunday, he shot the best round of the day, a bogey-free 67, and prevailed.
Golf may have committed the heinous crime of Tim Clark, for which the game will receive a short sentence from this jurist. Here it is: Well done.
So who is telling the truth, Tiger Woods or Steve Mata, the former director of tour operations for Titleist?
Last week, Mata put up for sale on eBay a set of Titleist irons that he claims Woods had used to win the so-called Tiger Slam in 2000-2001. Mata said that Woods gave the irons to him at the Buick Classic in 2001, when Mata delivered a new set for Woods. Woods said, no, the irons are in his garage.
PGA Tour player Greg Kraft has come to the defense of Mata. Kraft admits he did not witness the exchange, but he was at the Buick Classic in 2001. Kraft wrote this in an email:
"It's sad Tiger is not on board with Steve. There was a time they were very tight. Which is why he gave him those irons. I was not visually there when he gave them to him but remember it well. I was in awe knowing how much they would be worth if ever sold...I remember talking about it. So I do remember most of the facts and do trust Steve Mata. I would have to think that after all Tiger has been through he is confused and doesn't remember. It would be easy to sort out if they talked. The one thing I do know is that Steve Mata would not lie."
TELEVISION: JOHNNY SAID WHAT?
Why Johnny Miller is the best at what he does:
• On Saturday's telecast of the Players Championship, NBC's Dan Hicks and Gary Koch explained Ben Crane's exhaustive on-course routine (paralysis by analysis?) that won't diminish criticism of his reputation for slow play. Koch concluded with Crane's right-brain theory (see below), at which point Miller replied, "I'll bet he doesn't sleep too well."
Why Johnny Miller occasionally leaves himself open to criticism:
• Tim Clark and Robert Allenby both represent Srixon, and when Allenby was walking to the 18th tee on Sunday, Miller said this: "I never plug a manufacturer, but little Srixon has got a first and second going right now." Johnny Miller, who has had a long association with Callaway Golf, a company he has often mentioned on the air, never plugging a manufacturer?
Nitpicking: NBC's Dan Hicks surely (hopefully?) meant golf rather than sports, when he noted that Clark "got his name on one of the great trophies in sports."
JUST HIT THE BALL, BEN...PLEASE
Crane is aware of his reputation for slow play and is attempting to counter it, but how does this routine help? Here's the abridged version of the explanation he gave last week:
• He has a team of eight helping him with his mental approach, he said. He pre-loads before each shot, "a checklist of things I go through that free me up and allow me to really execute the best I can." During the shot, "my brain should be very quiet. You should be in your right brain -- 'I don't know how I did that, but I did.' Computing all the numbers and stuff like that is the left brain. If you're thinking too much, that's when you don't allow yourself to execute." Post shot is "the imprint, a motion as if I had hit a perfect shot. This is what it felt like and you make a correction." He also rates each shot on a five-point scale, relaying the information to either his caddie or his agent.
As Stephanie Wei noted on her blog "Wei Under Par": "For the love of God. I mean, that's a lot of gesturing and thinking. Are we really surprised it takes Crane longer than everyone else to get around the course?"
TIGER'S SLOWEST START IN SIX YEARS
For the first time since 2004, Woods has failed to win a tournament in any of his first three starts. He withdrew with a neck injury in the midst of the final round of the Players Championship on Sunday, though he had no chance to win.
In '04, he finished T-4 at the Mercedes Championship, T-10 at the Buick Invitational and T-7 at the Nissan Open, the last time he has begun his year so indifferently. He won his fourth start, the WGC-Accenture Match Play Championship, that year.
Woods is expected to play next in the Memorial, June 3. He's the defending champion there and a four-time winner of the event, but with an MRI expected this week on his injured neck, he may be facing another extended absence.
The Stadium Course at the TPC Sawgrass has absorbed its share of criticism over the years, but last week, when the greens went from too soft and slow to too firm and fast, all in the matter of three days, it was especially susceptible.
Jerry Kelly shot 66 on Friday and still took dead aim. "There's no excuse for the greens," he said. "They're soft. They're spongy. They don't roll true in the afternoon. They can't keep them short enough. I'm disappointed in the way that this thing is set up. I know it's a tough winter, but I was hoping they could stress these greens a little more."
Then Davis Love III on Sunday, following a round of 68, the second best score of the day, said this in an interview with NBC's Jimmy Roberts: "It's scary. You can see it in the scores. It's as fast of greens as I think I've ever putted. They're scary fast. You just have to play defensive, I don't know if that's the right way to play golf. But we had to play defensive golf. It was very, very scary."
Then asked to compare his 68 on Sunday with the 64 he shot there in the final round in winning the event in 2003, he replied, "Within a shot or two of each other for sure. This was a hard golf course today. That was a tough course, but it was fair. Today it was out of control. It was as hard as it can play."
MONTY'S RYDER CUP MOMENT OF THE WEEK
European Ryder Cup captain Colin Montgomerie ought to be paid royalties by the PGA of America for his incessant plugging of the Ryder Cup, even as most of it ought to be ignored.
Last week, the headlines involved his plea that potential members of his team play in the Celtic Manor Wales Open the first week in June. The Ryder Cup will be played at Celtic Manor in October.
His quest is running up against an immortal. Jack Nicklaus' Memorial is scheduled opposite the Wales Open and some of Montgomerie's most prominent prospects -- Lee Westwood, Rory McIlroy and Ian Poulter -- are playing there instead.
Only Padraig Harrington, among those who seem a certainly to play for the European team, will forgo the Memorial to play the Wales Open.
"It's in their own interests to play there," he told Golf Monthly. "If you win on the Ryder Cup course four months before the Ryder Cup it can do you no harm."
TIGER AND NICKELBACK: A DIFFERENT TAKE
Tiger Woods was criticized recently for venturing out to a Nickelback concert in Orlando, but it wasn't that he went to a concert that was cause for criticism, according to a Calgary Herald columnist. It was that he went to a Nickelback concert, "the least cool band ever," Stephen Hunt wrote of the Canadian rock group from Hanna, Alberta, outside the Calgary area.
"They may have sold more than 30 million records, but they've also been voted the world's worst band. There's a radio station in Calgary that promotes itself by promising not to play any Nickelback."
LIST: LEAST LIKELY WINNERS OF THE PLAYERS
Italy's Matteo Manassero, 17, had a reasonably successful professional debut in the BMW Italian Open, tying for 29th and earning about $15,000...John Daly will play in his first Nationwide Tour event since 1991, the year he won the PGA Championship. Daly has entered the Fort Smith Classic in June. He's also scheduled to perform a concert at Fort Smith Park during the tournament...Morgan Pressel won the World Ladies Championship Salonpas Cup, a major championship on the LPGA of Japan Tour. Pressel won by three strokes over Japan's Sakura Yokomine. Taiwan's Yani Tseng was third.
Corey Pavin: "Btw, my Captainess bet on the winning horse, SUPER SAVER!!! She put down $1K, I did $400. Yeah, do the math..lol"
Comment: Kentucky Derby winner Super Saver paid $18 to win on a $2 ticket. We did the math: Lisa Pavin won $9,000, Corey $3,600. Picking winners is what a Ryder Cup captain is supposed to do, right?
PGA TOUR: Valero Texas Open on the AT&T Oaks Course at TPC San Antonio. Defending champion Zach Johnson. LPGA: Bell Micro LPGA Classic at the Crossing Course at Robert Trent Jones Golf Trail Magnolia Grove in Mobile, Ala. Defending champion Angela Stanford (she won in 2008; there was no event in 2009).
• The Valero Texas Open moves to a new site, on the first PGA Tour venue to which naming rights were sold, the AT&T Oaks Course at the TPC San Antonio.
• The Bell Micro LPGA finally returns for an encore, after taking a year off in the aftermath of its inaugural event.
"I wanted to hit two shots my whole life. I wanted to hit the tee shot off 16 at the Waste Management tournament, and I wanted to hit the tee shot on 17 here at the Players." -- Kris Blanks
The coronation of Rory McIlroy in the aftermath of his remarkable final round and victory in the Quail Hollow championship was a bit premature, no?
Countryman Graeme McDowell went so far as to suggest that "Tiger Woods has probably never played nine holes of golf like Rory's." How about the 30 Woods shot on the back nine at Augusta National in the first round of the Masters in 1997, after opening with a 40 on the front? It set the stage for his record 12-stroke victory. Or how about his overcoming a seven-stroke deficit on the back nine at the 2000 AT&T Pebble Beach National Pro-Am and winning by two?
McIlroy's victory gave golf a boost, certainly, and who isn't rooting for him? But he missed the cut at the Players Championship last week. He has missed the cut in three of his last four tournaments, including the two most important ones, the Masters and the Players.
At 21 and having won only once in more than a year, he does not yet qualify as the game's salvation. He's still simply the leading candidate.