News
Often Imitated, Never Duplicated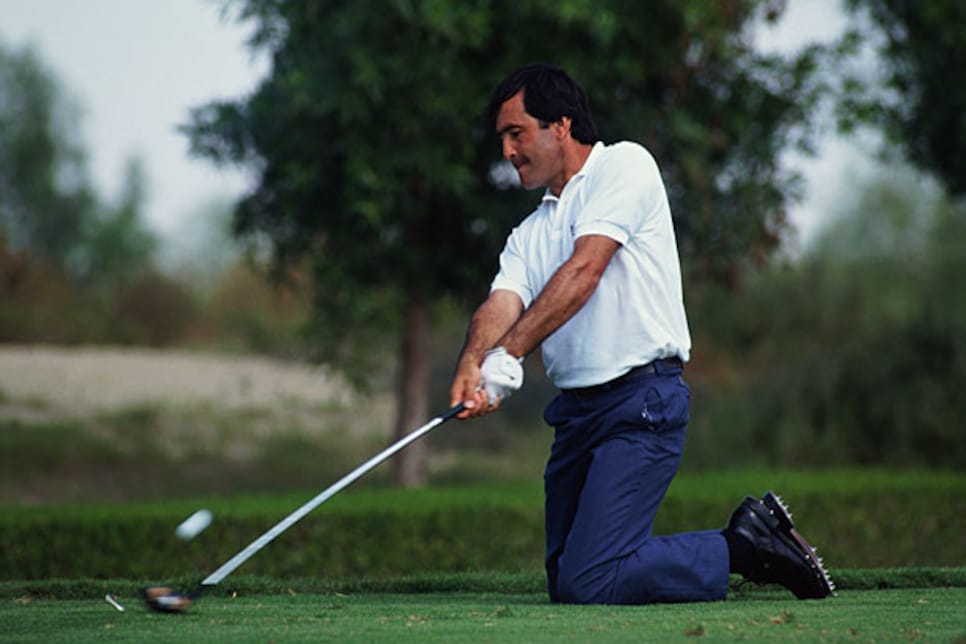 Ballesteros performing a trick shot at a golf clinic in Dubai in January of 1990.
Seve Ballesteros was a magician, but his magic never came from a wand. It came from the hands wielding one.
"Le agarré las manos, las acaricié y pensé: lo que han hecho estas manos en el mundo," Ballesteros' brother Baldomero told the Spanish sports newspaper Marca on Saturday.
"I held his hands and stroked them and thought: what these hands have done in the world."
The shot that ultimately decided the Wells Fargo Championship late on Sunday afternoon required some of that magic. On the first playoff hole, Jonathan Byrd faced a downhill lie from a hazard, with a creek to navigate, and no margin for error, an impossibly difficult shot.
"There was only one of him," CBS' David Feherty said.
Byrd's shot was void of the necessary magic, the ball scurrying past the pin, enabling Lucas Glover to claim the victory.
Seve Ballesteros, one of a kind, indeed.
Tributes to Ballesteros poured forth last week, many of them employing overlapping adjectives, charisma and passion among them. Nick Faldo described him as the Cirque du Soleil of golf, "the greatest show on earth."
Here's one of the more colorful remembrances, from the irrepressible Feherty on CBS' telecast on Saturday:
"I remember the Ryder Cup in 1991, sitting in the European team room and feeling a pair of hands on the back of my neck. And of course, it doesn't matter who it is who's doing it. You just want to give them three weeks to stop...I looked around and it's Seve. I didn't know him particularly well. He was a difficult man to know well. He was a loner, kind of private in a sense. But that one week he cared so much about the Ryder Cup...He told us a few stories about his own experiences in the Ryder Cup...He made us feel as if we were members of a very special club, that Severiano Ballesteros was a friend of ours...
"I remember thinking that week that he looked smaller than I had remembered him. Months later, I looked back and I realized he didn't look smaller. He made me feel bigger. That was the kind of man he was. Of course, I played with him in the German Masters the following week and he called me 'Doug.'"
Padraig Harrington suggested that the silhouette of a golfer he couldn't name that adorns the European Tour logo ought to be replaced by Ballesteros.
"I'd certainly back putting Seve on it as the figurehead of the European Tour," Harrington said. "We'd love to have him up there on a pedestal in Europe. He was the guy a lot of us that are on tour now wanted to be as kids."
The current logo, incidentally, features the silhouette of Harry Vardon, who won the British Open six times.
There is an argument to be made in support of Harrington's suggestion. The European Tour was not founded until 1972, 35 years after Vardon's death. The counter is whether iconic figures from history ought to be replaced as the memory of them diminishes over time.
It should be no surprise that at any time a U.S. Open champion can summon the skills that won him a major and deliver another victory. Still, Glover's win in the Wells Fargo Championship was wholly unexpected.
He hadn't won since his victory in the Open at Bethpage Black. He had missed three straight cuts and in seven starts had finished no better than a tie for 20th.
He won by a razor-thin margin, in a playoff with his friend and former Clemson teammate, Byrd.
Speaking of razors, Lucas, find one. Those friends telling you your scruffy beard looks good? They're lying.
Kudos to CBS for its attempt to interview Rory Sabbatini after his round on Sunday and providing the reason why he declined.
"I can tell you that we went to interview Rory and ask for a post-round interview just to ask him how he did it today," Ian Baker-Finch said. Sabbatini was the leader in the clubhouse at the time. "[He] requested we not ask about the issues he's facing at the moment and the disciplinary side of things. We mentioned that a little earlier. We said no, we needed to ask about that. So we won't be hearing from Rory just yet."
Sabbatini reportedly faces disciplinary action for a confrontation with Sean O'Hair at the Zurich Classic of New Orleans the week before, as well as a run-in with O'Hair and a volunteer at the Northern Trust Open earlier this year.
From Peter Kostis' interview with Padraig Harrington, over a fan's suggestion that he had teed up in front of the tee markers at the 13th hole:
"It was inconclusive," Harrington said. "For once I'm not going to be a martyr and take it. I'm going to say it's not conclusive."
The martyrdom reference was to the fact that Harrington was disqualified from the HSBC Championship in Abu Dhabi earlier in the year when a television viewer alerted tournament authorities that it appeared his ball had moved after he had replaced it on the green and removed his marker.
On the downside, CBS' crew oversold Harrington as an honorable player. Surely he is, but it was irrelevant. It was inconclusive that he had teed his ball up in front of the markers. End of discussion.
CBS' Jim Nantz conducted the obligatory interview with the tournament sponsor's representative, in this case David Carroll, a senior executive vice president of Wells Fargo.
"Nice tie," Carroll said, at the end of the interview. Carroll and Nantz were wearing identical ties (and navy blue blazers and white shirts).
"I should have called you first," Nantz replied.
Finally, CBS golf icon Frank Chirkinian will be enshrined in the World Golf Hall of Fame tonight. In his honor, we bring you this from Chirkinian during a Masters production meeting, cited in Dan Jenkins' book, "The Dogged Victims of Inexorable Fate":
"Mechanically everything worked fine, including the jaws of the commentators. Cut your talk in half. You're not saying anything interesting, anyhow."
Tiger Woods' disinclination to give up information about himself tends to leave us to our own interpretations. So in view of his committing without comment to the Players Championship we do so here.
Since returning to the game after his scandal, he has committed to tournaments earlier than he did before, when he'd commit just prior to the Friday deadline. Last week was different. He did not commit until the 11th hour on Friday.
We infer from this an uncertainty on his part that he has fully recovered from the injuries (medial collateral ligament and Achilles tendon) that forced him to miss the Wells Fargo Championship.
Healthy or not, what should we expect from Woods at the TPC Sawgrass? Not much. In 13 starts in the Players, his record is spotty by his standards: one victory (in 2001) and only four top 10s. Until finishing eighth in the 2009 Players, he hadn't had a top 10 there since winning eight years earlier. Last year, he withdrew early in his final round, citing a neck injury.
The rise of South African golf continued on Sunday with the victory by South Africa's Thomas Aiken in the Spanish Open.
Ernie Els, Louis Oosthuizen and Charl Schwartzel won consecutive tournaments on the European Tour. Schwartzel won the Masters and Rory Sabbatini the Honda Classic. And South Africa was awarded a World Golf Championship event starting in 2012.
The PGA of America's announcement on Friday that it had awarded the 2018 PGA Championship to Bellerive Country Club in St. Louis was met with little fanfare outside of St. Louis. Blogger Geoff Shackelford called it "a venue with about as little appeal as you can possibly have."
Bellerive, which hosted the U.S. Open in 1965 and the PGA in 1992, was not among Golf Digest's most recent "America's 100 Greatest."
Jane Park: "They should have captured Bin Laden alive and made him continually go through airport security for the rest of his life."
More Park, a dedicated foodie: "um. i was just told that the casing for italian sausage is made from the pigs intestine. that just makes sausage all the more enticing."
"You know, anniversary dinner, (will be) a little bit nicer tonight. We've got a big night planned at Hooters or Lloyd's or Chili's or something." -- Mark Calcavecchia, after shooting a 68 in the first round of the Regions Tradition on his sixth wedding anniversary
An amateur, Georgia senior Russell Hensley, won the Nationwide Tour's Stadion Classic at UGA. Hensley was the second amateur to win a Nationwide Tour event, joining Daniel Summerhays...No player was closer to Ballesteros than Jose Maria Olazabal, who played on in sorrow on the weekend. Olazabal shot 75-77 in the final two rounds and tied for 56th in the Spanish Open...Kevin Na has consecutive top 10s after missing the cut at the Valero Texas Open, the tournament in which he made a 16 on a hole.
PGA Tour: The Players at TPC Sawgrass, Ponte Vedra Beach, Fla. Defending champion Tim Clark. European Tour: Iberdrola Open at Pula Golf Club, Sun Servera, Mallorca, Spain. Defending champion none (last year's winner Peter Hanson will be playing in the Player).
Tiger Woods. Again. Woods is making his first start since the Masters, where he injured his knee and Achilles tendon on the 17th hole of the third round.
It's a worthy cause that Rory Sabbatini has embraced, stamping out slow play, but the manner in which he chooses to champion it is so unseemly that one is inclined to change positions and become an advocate of the deliberate.
Indeed, given your druthers, would you rather spend three hours playing 18 holes with the disagreeable Sabbatini or five hours playing 18 holes with the pleasant Sean O'Hair?