News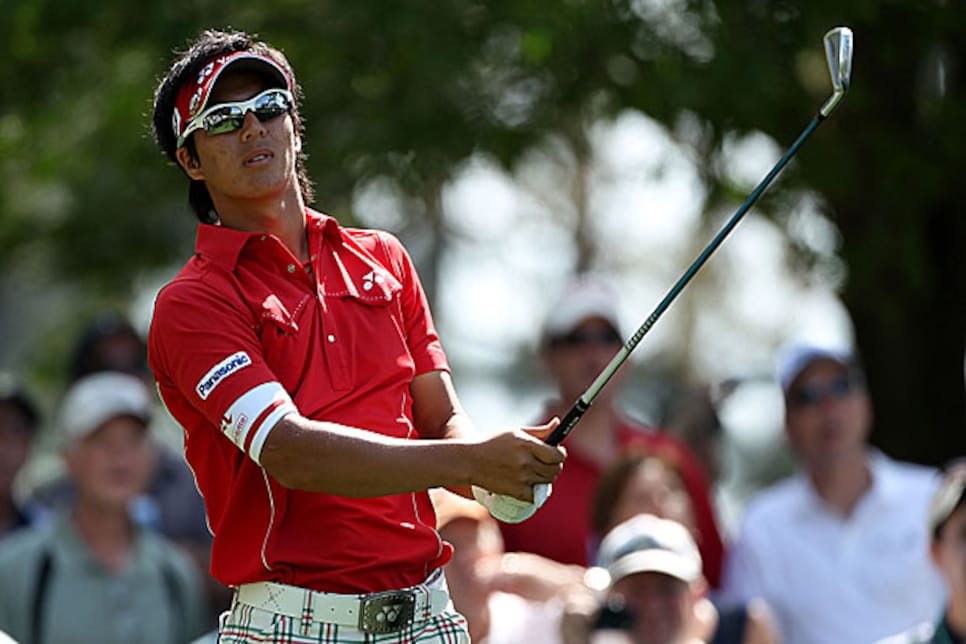 Before Rory McIlroy's dominant Sunday at Quail Hollow, Ryo Ishikawa put on a show of his own in Japan.
There is a way to quantify the resiliency of the game, by examining the numbers that stood out on Sunday -- 58 and 62, 18 and 20. Add them up and they equal life after Tiger.
Few Sundays this year, even perhaps including a few of those on which major championships will end, will surpass what transpired on this one, an ocean apart, and none will so neatly delineate the game's capacity for surviving Woods.
The 58 belonged to Japan's Ryo Ishikawa. He won the Crowns on the Japan Golf Tour by shooting a 12-under par 58 on Sunday. The 18 is his, too. It represents his age.
The 62 was Northern Ireland's Rory McIlroy, who might have trumped Ishikawa's 58 by shooting a 10-under par 62 on a more difficult course, against a more talented field, to win the Quail Hollow Championship. McIlroy is 20.
Their respective performances were not simply brilliant. They were dominant as well. Each of their scores was the best of the day by five shots. Ishikawa began his round six off the lead and won by five. McIlroy began his four off the lead and won by four.
It won't necessarily be the transitional week to which CBS' Jim Nantz alluded on Sunday. However their careers ultimately play out is not the point. Rather it's the ability of golf to recover its equilibrium in the wake of a scandal involving its transcendent star.
Old blood is replaced by new. Even the LPGA, which bid adieu to its best player, Lorena Ochoa, on Sunday, delivered young talent to fill the void. The winner of the Tres Marias Championship was Ai Miyazato of Japan, 24, and already a three-time winner in 2010. She fended off challenges from Stacy Lewis, 25, and Michelle Wie, 20.
Woods is only 34 and is likely to recover his own equilibrium sometime soon, but golf, as it always would, will survive him. Tiger was never really bigger than the game itself, though a convincing argument was elusive at times.
Phil Mickelson provided one at the Masters. And Ishikawa and McIlroy delivered another on a Sunday that golf won't soon forget.
Woods' performance at the Quail Hollow Championship was the worst of his professional career on two fronts:
• His 36-hole score of 153 was his highest as a pro. His previous high for 36 holes was 152 at the U.S. Open in '06, the first tournament he played following the death of his father, Earl.
• He missed the cut by eight strokes, the widest margin of his career. It was the sixth time he has missed the cut as a professional. On three occasions, he missed by a single shot (the Bell Canadian Open in 1997, the EDS Byron Nelson Championship in '05 and the British Open in '09). Twice he missed by three shots (the U.S. Open in '06 and the Funai Golf Classic at Walt Disney World Resort in '05).
Quail Hollow Club has received rave reviews from players since it began hosting this event in 2003. But last week a dissenting voice emerged from the chorus of adulation. It belonged to Mickelson.
"For as beautifully designed as this golf course is tee to green, the greens are by far the worst designed greens we play on tour," he said. "Even though they're in immaculate shape, I would say that 18 would be the worst green that we have on tour, except that it's not even the worst on this golf course. Twelve is."
This from a man who finished second.
Talk about a mis-read. Darren Clarke was certain he was going to miss the cut at the Spanish Open, so he returned to Britain, only to discover that he was likely going to make the cut after all.
"I consulted with Chubby (Chandler, his agent) and with 50 years' wisdom of these things between us, we decided that I wasn't going to make it, so I flew home," Clarke told the Irish Times.
"When it looked as though I might make it after all I set back off again to catch a plane from Gatwick (Airport) back to Seville but turned round when it looked as though I had no chance.
"Then I found I was in. I had no idea where the plane I share with Lee (Westwood) was, so paid for a private plane from Oxford to Malaga."
He then had a two-hour drive to Seville, which allowed him less than an hour's sleep before having to get up and report to the course for the third round.
The cost of chartering the plane that brought him back was believed to have been more than $15,000. He eventually finished 30th and earned more than $22,000 to cover his expenses.
"With the Tour staging such a good event it would have been very unprofessional not to make the event," he said.
...SPEAKING OF UNPROFESSIONAL
Angela Stanford withdrew from the Tres Marias Championship after shooting an 85 in the first round on a course, Tres Marias Residential Golf Club, to which she reportedly has an aversion. Then, via Twitter, she held the LPGA responsible, blaming its one-in-four rule that requires its members play every tournament at least once every four years. Here are consecutive posts she made on Twitter on Friday:
"For all of those alternates who didn't get in this week I sincerely apologize. In 10 years I have never started and not finished."
"Blame ur tour not me. I would have given u my spot in a heartbeat and I don't have $25,000 to hand to the lpga. Once again I'm truly sorry"
The fine for violating the one-in-four rule is $25,000 and it has been levied in the past. Two notable violators: Annika Sorenstam for missing this same tournament, then known as the Corona Classic, in 2008, and Lorena Ochoa, for missing the Corning Classic in 2008.
Stanford last played in the Tres Marias (then known as the Corona Morelia Championship) in 2006 and would have been in violation of the rule had she not played there this year.
In '06, incidentally, she shot 77-77 and missed the cut there. She would have missed the cut the year before as well, but was disqualified for failing to sign her scorecard after a second round in which she reportedly shot an exceedingly high number.
Last week, she did not provide the LPGA with an official reason for withdrawing (even had she done so, tour policy is to not reveal the reason), but an injury can be ruled out. She posted this on Twitter on Sunday:
"Just finished 18 holes w my dad and his buddies! They have so much fun on the course. Much needed for me!"
The one-in-four rule is in place as a hedge against alienating sponsors, all of whom want the game's elite in their fields. The rule virtually ensures that every event every year has at least a smattering of the LPGA's marquee stars.
It's an effective rule, too, however unpopular in some quarters. (The PGA Tour would benefit from enacting a similar rule, though it's highly unlikely it will do so.)
Players' objections to the rule notwithstanding, they are required to play hard for 36 holes and hope for the best. It's called professionalism.
If the Europeans lose the Ryder Cup under Colin Montgomerie's watch, he may have to be talked from a ledge. Monty last week said he was concerned that his own form has been so poor that it might undermine his ability to serve as an effective captain.
"I want to be standing at the Ryder Cup opening ceremony having won this year," he said on the eve of the Spanish Open. "If it doesn't happen, I do hope the team will still have respect for me as a player."
Right, just like poor form hampered Paul Azinger's captaincy of the U.S. team in 2008. Azinger hasn't won a tournament since 2000 and was 201st on the PGA Tour money list in 2007, 234th in 2008. His U.S. team won in a rout.
Montgomerie continues to treat the Ryder Cup as though it's a last chance at redeeming a career that in fact requires no redemption, notwithstanding his failure to win a major championship.
The French Golf Federation last week entered the sweepstakes to host the 2018 Ryder Cup, and should it emerge the front runner, here's a word of advice: Not a good idea to employ Jean Van de Velde in an attempt to close the deal. Just saying.
Incidentally, Van de Velde, renowned for stupidly relinquishing a virtual lock on a British Open victory in the British Open in 1999, has joined countryman Thomas Levet in assisting France's bid.
Time magazine's annual list of 100 people "that most affect our world" included Phil Mickelson, but not Tiger Woods. Tiger last appeared on the list in 2009, when Roger Federer began his essay on Woods this way: "We are fortunate to live in the Tiger Woods era. Tiger, 33, is a model for how athletes should conduct themselves."... Rookie Rickie Fowler finished sixth at Quail Hollow, his fourth top 10 of the year and sixth in 15 starts as a professional. ... Billy Mayfair got into the Quail Hollow Championship via Monday qualifying, shooting 65 after catching an early-morning flight from New Orleans. He was the third-round leader before fading to a T-14, still his best finish in nine starts this year. ... Brad Faxon's T-48 at Quail Hollow was his best finish since he had a T-47 at the Canadian Open in July of 2007. It was his 38th start since then. Faxon had major knee surgery in December of '07 and has never regained his form.
From Christina Kim: "VIVA LORENA, and as she would say, MAS BIRDIES!!!! silent tear for her"
PGA TOUR: The Players Championship at TPC Sawgrass in Ponte Vedra Beach, Fla. Defending champion Henrick Stenson. European Tour: BMW Italian Open at Royal Park I Roveri in Turin, Italy. Defending champion Daniel Vancsik.
• The Players Championship assembles the strongest field of the year, but once again most of the attention will be directed at Woods. Will his exceedingly and unusually poor performance at the Quail Hollow Championship prove to be an aberration or the first sign that his off-course issues will affect him on the course?
• McIlroy is entered in the Players Championship. Does he have an encore in store? Ishikawa, however, is not entered, though he is qualified to play.
• Italy's Matteo Manassero, 17, who tied for 36th at the Masters and was the youngest ever to make the cut there, will make his professional debut in the BMW Italian Open. At 16, Manassero tied for 13th in the British Open last year.
"Today I am giving to the congressman, as a retirement gift, a copy of the book 'Golf's Best New Destinations.'" -- Indiana Representative Mike Murphy, one of six to challenge Congressman Dan Burton in a Republican primary, alluding to Burton's reputation for missing votes while playing out-of-town golf tournaments.
For as long as he's been playing competitive golf, Tiger Woods has generally been capable of harnessing his notorious anger in the wake of a bad round and using it as the impetus for better golf the next day.
At the U.S. Amateur in 1992, for instance, Woods, then 16, opened medal play with a 78 at Muirfield Village Golf Club and was as angry as ever. The following day, reckoning he needed to shoot a 69 to advance to match play, he played a near perfect round, hitting 14 fairways and 18 greens on Muirfield Village Country Club and shot a 66.
When he opened the Quail Hollow Championship last week with a two-over par 74, who wouldn't have wagered that he would respond with a round in the 60s? Instead, he shot 79.
At the Masters, he seemed to have answered a question regarding whether his issues off the course would adversely affect his golf.
Now it's not clear at all.