News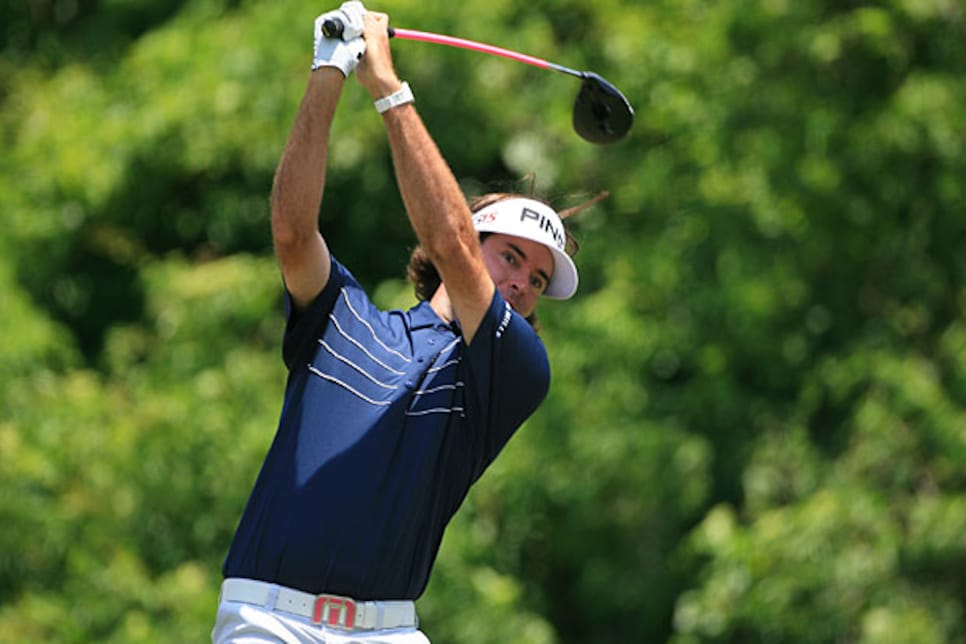 Watson's unorthodox swing produced an average driving distance of 331.4 yards and a T-13 in fairways hit.
The golf marquee last week featured Tiger and his sparring partners, an eclectic mix featuring a champion fallen on hard times, a God-fearing, fun-loving country boy and a retired pitcher with a one-way ticket to Cooperstown.
Tiger Woods often plays practice rounds with Bubba Watson and Woods and John Smoltz are regular golf partners away from the PGA Tour. All made news last week, only one for the right reasons. Bubba Watson won the Zurich Classic of New Orleans
, defeating Webb Simpson on the second playoff hole.
Woods, meanwhile, made news with his announcement that a medial collateral ligament sprain in his left knee and an Achilles tendon injury will keep him from playing the Wells Fargo Championship this week.
for shooting 84-87 in his professional golf debut in the Nationwide Tour's South Georgia Classic.
Woods' declining influence threatens to return golf to its role as a niche sport and there are no replacement parts. Watson, at least, is capable of softening the blow.
He is a rising star with three victories in 10 months. Moreover, he is the most entertaining player in the game today, one whose oddball, off-balance swing has him straddling the line between brilliance and disaster ostensibly on every shot.
The game might need Tiger more, but more Bubba would be welcome, too. As for Smoltz...
The late Harvey Penick, in his book "The Game for a Lifetime," tells the story of a 43-year-old man who came to the Austin Country Club one day looking for Penick and encountered Penick's son, Tinsley. The man told Tinsley that he was an accomplished club golfer who had sold his company intending to devote the next seven years of his life to golf and his goal of playing on the Senior Tour.
Tinsley listened quietly, then explained who his competition would be, an Austin CC member, also 43, who also intended to devote the next seven years of his life to golf, eventually joining the Senior Tour himself. "There's the man I'm talking about," Tinsley said. "He's sitting over the by window." The man was Tom Kite.
We recall this story in the wake of Smoltz' professional golf debut in the South Georgia Classic. He missed the cut by 27 strokes.
Smoltz is also 43 and an accomplished club player. His ultimate goal, he says, is the Champions Tour. His Tom Kite is Steve Stricker. Penick's lesson is the same: Don't bet on it.
Ambition is not a bad thing, but in this arena, it's better left unsaid. At that, the diminished glare of a mini-tour event would have been a better place for him to test himself. Recall the example of Mark McGwire, also an accomplished former baseball player with arguably better golf credentials (he had won the ADT Golf Skills Challenge against a field that included Greg Norman, Colin Montgomerie and Padraig Harrington). McGwire tested his skill in regional amateur competitions and discovered that hitting a stationary ball in competition was more problematic than hitting a moving one. He's now a hitting coach.
Smoltz isn't likely to become a pitching coach. But he also isn't likely to become a tour player, either, however dedicated he is to realizing his goal over the next seven years. He was, embarrassingly so, out of his element in the South Georgia Classic.
It might prove to have been the best golf lesson he's ever received.
Webb Simpson is among the game's more methodical players, who in an odd turn might have been a victim of moving too quickly on Sunday. At the 15th hole, he eschewed marking his ball and went to casually tap in a par putt, when the ball moved, a one-stroke penalty that dropped him into a tie with Watson and likely cost him a victory in New Orleans.
"Ultimately he's getting penalized for trying to play quickly," CBS' Peter Kostis said. "He could have marked the ball, stepped out of the way and it would have been no harm no foul. He tried to finish to save time and it cost him a shot."
Isn't winning supposed to answer questions rather than raise them?
The previous week, Lee Westwood won the Indonesian Masters to regain No. 1 in the World Ranking, only to become rankled when he was queried about his inability to win major championships. Among his critics was Nick Faldo.
On Sunday, he won the Ballantine's Championship, his second straight victory. On CBS' telecast of the Zurich Classic, Faldo again had some criticism for Westwood, expressing puzzlement over thefact that he and Rory McIlroy won't play the Players this year.
"Westwood is making a lot of interesting decisions," Faldo said. "He's not coming over for the Players, which I think is very strange. I know there's money around the world. But the Players is the Players. It's the best field on tour. It's the unofficial, official fifth major. I always thought that's important, to have that picture on the wall for me. I'd rather have a picture of me winning the Players, than a check from somewhere around the world.
"I'm very surprised at Rory [McIlroy], as well. We have the four majors, the four WGC events and the Players. Those are the biggies around the world."
Tiger Woods had a Tweet chat last week. One of the questions: "Why were you so short with the interviewer after the masters? Not a good opportunity to engage with your loyal fans?" The query was referring to Woods' petulance in his post-round interview with CBS' Bill Macatee
after his final round at Augusta.
Woods' Twitter response: "No, I was still focused on the tournament. I still had a chance to win. I was preparing for a potential playoff."
He was being disingenuous. Moments after the Macatee interview, Woods conducted another interview, this with a group of reporters, in which he was not curt at all.
Whatever was disturbing him, he erred by even granting the television interview.
Lexi Thompson, 16, showed her age on Sunday, shooting a 78 from the lead of the Avnet LPGA Classic and falling to a tie for 19th (Maria Hjorth won). Notwithstanding the attendant publicity a victory would have delivered, her collapse might have been better for the LPGA.
Had she won and petitioned the LPGA to waive its membership age requirement of 18, how could it deny her, setting a precedent in the process? Even in failure it's evident that Thompson is good enough to play, and she seems mature enough to handle the assignment.
Here's the rub. It isn't just about her. The lack of depth in women's golf enables talented teenagers to contend. New Zealand's Lydia Ko, for instance, just turned 14, still a girl, yet she is No. 1 among women in the World Amateur Ranking.
The perpetual example of Beverly Klass ought to inform the debate here. Klass, with an overbearing father calling signals, turned professional at 10, forfeited her childhood and had an unexceptional career that cost her her relationship with her father.
Klass, incidentally, is the reason the LPGA has an age requirement for membership. And overbearing fathers aren't necessarily rare in women's (or girls') golf.
Thompson's bid, at 16, to become the youngest ever to win an LPGA event helped garner attention. But it might have been canceled by the fact that Yani Tseng, Michelle Wie and Ai Miyazato all missed the cut.
Ernie Els missed the cut a second straight week, this time at the Ballantine's Championship...Graeme McDowell missed the cut at the Zurich Classic, his third MC in his last four starts...Since missing the cut in the Northern Trust Open, Luke Donald has finished in the top 10 in six straight starts, including a T-8 at the Zurich Classic...Tommy Gainey had his second straight third-place finish and his fourth top 10 of the season, pushing him past $1 million in earnings for the year...In her first start since winning the Kraft Nabisco Championship, Stacy Lewis tied for fifth at the Avnet LPGA Classic.
"It was downwind." -- Bubba Watson after hitting a 6-iron second shot from 237 yards on the 582-yard par-5 11th hole at TPC Louisiana on Thursday.
The Golf Channel's Win McMurry: "Heard all day 2 billion ppl watched royal wedding. Didn't put into perspective until now as I reflect that's 1/3 the population of Earth!!"
Paul Goydos, in reply: "@WinMcMurry I guess 2/3 of the population is still sane"
PGA Tour: Wells Fargo Championship at Quail Hollow Club, Charlotte, N.C. Defending champion Rory McIlroy. Champions tour: Regions Tradition at Shoal Creek, Shoal Creek, Ala. Defending champion Fred Funk.
Rory McIlroy, though no longer a PGA Tour member, returns to defend his championship at Quail Hollow. Last year, he won with a final-round 62. Tiger Woods, meanwhile, was to have played, but canceled because of knee and Achilles tendon injuries. Since McIlroy's victory, the course, Quail Hollow Club, was selected to host the 2017 PGA Championship.
Professional golf returns to Shoal Creek for the first time since the infamous PGA Championship in 1990. That was the year that Shoal Creek's founder, Hall Thompson, noted casually in an interview that Shoal Creek had no black members "because that's just not done in Birmingham." Thompson, who died last year, spent the rest of his life attempting to make amends. The club has several black members now, including Condoleezza Rice, who will serve as honorary chairman of the event.
It was called a "minor injury" on his own website, the medial collateral ligament sprain in his left knee that will keep him from playing in the Wells Fargo Championship this week.
But is any injury to a knee that has been surgically repaired four times really minor?
For the first time post-scandal it has become apparent in this quarter that there's a better chance he won't win 19 majors. His left knee apparently is going to be an ongoing deterrent.
A chronically ailing knee will prevent him from outworking the competition, one of the critical components of his former dominance.