News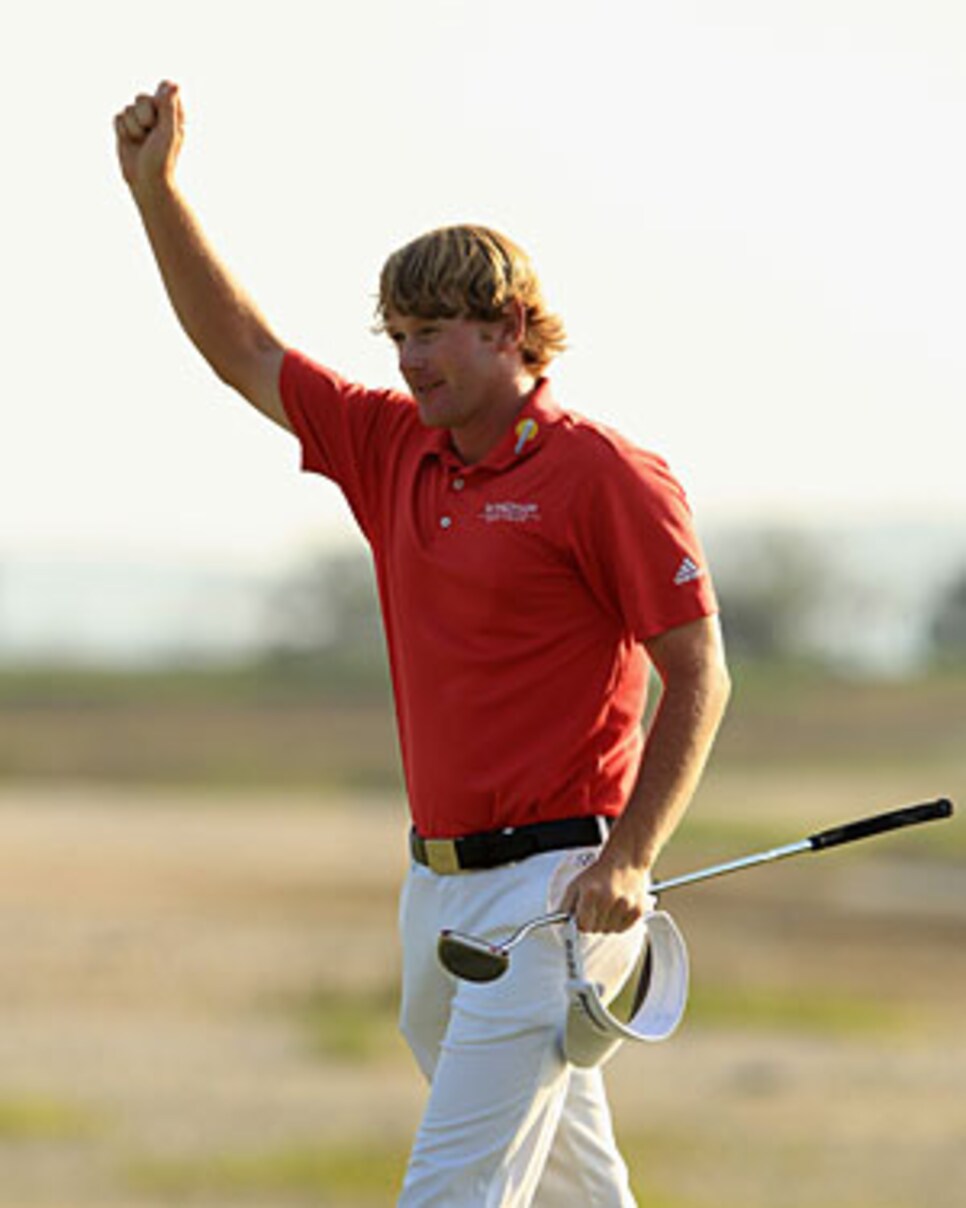 Snedeker picked up his second PGA Tour win.
South Carolina is undeniably proud of its golf, even offering its citizens the opportunity to demonstrate their pride on their license plates. For $70, they can have one that says "First in Golf."
"This plate recognizes South Carolina as having been the number one golf destination in the United States," the DMV's website says.
Yet the recurring theme last week did not pertain to those who go there, but those who might be leaving there. Would the 43rd edition of the Heritage, played without a title sponsor this year, be the last?
If it was, Brandt Snedeker and Luke Donald gave it a rousing sendoff, Snedeker prevailing on the third hole of a sudden-death playoff that ended when Donald's par-saving chip lipped out. A good show, as it usually is at Harbour Town Golf Links, one of the better sites for televised golf.
THE STATE OF THE HERITAGE
Last year, when Governor Nikki Haley was still a member of the South Carolina House of Representatives, she was criticized for opposing a $10 million loan from the state to the Heritage to keep the tournament going in 2011. She's still opposed to a state bailout.
"The Heritage is a successful tournament," Haley told the Island Packet newspaper. "The second we make it the Heritage golf tournament sponsored by the South Carolina taxpayers, we will kill this tournament. The perception will go down, the success will go down, the feeling of how proud we are of this tournament will go down, and I'm not going to allow that to happen. We will find a sponsor."
WHY GOLF NEEDS HARBOUR TOWN
Arron Oberholser, watching from home, said it well via Twitter: "Harbor Town design should be looked at as wave of golf course design future. Minimalist construction, eco friendly & pace of play friendly."
Indeed, had there not been a playoff, CBS would have had about 15 minutes to fill before the end of its telecast.
There are only two explanations for Snedeker's stellar play this year. Either he is on the cusp of stardom or he's simply on a hot streak that will eventually run its course.
In the six tournaments in which he has made the cut, he has finished in the top 10 in five of them and the top 15 in all of them, including a T-15 in the Masters.
This was the question on Sunday, when Lee Westwood staked his claim by winning the Indonesian Masters ahead of Donald's bid to wrest the top spot in the Heritage.
A better question: Why does it matter? Basically this was a question posed by Nick Faldo on Twitter.
"You're the tour player -- choose your year -- real consistent top finishes, no wins, World #1 or win 1 Major … what do you decide tweeps?"
The inference is that majors are more important. Who would disagree? Greg Norman was No. 1 in the World Ranking for 331 weeks and won two major championships. Faldo was No. 1 for 97 weeks, but won six majors.
Faldo's career was universally considered the preferable one.
No. 1 is a nice talking point, particularly in the wake of Tiger Woods having ceded his hold on it. But the World Ranking is important only for those at or near No. 50, the magic number for qualifying for myriad important tournaments, including majors.
What became of that turtle that the alligator was staring down on a bank by a green on Saturday? CBS never showed us the outcome.
MAYBE THEY SHOULD 'TAKE A TABLET'
Adam Scott threatened to win the Masters using a long putter and Ernie Els gave the belly putter a trial at the Heritage last week. Let's go to Google (the Internet's instant replay):
Els on belly putters in 2004: "It's become such an easy way to putt. Nerves and skill in putting is part of the game. Take a tablet if you can't handle it."
Els in 2009: "They should definitely be banned. I believe nerves and the skill of putting are part of the game."
Scott on belly putters in 2004: "I totally agree with Ernie and believe they should be banned. I don't think that you should be allowed to rest any club against any other part of your body. It can't be a true swing of a club or a true stroke of the putter if you are resting it against your body and it's for that reason I agree the belly putter should be banned."
Ian Poulter made news on Twitter on Saturday night, reporting that the home he was renting at Hilton Head Island might have been haunted.
"Check this out, we have a ghost in our house this week & I'm not joking we have had some very strange goings on every night," he posted.
"We have a dead bolted door in the house & every morning that door is unlocked & slightly open. It's happened 7 times already."
So how did his peers demonstrate their concern?
"BOO!" John Daly posted in reply to Poulter.
Former U.S. Amateur and British Amateur champion Vinny Giles, who eschewed golf in favor of becoming an agent, was less than complimentary toward the modern professional.
"The reason I quit the business (in 2006) was because it wasn't fun anymore," Giles told Edgar Thompson of the Palm Beach Post last week. "These kids were gimme, gimme, gimme, and they never wanted to give back. 'I got a Tour card, give me $100,000.' 'I got a green Mercedes courtesy car, I want a blue one.' That kind of attitude."
We've reported here before about CBS Sports' maddening habit of failing to start its golf telecasts on time, usually because of a college basketball game running over. This one was worse.
Sunday's telecast of the final round of the Heritage began 16 minutes late. Why? Because of the Liberty Mutual Legends of Golf, a Champions Tour event. When the Legends went to a playoff, CBS finally threw it over to the Golf Channel. Why then couldn't they simply have sent the Legends to the Golf Channel at the top of the hour?
IF YOU THOUGHT MANASSERO WAS IMPRESSIVE...
Matteo Manassero recently won his second European Tour event a few days before his 18th birthday, which by comparison to Lydia Ko makes him...venerable?
Ko, a Korean-born New Zealander, won the New Zealand Women's Stroke Play Championship by nine strokes on the day before her 14th birthday to become the first to simultaneously hold the New Zealand and Australia women's stroke play titles.
Earlier this year, she finished fourth in the professional New Zealand Women's Open and missed a short par putt on the last hole to force a playoff in the NewSouth Wales Open. She was ranked third among women (and girls) in the World Amateur Golf Ranking prior to her latest victory.
Nick Faldo: "New media era @Luke_Donald & @WestwoodLee exchange cordial tweets- imagine Ali's tweets to Frazier? Borg/McEnroe? Norman, Seve and me?"
Nationwide Tour player Brock Mackenzie: "Making dinner, drinking a margarita, and getting ready to watch Glee by myself in Palm Desert...sounds like the life of an 80 yr old woman"
Tommy Two Gloves, aka Tommy Gainey, missed a birdie putt at 18 to join the Heritage playoff. Still, his third-place finish was his third top 10 and virtually assures him of retaining his PGA Tour card for 2012...Kevin Na apparently suffered no lingering psychological damage from his having made a 16 on a par 4 at the Valero Texas Open the week before. Na tied for ninth at the Heritage...Tim Herron finished T-4, his first top 10 since October, 2008.
PGA Tour: Zurich Classic of New Orleans at TPC Louisiana, Avondale, La. Defending champion Jason Bohn. European Tour: Ballantine's Championship at Blackstone Golf Club, Seoul, Korea. Defending champion Marcus Fraser. LPGA: Avent LPGA Classic AT Robert Trent Jones Golf Trail, Magnolia Grove, The Crossings, Mobile, Ala. Defending champion Se Ri Pak.
Westwood and Donald resume their battle for No. 1, Westwood at the Ballantine's Championship, Donald at the Zurich Classic. The Ballantine's has the better field, with four of the top 17 players in the World Ranking (Westwood, Dustin Johnson, Els and Poulter).
The final round provided a nice contrast of swings -- those homemade (Ricky Barnes, Gainey and Jim Furyk) vs. one culled from a textbook (Donald).
"Some of these guys look like they're a little off balance, Gainey, Barnes, and it works for them," CBS' Nantz said. "But the rhythm and lack of urgency in that move by Luke Donald, it's some kind of elegant golf swing."
"It works for you until you come to Sunday afternoon," Nantz' partner in the booth, Faldo, replied. "You'd lean toward having a swing like Luke Donald's to survive the pressure."
That may be true, but none of them produced a victory on Sunday. From this vantage point, Snedeker's no-nonsense approach is preferable to all of them. Pull a club and pull the trigger. No dawdling. That's a move worth emulating.