News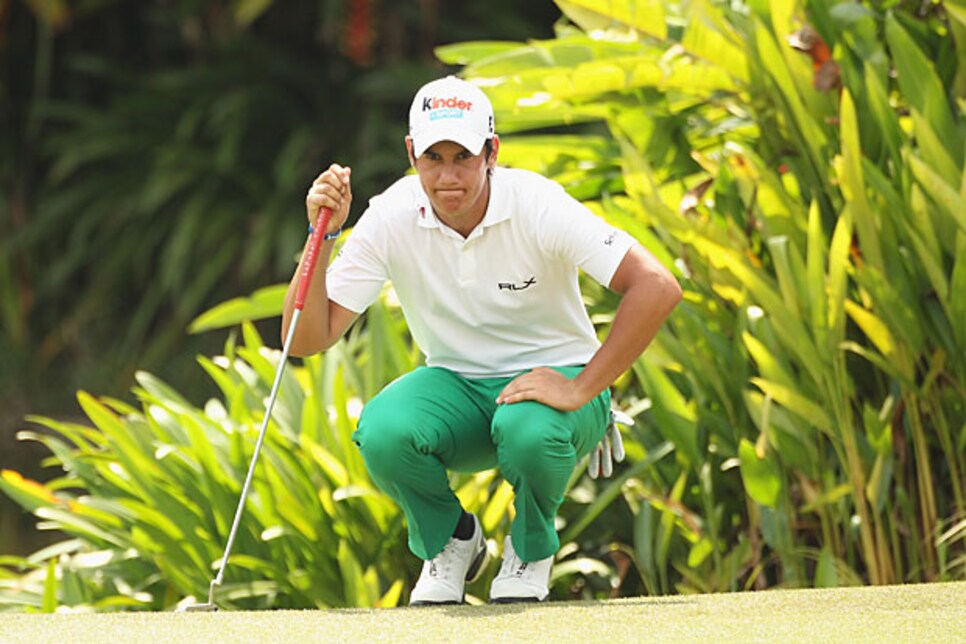 Manassero is the first player with two European Tour wins before turning 18.
The apathy that typically follows a major championship, notably one as spellbinding as the 2011 Masters, was unable to fester last week. The numbers don't lie, 16 and 17 the pertinent ones: They would not permit us to look away.
Sixteen represents the score that Kevin Na took on the par-4 ninth hole of the AT&T Oaks Course at TPC San Antonio in the first round of the Valero Texas Open, this single hole upstaging even the winner, Brendan Steele.
Seventeen is the age (for one more day; he turns 18 on Tuesday) of the winner of the Maybank Malaysian Open, Matteo Manassero of Italy, who, for the moment, has overtaken Rory McIlroy in the category of best young player.
. At last count, it was approaching 650,000 views.
Maybe the tour just concluded it was easier to show it than to explain it. On the latter front, it failed miserably. On its leader board, it lost its way, alternately recording his score as 14, 15 and 16. On its play by play, it lost track, ran out of room and arbitrarily decided to skip a whole series of shots. Here's what it settled on:
Heretofore known for his slow play and occasional temper tantrums, Na has diverted attention away from those issues to become a sympathetic figure.
Manassero, meanwhile, won for the second time on the European Tour, which gives him one more victory than McIlroy, 21, has on his home tour.
This win came against a strong field, too, one that included McIlroy, the 36-hole leader, Martin Kaymer and Masters champion Charl Schwartzel.
The Valero Texas Open was a more difficult test in relation to par than the three previous major championships.
Steele won with a score of eight-under par. Schwartzel's winning number in the Master was 14-under par; Kaymer's in the PGA Championship 11-under par; and Louis Oosthuizen's in the British Open 16-under par.
McIlroy no doubt will find the formula eventually, but for now, he seems to have trouble closing. There was the 80 in the final round of the Masters, a tournament he was leading by four strokes through 54 holes. But there is more.
In Malaysia, not only did Manassero outplay him by six strokes on the weekend, McIlroy could have tied him with a birdie on the par-5 18th on Sunday, but bogeyed the hole instead.
At the WGC-Cadillac Championship, he began the final round in contention, shot 74 and finished T-10. In the Omega Dubai Desert Classic, he shot 74-75 on the weekend and finished 10th.
Even his agent, Chubby Chandler, acknowledges that he needs to learn how to close.
"The problem with Rory is that he doesn't play a lot, so you don't get that much practice at winning," Chandler told the Irish Examiner.
At the elite level of professional golf, only winning matters, which is why Manassero suddenly looks more appealing.
Maybe we were looking in the wrong place for it. Maybe we should have been looking at South Africa rather than Europe as the successor to U.S. dominance.
Two of the last three major championships have been won by South Africans, neither of whom was Ernie Els or Retief Goosen (Oosthuizen and Schwartzel). Then it was announced last week that in 2012 South Africa would host a new World Golf Championship event, the Tournament of Hope, with a $10 million purse.
Sunshine Tour commissioner Gareth Tindall called it "the most significant thing that has happened to South African golf in its history."
When Bill Clinton was president, he was not especially popular in California's Coachella Valley, a Republican stronghold represented in Congress by Republicans Sonny Bono and his widow Mary Bono Mack since 1995. Clinton and former presidents Gerald Ford and George H.W. Bush played in the first round of the Bob Hope Chrysler Classic in 1995. Let's just say that when Clinton sprayed a shot toward the gallery and yelled "fore," no one saw fit to reply, "more years."
Clinton will return to the desert next January, as the host of the Hope (or whatever it might be called), which last week announced that Humana was coming aboard as the title sponsor. What will be his reception this time around?
"They will sublimate their partisanship," said Michael Shepherd, president of the Lincoln Club of Coachella Valley, a group founded to support Republican candidates. "They recognize that the prominence of the tournament has helped build the desert and attracted lots of tourism dollars."
It might be more than that, too, Shepherd conceded, that juxtaposed with the current occupant of the White House, Clinton has become more appealing to the desert's Republican constituency. "As my grandfather used to say to me repeatedly, 'things are only different by comparison,'" Shepherd said.
CAN CLINTON GET TIGER TO PLAY?
There is no better way to restore a moribund tournament than by enticing Tiger Woods to play. Can a popular former president persuade him to do so?
Woods, who has never played in the Hope, has snubbed Clinton in the past. In 1997, after Woods' record victory in the Masters, the president invited him to participate in a Shea Stadium ceremony commemorating the 50th anniversary of Jackie Robinson having broken baseball's color barrier. Woods declined.
Then again, Woods owes him one. Clinton spoke at the opening of the Tiger Woods Learning Center in Anaheim, Calif., in March of 2006. But whether indebtedness is part of Woods' nature is an open question.
The LPGA was to have resumed playing this week, at the Tres Marias Championship in Morelia, Michoacan, Mexico, but in February the tour postponed the event because of drug violence.
The headlines coming from Mexico aren't improving, either, these from last week:
Voice of America: "Mexico Discovers 145 Corpses in Mass Graves"
MSNBC: "'More will die': Mexico drug wars claim U.S. lives"
CNN: "39 killed in Ciudad Juarez in four days, prosecutor's office says"
Here's a startling statistic: Mike Weir is now fourth among Canadians in the World Ranking, having slipped to 294th. Canadians ahead of him are Stephen Ames (147), Graham Delaet (243) and David Hearn (254). Weir missed the cut for the sixth time in eight starts and his scoring average is closer to 80 than to 70 (75.42)...Masters champion Charl Schwartzel tied for 11th in the Maybank Malaysian Open...Hale Irwin, 65, tied for ninth at the Outback Steakhouse Pro-Am, his third top 10 in 2011, equaling the number he had in the three previous years combined...Jim Thorpe tied for 59th in his Champions Tour return following a year away from golf while he served a jail term for failing to pay income taxes...Daniel Chopra flirted with 59 in the third round of the Nationwide Tour's Fresh Express Classic at TPC Stonebrae before bogeying the 18th and shooting 61. The number proved good enough for a one-stroke victory, when the final round was cancelled by fog...Hall of Fame wide receiver Jerry Rice again took up space in a tournament in which he did not belong. Rice finished a distant last among those who completed 36 holes at the Fresh Express Classic, shooting 81-82, eight shots behind the rest of the field.
Rory McIlroy, posting a photo of himself surveying his lie between cabins at the 10th hole at Augusta National: "Apparently I was spotted house hunting last week... LOL!!!"
Angela Stanford: "Just paid my taxes. Why do I have this feeling I just gave my $ to a bunch of 5 yr olds?"
PGA Tour: Heritage at Harbour Town Golf Links, Hilton Head, S.C. defending champion Jim Furyk. European Tour: Volvo China Open at Luxehills International Country Club, Chengdu, China. Defending champion Y.E. Yang
No title sponsor and an uncertain future are the predominant issues in advance of the 43rd annual Heritage Classic. Will there be a 44th?
Tiger Woods was pilloried in the wake of his interview with CBS' Bill Macatee from the final round of the Masters. "Woods came off as petulant," Barry Horn of the Dallas Morning News wrote, employing the adjective of choice among those writing about it.
When Woods was 16, he shot 78 in the first round of medal play at the U.S. Amateur at Muirfield Village in 1992. He stormed past the media, declining comment. One reporter followed him to the parking lot in an attempt to interview him and came away empty.
In the ensuing 21 years, nothing has changed, petulance still a part of his repertoire.