News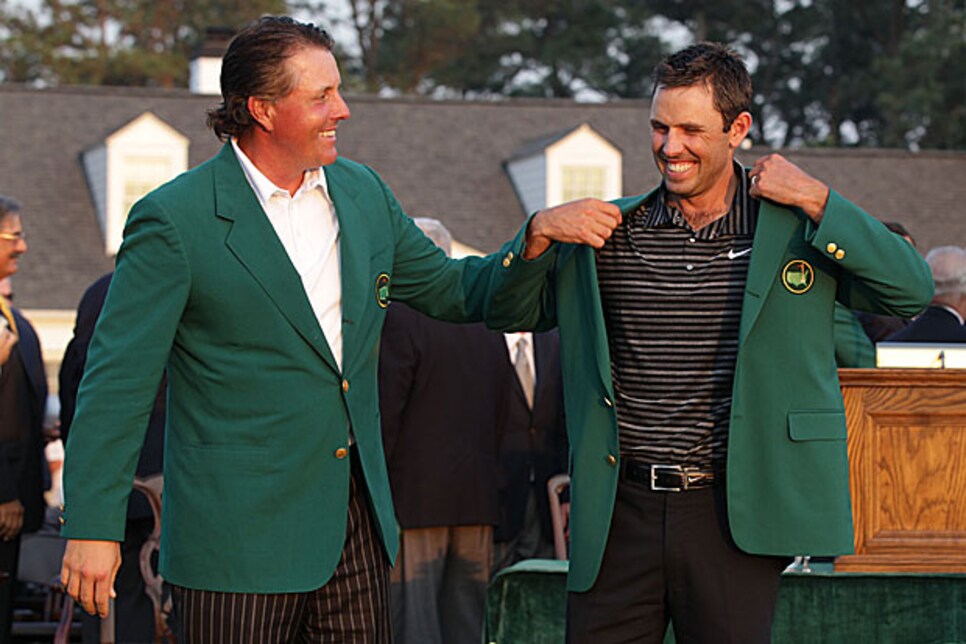 Phil Mickelson helps Schwartzel into his newest piece of wardrobe.
It was a heavyweight title fight won by a welterweight, a two-club wind capable of sweeping Charl Schwartzel away unless he stood sideways to it. A tournament that a man called Bantam Ben won twice (and one called Wee Rory lost once) was given over to the thinnest of talents on Sunday.
Schwartzel, at 140 pounds, is likely the lightest champion in the history of the Masters. At best it's a tie. His South African compatriot, Gary Player, who 50 years ago to the day became the first foreigner to win at Augusta National, is listed at 150 pounds in the PGA Tour Guide but has claimed 140 as his playing weight.
, proving himself, pound for pound, the best in the world.
LET THE TWEETERS TELL THE STORY
This Masters could have been followed via Twitter. Here's how it unfolded, 140 characters at a time:
Cheyenne Woods, Tiger's niece, after Tiger birdied two of his first three holes: "Gooo TIGER!!"
Jane Park of the LPGA: "@McIlroyRory has the sweetest swing i've ever seen. brings tears to my eyes and makes me want to be a better person lol"
Dan Jenkins on Woods' start (three birdies and one bogey through six holes): "Three Good Tigers and one Bad Tiger so far today. Four off the lead."
Billy Horschel: "Just woke up from a nap and Rory is a co leader now and Tiger has an 8 ft eagle putt to get within 1 shot! No more naps for me!"
Hank Haney: "Incredible 9 holes, I mean he is going for something so special today, this will be memorable"
Paul Azinger: "I love @ianjamespoulter but..just sayen I think he tugged on superman's cape!"
Joe Ogilvie: "If Rory wins, Tim Finchem will start TV negotiations in November, if Tiger wins, he will start them tomorrow."
Ogilvie: "My daughter has softball practice from 3:30-5CST...I may declare jihad."
Cheyenne Woods: "Out of practice early now I neeeeeddd a tv!!!!!"
Graeme McDowell: "Rory looks like he has the swing back in the groove. This is going to be an exciting back nine. Would love to be there. Great TV though."
Dan Jenkins: "This is my 61st Masters, and I've never seen anyone hit it where Rory McIlroy just hit it on 10."
Cheyenne Woods: "I'm nervous!"
Graeme McDowell on Woods' missed eagle attempt at 15: "Can't believe he just missed that. Thought the script had been written."
Dan Jenkins: "Has a guy ever been more disappointed with a birdie to tie for the lead on the final nine at Augusta than Tiger after the eagle flub at 15?"
Hank Haney: "This is one of the greatest Masters ever!!"
Graeme McDowell, after McIlroy doubled 12 and hit into it in Rae's Creek at 13: "Thinking about switching my TV off. This just got ugly."
Hank Haney: "Rory McIlroy is 21 years old and we need to remember that and this is the Masters"
Mark Wilson: "I tried to keep the TV off, but this Masters is just too exciting."
Ian Poulter: "Shame I'm not watching the masters about ti [sic] fly home to Orlando, it sounds interesting."
Billy Horschel: "This is the most interesting/exciting Masters I have ever watched! So many guys with a chance to win. Who will it be??"
Sam Saunders, Arnold Palmer's grandson: "Pulling for Adam Scott.. He is a nice guy and has played the best golf today I think. Thought he just made a 1 on 16!!"
Brad Faxon: "Adam Scott and Charl Shwartzel two of the best swings on Tour but boy have they made some huge putts today! Great stuff"
Zach Johnson: "I think Augusta Natl got their wishes...awesome drama on the second nine on #MastersSunday!"
Paul Azinger: 'Wow! Charles Schwartzel's got ............well you know! A GREEN JACKET!"
Graeme McDowell: "Great finish in the end from Charl Schwartzel. Birdied the last four holes to win. Hell of a player and one of my fav golf swings out there."
Geoff Ogilvy: "Wow, what a Masters!"
Graeme McDowell: "Gutted for @rorymcilroy today. It's gonna feel like the end of the world a little right now but this will be a huge learning experience."
McDowell: "You can't believe how good a player he is and he will win multiple majors. This is simply a blip on the radar."
Rory McIlroy: "Well that wasn't the plan! Found it tough going today, but you have to lose before you can win. This day will make me stronger in the end."
McIlroy: "Oh and congratulations charl schwartzel!! Great player and even better guy! Very happy for him and his family!"
It always is, isn't it? Ian Poulter makes a newsworthy statement about Tiger Woods, noting that he wouldn't finish in the top five in the Masters, the media widely reports it and Poulter takes exception. Here are his Twitter posts on the matter:
"I was asked last year if tiger would finish top 5 I said yes. I was asked this year I said I don't think so. Now I'm an [bleep], quallity press"
"You can't win with the press, you answer a question honestly, now I'm the one who looks a [bleep]. The press can do that to you. Thanks boys"
"Note to self when asked about Tiger always [bleep] & say what they want to hear, or you will be ridiculed. Noted not answering anymore."
The media does have a habit of lamenting the tendency of athletes to temper, or even withhold, their opinions, but when they provide them unfettered, the media blasts them. The lesson then: Honesty is not the best policy.
That said, wouldn't it be a welcome change were an athlete to give his honest opinion and stand by it, rather than recoil at the reaction?
Besides, Poulter wasn't far off. Woods tied for fourth.
...Why Woods, the best clutch putter in the history of the game, has seen fit in recent months to change putters? Notwithstanding all of the discussion about his new swing, he lost this Masters on the greens, a three-putt bogey on 12 and a missed short eagle putt at 15 spelling his demise.
When he won here by 12 in 1997, he did not three putt once.
The back nine produced so much drama on Sunday that McIlroy's implosion became incidental. Greg Norman's collapse at Augusta National will always be the dominant feature of the '96 Masters. McIlroy likely will only be a footnote when the story of the 2011 Masters is retold over the years.
Carol Lewis, mother of Kraft Nabisco Championship winner Stacy Lewis, was originally diagnosed with having broken her fibula when she joined her daughter and others in the traditional winner's leap into Poppie's Pond by the 18th green at the Dinah Shore Tournament Course.
A second opinion revealed she had a torn muscle and not a broken fibula, according to Lewis' agent, J.S. Kang.
Only one score worse than McIlroy's final-round 80 was recorded at Augusta National last week, a first-round 83 by Henrik Stenson...Phil Mickelson tied for 27th, his worst Masters performance since missing the cut in 1997 and it was only the second time he has been out of the top 10 since 1998...For all the noise that Woods caused on Sunday, his score of 67 was bettered by Schwartzel's 66 and equaled by Scott and Ogilvy.
Golf Channel's Win McMurry: "Saw this pic at Augusta Marriott. Does this resemble any golfer to you? Hint: think in the Masters field..."
McMurry again: "@McIlroyRory I thought the face looked familiar...just couldn't put my finger on who she reminded me of ;) she is a pretty Victorian woman!"
McIlroy: "Thanks to @winmcmurry for the tweets I've had today comparing me to a Victorian women! Won't be getting an interview anytime soon!! ;)"
Would he rather be compared with an aging diva?
Dan Jenkins: "One of the secrets to McIlroy's success may be his short haircut. He no longer looks like Barbara [sic] Streisand."
PGA Tour: Valero Texas Open at TPC San Antonio, San Antonio, Texas. Defending champion Adam Scott. Champions Tour: Outback Steakhouse Pro-Am at TPC Tampa Bay, Lutz, Fla. Defending champion Bernhard Langer. European Tour: Maybank Malaysian Open at Kuala Lumpur Golf and Country Club. Defending champion Seung-yul Noh.
-- Schwartzel headlines the field at the Maybank Malaysian Open. Also playing is Martin Kaymer, No. 1 in the World Ranking.
-- Adam Scott, fresh off a tie for second at the Masters, returns as defending champion of the Valero Texas Open.
Who knew that simply watching golf for five hours could be so exhausting?