News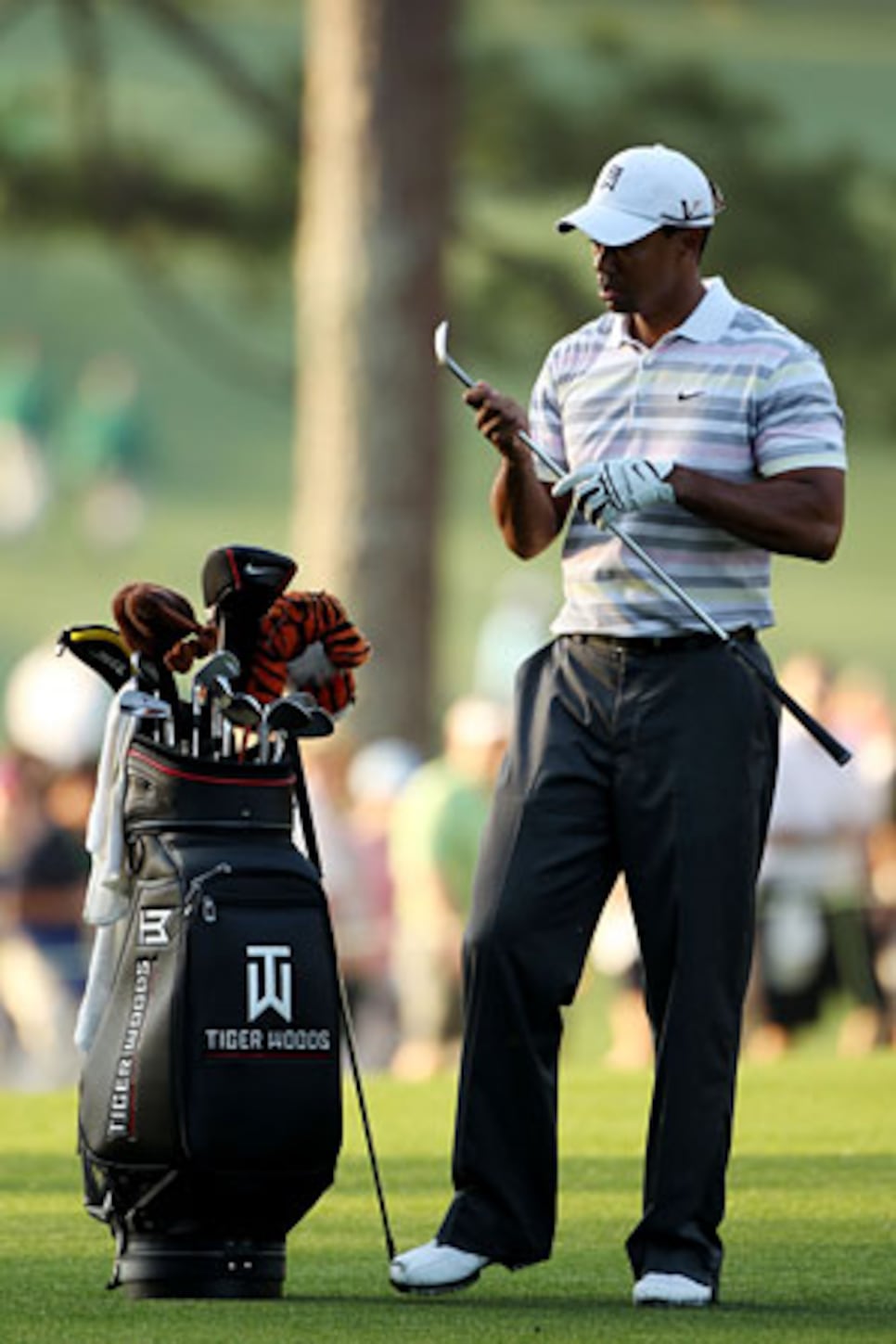 Woods has been out of action since the Australian Masters in November.
It was a pleasant Friday evening, April 7, 1995, a few miles and light years removed from the private and pristine Augusta National Golf Club. Tiger Woods, 19 and in the midst of his first Masters, ventured over to the public and tattered Forest Hills Golf Course and delivered a glimpse of his potential for doing good.
Awaiting him were a group of Augusta National caddies, past and present, all of them black, and a gathering of African-American youth. Woods was there to conduct a clinic as a means of paying homage to the caddies and to inspire the kids.
"This is great," Jerry Beard, who caddied for Fuzzy Zoeller when he won the Masters in 1979, said that day. "It's a great thing for golf, and it's great especially for black youth. It's good for the kids to see you can get into something like this, to see that they can play golf."
Today, Woods returns to Augusta National, his legacy broken, perhaps irrevocably. A career that took a right turn that day 15 years ago has taken too many wrong ones since, as the headlines, tabloid and mainstream alike, continued to remind us last week. Juxtaposing the two days, April 7, 1995 and April 5, 2010, underscores the opportunities that have now been forfeited.
"He was a rising star," Sam Barnes, the man who arranged the clinic, said last week. "He hit some balls and talked to the youth and everybody was elated. It went over quite well. It was awe-inspiring."
Woods spoke of the importance of giving back, invoking the mantra his father, Earl, had ingrained in him, care and share. Awe-inspiring? Maybe he can still conjure the awe with his prodigious talent, but his ability to inspire was eradicated the moment he put the tee in TMZ.
"It's sort of like Dr. Jekyll and Mr. Hyde," Barnes said. "One side is all good -- all the great golf and the potential to do a lot of good things, especially for young people. What he did, it's kind of hard to explain to the kids. That's the difficult part.
"The confession, everybody is not going to accept it. For the general public there's always going to be a dark cloud. There's never going to be a clear white cloud anymore."
Woods was never going to change the world, as Earl once predicted, but his capacity for influencing lives in a positive manner was real and it was evident in the wide eyes of the youth for whom he performed 15 years ago. He hit all the right notes that evening.
The music he'll face this week, no one will be dancing to it.
Anthony Kim is an enigma, as his victory in the Shell Houston Open on Sunday reiterates. He won against a strong field on a difficult course, a timely reminder, on the eve of the Masters, of the talent in his possession.
Yet he reveals it too sporadically to remove "potential" from assessments of his future. It was his third victory, but first since July of 2008. That says good, but only potentially great.
If maturity were a tour stat, he wouldn't be in the top 100. Then again, he's still only 24 and perhaps he's gaining on it. He has a victory and a second (in the Honda Classic) and four top-25 finishes in six starts this year.
"I looked back at last year, after the season was over, I was just complaining about everything," Kim said Sunday. "I felt like I deserved to win a golf tournament without trying. That's not how it is."
A handful of world-class players went to the Shell Houston Open more or less to prepare for the Masters next week. A victory would only have been a bonus.
That said, their collective performance doesn't portend success at Augusta National.
Lee Westwood was the best of them, tying for eighth. Padraig Harrington tied for 40th, Phil Mickelson tied for 35th and Ernie Els, coming off consecutive victories, tied for 44th.
Maybe it was better that Els stumbled in Houston. Winning three of four starts is a tall order, even for the best among them. Yet it's appreciably easier than winning four in a row.
U.S. WILL BE UNDONE BY AUSTRALIAN FLIES
So says Greg Norman, presumably in jest. Norman and Fred Couples again will captain the International and U.S. teams respectively in the 2011 Presidents Cup in Melbourne, Australia, the PGA Tour announced last week.
In the news conference at which the announcement was made, Norman said this: "The Australian environment is different from anywhere else. You get the Australian flies coming in eyes and ears when they hit a shot. It will be very distracting. (They'll be thinking) what the heck are these little black things?'"
THE MISSING WUNDER IN WUNDERKIND
The starring role to which Rory McIlroy has been expected to ascend continues to elude him. McIlroy, 20, missed the cut at the Shell Houston Open, after a T65 and T40 in his two prior starts.
"It's a lack of confidence," he told Brian Keogh of the Irish Times. "I'm just not there. It's such a fine line between playing the way I did at the end of last year to playing the way I am now. It's a couple of putts holed here and there or a good break. I just can't find any momentum or something to get me going on the golf course."
I'm not sure how quarterback Tim Tebow, a devout Christian, might feel being compared with Tiger Woods, whatever the issue, but New England Patriots coach Bill Belichick made the connection last week, responding to a question regarding Tebow altering his throwing motion in an effort to heighten his chances of succeeding in the NFL.
"Tiger Woods has rebuilt his golf swing twice," Belichick said. "Every quarterback I've ever had or coached has worked on his mechanics and improved them. I can't think of too many that haven't."
Vijay Singh is questionable for the Masters this week after withdrawing from the Shell Houston Open with a persistent back ailment that has caused him to miss three straight tournaments. Singh was unable to play in either the Transitions Championship or the Arnold Palmer Invitational and withdrew after nine holes at Houston ... Paula Creamer underwent surgery to repair ligament damage on her thumb and is out indefinitely ... Michelle Wie shot a final-round 78 and finished tied for 27th at the Kraft Nabisco.
From John Daly: "If you missed any episodes-- the Being John Daly marathon tomorrow (Sunday) starting at 7pm ET on the Golf Channel"
Comment: A "Being John Daly marathon" begs the question: Will it never end?
The Masters at Augusta National Golf Club in Augusta, Ga. Defending champion Angel Cabrera.
Story lines: Tiger Woods. Is there anything else? It begins today with a 30-minute media conference at Augusta National.
A year ago, an American, Brittany Lincicome, won the Kraft Nabisco Championship, beating fellow Americans Kristy McPherson and Cristie Kerr by a stroke.
"Americans have to step up and play better golf," McPherson said then. "I think it's important. We have a fairly large international tour and so many people do so many great things for our tour. But if I'm watching the Olympics, I'm pulling for the USA, and I think a lot of the people who are tuning in to us are doing the same. I think we need to step it up and play better golf for our viewers."
Kerr saw it as an opportunity for American women to rejoin the discussion on women's golf.
"It's great for American golf," she said. "It's hugely important for us. We play most of our tournaments on American soil, and most of our fan base, a lot of it is in Korea and Japan now, but most of it is in the United States. This was a very big day for the LPGA and for American golf."
So what has transpired since? American golfers have won only two of the ensuing 23 tournaments -- Kerr at the Michelob Ultra Open at Kingsmill in May and Michelle Wie at the Lorena Ochoa Invitational in November.
Taiwan's Yani Tseng won the Kraft Nabisco Championship on Sunday, giving Asian golfers a sweep of the first four events on the LPGA schedule. Japan's Ai Miyazato won twice, Korea's Hee Kyung Seo once.
Kerr (tied for fifth) and Brittany Lang (tied for 10th) were the only Americans in the top 14 at the Kraft Nabisco.
McPherson's observation still holds, a year later. The Americans have to step up and play better golf.