News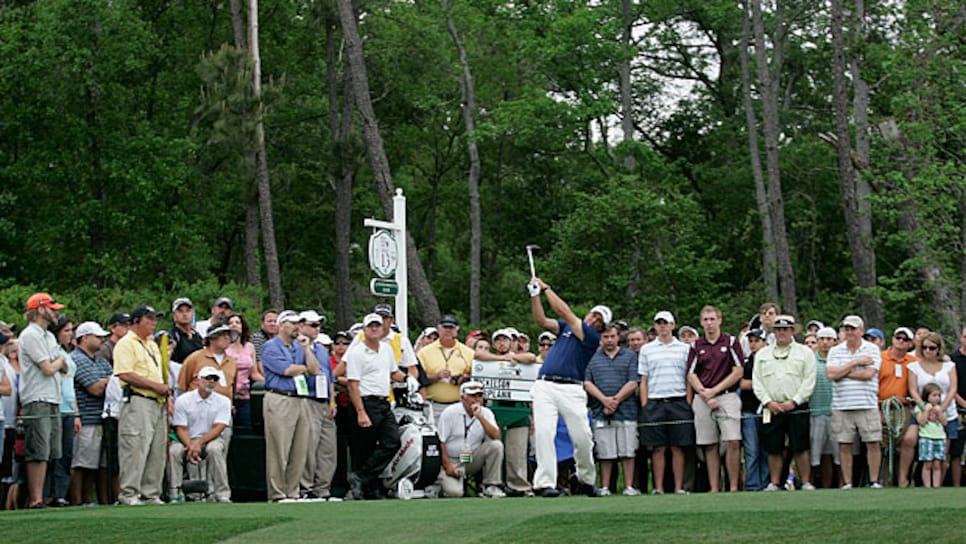 Mickelson shot a blistering 128 over the final 36 holes in Houston.
Over the last decade or so, Masters prognostications generally began with Tiger Woods and ended with Phil Mickelson, a closet full of green jackets between them ending the discussion. Who else would you pick, Zach Johnson?
A better question: Why not?
Only a week ago this was said to be a wide-open Masters, more so than any in recent memory, impossible to handicap given the way that Woods and Mickelson were misfiring.
The truth is that it's always been wide open, no more or less difficult to handicap than it is again in 2011. Here's the evidence: Since 2003 we've had Mike Weir, Johnson, Trevor Immelman and Angel Cabrera win at Augusta, none of whom would have been on anyone's short list of candidates. Mickelson and Woods combined have won only one of the last four. Tiger hasn't won since 2005.
Moreover, attempting to predict how Mickelson might perform in any given week is the proverbial fool's errand. The only constant in his game is its mood swings, which, incidentally, is why he's so much fun to watch. One never knows what he might produce.
But he does have a track record at Augusta and is the defending champion. His weekend scores of 63 and 65 that delivered a wholly unexpected victory (as most of his are, despite 39 of them) in the Shell Houston Open on Sunday will return a modicum of order to prognostications.
He could win, they will say. Of course, he could lose, too. So step right up and place your bets.
Me? I'll take Zach Johnson. Again, why not?
Mickelson, who finally overtook Woods in the World Ranking (Mickelson is now third, Woods seventh), also passed him on the odds board. Jeff Sherman, who sets the golf odds at the Las Vegas Hilton, now has Mickelson as a 13/2 favorite, with Woods next at 9/1.
Mickelson and Woods are now co-favorites to win the FedEx Cup at 6/1.
It is not easy reconciling Augusta National and its glossy reputation with the darker aspects of its past (or even its present, for those who believe the club ought to open its membership to women). "The average golfer that goes there is blown away with Magnolia Lane and the history and tradition of the Masters," Earl Woods told me in 1996. "That doesn't impress the black golfer."
Graeme McDowell apparently wrestles with the issue himself. "I love the Masters and Augusta, which represents everything that is great about golf as regards history and tradition," he told the Irish newspaper, the Independent. "But some of the traditions are a little stuffy. I always say that Augusta represents so much of what is great and a few things that are bad about golf as well -- the stigma, the elitism and all that kind of vibe, which I'm not really into.
"I think we need to shake that off if we want to grow the game globally and give it to the masses. On the other hand, Augusta is an amazing place and I love going there every year."
Daly hasn't been eligible to play in the Masters since 2006, but that doesn't prevent him from participating anyway. He's a vendor, selling Daly merchandise from his motor home parked in a strip mall on Washington Road.
"Masters Week--Stop by (Windsor Jewelers) 2635 Wash Rd --meetin up w/friends & fans!" he wrote on Twitter. "Y'all stop by & see me all day! Lots of new merchandise!"
Stacy Lewis' ability to grind through adversity, a product in part of her having overcome scoliosis and becoming a professional athlete, won the Kraft Nabisco Championship for her and did so on Saturday.
Yani Tseng played a flawless third round, six birdies, no bogeys, and might have opened an insurmountable lead had Lewis not stubbornly resisted the opportunity to fold when the greens became a moving target for her. She made a host of clutch par putts and posted a one-under par 71 that gave her an opportunity to run down Tseng on Sunday.
Christina Kim often takes her slow-play aversion to Twitter, as she did again last week, this time citing Michele Redman, her playing partner in the first two rounds of the Kraft Nabisco.
It started well enough. On the eve of their first round, Kim posted this: "Playing with Michelle Redman on Thursday and Friday at 12:54 then 8:12, I'm so excited! Should be a wonderful couple of days with her!"
"I missed so many opportunities out there today," Kim wrote. "So frustrating. Doesn't help when your playing partner is as deliberate as Michelle Redman."
"Also please note that Michelle [sic] Redman is still a lovely woman and a wonderful mother. She just needs to play faster. That is all."
At least this time she toned down her rhetoric, while still making a point that needs to be made. Last year, she called Tamie Durden "slower than evolution." She called Sakura Yokomine, "slower than trying to bake a pie with a lighter."
However she chooses to express her disgust at this blight on the game, keep up the good work, Christina.
"I always thought this competitive golf thing was like taking the SAT only they put your scores in the paper." -- Judy Rankin
Andres Gonzales: "Anybody have a pill that will give me six pack ABS while sitting in my hotel room doing nothing @TigerWoods how you look like that?!?"
Cristie Kerr had made the cut in 36 straight majors, dating to 2001, before missing the Kraft cut by one last week. It also ended a streak of 74 cuts made overall, dating to March of 2008...Morgan Pressel nearly hit for the cycle on Sunday. She had double bogey, a triple bogey and a quadruple bogey. She was missing only a bogey. She was within two shots of the lead before the triple on the sixth hole sent her reeling...Erik Compton has made the cut in every tournament he's played this year, four PGA Tour events and two Nationwide Tour events. However, he tied for last among those who advanced to weekend play at Houston...
PGA Tour: The Masters at Augusta National Golf Club, Augusta, Ga. Defending champion: Phil Mickelson.
It might seem good, harmless fun, the tradition of the winner of the Kraft Nabisco Championship taking a dip in Poppie's Pond that surrounds the 18th green on the Dinah Shore Tournament Course.
But it's a tired tradition and is no longer harmless. Lewis' mother Carol broke her fibula in the jump on Sunday.
Isn't it time to retire the tradition?