News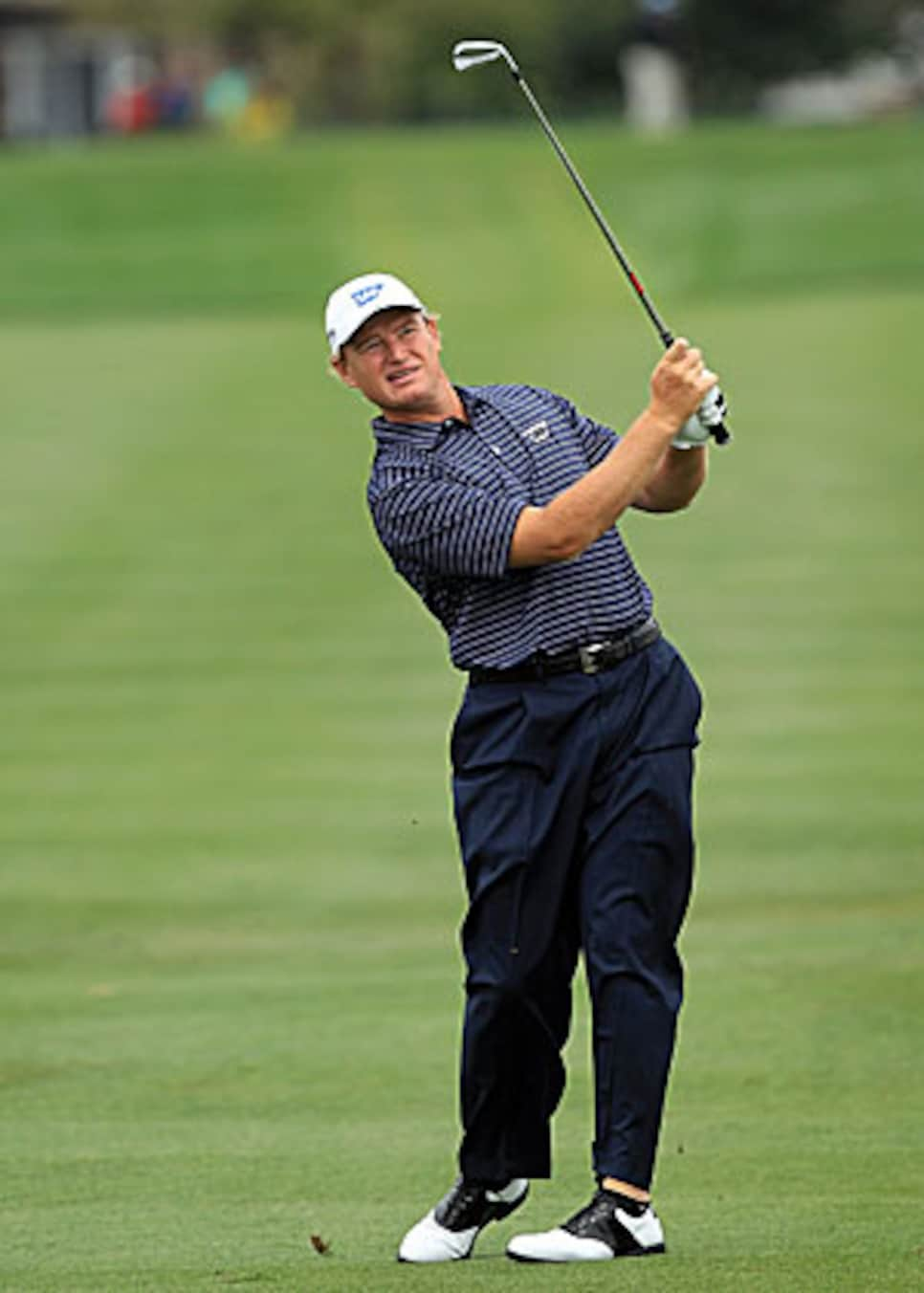 After winning his second straight, Ernie Els is now a favorite heading into the Masters.
Ernie Els' contorted attempt last week at retroactively applying context to his description of Tiger Woods as selfish seemed to have reinforced the notion. Then again, isn't selfish an attribute for a golfer?
Els seemed to reinforce this notion, too, by stumbling across the best way to steer a conversation away from Woods -- by steering it toward himself.
He has done so by virtue of winning a second straight tournament, the Arnold Palmer Invitational, on Monday and thus positioning himself among those considered to have the best chance at winning the Masters next week.
The Woods' story, meanwhile, continued to intrude on the game, this time with news that he would sit for a media briefing next Monday at Augusta National. On the same day, on the eve of the Arnold Palmer Invitational, came the inevitable question for Els.
Reporter: "We are now a month down the road [from] when you said you thought Tiger was selfish … What's your feeling now a month later?"
Els: "We had to play a tournament and I was maybe selfish from my point of view that all I wanted to do was play a golf tournament instead of talking about his personal life. That's basically what I meant by that. I felt that Monday [after the event] would have been great. Friday wasn't great for us. So maybe I was selfish. Call me selfish."
Looking out for No. 1 doesn't mean Tiger Woods, as Els demonstrated at Bay Hill by deftly (albeit momentarily) returning the focus to himself.
CONDUCT UNBECOMING A COMMISSIONER
PGA Tour Commissioner Tim Finchem isn't having as bad a year as Tiger Woods, but neither is he having as good a year as John Daly, who by and large has steered clear of negative headlines.
Too often for a man on whom tour players rely to exercise good judgment on their behalf, Finchem hasn't done so, repeatedly exposing himself to criticism from some of them (Ping Eye2 irons, Tiger issues, conflicting events releases). The latest example was that he was writing letters to tournament sponsors on behalf of a single player, in this case Steve Elkington, explaining why he now requires invitations to receive playing opportunities.
Even the aforementioned Daly, for whom poor judgment has been a way of life, took offense.
"I'm proud to say I've written my own exemption letters," Daly wrote on Twitter last week.
When Daly is piling on...
POLLS: TIGER MORE POPULAR THAN OBAMACARE
Draw your own conclusions, but the American public has a more favorable opinion of Tiger Woods than it does the health care reform bill, according to polls conducted by Opinion Research Corporation on behalf of CNN last week.
Forty-three percent of those polled have a favorable opinion of Woods, while 45 percent have an unfavorable opinion. Thirty-nine percent of those polled favored the health care reform bill, while 59 percent opposed it.
Incidentally, the poll indicates a marked improvement for Woods, of whom only 34 percent had a favorable opinion of him in mid-December, while 49 percent had an unfavorable opinion of him.
The best statistic in the more recent poll? Three percent claimed they'd never heard of him.
The Associated Press' Doug Ferguson reported last week that Shotlink, with a reasonable degree of accuracy, charts how long it takes each player to play a shot. But the PGA Tour does not make the data available to the public.
Why not? "Portions of the list were obtained under the condition the slower players were not identified to avoid embarrassment," Ferguson wrote.
The plodding players ought to be identified. Embarrassment as a deterrent might be the place to start in an effort to counter a blight on the game.
One of the better moments on television last week was the roundtable that Palmer conducted with Brandt Snedeker, Rocco Mediate and Rickie Fowler in the clubhouse at Bay Hill Club, aired on the Golf Channel.
"Now, I have a policy that you gentlemen haven't read on the door out there," Palmer said in the midst of their conversation. They knew instantly what he was referring to and quickly removed their hats while apologizing for their breach of etiquette.
"This is a little different situation, in the clubhouse, where there are ladies," Palmer said. "I saw an opportunity to sort of let you guys have it a little."
The old pro, Maurice VerBrugge, hasn't been around as long as Burlingame Country Club in the tony San Francisco suburb of Hillsborough. It only seems that way.
Burlingame opened in 1893 and is said to be the oldest course west of the Mississippi. The late Bing Crosby was among its members. His widow Kathryn and son Nathaniel remain members.
VerBrugge has been there since 1962 -- 48 years, the last 46 as head pro. He owns the course record there, an 11-under par 59, though the scorecard in the pro shop says 60. His brother conceded him a 12-inch putt on the seventh hole by knocking the ball away, so VerBrugge recorded a five there instead of a four.
"He has such integrity," Nathaniel Crosby said last week. "We retroactively rescinded the putt 40 years later. It's now 59."
Nathaniel's formative years in golf were spent under the tutelage of VerBrugge, who even counseled him on the eve of Crosby's victory in the U.S. Amateur at the Olympic Club in 1984.
A fine player in his own right, VerBrugge qualified for four PGA Championships, a U.S. Open and seven PGA Club Pro Championships.
VerBrugge, 66, was honored at the club last week. He is retiring on Wednesday.
Michelle Wie last week added McDonald's to her endorsement portfolio. Last month, she signed on with Kia Motors.
On Twitter last Tuesday, she wrote: "The 2010 Kia Sorento is awesome...I just drove one for the first time and I am so impressed. Tons of space and…" The same day, in her pre-tournament news conference at the Kia Classic, she said this: "I drive a Kia, I drive a Soul. It's just a really cool car."
She was conveniently asked about her new McDonald's endorsement and said, "I'm 20 years old and I'm proud to say I still eat Happy Meals. I would say it's more for the toy."
Each day in which she came to the interview room, she brought with her a water bottle with a McCafe logo that she carefully set on the table next to her, with the logo facing out and toward the cameras.
Say this for her, she's working hard on behalf of her benefactors.
IN DEFENSE OF THE KOREANS
It is fashionable to attribute the LPGA's woes to the influx of Asians. Conceding that it does get confusing with the growing number of Kims and Parks in their ranks (there were eight Kims and seven Parks playing at the Kia Classic Presented by J Golf), the Koreans deserve better.
What kind of a tour would the LPGA have without them?
It should be obvious that to claim the best tour in the world requires that the best players are part of it. These days, they are mostly coming from Korea -- to wit, the victory on Sunday by Hee Kyung Seo, a Korean LPGA member.
There, too, is the money flowing from the East. Kia and J Golf, for instance, are both Korean companies.
Many of the Koreans are working diligently to erode the language barrier as well. At the Samsung World Championship at Torrey Pines last September, winner Na Yeon Choi required an interpreter for most of her interviews. At the Kia Classic last week, she conducted her interviews in English. She has been working with an English tutor three times a week, two hours a session.
The Koreans are young, talented, friendly and attractive (on the latter point, Seo's nickname is "Supermodel of the Fairways" and Choi's Korean nickname translates to "pretty face").
Fred Couples has found a perfect fit in the Champions Tour -- an entire tour made up of tournaments that have no bearing on one's legacy, so in that regard are not appreciably different than a Skins Game. And we all know his record in those.
Couples won again on Sunday, his third straight Champions Tour victory after a slow start -- he finished second in the Mitsubishi Electric Championship at Hualalai in his Champions Tour debut.
His highest score in 12 rounds on the Champions Tour is 68, which he's recorded once. His lowest is the 62 he shot in the final round of the Cap Cana Championship on Sunday. His scoring average is a miniscule 65.33. He ranks first in driving distance, second in greens in regulation, second in putting average, first in eagles and first in money with $931,000.
In sum, he has a winning lottery ticket -- talent still good enough to compete on the PGA Tour and a birth certificate that says he's 50.
Cristie Kerr bogeyed her 36th hole on Friday and flung her putter at her bag. She was in jeopardy of missing the cut. She eventually made it on the number to extend her streak of cuts made to 69, the longest active streak on the LPGA...Tadd Fujikawa, 19, took a two-stroke lead into the final round of the Morocco Open on the eGolf Professional Tour (formerly the Tarheel Tour) and shot 82 to finish tied for 25th...Kenny Perry's lost form: Last year by this time, he had had five top 10s, including a victory (in the FBR Open). This year, he's had one top 10, at the SBS Championship to open the season. He missed the cut at the Arnold Palmer Invitational.
Rickie Fowler, from the Arnold Palmer Invitational: "Having an Arnold Palmer at Bay Hill just feels right."
PGA Tour: Shell Houston Open at Redstone Golf Club in Humble, Texas. Defending champion Paul Casey. LPGA: Kraft Nabisco Championship at Mission Hills Country Club in Rancho Mirage, Calif. Defending champion Brittany Lincecome.
The Shell Houston Open continues to reap the benefit of presenting a course set up to mimic the conditions of Augusta National, on which the Masters will be played the following week. Six of the top-10 players in the World Ranking are entered (Phil Mickelson, Lee Westwood, Paul Casey, Martin Kaymer, Ernie Els and Padraig Harrington). Sixteen of the top 35 are playing.
Is this the year that South Korea's dominance of women's golf finally spills over into the Kraft Nabisco Championship, the LPGA's first major of the year? No Korean has won the Kraft Nabisco in the past five years (Grace Park is only the Korean winner of the event, in 2004). Three of the last five U.S. Women's Opens (including the last two) have been won by Koreans, while two of the last Ricoh Women's British Opens and one of the previous five LPGA Championships have been won by Koreans.
For women, joining this club known as the LPGA Hall of Fame is only marginally less difficult than it is joining Augusta National, which does not permit female members. The Hall only permits a few of them.
Membership is achieved only via sustained excellence represented virtually entirely by winning. Twenty-seven points are required for induction. One point is awarded per victory, two for a major. Single points also can be earned by leading the tour in scoring or winning player of the year honors.
Laura Davies is on the outside looking in. She has 25 points by virtue of 20 victories, four of them majors, and a player-of-the-year honor.
She is also 46, which won't necessarily preclude her from adding two more victories to her resume, but it does expand the odds against her doing so. She hasn't won on the LPGA since 2001.
Davies' resume doesn't end with her LPGA record, however. She also has won 39 tournaments on the Ladies European Tour, six on the LPGA of Japan Tour, two on the Ladies Asian Golf Tour and six on the Australian Ladies Professional Golf Tour, including the New Zealand Women's Open in February. That adds to 71 victories internationally.
With or without official sanction, Davies is a Hall of Famer.