News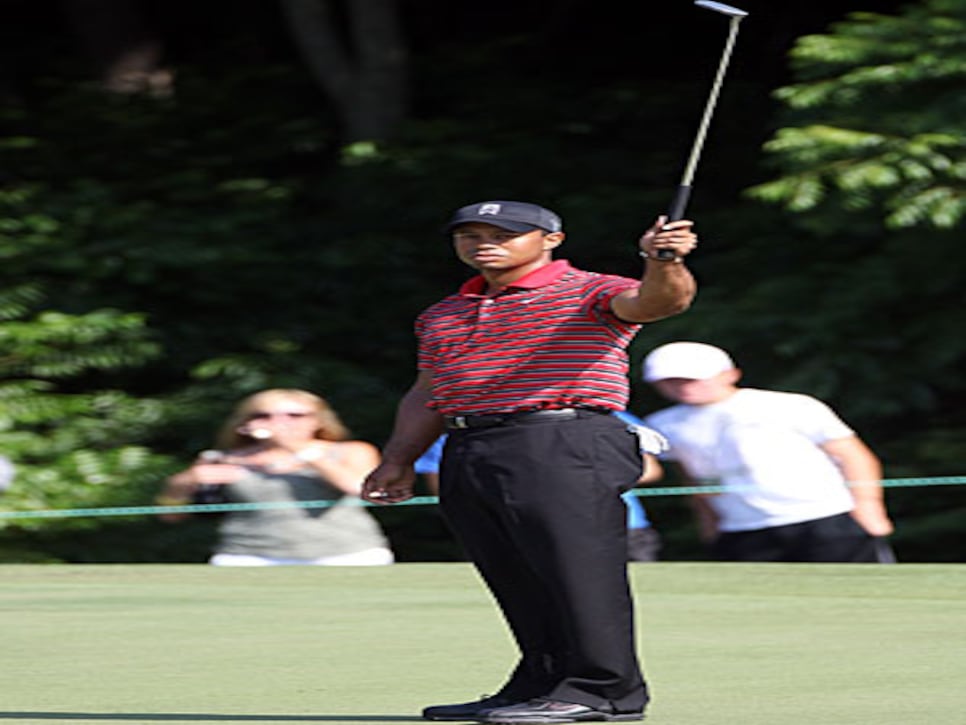 Despite a rough finish, Woods said he was happy with his overall performance.
It's a Scottish game, as we're often told, so we'll reserve our surprise for something other than the fact a pair of Scots won PGA and European tour events on the same day on Sunday.
OK, so that was a surprise, too, an historical first made possible only by the fact that Paul Lawrie shockingly won the Andalucia Open, his first victory in nine years. Martin Laird's victory in the Arnold Palmer Invitational gave the Scots their daily double.
But the real surprise was down the leader board at Bay Hill Club, where so many of the game's elite were found stumbling around in what for many was a final Masters prep.
Graeme McDowell, No. 4 in the World Ranking, missed the cut, as did Dustin Johnson and Vijay Singh. Tiger Woods and Phil Mickelson tied for 24th, neither part of the story on the weekend. Ernie Els tied for 70th.
There were a few exceptions, Jim Furyk (T-9), Edoardo Molinari (T-12) and Ian Poulter (T-12) among them. Otherwise, it was grim.
"Not good enough today Tweeps," McDowell wrote on Twitter. "Damage done yesterday (understatement). Game is a little off the boil. Got some hard work planned next 10 days."
It had gilded company off the boil, no consolation with the Augusta National on the horizon.
Two weeks earlier, Scot Sandy Lyle won the ISPS Handa Senior World Championship, his first victory in 19 years. Lawrie ended his own losing streak. And Laird continued to show steady improvement that has carried him to No. 21 in the World Ranking. Then there's this:
Recently, Team Scottish Hydro was formed, the energy company Scottish Hydro announcing that it would foot the bill for five young Scottish players each year "in a bid to produce more Scottish European Tour and Ryder Cup stars," it stated.
Scottish Golf Support Limited was formed last year to similarly help develop Scottish golfers.
The Scots seem determined to elevate their standing in the game beyond the historical.
Moments before Tiger Woods eagled the sixth hole at the Arnold Palmer Invitational on Saturday, a spectator yelled, "Tiger, rule number 71. No excuses. Play like a champion," Insidetheropes.com photographer Kyle Auclair reported.
It's actually rule No. 76 from the film "Wedding Crashers," but who's quibbling?
Woods is no longer playing like a champion. Or even a contender.
His stats for the year: 187th on the PGA Tour in driving accuracy percentage (47.62), 105th in putting average (1.788), 54th in greens in regulation percentage (67.59).
...Whether Tiger would benefit from a reunion with his former sports psychologist Jay Brunza, with whom he stopped working early in his professional career.
Brunza began working with Woods when he was 13. Relaxation, visualization and focusing were the areas on which they worked, using "hypnotic elements," Brunza called them, reluctant to employ the word "hypnosis" for fear of what it might connote.
Woods no longer consciously relies on those "hypnotic elements" and hasn't for some time. "I think I used it enough then that it's inherent in what I do now," Woods told Golf Digest's Jaime Diaz in 2002. "Everyone had always told me to visualize shots, but I could never see the ball. We worked on a way to look at the target and pull it back into my hands and body, and let my subconscious react. That's what works best for me."
It isn't working now. Obviously there are still physical issues with the swing changes, but he once was perceived as mentally stronger than any player in history. These days we discuss whether his psyche is damaged and contributing to his indifferent performances. Indeed, his once seemingly innate ability to grind out a score, however his swing was performing, has gone missing, spelling the difference between contending (and winning) and residing among the also-rans.
THE MATURATION OF SPENCER LEVIN
Spencer Levin has become a curiosity in recent weeks, a relatively unknown who keeps turning up on leader boards. He tied for sixth at Bay Hill, his third top six finish in his last six tournaments.
On her blog, weiunderpar.com, Stephanie Wei last week wrote about how popular he is as a playing partner. "That wouldn't have been the case when I was 18," he told her.
So, what was Levin, a native of Sacramento, Calif., who now is 26, like in those earlier years?
He was admonished by both Lee Janzen and Stephen Ames at the U.S. Open in 2004 for his lack of etiquette. He had a tendency to hurl clubs and epithets in equal proportions.
"There's rarely a story about him that doesn't document an angry outburst or a wedge sent whirling helicopter-style," Jose Luis Villegas wrote in the Sacramento Bee two years ago. "That's partly because he's an open book, even when discussing his flaws."
Indeed, he started at UCLA, but was forced to transfer and ended up at New Mexico, and here's why: "I pretty much partied all the time and didn't take care of my schoolwork," Levin told Peter Stone of the Sydney Morning Herald at the NSW Open in 2005. "It is pretty much close to the mark to say I drank myself out of college. It was probably a good thing, a blessing in disguise."
Levin has since curbed his temper, at least on the public display front, allowing his talent to blossom.
When Jiyai Shin hugged Sandra Gal while congratulating her for her victory in the Kia Classic, she had to stand on her tiptoes. Shin is 5-1, Gal nearly a foot taller at 6-0.
Gal's performance was probably the most impressive of the week, staving off Shin's Annika-like precision with her iron shots to win for the first time since winning the SunTrust Lady Gator Invitational in 2007 while playing college golf for Florida.
There's no evidence that Elizabeth Taylor was a golfer, but she did rise to prominence in the film "National Velvet" that opened with Mickey Rooney strolling up a path between the sixth and 14th fairways on the Pebble Beach Golf Links and meeting Taylor on a hill overlooking Carmel, according to the Monterey Herald.
Taylor also honeymooned at the Lodge at Pebble Beach with her first husband, Nicky Hilton.
Taylor died last week. She was 79.
"I sent her a note and said I've got a spot for him in the tournament when he's ready." -- Arnold Palmer on Annika Sorenstam's second child, William, who was born prematurely last week at the Winnie Palmer Hospital in Orlando, Fla.
"Well, I am a lady." -- Jiyai Shin to Paige Mackenzie, who accused her of playing from the red tees when she shot 64 on a long, wet, hard course in the second round of the Kia Classic.
Paul Goydos posted the worst score of his career, an 85, in the final round at Bay Hill on Sunday. He went 11-over par in a seven-hole stretch, then doubled 18 for good measure. "Gone from bad to embarrassingly bad!! Priceless," he wrote on Twitter...Mark Wilson continued his stellar play, tying for ninth at Bay Hill, his third top 10 (he's won twice).
From Matt Every: "Played solid today except for pulled 4 iron on 2, 3 putt on three, lay up in water on 6, 3 putt on 9, ob tee shot on 10, 9 iron in rocks on 13 and 8 iron in the rocks on 18 other than that it was a solid day a lot of positives from today. Haha. Smh"
PGA Tour: Shell Houston Open at Redstone Golf Club Tournament Course, Humble, Texas. Defending champion Anthony Kim. LPGA: Kraft Nabisco Championship at the Dinah Shore Tournament Course at Mission Hills, Rancho Mirage, Calif. Defending champion Yani Tseng.
A strong field at the Shell Houston Open is the result of its place on the schedule, a week before the Masters, and the fact that the tournament has done a nice job replicating playing conditions at Augusta National. This year, Lee Westwood, Mickelson, Matt Kuchar, Steve Stricker Ernie Els, Retief Goosen and Louis Oosthuizen are entered and are part of a contingent of 32 players entered in both the Shell and the Masters.
The first major championship on the LPGA schedule will resume the game of musical chairs that Yani Tseng, Shin, Cristie Kerr and Ai Miyazato have been playing for No. 1 in the Rolex Ranking.
Steve Marino is fidgety over the ball, a lot of movement, none of which is as pronounced as the movement he's making up the World Ranking.
He's now 54th, despite never having won a PGA Tour event, up from 107th at the end of 2010. Though he kicked away a lead with a double bogey at 17 at Bay Hill on Sunday, he responded impressively with a must-make birdie on the difficult 18th that forced Laird to make a par to win.
For all that movement, say this for him: he's moving in the right direction.