News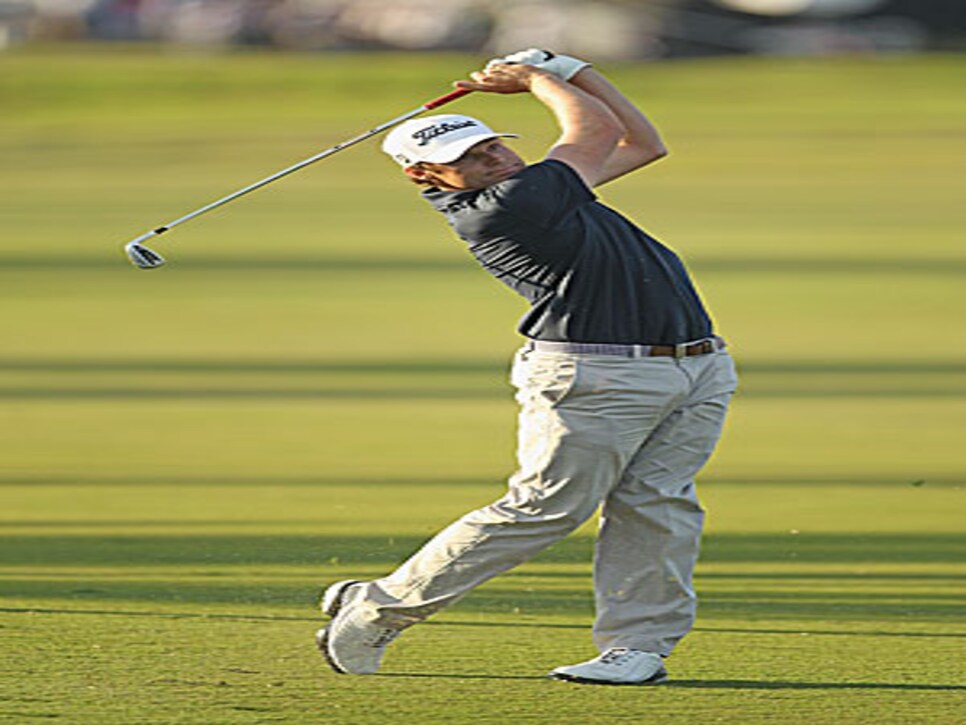 Watney won his fourth career PGA Tour event.
This notion of a European takeover of golf, might it have a shelf life shorter than a Tiger Woods' tee shot?
Woods hit a pair of tee shots in the second round of the WGC-Cadillac Championship at Doral last week that playing partner Graeme McDowell said couldn't have gone 200 yards combined. That's short.
A question arising in the aftermath of Nick Watney's impressive victory at Doral on Sunday is whether the European surge will be appreciably longer.
England's Lee Westwood already has relinquished his hold on No. 1 in the world. The man who supplanted him, Germany's Martin Kaymer, seems to be hedging (see note below). Neither was a factor at Doral.
Meanwhile, Watney, Dustin Johnson, Matt Kuchar and Hunter Mahan were all in contention at Doral and are part of a soaring contingent of Americans closing on the top 10 in the World Ranking (Kuchar is already there at ninth).
Watney, 29, is now ranked 15th. He has had top-10 finishes in seven consecutive PGA Tour starts, two of them WGC events, a third the Tour Championship. He has finished in the top 10 in all five of his 2011 starts.
Kuchar, who finished fifth on Sunday, has been in the top 10 in five of seven starts in 2011 and was the category leader in 2010. And Johnson, only 26, potentially is the best of the group.
However it plays out, a strong ensemble cast in the absence of the one-man show that was Tiger Woods bodes well for the future of the game, here and abroad.
There was something disturbing and familiar about Kaymer's assessment of his state of mind in the wake of his ascension to No. 1 in the world.
"A lot of people ask me, 'So you must be the happiest person in the world now.' And I said, 'Yeah, I'm happy, and I'm satisfied,'" he said on the eve of the WGC-Cadillac Championship last week. "But there's still something missing. I don't know what I have to do to be really happy and really satisfied with everything I've done. Everything I've achieved is great and nobody would have expected it. I would never expect that. But there's still something missing and I don't know what it is, what I have to win, what I have to do more. And maybe I will find out in the next 12 months."
There were echoes of David Duval in his comments, of how Duval explained his fall in the wake of his ascending to No. 1 and winning a major championship, the British Open in 2001. He found it less fulfilling than he imagined it would be.
"A week removed from the Open Championship is when I went through my existentialist moments of kind of, 'Is this it?'" Duval once said.
Kaymer doesn't seem a likely candidate to go the way of Duval, whose career derailed. Still, it is somewhat unsettling that the best player in the world today essentially is asking the same question.
MAYBE NOTHING'S WRONG WITH TIGER
Or at least nothing that time and a little more work with his new swing will solve. For all the handwringing over how poorly Woods was playing last week, he finished better at Doral than Kaymer and Westwood, ranked No. 1 and 2 in the world. Kaymer tied for 24th, Westwood tied for 18th. Woods, whose 66 equaled the best score of the day on Sunday, tied for 10th, his first top 10 in an official event since tying for fourth in the U.S. Open last June.
Butch Harmon was among the handwringers. Working the tournament for Sky Sports, Harmon made a brief appearance on NBC's telecast on Saturday and offered this regarding Woods:
"I think the drive at the second hole and the 14th hole yesterday were a shock to all of us. This is Tiger Woods. This isn't somebody on the Nationwide Tour that's trying to get a card. It's the greatest player that ever lived. I think it just shows you that he is still a work in progress. He has said that he and [coach] Sean Foley are still working on it."
NBC put up an interesting graphic juxtaposing Johnson and Luke Donald on the par 5s at Doral. Donald was tied for 50th in going for the green in two on its par 5s, yet was the field leader in birdies on par 5s. Johnson, among the longest hitters in golf, was first in the field in attempting to reach par 5s in two, yet was tied for 12th in par-5 birdies.
"Everybody thinks you have to be so long, bomb and gouge," Johnny Miller said, "but I'm telling you, if his [Donald] driving improves he has the chance to be the best player in the world in the next couple of years."
Cue the English teachers: D.A. Points had the message, "Finish strong," written on his golf ball, of which NBC showed a close-up.
"I used to say he finished strong," Miller said, "and then I'd get letters from the English teachers, 'it's strongly.'"
The union of NBC and the Golf Channel proved advantageous in at least one regard. When the Chicago-Washington hockey game ran overtime and into NBC's scheduled start of the WGC-Cadillac Championship, we still had Doral coverage on the Golf Channel.
The LPGA wins in this comparison. It is playing the inaugural RR Donnelly LPGA Founders Cup this week and its entire purse, $1 million, is going to charity. Meanwhile, the loathsome Tavistock Cup begins today at Isleworth Country Club in Windermere, Fla., featuring a group of wealthy golfers (including Tiger Woods, Ernie Els and Ian Poulter), playing an inter-club competition at an exclusive country club, for a lot of money (more than $2 million), only some of which is going to charity.
Moreover, Paula Creamer is playing in the LPGA event, but not the Isleworth event, though she's a resident of Isleworth and a member of the club there. She and Annika Sorenstam have both played in the Tavistock Cup in the past.
"Isleworth is getting ready for Tavistock too bad they don't want the ladies to play! I loved playing in it." Creamer wrote on Twitter.
RORY'S NEW $2 MILLION RIDE?
The Sunday Independent in Ireland reported that Rory McIlroy had purchased a Bugatti Veyron EB 16.4, "by far the most expensive street legal car available on the market today," according to TheSuperCars.org. It sells in the tony neighborhood of $2 million.
A large number of Internet sites picked up on the Independent's report, which is erroneous, McIlroy said via Twitter.
"Reports that I have bought a bugatti veyron are completely untrue! Where do they come up with this stuff!?"
"Don't get me wrong, it's one of the best cars ever. But a million quid for a car? Really? Not for me!"
McIlroy previously tweeted about driving a Bugatti Veyron, as part of some banter with Ian Poulter.
"I wish I played for Man U!! I'd be driving a bugatti veyron if I did! ;)," he posted in late January.
YET ANOTHER REASON TO LIKE GOYDOS
Paul Goydos gleefully tweeted on Friday that he was playing Recreation Park, an old municipal course in Long Beach, Calif., "great old public course I grew up playing," he wrote. He shot 66.
Goydos plays there regularly with a group of old friends from Long Beach. It measures 6,280 yards from the back tees, has a slope of 118, a course rating of 70.3.
How many other PGA Tour players routinely play a muny? One? None?
WOMEN GET A (SMALL) BREAK
These are difficult days for LPGA members who don't rank among the elite. It's mid-March already and the tour hasn't had a full-field event. When they finally get one, this week in the RR Donnelly Founders Cup, they're playing for pride and charity, but no money.
A few of them will catch a break by virtue of the Kraft Nabisco Championship's decision last week to expand its field by 10 players.
The top 10 finishers in next week's Kia Classic who otherwise hadn't qualified to play in the LPGA's first major will now be granted entry.
"Because the LPGA's domestic tour kicks off only a couple of weeks before our tournament, we think this change offers LPGA members one more opportunity to play their way into the first major of the year," tournament director Gabe Codding said. "We have a lot of outstanding golfers on tour and this opens the door for more players to compete for the Kraft Nabisco title."
In 17 previous attempts at the 18th hole at Doral, Watney was a combined eight-over par. On Sunday, he made his first birdie there, cinching a two-stroke victory.
"I've settled the score," he said.
Lee Trevino, 71, bettered his age for the first time competitively, shooting a 70 in the first round of the Toshiba Classic. Trevino said this would be the only full-field event in which he'll play this year...Sandy Lyle won the ISPS Handa Senior World Championship in China, his first tournament victory in more than 18 years.
From Claudia Harmon Peevy, daughter of Claude Harmon, brother of Butch: "Love it when Harmon boys are in the lead. Go Dustin Go Nick! Congrats Butchy u did listen to Dad!"
Butch Harmon is instructor to Watney and Johnson, who finished one-two at Doral.
PGA Tour: Transitions Championship at Innisbrook Resort, Palm Harbor, Fla. Defending champion Jim Furyk. European Tour: Sicilian Open at Donnafugata Golf Resort & Spa, Sicily, Italy. New event. LPGA: RR Donnelly Founders Cup at Wildfire Golf Club at JW Marriott Desert Ridge Resort & Spa, Phoenix. New event.
The LPGA opens the U.S. portion of its schedule with a new event, the RR Donnelly Founders Cup, in which the entire purse, $1 million, will go to charity -- half to the LPGA Foundation, half to charities designated by the top 10 finishers.
Maybe Jim Furyk can recover some good vibes in the tournament that began his run toward PGA Tour player of the year. The defending champion of the Transitions Championship, Furyk is off to an abysmal start in 2011, having finished no better than a T-33 in his last five starts.
Tennis player Samantha Stosur on the absence of Serena Williams, who has been treated for a pulmonary embolism: "She's probably the best player of my generation. It's a huge loss, but still, there are other players to watch, too. It's not like Tiger Woods in golf. People aren't just there to watch Serena, like they're there just to watch Tiger."
Is she right, even as Woods has tests the waters of mediocrity for the first time? Well, it's safe to assume that the crowds would have been larger at Doral over the weekend had Woods been in contention (and tickets not cost $50).
A golf photographer, Allan Henry, working at Doral last week, might have unwittingly revealed the answer via Twitter, when he asked: "Any special requests for todays round? Let me know who you want to see."
"Tiger," the first reply said. It was posted by Bubba Watson.