News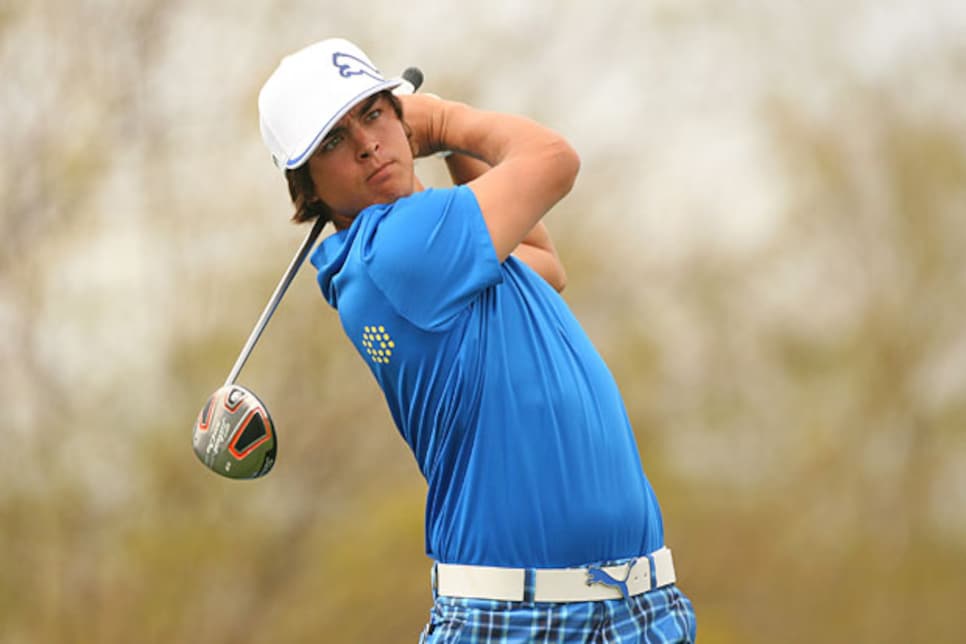 Rickie Fowler's progress has been one of the top storylines of 2010 thus far.
SCOTTSDALE, Ariz. -- The Umbrella Swing of the PGA Tour was dominated not by Tiger, Phil and Padraig, but by lift, clean and place. At that, it failed to rain enough to wash away the controversies that dominated headlines involving Woods and irons.
Tiger Woods remains on hiatus, attempting to reassemble the pieces of his life and career. The issue of the Ping Eye2 irons with square grooves, meanwhile, has inexplicably yet to be resolved, two months into the season and several months late.
Hunter Mahan, the winner of the Waste Management Phoenix Open here on Sunday, even said that he hasn't ruled out returning to his arsenal the Ping Eye2 wedge, pre-1990, that he has used for a few years, should the issue go unresolved and the wedges remain legal.
The persistent rain also failed to cloud what is becoming abundantly clear, that Rickie Fowler rates our undivided attention. Fowler, who finished second to Mahan, has made seven PGA Tour starts as a professional, finishing second in two of them and fifth in a third.
As for stardom, who can tell? Two years ago, Anthony Kim and Camilo Villegas each appeared on the verge of appropriating the distinction as their own. We're still waiting.
That Fowler warrants this attention sans victory speaks to the mundane start to the golf season. Only two of the top 10-ranked players in the world won tournaments in the U.S., Steve Stricker (the Northern Trust Open) and Ian Poulter, who moved into the top 10 only on the basis of his victory in the WGC-Accenture Match Play Championship.
Only one player from the top 10, Martin Kaymer, won a European Tour event (the Abu Dhabi Golf Championship).
Woods, Phil Mickelson, Lee Westwood, Paul Casey, Jim Furyk, Rory McIlroy and Padraig Harrington haven't won, which might reinforce, perhaps unfairly, the old perception that the golf season begins at Doral, site of the WGC-CA Championship in two weeks.
425,905, BUT WHO'S COUNTING?
The star of this show in Scottsdale, Ariz., isn't a golfer. It's the crowds, their numbers perennially staggering and exceeding any other in golf. But are they accurate and how are they counted, anyway?
Attendance for the week at the Waste Management Phoenix Open was 425,905. The most impressive number, perhaps, was 35,795, the announced attendance on Tuesday. For a practice round. On Saturday, historically featuring the largest audience in golf, attendance was 121,221.
A friend in the sports public relations business doggedly insists that the tournament exaggerates its numbers, that a golf tournament on Saturday can't possibly exceed by at least 20,000 and often by 50,000 or more a Rose Bowl crowd, which typically attracts 100,000.
Here's what we do know: The attendance figures are an estimate and a loose one at that. "We actually count cars (in the parking lots) and there's a formula that is apparently accepted in the industry on the number of people per car," tournament chairman David Rauch said. "We count the cars with aerial shots, and we're looking at it by acreage, each of the parking lots. There's an estimate of the number of cars per acre. You come up with the total (based on) the estimate of the number of cars and 3.2 people per car.
"We feel pretty good about the numbers we're giving it. Honestly, we get accused more often of lowering the figures than of jacking them up. I think people think we don't want to scare people away by saying there are 170,000 people here, so instead we say 160,000.
"Last year, on Saturday, the CBS guys all day were saying they've just never seen anything like it and they've covered the tournaments for decades. The number came in 10,000 below our record Saturday. Their conclusion was we had to have lowered the number a little bit, because they couldn't get over it."
We know this, too: Whatever the actual attendance, and by any metric, it's an impressive crowd exceeded only by the efficiency with which the tournament moves them around and gets them in and out.
Phil Mickelson is still searching for his form, which, all things considered, should be difficult for him to locate. Mickelson tied for 26th on Sunday, after which he and wife Amy left for Houston, where Amy will undergo a breast cancer treatment on Monday at the MD Anderson Cancer Center.
Mickelson, who plans to play next at the WGC-CA Championship at Doral in two weeks, has had only one top-10 finish in four starts (T8 at the AT&T Pebble Beach National Pro-Am).
The idea of a professional golf tour is to follow the sun, but the PGA Tour hasn't been following the script. It rained at the Bob Hope Classic, which concluded on Monday, the Northern Trust Open in Los Angeles, the WGC-Accenture Match Play Championship and the Waste Management Phoenix Open, on Sunday morning. In fact, more than half an inch of rain fell in Scottsdale overnight, requiring that preferred lies be used on Sunday, the first time since 2001 there. The AT&T Pebble Beach National Pro-Am was played with preferred lies through three rounds because the courses were saturated from rain earlier in the week.
The weather forecast, incidentally, for Palm Beach Gardens, Fla., site of the Honda Classic this week? Mostly sunny on Thursday and Friday and partly cloudy on Saturday and Sunday. But no rain.
Public relations doesn't seem to be a strong suit with Pat Perez, who resides in Scottsdale, but claims no local knowledge or special attachment to the TPC Scottsdale.
"I never play here because during the rest of the year the course is never in good shape," he said.
Age isn't a plus in sports, but experience is and in golf it often more than offsets the mounting years, as last week informed us.
At the Phoenix Open, Tom Lehman, 50, Mark Calcavecchia, 49, Lee Janzen, 45, and Fred Couples, 50, all turned up on the leaderboard and mixed it up expertly with the youth, including Rickie Fowler, 21, and Matt Every, 26. Fowler finished second.
On the women's side, Laura Davies, 46, won the New Zealand Women's Open and Juli Inkster, 49, tied for ninth at the HSBC Women's Champions, after entering the final round tied for the lead. Inkster was seeking to become the oldest winner in LPGA history.
"I guess, bottom line, is we know how to do it," Calcavecchia said. "It's in there. It's just a question of whether we can find it, a question of pulling it out every once in a while. When you've had a career as me and Fred and Tom have had, eventually you're going to play well."
Couples delivered the highest finish among the aged and aging, tying for 15th. He'll return to the Champions Tour this week, at the Toshiba Classic in Newport Beach, Calif.
CBS analyst David Feherty not only officially became a citizen of the United States last week, but he arranged for a private jet to bring 10 wounded warriors from Walter Reed Hospital out for the ceremony, then took them hunting in West Texas, according to his agent, Barry Terjesen.
The horrific round is not typically part of Lorena Ochoa's repertoire. The 79 she shot in the second round of the HSBC Women's Champions equaled the second worst score of the day. She has only had two worse scores in her LPGA career that began in 2004 (she shot 85 in the first round of the Weetabix Women's British Open in 2005 and 81 in the last round of the Wegman's Rochester LPGA in '04). Last year, she had a 79 in the U.S. Women's Open...Arnold Palmer's grandson Sam Saunders blew an opportunity to make a second cut in a row. Saunders shot 66 to open the Phoenix Open, but backed it up with a 79 to be sent home early ...Trevor Immmelman missed the cut in his first tournament since August. Immelman underwent wrist surgery in October...Skip Kendall has now played 391 PGA Tour events without recording a victory. For a time on Sunday, he indicated the streak might be in jeopardy. He got to within a stroke of the lead, before four bogeys in a seven-hole stretch sent him tumbling down the leader board. He finished T36 ... Charles Howell III tied for fourth, his third top 10 and fourth top 20 in six starts this year. He had three top 10 finishes in 29 starts in '09.
"Everybody tells me how much (Tiger Woods) swears on the course. Man, if you watched me every single shot I hit all year, it wouldn't be any prettier. But everything I do isn't on television." Michael Allen (from the Arizona Republic).
Stewart Cink on the controversy surrounding the Canadian women's hockey team for its on-ice celebration that included champagne and beer: "I don't see the big deal, we celebrate Ryder Cup wins with champagne and beer."
PGA TOUR: The Honda Classic at PGA National Resort & Spa, Palm Beach Gardens, Fla. Defending champion Y.E. Yang. CHAMPIONS TOUR: Toshiba Classic at Newport Beach (Calif.) Country Club. Defending champion Eduardo Romero.
Northern Ireland's Rory McIlroy makes his stroke-play debut as a PGA Tour member at the Honda Classic. McIlroy, 20, lost to Oliver Wilson in the second round of the WGC-Accenture Match Play Championship in his other PGA Tour start.
The 16th hole at the Waste Management Phoenix Open is a clamorous spectacle and as such not one the PGA Tour necessarily wants other tournaments to emulate. Why not?
"What a laugh 16 was today much better than the last couple of days," Ian Poulter wrote on Twitter. "They were getting smashed. So much fun every event should have that hole."
Golf World contributor Geoff Shackelford has made the case that the Northern Trust Open would do itself well to construct bleachers around the green at the drivable par-4 10th hole at Riviera Country Club, one of the great holes in golf, and begin to promote a party-like atmosphere in the vicinity of the green in the interest of injecting fun into a tournament that has gone stale in recent years.
Fun is the operative word here. If there are whispers and golf claps at the Phoenix Open, they're not heard above the din that dominates proceedings there.
More than 400,000 people turned up at the TPC Scottsdale last week, all of them seemingly enjoying themselves.
People having fun. Now there's a novel idea.