News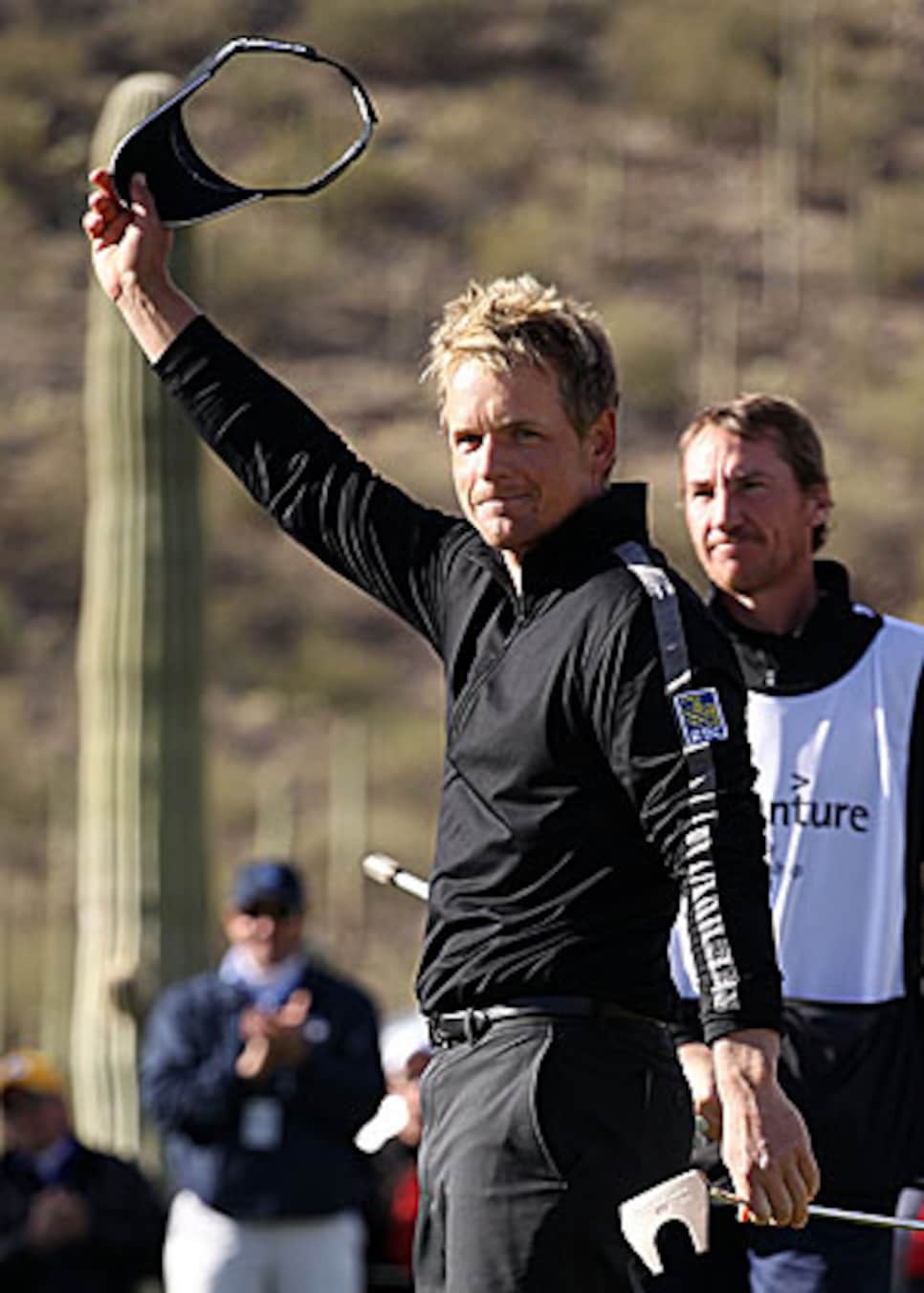 Donald won for the first time on the PGA Tour since 2006.
Luke Donald is an amateur artist whose signature flourish heretofore had been to contend without winning, a big picture that only his accountant could love.
The NBC crew duly noted this quirk in his resume on Sunday. It began when Donald was kicking away a three-up lead by spraying the ball in the final of the WGC-Accenture Match Play Championship against Martin Kaymer.
"Well, Johnny, it's amazing how many times your weaknesses show up in big moments," Gary Koch said. "There's a reason why Luke Donald's only won twice on the PGA Tour, perhaps?"
A few holes later, Johnny Miller weighed in. "He hasn't been real good in his career at winning tournaments," Miller said. "This is his 200th PGA Tour start with two wins...There is a recipe for winning and some guys never quite find it. They leave out the Tabasco or something."
Later on, Miller again brought up Donald's record. "Luke Donald...just a couple wins and not big wins per se. He needs to step it up. He's too darn good to just have two wins."
All of it was true. In addition to his two PGA Tour victories (the second of them coming in 2006), he had won three European Tour events, one of them the Madrid Masters last year, his first victory of any sort in four years.
, a 3-and-2 win over Martin Kaymer in the Match Play final. Donald never trailed in the course of six matches, none of them even reaching the 18th hole.
There is no other way to say it. It was a masterpiece.
Here's how slow the pace of play was at the Match Play Championship: The tournament began with spring on the horizon, 66 degrees and sunny on Wednesday, and ended in the dead of winter, an inch or two of snow covering Ritz-Carlton Golf Club on Sunday morning.
The opening match between Stewart Cink and Ian Poulter set the tone; it took more than four hours to finish even with an open course ahead of the players. There was, too, the usual contribution from J.B. Holmes ("a mind-numbingly slow player in the best of times," Andrew Both of the Australia Associated Press wrote) and his late-round hi-jinx that helped extend his quarterfinal match with Bubba Watson to nearly five hours.
The Sunday before, Joe Ogilvie posted on Twitter: "I think the golf writers may (finally) get Tim Finchem to listen if they keep pounding away at the PGA Tour's pathetic pace of play."
A nice sentiment, but it's not a bet anyone should be willing to make. Some historical perspective might explain why.
John G. Jackson, president-elect of the USGA, in his report at the organization's annual meeting in January, 1936: "The committee takes this occasion to give notice that slow play by certain competitors in championships will not be tolerated in the future, and that it will take appropriate steps including disqualification, if necessary, to insure fair play to competitors who play at the customary speed."
From Francis Ouimet, complaining about slow play in 1957: "It shouldn't take more than a few seconds to line up a shot. And on a green a player should be getting his line while someone else is putting. Maybe the big money the pros play for has something to do with it. There is so much at stake they take all the time in the world."
Lanny Wadkins, from a 1992 story that Golf Digest's Jaime Diaz wrote for the New York Times: "The only thing slower than slow play is getting someone to do something about it."
It is the same old story, repeated ad infinitum, ad nauseam.
A depressing footnote, taken from the Glasgow Herald's coverage of the Scottish Amateur in 1929: "Play was slow. On an average it was taking three hours to the round."
SLOW PLAY, WOMEN'S DIVISION
The LPGA once strictly enforced pace-of-play rules. At the Buckeye Savings Invitational in 1968, Marilynn Smith came off the 18th green, an apparent winner by one, only to be assessed a two-stroke slow-play penalty that gave Carol Mann a one-stroke victory.
The LPGA's Jane Park, tweeting on the Golf Channel appearance of Arron Oberholser, who was lamenting slow play: "I do agree about the pace of play!! The @lpga has some slow players as well."
Oberholser's response: "Jane, that may be the understatement of the year."
The final two holes of Woods' brief appearance in the Match Play were a microcosm of where his game seems to be at this point. On the 18th hole and one down to Thomas Bjorn, Woods split the fairway, hit his second to eight feet, and made the birdie putt to tie. On 19, he hit his tee shot into the desert en route to a double-bogey six and a loss.
Or, put another way, his new swing remains a work in progress. Still, let the finger pointing begin.
"For all the talk of Tiger's poor driving the last 6 years I have never seen him drive it out of play with a match or tournament on the line," former teacher Hank Haney wrote on Twitter.
Haney's defensiveness is understandable given the criticism he endured over his work with Woods. That said...
In the 2005 Masters, Woods led by two with two holes to play. At 17, he hit his drive 30 yards right of the fairway, leading to a bogey, cutting his lead in half. From a decent lie in the left rough at 18, he pushed an 8-iron shot into the right bunker, leading to another bogey and forcing a playing with Chris DiMarco.
One might argue that Woods, in fact, did not drive it out of play at 17, but that would be parsing words; Augusta National does not have a desert right of the 17th fairway. The shot was so errant it led to a bogey. Worse, perhaps, was the 8-iron second shot at 18. It's more likely that that was a shot he never had hit with a tournament on the line. For the record.
MOST PUZZLING HEADLINE OF THE WEEK
"Tiger Woods may have to settle for mediocrity" -- from a column by the AP's Tim Dahlberg.
Comment: Woods won't settle for mediocrity. He'd retire first.
A HALL OF FAME PERFORMANCE
The lack of depth on the LPGA isn't altogether a negative (even as the influx of strong Asian players slowly transform it into a misconception), for it has allowed its better players to go through periods of dominance that gain them entry to the World Golf Hall of Fame while they're still active and productive.
So it was that a Hall of Famer stepped up last week and stopped Yani Tseng's winning streak at four.
Karrie Webb, 36 and a Hall of Fame inductee in 2005, birdied six holes in an eight-hole stretch in the final round to win the HSBC Women's Champions by a stroke, her 37th LPGA victory and first in nearly two years.
Tseng, No. 1 in the Rolex Rankings, finished third.
THE BEST STORY THAT WASN'T
Erik Compton, less than three years removed from his second heart transplant, was the third-round leader of the Nationwide Tour's Panama Clara Championship and led by a stroke through 13 holes of the final round on Sunday.
Compton was unable to close, however. He played the final five holes in four-over par, including a double-bogey at 18, and tied for fourth. Australian Matthew Goggin won by two.
The week before, Compton finished T-25 in the Northern Trust Open.
From Cheyenne Woods, Tiger's niece: "My mom left me a message earlier, 'text tiger congrats!! He won on the 19th hole today!'"
From Cheyenne Woods, a moment later: "Good thing I saw the REAL results before sending the text ha"
From Ian Poulter, who like Woods was a first-round loser in the Match Play: "Maybe I should give @Tigerwoods a call and see if we can have game this weekend. We could have our own Matchplay."
The World Ranking has become rather volatile these days. Kaymer is now No. 1, while Donald has climbed to No. 3 and Woods has fallen to No. 5 and Phil Mickelson to No. 6. Matt Kuchar, meanwhile, has moved to 10th, breaking into the top 10 for the first time. Kuchar, who finished third in the Match Play, is four for five in top 10 finishes in 2011...John Cook, 53, headed an impression contingent of seniors playing in the PGA Tour's Mayakoba Golf Classic. Cook finished third in his first PGA Tour start since 2007 (Johnson Wagner was the winner). It was Cook's first top 10 since a T-5 in the Reno-Tahoe Open in August of 2006 and best finish since a T-2 at the Memorial in 2002. Meanwhile, Tom Lehman, 52 next week, finished T-13, while Tom Pernice, 51, finished T-19.
PGA TOUR: Honda Classic at PGA National Champion Course in Palm Beach Gardens, Fla. Defending champion Camilo Villegas.
The Honda Classic has a strong field, including a contingent of some of the best international players: Graeme McDowell, Lee Westwood, Rory McIlroy, Poulter and Donald.
Woods will not play the Honda, though he only played a single round at Match Play and has played only nine competitive rounds all year.
"A lot of old habits kick in when you're under pressure. You're playing for $1 million. If somebody thinks I'm slow, or taking long, I don't care. Personally, I don't want to take that long. I'm working on that. I would rather be slow and win than rush something, hit a bad shot and not win." -- J.B. Holmes...in 2008.
The axiom that any publicity is good publicity doesn't always hold, as NBC's Peter Jacobsen demonstrated on Saturday's telecast of the Match Play. Jacobsen was doing an off-beat piece on the wildlife in and around the Ritz-Carlton Golf Club and juxtaposed it with the PGA Tour's own wild animal kingdom that includes the Golden Bear, Tiger, the Walrus, the Hawk, the Shark and...
"Anthony Kim is a night owl," Jacobsen said. "He loves to play at night."
Kim has been developing an unflattering reputation for his nocturnal activities and the possibility they're detrimental to his golf.