News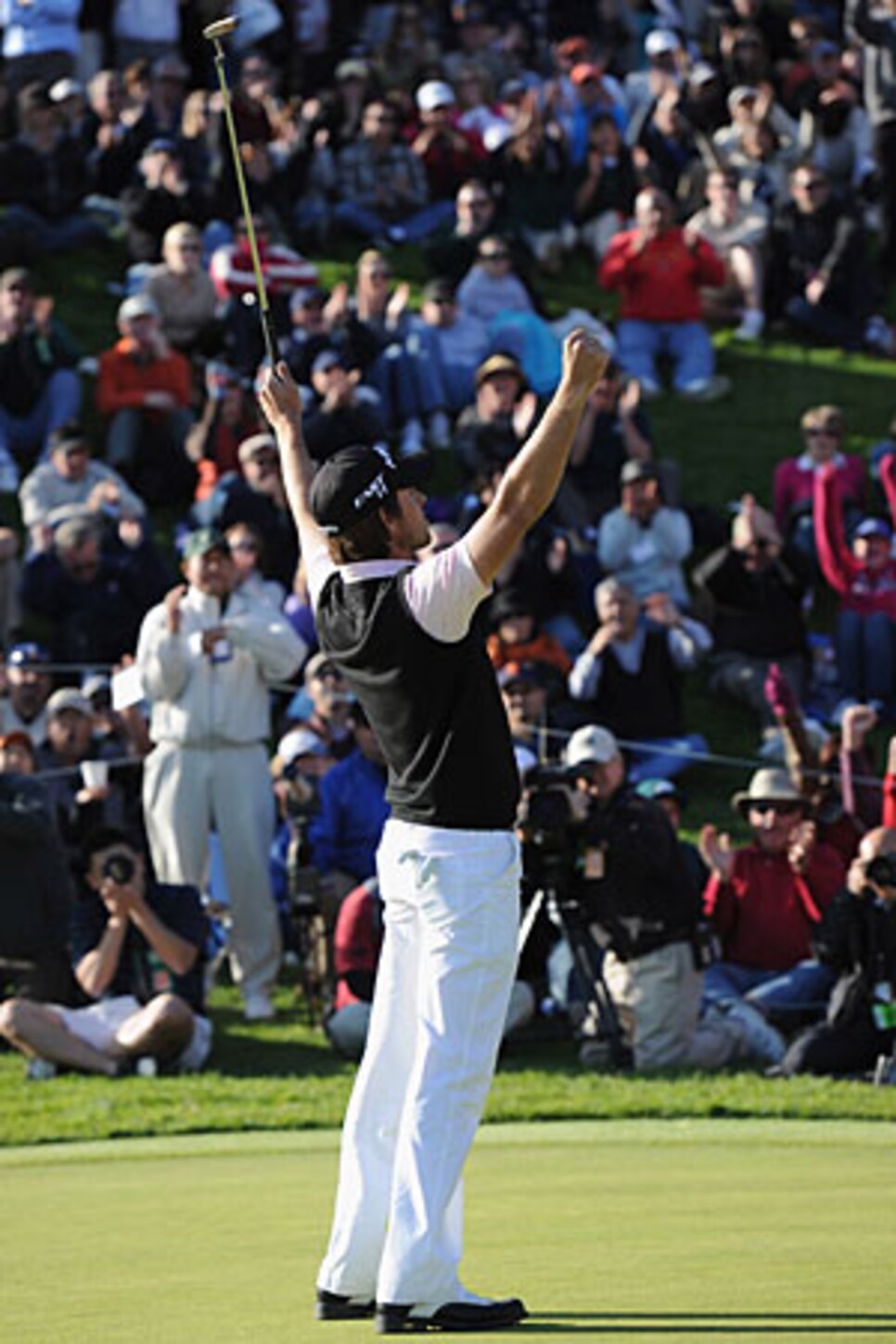 Baddeley won his first PGA Tour title in four years.
The best way to swing a golf club is, well, it depends to whom you choose to listen. Does that clear it up?
last week. Aaron Baddeley won the Northern Trust Open on Sunday, nearly two years after abandoning the Stack and Tilt method
and returning to his former coach, Dale Lynch. Tiger Woods, meanwhile, was said last week to have had a breakthrough with his new swing (see the following item), a variation, many would argue
, of the Stack and Tilt method advanced by Andy Plummer and Mike Bennett.
Plummer, in fact, once confronted Foley about his use of Stack and Tilt techniques without giving credit. Foley's response? "Andy and Mike are very bright guys, but how much of what they teach is Mac O'Grady?" he told Robert Lusetich of FoxSports.com. "And how much did they take from [Sam] Snead and [Ben] Hogan? And how much of it is taken from [Isaac] Newton?"
So it goes in the complicated world of instruction.
For the technicians, meanwhile, here is Baddeley's explanation of the change he made since rejoining Lynch: "I'd say the biggest change is giving myself spine angle at address and then actually having the weight move a little bit to the right side and then allowing and trusting that the club will just drop on the inside and I'll be able to rip a draw out there," he said.
HANEY ON TIGER: 'HE SHOULD WIN [THIS] WEEK'
Hank Haney often defends his work with Woods by citing Woods' achievements under his tutelage. He did so again last week.
When John Cook revealed that the swing changes Woods has undergone with Foley began clicking last week, Haney responded with this via Twitter:
"I read where John Cook said it all clicked for Tiger on Monday with his swing I remember when that happened with me, he should win next week"
"Tiger won every time it clicked with me so if John Cook said it clicked for Tiger on Monday I expect him to win"
It seems as though he was throwing down a gauntlet, though he later softened his tone with another tweet:
"A lot of times people believe what they hope for but John Cook should know great when he sees it"
The WGC-Accenture Match Play Championship won't necessarily provide an accurate gauge of Woods' progress. The vagaries of match play are such that the better player doesn't always win.
COUPLES AND SOCIAL NETWORKING
Fred Couples' remarkable bid to win the Northern Trust Open at 51 (he led through two rounds and early in the final round before slipping to a T-7) somehow invited a question, perhaps a rhetorical one, as to whether he was on Twitter. He isn't. Nor does he have a Facebook page. He barely uses a phone. Recall that he once said he won't answer one from fear that someone might be on the other end.
"I don't even know what Facebook is," Couples said. "And then Twittering, I don't know what that is."
He does text, however. "I will say he has become a really good texter," his friend and instructor Paul Marchand said. "It's a perfect medium for him. Cover it real quickly. Getting him on the phone and having a long conversation, that's not Fred's gear."
MICKELSON: FOR WHAT IT'S WORTH
Phil Mickelson has played five straight weeks without recording a victory, contrary to what he typically accomplishes when similarly active. The last three times he's played five weeks in a row he's recorded a victory: at the Northern Trust Open in 2008 and 2009, and at the AT&T Pebble Beach National Pro-Am in 2007.
This year, Mickelson has finished 37th (Abu Dhabi HSBC Golf Championship), second (Farmers Insurance Open), T-29 at the Waste Management Phoenix Open, T-9 at the AT&T and T-35 at the Northern Trust Open.
Mickelson will be playing for a sixth straight week at the WGC-Accenture Match Play Championship this week.
, her fourth straight victory and third in three weeks.
"She played like a rock star out there," said Michelle Wie who finished second.
Earlier in the week, Taiwan president Ma Ying-jeou was called "stupid" by legislator Gao Jyh-peng "for rejecting an appeal by ... Tseng in early 2009 to host an LPGA event in Taiwan and enhance the nation's international profile," Focus Taiwan News Channel wrote.
Ma was said to have initially rejected the suggestion he commit government funds to the tournament. He has since capitulated and the LPGA Taiwan Championship will be played in October.
Probably not a bad move when you consider that Tseng has been offered $25 million to change her citizenship from Taiwan to the People's Republic of China.
A 13-year-old, Lydia Ko of New Zealand, tied for fourth in the New Zealand Women's Open. Ko previously finished second in the New South Wales Open and 12th in the Women's Australian Open, outplaying Katherine Hull and Laura Davies in the former, Davies, Christina Kim and Stacy Lewis in the latter.
Ko, in fact, took a one-stroke lead into the final hole in the New South Wales Open, an Australian Ladies Professional Golf event, where a bogey derailed her bid.
Overheard in the media center at the Northern Trust Open on Saturday evening: "The Champions Tour event has a better leaderboard than the PGA Tour event."
Langer, Funk, Calcavecchia, O'Meara, Price vs. Baddeley, Na, Couples, Singh.
The 64 shot by Erik Compton in the final round of the Northern Trust Open.
, has only conditional status on the Nationwide Tour and hadn't played a tournament all year. Tired of sitting home and watching others play, he decided to come to Los Angeles and attempt Monday qualifying for the Northern Trust Open.
"It was a long shot," he said. "Monday qualifying is very, very difficult, especially on the West Coast, so I wasn't quite sure whether it was worth coming out."
His gamble paid off. He shot 66 in the qualifier to make it into the field, then made the cut. His closing 64 moved him to a T-25 and a $51,837 payoff. It was his best finish in 25 career starts on the PGA Tour (his previous best: T-30 at the Arnold Palmer Invitational last year) and the largest payday of his career.
Jim Furyk narrowly avoided missing three straight cuts for the first time since October, 2004. Furyk bogeyed his final hole in the second round, but still made the cut on the number...Luke Donald shot a 79 in the second round of the Northern Trust, his worst score since shooting 80 in the final round of the 2005 U.S. Open. Donald missed the cut ... PGA Tour rookie Jhonattan Vegas regained his form, finishing T-12 at Riviera. After a win at the Bob Hope Classic and a T-3 at Farmers Insurance Open, he missed the cut at the Waste Management Phoenix Open ... Jimmy Walker, who had four top 10s in 11 previous starts, has three in five starts this year, including a T-4 at the Northern Trust ... Jessica Korda, who turns 18 next week, tied for 51st in her professional debut at the Honda LPGA Thailand.
From Matt Every, responding to the controversy over Woods' spitting incident at the Omega Dubai Desert Classic: "People spit on the greens all the time. No big deal as long as you pat it down with your putter"
PGA TOUR: WGC-Accenture Match Play Championship at Ritz-Carlton Golf Club, Dove Mountain, Marana, Ariz. Defending champion Ian Poulter. LPGA: HSBC Women's Champions at Tanah Merah Country Club, Garden Course, Singapore. Defending champion Ai Miyazota.
Tiger Woods faces Thomas Bjorn in the first round of the Match Play Championship. Flashback: In March of 2001, when Woods was a Masters victory away from completing the so-called Tiger Slam, Bjorn and Woods were paired together four straight days in the Dubai Desert Classic, a tournament won by Bjorn by two shots over Woods.
Tseng seeks a fifth straight victory and fourth in as many weeks in the HSBC Women's Champions.
When Giula Sergas came off the course after the third round of the New Zealand Women's Open, she was hit with a one-stroke penalty for slow play on the 18th hole. And she was the tournament leader (she eventually tied for second).
The PGA Tour should take note. It won't.
The Northern Trust Open typically starts 144 players, though when the tournament was played two weeks earlier in 2010 it was trimmed to 132 in the interest of time in its race with darkness. Back to its usual place in the schedule, it reverted to 144 players, 14 of whom were unable to complete the first round before darkness suspended play.
Corey Pavin's group went off at 12:54 p.m. on Thursday and play was suspended at 5:45 with his group playing the 18th hole. It eventually finished in just over five hours.
On Saturday, Geoff Shackelford posted this on Twitter: "JB Holmes grinding to halt: 2 minutes, ten seconds from time he marked his ball to hitting on Riviera's 6th."
Then Doug Ferguson of the Associated Press followed with this on Twitter: "Kevin Na just took 1 minute, 37 seconds over his 8-foot putt on No. 9. That would be 57 seconds over the limit. But who's counting."
On Saturday, the final group took five hours, 20 minutes to complete its round. On Sunday, the time was five hours, 17 minutes.
Why the tour won't address this problem in any meaningful way is a mystery. It's in the entertainment business. Act like it.