News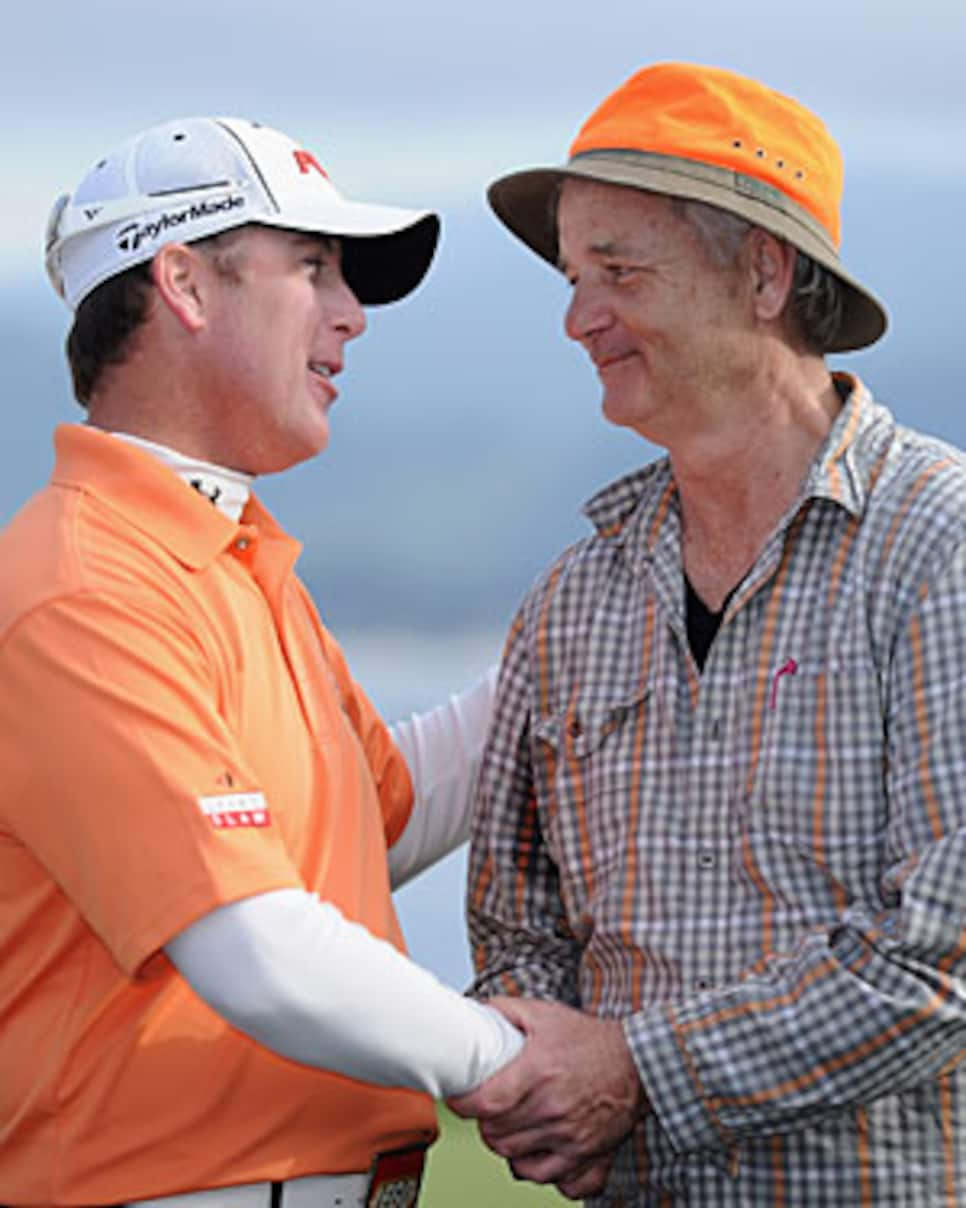 While Woods struggled in Dubai, Points and Murray teamed up to win at Pebble Beach.
Here's the takeaway from Tiger Woods' performance at the Omega Dubai Desert Classic on Sunday: The expectations are no longer what they once were, but the expectorations haven't diminished.
Woods again stumbled with a tournament on the line, which wasn't necessarily his most egregious transgression. He was excoriated for spitting
after missing a par putt on the 12th green with the ubiquitous television camera aimed at him.
"You look at his work ethic and he is a credit to the game and an inspiration to all of those who are trying to become professional golfers," Sky Sports broadcaster Ewen Murray said. "But there are some parts of him that are just arrogant and petulant. Somebody now has to come behind him and maybe putt over his spit. It does not get much lower than that."
Woods is an inveterate spitter, but perhaps there was more tolerance of said behavior when he was the game's dominant player. The sports world is less indulgent of those who tie for 20th, as Woods did in Dubai.
and instead gave them a megaphone. He entered the final round one stroke behind, shot 75, and finished seven back of winner Alvaro Quiros of Spain.
Quiros, incidentally, won despite a triple-bogey seven on the eighth hole when he lost a ball in a tree. He countered with a hole-in-one at the 11th en route to his fifth European Tour victory.
The rub of the green clearly is following a different agenda these days. Recall what J.C. Snead once famously said of Jack Nicklaus: "He knew he was going to beat you, you knew he was going to beat you, and he knew you knew he was going to beat you."
Only two years ago, the same could have been said of Woods. It can't any more.
Theories abound. Here's one being bandied about on Twitter:
Jay Townsend of the Golf Channel: "He needs to stop practicing and just play, and play a lot. Stop goofing around, play 30 tournaments."
Arron Oberholser, in response: "BINGO."
Paul Azinger, concurring: "You are dead on."
Rod Spittle, a 55-year-old retired insurance agent from Canada, tied for second in the Allianz Championship on the Champions Tour, a stroke behind winner Tom Lehman.
Spittle, who played college golf with John Cook and Joey Sindelar at Ohio State, did not turn pro until 2004.
MURRAY POINTS D.A. IN RIGHT DIRECTION
The panoramas augmented by the brilliant blue sky and D.A. Points in partnership with Bill Murray rescued the AT&T Pebble Beach National Pro-Am from apathy on Sunday.
Points was dazzling, holing his third shot for eagle at the 14th to wrest the lead from Steve Marino, then holing a birdie putt with a huge break at 15, increasing his lead to two, ultimately his margin of victory. It was his first PGA Tour win.
He did all this while playing alongside Carl Spackler, also known as Bill Murray. Together, they won the Pro-Am, a victory to which Murray obviously contributed, though his greater contribution might have been to Points' win.
After Points holed out for eagle at 14, Murray began telling him of the house nearby that he once was interested in buying.
"Do you know what Bill just did there?" CBS' Gary McCord said. "The guy's got the lead now and all of a sudden Bill starts talking to him about the house he wanted over here to the right. So he gets D.A. out of his mentality of what he's doing right now and he's talking about all this other stuff. I think it's great for him."
Points agreed. Murray, he said, "was one of the pivotal parts."
Murray's presence and comic antics might have been helpful to Points, but what did it do for Bryce Molder, who was part of the Points-Murray pairing on Sunday? Molder began the round a stroke ahead of Points, shot 74 and slipped to a tie for sixth.
Points is the antithesis of Woods on the issue of decorum. After putting out on the 18th green on Sunday, Points turned to the crowd and said, "Everyone, thank you for coming."
This wasn't his euphoria talking. At the Greenbrier Classic last year, he was in second place behind Jeff Overton heading into the final round and slipped to a tie for fourth.
"Thanks for coming," Points said to the crowd following a bogey on the last hole.
"A Cinderella story: DA Points, with Bill Murray as partner, wins Pebble Beach" -- From the Orlando Sentinel
There was little movement after the final qualifying events for the WGC-Accenture Match Play Championships on Sunday. The field will be comprised of the top 64 players in the World Ranking (provided all 64 commit).
The one potential loser was Henrik Stenson, who fell from 62nd to 65th in the World Ranking. Stenson missed the cut in Dubai. Replacing him in the top 64 was Anders Hansen of Denmark, who tied for second at Dubai and jumped from 70th to 52nd.
Italy's Francesco Molinari, whose wife Valentina gave birth to the couple's first child on Sunday, is leaning toward not playing the Match Play, according to a Twitter post in which he said he was "no, 60 percent, yes, 40 percent." Should he decline, Stenson, at 65th, would replace him.
Lucas Glover, meanwhile, was 65th in the World Ranking last week, but chose not to play in an effort to improve his standing and fell to 69th.
'YOU ARE THE LIGHT OF TAIWAN'
Yani Tseng has ascended to No. 1 in the Rolex Rankings, lifted there by consecutive victories in the Ladies European Tour's last two events, the Handa Women's Australian Open and the ANZ RACV Ladies Masters.
"By winning the Australian Masters, you have clinched the No. 1 title. You are the light of Taiwan," Taiwan President Ma Ying-jeou said on Sunday.
AN EARACHE AND AN EYESORE
That would be ESPN's Chris Berman, who probably should not be allowed near a golf course, either with a microphone or his golf clubs.
No need to explain why a man called Boomer inherently is a misfit on golf broadcasts.
As a player, well, his swing has as many pieces to it as a jigsaw puzzle, the difference being that his don't fit together. Berman again played in the Pebble Beach National Pro-Am. It was our good fortune that he was not around to watch on Sunday.
From agent Chubby Chandler on client Rory McIlroy: "What do you do when u lead the DDC [Dubai Desert Classic] -- send for a playstation and then to the Wild Wadi [a water park] -- oh to be 21 and talented - Legend!"
From Paul Goydos: "I stink!!! On to LA"
BETTER BRING YOUR RAINSUIT
The run of great weather enjoyed during the California swing is expected to end this week at the Northern Trust Open in Pacific Palisades, Calif. Showers are predicted for Wednesday, Thursday, Friday and Saturday.
Jim Furyk has missed cuts in consecutive starts for the first time in nearly four years. In the spring of 2007, he missed the cut at the Verizon Heritage and Wachovia Championship back to back. This year, he has missed cuts at the Sony Open in Hawaii and the AT&T Pebble Beach National Pro-Am...It's a start: Sergio Garcia has had consecutive top 20s for the first time since the fall of 2009...Sam Saunders, Arnold Palmer's grandson, had his best finish on the PGA Tour, a tie for 15th at Pebble Beach. Last year, he finished T17 at the Honda Classic...Dustin Johnson's bid for three in a row at the AT&T Pebble Beach National Pro-Am went awry; he tied for 55th and was never a factor...McIlroy, the defending champion at Dubai, was the overnight leader in eight of his previous 11 rounds there prior to the final round on Sunday. He was unable to make it nine of 12; he shot 74 and slipped to a T10...Hale Irwin, 65, was foiled in his bid to become the oldest winner in Champions Tour history. Irwin tied for sixth at the Allianz Championship.
PGA Tour: Northern Trust Open at Riviera Country Club, Pacific Palisades, Calif. Defending champion Steve Stricker. European Tour: Avantha Masters at DLF Golf and Country Club, New Delhi, India. Defending champion Andrew Dodt. LPGA: Honda LPGA Thailand at Siam Country Club, Pattaya Old Course, Chonburi, Thailand. Defending champion Ai Miyazato. Champions Tour: The ACE Group Classic at the Quarry, Naples, Fla. Defending champion Fred Couples.
"It makes me feel better than all the others." -- Pebble Beach National Pro-Am winner Bill Murray, when asked what the victory meant to him.
-- The first PGA Tour event in which Tiger Woods played was the Nissan Open in 1992, by virtue of a sponsor's invitation. Woods, who grew up in the Los Angeles suburb of Cypress, will skip the tournament now known as the Northern Trust Open for the fifth straight year.
-- The LPGA finally starts its season, though in Thailand with a limited field. Tseng will be in search of her third straight victory. Jessica Korda, who turns 18 in two weeks, will make her professional debut. Korda, the daughter of former Australian Open tennis champion Petr Korda, turned pro after finishing second in the LPGA Final Qualifying Tournament.
Why can't CBS Sports arrange its Sunday schedule so that the college basketball game it's televising is over before its golf telecast is scheduled to begin?
The Illinois-Purdue game ended at 3:13 p.m. (EST) Sunday, or 13 minutes after the AT&T Pebble Beach National Pro-Am was scheduled to come on the air. The golf telecast began at 3:21, or 21 minutes late.
"The final round is underway," CBS' Jim Nantz said when the golf finally came on the air.
Really? It had been underway for nearly five hours, while the final group had begun playing nearly 2 1/2 hours earlier.