News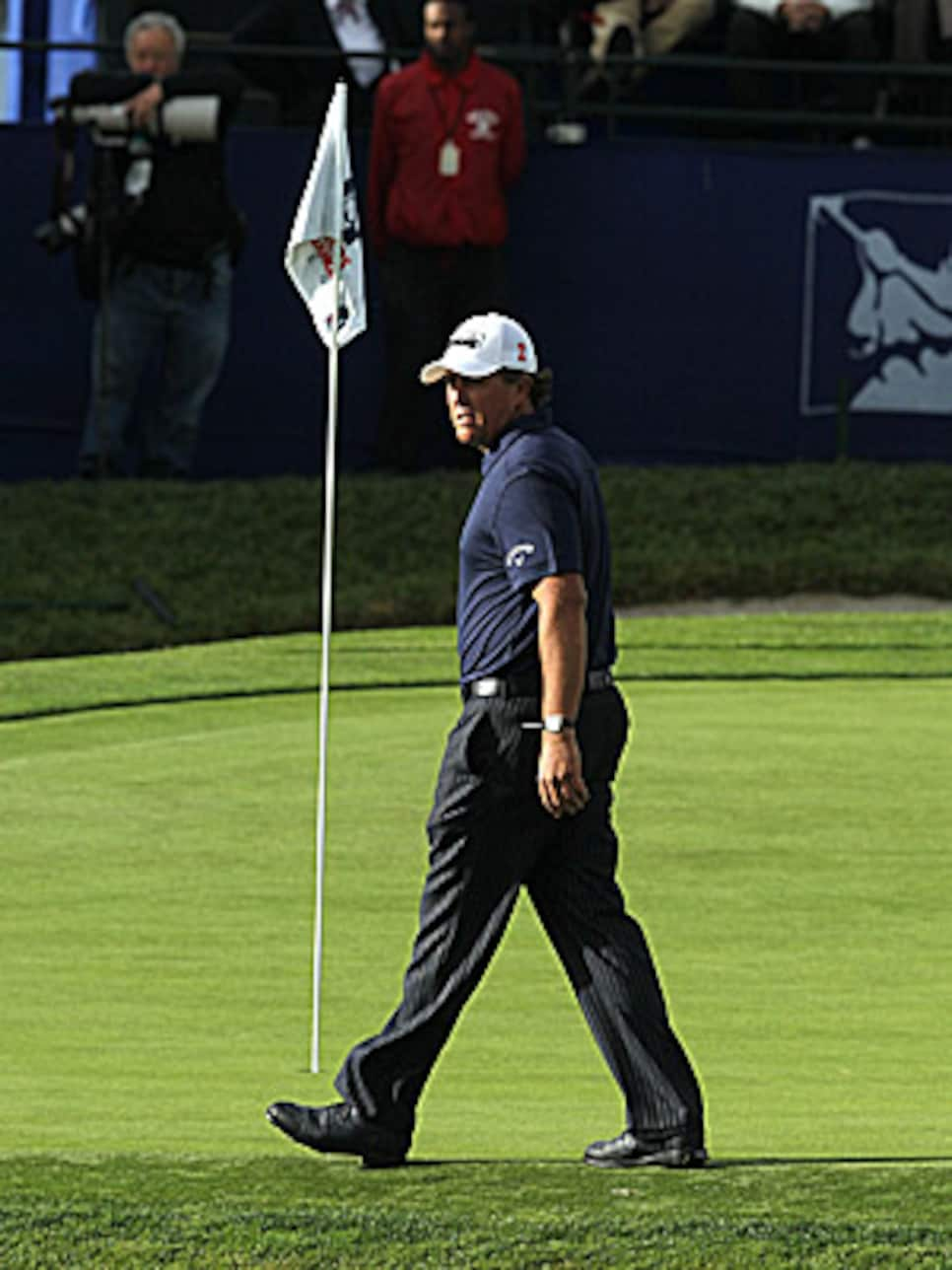 Mickelson made things very interesting on the final hole.
It was a theatrical moment, emphatically instructive, too, orchestrated by a man with enough talent to justify his chutzpah. He reminded us that the PGA Tour need not wait for Tiger Woods to deliver it from apathy.
, Bubba Watson leading by two, Phil Mickelson sent caddie Jim Mackay ahead to tend the pin on a 72-yard shot, a bit of daring that won't allow for imprecision. If you're going to be cocky, you'd better be good.
Mickelson was both, nearly stuffing the shot for eagle, the ball hitting a foot left of the hole and thrilling a Torrey Pines audience that was never given a reason to pine for Tiger. Moments earlier, Watson, among the more entertaining players in golf, salvaged a birdie from an impossibly difficult lie in a bunker at 18 that eventually provided his margin of victory.
and was not a factor on the weekend. Conceding that it would have been a better show with him, it was nonetheless a wildly entertaining one without him.
The decisions Mickelson makes in the course of a round often require explanations. Here are two of them from Sunday:
On why he chose to have Mackay tend the flag at 18: "I felt like it would have a chance. About 10, 12, 14 times a year, I end up hitting the pin with a wedge, and it ricochets all over the place and I didn't want that to happen. I also wanted to give it two chances. I wanted to fly it in, possibly, or I wanted it to skip past and maybe bring it back and give it a second chance to go in and the pin would only get in the way of that. So I didn't want to have the pin in if I was going to try to make it."
On why he chose to lay up from the rough at the 18, rather than attempting to reach the green in two: "On 18, the grain to the grass was in. I had 227 to carry. If I hit a hybrid, the ball would have come out dead...I couldn't have made it over the water. But the way my 3-wood is, the ball would have come out hot and it would have went screaming over. I felt like I had a better chance to make a three from the fairway trying to use that bank and bringing the ball back or flying it in."
The 75 that Tiger Woods shot Sunday a the Farmers Insurance Open was his worst final-round score in this tournament that he's won six times. It also was the worst round he's played on the South Course there since shooting a 77 in 2002.
Woods' finish (T-44) was his worst since finishing 78th and last at the WGC Bridgestone Invitational last August.
Woods finished two strokes in arrears of an 18-year-old, Anthony Paolucci, a senior at nearby La Jolla Country Day, who tied for 30th.
There is no more entertaining player in golf than Bubba Watson, who plays the game in a manner that can't be taught, only admired, and tour players are among his most ardent admirers.
"Bubba Watson is a freak of nature," Arron Oberholser wrote on Twitter. "It's refreshing and great for the tour."
From Paul Azinger, also via Twitter: "My opinion is that @bubbawatson has gone to another place mentally. He has never really had a formal lesson, yet performs at highest level.
"It's an intangible that's hard to define..its fun to watch raw unpolished talent excel."
The strong English contingent -- four players in the top 12 in the World Ranking -- achieved its prominence through consistency, winning largely unnecessary. Paul Casey began working on a remedy on Sunday, winning the European Tour's Volvo Golf Champions in Bahrain.
Until then, the trio of Lee Westwood, Casey and Luke Donald had won a combined two tournaments since November of 2009. Only Ian Poulter, lowest ranked of the foursome at 12th, won twice last year.
THE EVIDENCE AGAINST HUGO
Hugo Chavez, president of Venezuela and, he would have you believe, the Jhonattan Vegas fan club, attempted to retreat from his anti-golf stance in the wake of Vegas' victory in the Bob Hope Classic
"A young Venezuelan won a golf tournament in the U.S., we congratulate him," Chavez said. "I'm not an enemy of golf, or any sport. I've simply criticized that a group of rich people in Caracas have a bunch of golf courses next to slums falling off of hills."
From the New York Times, August, 2009: "President Hugo Chavez's political movement has found a new target: golf. After a brief tirade against the sport by the president on national television last month, pro-Chávez officials have moved in recent weeks to shut down two of the country's best-known golf courses."
From August, 2009: "I respect all sports," Chavez said. "But there are sports and there are sports. Do you mean to tell me this is a people's sport? It is not."
From November 2010: "That's an injustice, that someone should have the luxury of having I don't know how many hectares to play golf and drink whiskey and, next door, there's misery and children dying when there are landslides," Chavez said.
From November, 2010: "Let's leave this clear," he said. "Golf is a bourgeois sport."
If by bourgeois he means that Vegas is part of the elite, he might be right. In consecutive weeks, the PGA Tour rookie has won and tied for third and risen to 68th in the World Ranking.
Rejection did not sit well with John Daly, who blasted the Bob Hope Classic and Waste Management Phoenix Open for denying him sponsors' exemptions.
"I'll never go back to the Hope and I'll never go back to Phoenix, no matter what happens," he said in a formal interview with the media at the Farmers Insurance Open. "I won't even send letters anymore...If you look at my past, everything the (Phoenix) Thunderbirds have ever wanted me to do for 17, 16 years I'm sure I did it for them. I helped get celebrities go to the Hope. I helped them out. I went to their parties and did everything for them...It hurt me for those two tournaments not to give me spots."
He likely won't be missed. The last time Daly played the Hope, in 2008, he withdrew. The last three times he played the Phoenix event, he withdrew twice (2005 and '06) and missed the cut once ('07). None of it argues on behalf of extending him an invitation.
Daly no longer is the brand he once was. The Twitter account, @letjohndalyplay, that began as a grassroots effort to get Daly a sponsor's exemption into the Phoenix Open, had a goal of 10,000 followers. It received only 600.
Instead, he will be playing in the European Tour's Commercialbank Qatar Masters this week. Given his aversion to flying, no wonder he's irked at his U.S. snubs. He will next play in the U.S. in the AT&T Pebble Beach National Pro-Am.
MONTY, WHAT WERE YOU THINKING?
The Montgomerie Course at the Royal Golf Club, site of the Volvo Golf Champions last week, was not favorably reviewed by at least one prominent European player.
Poulter, who tied for 24th, posting on Twitter:
"Played great today 35 putts, missed 1 green, Simply the WORST greens i have ever seen & im not joking they are embarrassing."
"Apparently the Architect wanted to make a statement with the greens, he did that alright they are &%$#"
"I am really looking forward to my 5am alarm call to go walk the Himalayas. Im so excited & i just cant hide it... shall la la la la"
"@WestwoodLee I should have joined you and @McIlroyRory for a week off. School boy error playing."
Colin Montgomerie had this to say about the criticism: "You're never going to please everybody, okay?...All I can say is that I hopefully pleased the majority and that's all one can do."
Watson climbed to 18th in the World Ranking with his victory at Torrey Pines...Nick Watney shot an eight-under par 28 on the front nine of Torrey Pines South en route to a 63. It moved him from a T-56 to a T-6...In his first tournament as a married man, Hunter Mahan tied for sixth. Up next is the Waste Management Phoenix Open that he won last year...Anthony Kim tied for sixth, his first top 10 in nine months.
From Graeme McDowell, responding to a question as to whether Augusta National suits his game: "If @mcilroyrory drives it for me then yea"
PGA Tour: Waste Management Phoenix Open at the TPC Scottsdale (Ariz.). Defending champion Hunter Mahan. European Tour: Commercialbank Qatar Masters presented by Dolphin Energy at Doha Golf Club, Doha, Qatar. Defending champion Robert Karlsson.
Once again, a European desert event trumps a U.S. desert event. The field at the Qatar Masters this week includes Westwood (No. 1), Martin Kaymer (No. 2), Casey (No. 6), Stricker (No. 7). The Waste Management Phoenix Open has Mickelson (No. 4). After that, it's Dustin Johnson, ranked 14th. Two weeks ago, the Abu Dhabi HSBC Golf Championship featured a stronger field than the Bob Hope Classic.
The game owes him nothing, Arnold Palmer often says, notwithstanding the mountain of evidence suggesting otherwise. Contrast this with John Daly, he of the mistaken belief that the game he so often dishonored in the past (11 citations by the PGA Tour for conduct unbecoming a professional) is indebted to him, to wit his evisceration of the Bob Hope Classic and Waste Management Phoenix Open last week for declining to extend him sponsors' exemptions.