News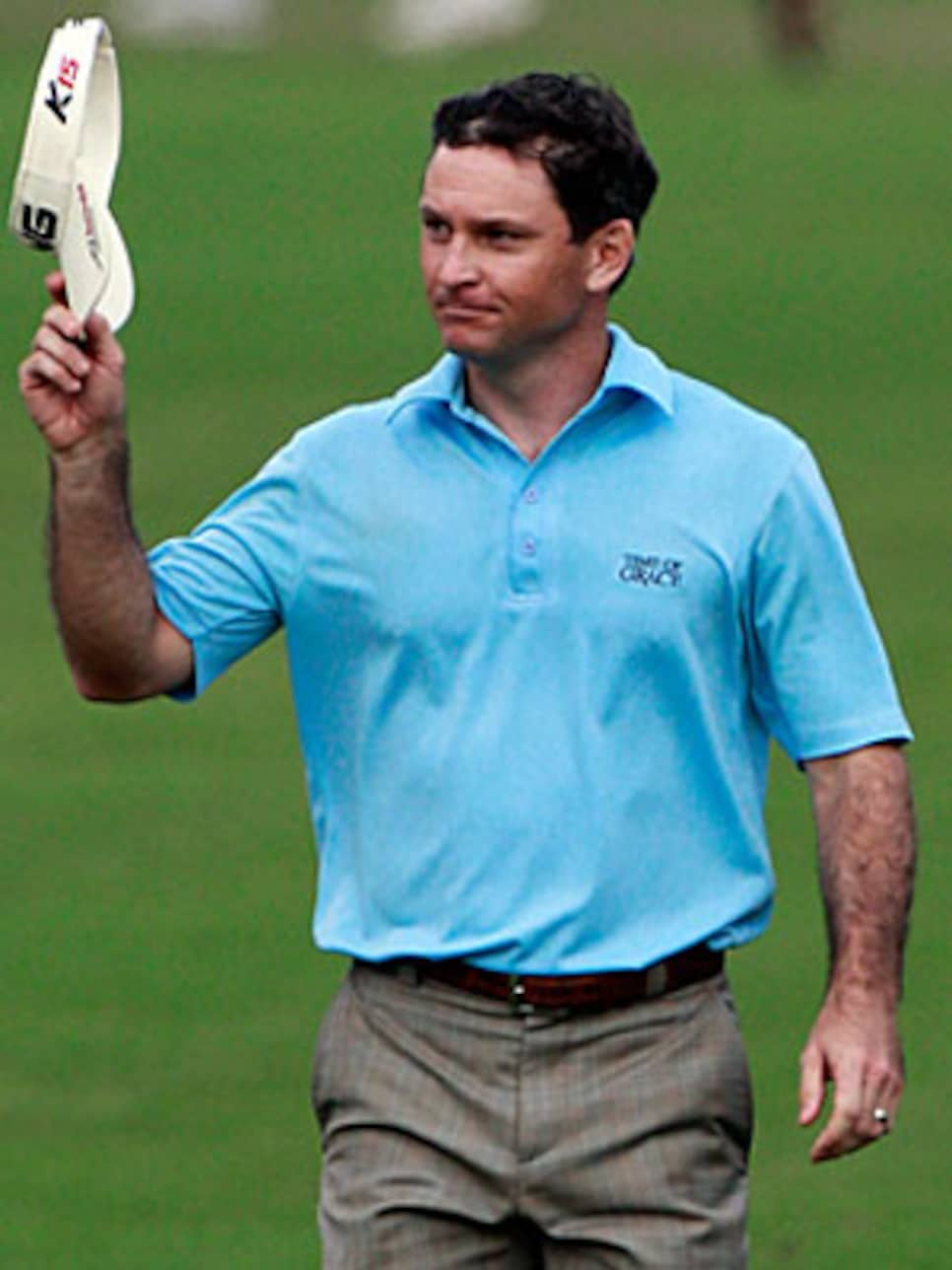 Wilson will tee it up at Augusta National for the first time in April.
is a man of faith whose heavy workload on Sunday, 36 holes in the heat of competition, caused him to miss church -- a minor inconvenience alleviated by the fact that the previous Sunday's sermon still resonated with him.
It was about worrying, a senseless exercise capable of producing only negative effects. "That was the sermon," Wilson said, "that you waste energy if you worry, so what's the point?"
Wilson, 36, had much to worry about had he been so inclined. He is coming off a sub-par year on which he would have to improve were he to keep his job in 2012. His four-stroke lead on Sunday afternoon had been reduced to one and he wasn't playing with the precision that had produced a round of 65 in the morning.
in Hawaii that has renewed his job security and earned him his first Masters invitation.
The stoic Wilson, emotionless for 34 holes on Sunday, stood over a 12-foot par putt on the 35th, the penultimate hole of the tournament, and needed to hole it to retain a one-stroke lead.
"I don't know how much emotion he's got, but we need to see a big fist pump if this one goes in," the Golf Channel's Nick Faldo said.
When the putt fell, Wilson delivered said fist pump as though taking Faldo's cue. It was the putt that essentially won the tournament, given that the last hole was a par 5.
"I read it three inches right," he said. "I might have pulled it an inch, but the left side caught it. That was pretty exciting."
Wilson led the field in holed putts more than six feet in length, 21, the last of them the putt at 17.
The victory was the third of Wilson's PGA Tour career that began in 2003, though it's unlikely that anyone beyond his family and friends remembered the first two.
Indeed, if Wilson had been known for anything, it was his 1-up loss to Tiger Woods in the U.S. Junior Amateur final in 1992, in a match that he led, 2-up, through 13 holes.
"Bob Hope? How is he these days?" Golf World contributor John Huggan wrote on CBSSports.com. "He's in better shape than the tournament, I hear."
Not quite, but in assessing its health, the fact that the Bob Hope Classic is capable of evoking gallows humor is not a good sign.
The 52nd edition of the tournament begins on Wednesday, and for the second straight year, it will be played without a title sponsor. It isn't the least of its problems, given that a benefactor is necessary to sustain it over the long haul. But neither is it its only disturbing issue.
The Hope, a tournament that Palmer won five times, that Billy Casper, Johnny Miller and Phil Mickelson each won twice, has ceded the spotlight to golf played in another desert half a world away. The Abu Dhabi HSBC Golf Championship, a European Tour event, has the stronger field this week by a notable margin.
Six of the top 10 players in the World Ranking are playing in Abu Dhabi (Lee Westwood, Martin Kaymer, Mickelson, Graeme McDowell, Paul Casey and Ian Poulter). Twelve of the top 25 and 17 of the top 50 are entered.
The Hope, meanwhile, has six of the top 50 (Matt Kuchar, Tim Clark, Bubba Watson, Bo Van Pelt, Ryan Moore and Stewart Cink). Kuchar, at 13th, is the highest-ranked player and the only player from the top 25.
There was a time that the Hope really was a classic. It has since become a classic in name only.
Weather, notwithstanding the floods of 2010 that caused the tournament to spill over into Monday.
Here's the forecast for La Quinta this week (from weather.com): Wednesday, sunny and 78; Thursday and Friday, sunny and 74; Saturday, sunny and 75; Sunday, sunny and 73.
For the 26 PGA Tour rookies who played in the Sony Open, it was largely a welcome-to-the-big-leagues introduction. Only five survived to complete 72 holes and of those Chris Kirk, a former Ben Hogan Award winner at Georgia, had the best finish, a tie for 30th.
The others were Danny Summerhays (T34), Nate Smith and Kevin Chappell (T42) and Matt McQuillan (T54).
Weak fields and the comforts of home notwithstanding, it's still worth noting that South Africans have won three straight European Tour events (all played in South Africa).
It began with Ernie Els' victory in the South African Open Championship and was followed by victories by Louis Oosthuizen in the Africa Open and on Sunday by Charl Schwartzel in the Joburg Open. And as a bonus, South African Tim Clark tied for second in the Sony Open on Sunday.
"Is there a bad swing in South Africa?" the Golf Channel's Brandel Chamblee said. "I don't think there is."
Oosthuizen and Schwartzel, along with countryman Retief Goosen, lead South Africa's bid to make it four in a row at the Abu Dhabi HSBC Golf Championship.
Schwartzel, incidentally, has finished in the top four (second, fourth, fourth and first) in all four of his European Tour starts this season.
MR. AND MRS. HUNTER MAHAN
Hunter Mahan married former Dallas Cowboys cheerleader Kandi Harris Saturday night in Dallas.
The always helpful Nick Faldo Tweeted his congratulations: "@HunterMahan day 1... she will be bitter if ur reading ur twitter ha !!! Congrats and have fun!"
On his schedule, Ernie Els has traded the Scottish Open for the RBC Canadian Open. Why? The Royal Bank of Canada signed him to an endorsement contract.
This has always been a good way to get around the PGA Tour's ban on paying appearance fees. Sign a player to an endorsement contract, obligating him to play in your tournament.
Els also announced that Asia would play a more prominent role in his schedule. "I'm going to play less in Europe, and then I'll play a bit more in Asia because it's good for the personal brand and stuff that we do out there," Els said in Honolulu. "We used to have quite a bit of business in the U.S. That's a little bit out the window now. You've got to look for work where it is. Asia is where it is."
LPGA Player of the Year Yani Tseng of Taiwan won the equivalent of a home game, the Taifong Ladies Open in Tapei, Taiwan, on Sunday, with her mother, Yu-yun Yang, caddying for her...Duffy Waldorf made his first PGA Tour start in nearly three years at the Sony Open, where he made the cut (though in the MDF category -- Made cut, Did not Finish). Waldorf has been recovering from knee surgery. He is playing on a major medical exemption and has 19 events to earn $845,402 to regain full membership...Camilo Villegas has had an inauspicious start to the year: He was disqualified at the Hyundai Tournament of Champions and missed the cut at the Sony Open...Fred Funk, 54, birdied the 36th hole to make the cut, though in the MDF category. Funk's caddie was his 15-year-old son Taylor...Matt Kuchar, who led the PGA Tour with 11 top 10s in 2010, is two for two in 2011. He tied for fifth at the Sony Open, a week after tying for sixth in the Hyundai Tournament of Champions.
From Arron Oberholser, whose wife Angie went to Oregon: "In honor of Auburns victory last night I'll be playing dueling banjos and deliverance all day today."
From Natalie Gulbis (posted on Jan. 12): "1-11-11. Hope everyone has a great day!!!!"
From Meredith Duncan in reply to Gulbis: "Good try blondie but you're a day late!!! You want another blonde joke?"
PGA Tour: Bob Hope Classic at the Palmer Private and Nicklaus Private courses at PGA West, SilverRock Resort and La Quinta Country Club, La Quinta, Calif. Defending champion Bill Haas. European Tour: Abu Dhabi HSBC Golf Championship at Abu Dhabi Golf Club, Abu Dhabi, United Arab Emirates. Defending champion Martin Kaymer. Champions Tour: Mitsubishi Electric Championship at Hualalai, Hualalai Golf Course, Ka'upulehu-Kona, Hawaii. Defending champion Tom Watson.
Lee Westwood, No. 1 in the World Ranking, makes his 2011 debut in Abu Dhabi, as does Phil Mickelson, ranked fourth.
"I wouldn't be remotely surprised if over the next 10 years they [Tiger Woods and Phil Mickelson] combine to win 10 of the 40 majors played." -- Paul Goydos, (from the Golf Channel's Rich Lerner)
It would be appreciated more in this space, filled as it is each week by no lightweight, were the average weight of the winners of the first two PGA Tour events 255 pounds. It's not. It's 155 pounds, so we'll go with the next best stat.
The average height of the two winners is 5-8 1/2 (Wilson is 5-8, Jonathan Boyd, who won the Hyundai Tournament of Champions last week, 5-9). Neither will cast an imposing shadow, literally or metaphorically, but it's heartening to know that as athletes get bigger and stronger, even in golf (Dustin Johnson and Bubba Watson, average height 6-3 1/2), there's still a place in the game for the sprites of the world.