Style
Three golf-meets-streetwear launches that caught our attention this month
*All products featured on Golf Digest are independently selected by our editors. However, when you buy something through our retail links, we may earn an affiliate commission.*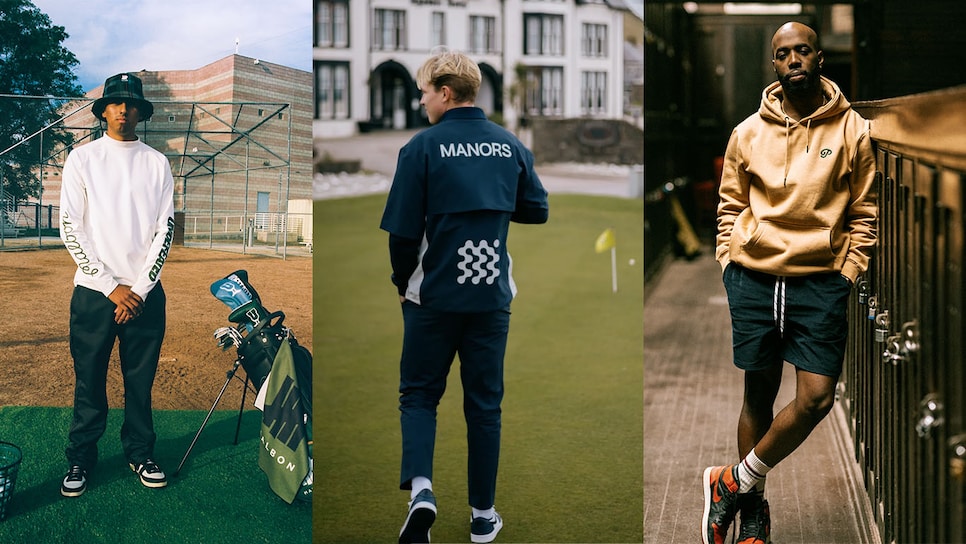 As the summer golf season approaches and tee times start to blend into happy hours, it's time to refresh your look and add a few outfits to your wardrobe that can easily take you from the course to the bar more effortlessly. Let's face it, the classic polo/khaki combo isn't cutting it anymore. More and more brands are expanding their offerings to include out-of-the-box pieces like mock-neck tees, cardigans, joggers and, of course, the newest golf staple, hoodies. It's part of the emergence of the "casual golfer" look that blends golf apparel, streetwear and often a touch of loungewear. The focus is comfort and being able to express your individual style outside the confines of the traditional golfer look. Brands like Malbon Golf have worked tirelessly to reinvent golf perceived "uniform" through blending performance elements into runway looks, collaborating with fashion-focused design houses to create new and unexpected ways golfers can express themselves on the course.
In addition to Malbon, style-minded brands like the UK's Manors Golf and Brooklyn's Public Drip have also caught our eye this season with new and innovative golf offerings. To help you keep up with the newness, we've reviewed what these three brands have been up to and what has caught our attention from each.
Malbon X Undefeated Collaboration
The first of two collaborative launches from Malbon and Undefeated dropped in early April, featuring golf bags, bucket hats, hoodies, tees, and other accessories. With a second dropping Friday (April 28).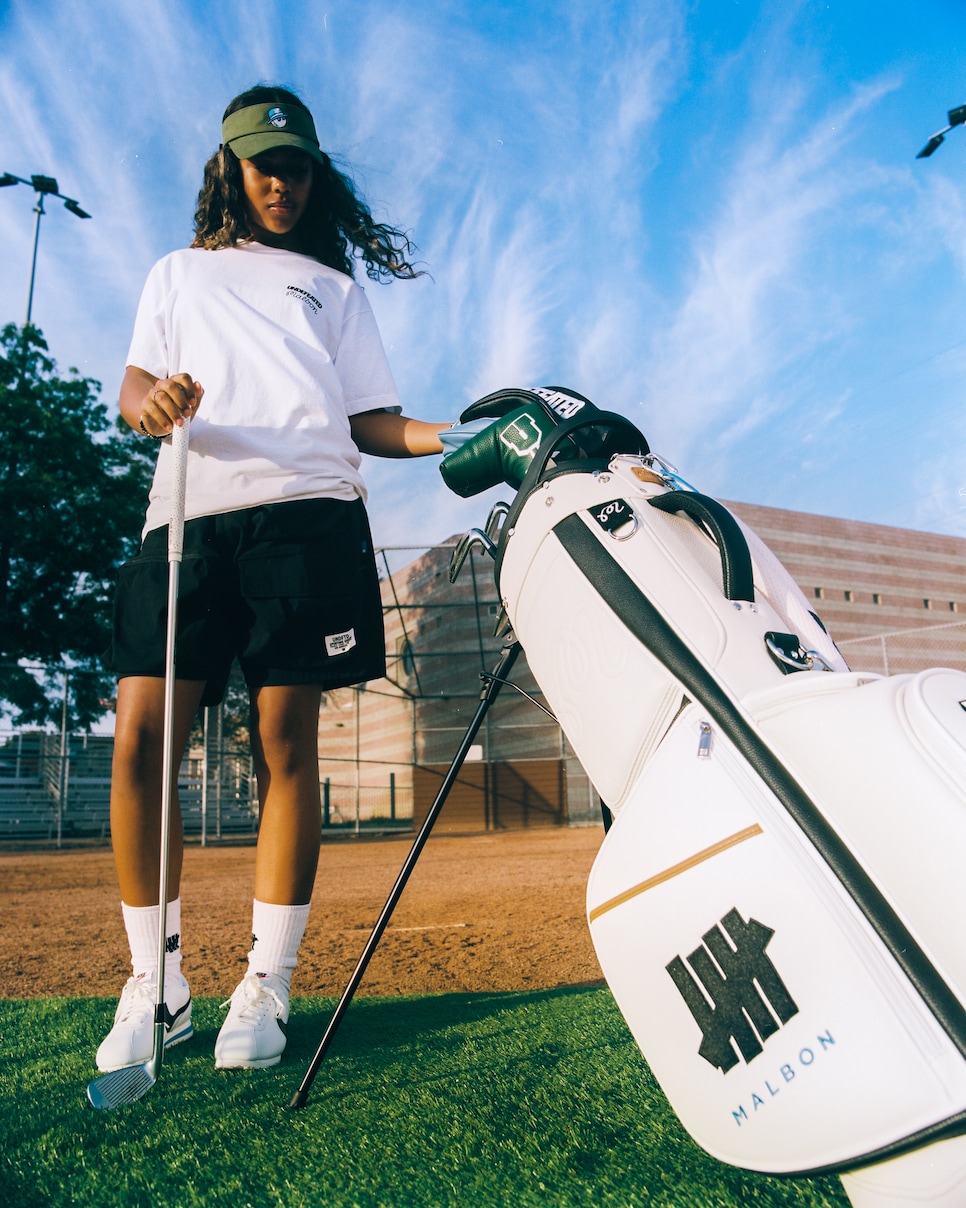 Since launching in 2017, Malbon has crafted a reputation for blending the classic golf silhouettes we know and love with creative and playful touches through their extensive line of collabs—and their most recent collab with Undefeated is no different. Undefeated is a lifestyle and sneaker brand based in Los Angeles that features designs heavily influenced by music, art, and sports.
From the first release, the Malbon x Undefeated Golf Jacket is by far our favorite piece of the spring streetwear releases we've seen so far. Resembling a utility jacket that's often rocked on the streets of LA or Brooklyn, this 100-percent cotton twill jacket has plaid lining tucked behind the zipper closure. The subtle use of plaid in the jacket is a nod to the origins of golf fashion, a time when plaid and tweed kept golfers warm.
Reverting to the iconic and frequently-used color pattern of green, blue, black and green, it's not exactly a bright or spring-y color palette you'd expect for the season, but a typical look for streetwear looks.
The second launch is led by a bucket hat featuring—in a bolder way—the plaid pattern seen in the golf utility jacket from the first drop that pairs well with the drop's white mock neck long-sleeved shirt that has the Undefeated logo down one sleeve and Malbon's script logo on the other.
Streetwear's golf takeover is not a look for every golfer, we get that, but it's a strong option for golfers to blend old-school golf fashion into new and modernized looks.
Manors Golf: Frontier Collection
The UK-based brand, Manors, looks to blend golf's bygone era, Scottish traditionalism and the contemporary streetwear looks you're likely to find in the trendiest parts of cities like London or New York to create a stylish-yet-versatile collection for golfers on and off the course. Manors has a keen interest in utilizing 'the culture' at large; meaning that inspiration comes from not just current trends across golf, but what's happening in other sports and media.
One of the focal points of the Frontier Collection that launched at the end of March, is the Frontier Shooter Shirt. Inspired by the classic NBA warm-up jerseys from the 90s, this functional mid-layer shirt is an elevated take on the short-sleeved windbreak. It's perfect for layering when spring golf can be unpredictable.
The collection features 24 pieces, including golf shirts, pants, outerwear, and accessories. The collection features a muted, monochromatic color palette of blues, grays, greens and tans—paying homage to the landscape surrounding golf's birthplace of Scotland and the elements that make up a golf course.
Manors even redesigned its logo to resemble course maps and routing. Although the emblem is complex and intricate, its placement on the apparel is kept minimal "to let your golf do the talking," one of the brand's taglines for this capsule.
Public Drip's Golf-Focused Spring/Summer 2023 Collection
This up-and-coming Brooklyn-based brand launched its first cut-and-sew collection last week. The cut and sew technique is a manufacturing process popular among streetwear designers that gives a more customized feel to each individual piece. Public Drip's 25-piece collection is a true celebration of the public athlete—the type of person who honors authentic self-expression while embracing the beauty of sport and community.
Drawing inspiration from classic menswear staples, the collection places emphasis on quality materials and vintage sport silhouettes—with a few modern upgrades for performance. The brand has blended the traditional sweater vest look with somewhat of a basketball jersey look and feel with a lightweight nylon stretch woven fabric, contrast tipping at the v-neck and arm openings, and cover paneled waist pockets.
The collection also utilizes corduroy, a traditional golf fabric making a comeback with style-savy golfers able to transform the retro look into a fashion-forward streetwear golf look. We'd pair the Public Drip Anywhere Cord Shorts with a neutral-toned hoodie, sneaker-like golf shoes and varsity-inspired tube socks.
The collection is highlighted by a new signature brand piece called the "Public Athlete Polo." This polo, made from a buttery smooth blend of poly and elastane, comes in a tailored fit with a textured contrast collar. There's a synergy between aesthetic and functionality that Public Drip was seeking with this collection, and the Public Athlete polo is the staple.
The greens in the capsule are the star, and we're not talking about putting surfaces. The collection features three shades of green—green, forest green and olive—that are virtually interchangeable. Aligning with the streetwear palette, the line also includes a splash of neutral tones and subtle touches of blue throughout. The brand even threw in a Masters-inspired piece that will look good coming off of the 18th green and into your best 19th hole spot.
On the accessory side, Public Drop did not disappoint either. The line includes preppy wool options, a retro snapback featuring a logo for the fictional "Public Drip G.C. International," and six bucket hat options.