News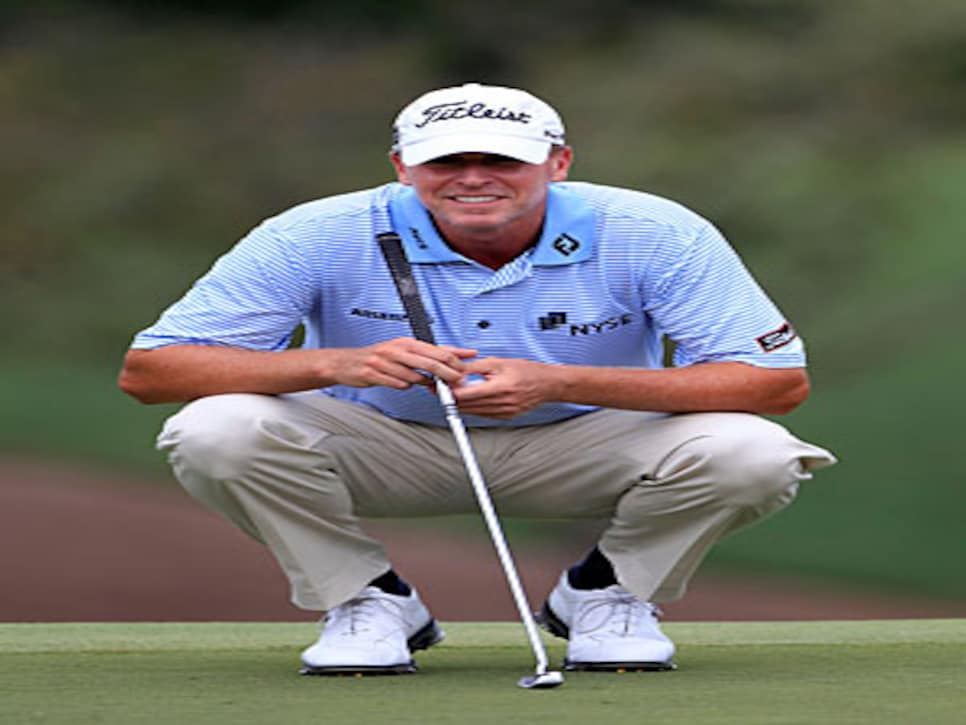 Stricker has two wins on the PGA Tour in 2011.
JOHNS CREEK, Ga. -- The putt for a 62 was about 12 feet, and all Steve Stricker knew was that he was trying to get one more birdie out of his remarkable opening round of the 93rd PGA Championship.
"I knew I was putting for 62, but I didn't know I was putting for history," Stricker said. "My caddie [Jimmy Johnston] told me later what it meant. I wish he'd have told me before I putted. I might have tried even a little harder."
As it was, the nice guy from Edgerton, Wis., who tries hard not to try too hard in major championships, had to settle for a 63 at Atlanta AC and a share of the major championship record.
The highest-ranked American player at No. 5 in the world rankings, Stricker, 44, seized a two-stroke lead over fellow Badger Jerry Kelly and put himself in prime early position for his first major title, his third win of the year, and perhaps even PGA Tour Player of the Year honors.
He's got miles to go yet, 54 holes on an arduous Highlands Course at AAC, but for one day the two-time Comeback Player of the Year, was the man of the moment. And that's all he was going to take out of his splendid opening round.
"It's a good start. I am happy to be part of that group," said Stricker, who joined 22 others who have shot 63 in a major and 10 others who did it in the PGA. "I wish I would have been able to make that putt to be one better than that group of guys, but 63 is a heck of a start, and I'm happy to get off to that start."
How good was that round? To put it in perspective, it was the only bogey-free round of the morning wave of 78 players, and though the round wasn't complete, his score was nearly 10 shots better than the current field scoring average of 72.8. He birdied the 15th and 18th holes, the two most difficult thus far, with utility clubs. He not only had a 12-footer on his last hole, the par-4 ninth, but also missed from 25 feet at the eighth to get to 8 under par.
One of the game's best putters, he had 25 putts to augment a solid ball-striking effort that included 13 greens in regulation and nine fairways hit.
"In today's game, the modern game, he's the one we should all be trying to copy," said former British Open winner Stewart Cink. "He's got no wasted energy or movement in his backswing, he comes through the ball real consistently and released, he's very accurate off the tee now -- he didn't used to be -- and his short game is the best I've ever seen. There are guys that hit it forever who you could say they are the future of the game, but Steve Stricker is the future of the professional game. His style is the way the game ought to be played today."
"His game and his personality, they don't really match," Cink added. "He's quiet and shy and not a rah-rah kind of guys. He's not a type-A kind of personality, but he's got a type-A golf game. A-plus, you could say."
Asked if he was the best American player, Stricker displayed his self-effacing demeanor, by replying simply, "No."
Why not? "I don't know. That's just who I am. I don't want that pressure," he said, laughing. "I try to downplay all that stuff, I really do. I try to get away from it. I just want to go out and play, try to play well, let all that other stuff take care of itself. You know, it's flattering when somebody says it, but really, I'm just trying to go out there and play well and let my play do the talking instead of me standing up here and telling everybody what I think."
It doesn't mean he doesn't have a fire inside. "You know, obviously we'd all love to win a major. And I'm no different. I come in here with expectations to play well, but not that added extra pressure that I have to play well."
Besides, at this stage of his career, age 44, winner of 11 tour titles and survivor of one of the worst slumps, from 2003-05, a player of his caliber has ever gone through, Stricker is playing with house money.
"There's not much left for Steve Stricker to do," said Kelly, his nearest pursuer after his own personal low in a major, a 65. "From what he did at the beginning of his career to what he did in the middle to what … he's done up until now, he's surprised everybody. But now it's not surprising anymore, now it's, 'Oh, there's Steve, look out.' "
"You know I put that time in about five or six years ago to try to get better, and I found something that works for me, and I've kind of given myself a break. I'm a little easier on myself," Stricker said, referring to the work he did in his comeback. "I really have nothing more to prove out here except maybe to win a major. If I don't win it, it's not going to change who I am or what kind of player I have been, to some extent. I guess I accomplished what I set out to accomplish six years ago, to get back in the winner's circle, to play well again, and I've done that, and all this other stuff is really just icing on the cake, and that's the way I treat it, I really do."