News
Kerr Wins In Monday Finish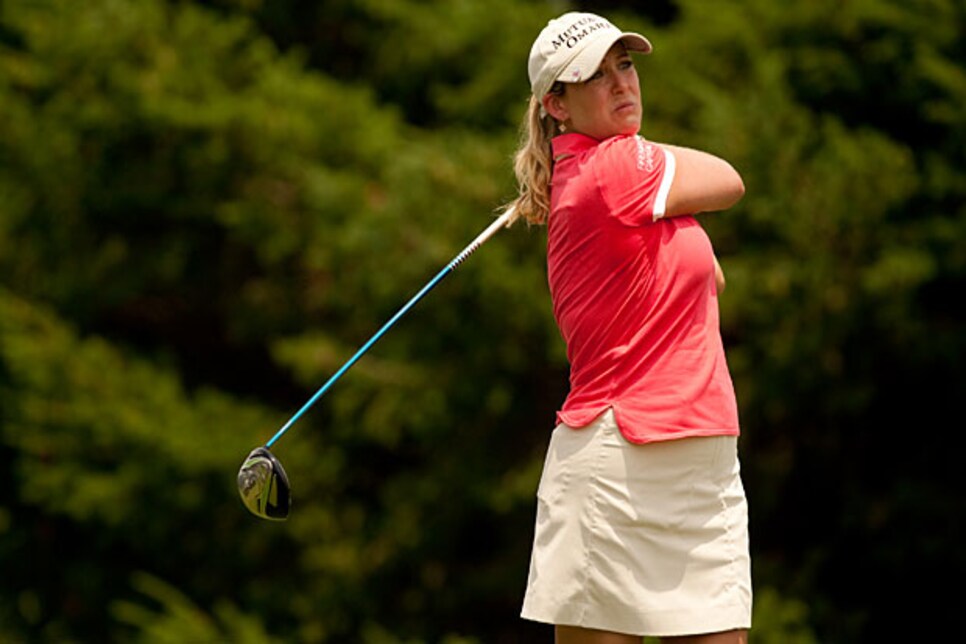 Kerr picked up her first win this season and is the first American to win since Michelle Wie last November.
SPRINGFIELD, Ill (AP) -- The flu didn't get to Cristie Kerr during the week. The weather didn't get to her over the weekend. And none of her competitors could stop her from collecting a second LPGA State Farm Classic championship Monday.
"It's pretty amazing," Kerr said. "An amazing, long week."
Kerr held off late challenges by Anna Nordqvist and Na Yeon Choi at the rain-delayed tournament, shooting a 3-under 69 in the final round at Panther Creek Country Club to secure the first LPGA Tour victory by an American since Michelle Wie won the Lorena Ochoa Invitational in November.
Kerr, who also won the title in 2004, finished at 22-under 266, a shot ahead of Nordqvist and Choi. She was pumped up to get the win.
"That definitely motivates me to be the top American and top player on tour," said Kerr, who won $255,000 to move into the second on the money list $60,000 behind Ai Miyazato. "I'm just happy not to have to answer, 'Why are there no American winners anymore?' "
Juli Inkster, second after a first-round 65 had her tied for second, shot 68-71 on the weekend to end in 35th.
Karrie Webb made her way into a tie for 11th with a final-round 65. Natalie Gulbis went 4 under in her closing round to finish tied for 36th and Michelle Wie finished at 6 under, tied for 52nd.
Kerr led after third-round play was completed Sunday morning and would have been the champ if the fourth round had been washed out. But with more than half the round completed when heavy rains and lightning rolled in Sunday, tour officials decided to try to finish the tournament Monday.
Kerr never wavered. After Saturday's delay, she made six more birdies to finish with a 63. Monday, she birdied three holes before an inconsequential bogey on 18.
Kerr said the stormy conditions Sunday helped her.
"It was actually to my advantage that they called play last evening, because I was just exhausted," she said. "I didn't sleep well at all on Saturday night, just up coughing the whole night."
Kerr came down with flu-like symptoms early in the week and then weathered two storm postponements that left birdie putts on the course to post rounds of 67-67-63-69. She missed the green and bogied 18 on Monday, but with a two-shot lead over Nordqvist and Choi, her two-putt was good for the victory.
"You know, you always want to try and complete the tournament to be able to feel like you earned it," Kerr said. "I would have taken it, don't get me wrong, but this feels better."
Choi birdied three of her last four holes to get to 21 under, but Nordqvist, who birdied four straight before the rain stopped play on Sunday, was up and down after the break. She bogeyed the par-4 12th and before birdies on Nos. 13-14. She had another birdie chance on the par-5 16th, but missed a short put. She had to get up and down from the sand on 18 to save par, but the bad read on 16 is what really cost her.
"I knew I had to make a couple of birdies those last couple of holes to give it a shot, but I gave this my best," she said. "I thought I hit a pretty good putt, it just broke a little too much. I mean, that's life."
First-round leader Shanshan Feng and Hee Young Park, who just missed a birdie putt on 18 that would have given her a final-round 62, ended tied for fourth at 20 under. Feng, the only Chinese golfer on the tour, loves to play Panther Creek.
"I think this course fits me. It's not an easy course, but I feel like it's good for me as a long hitter," she said. "My putting was really good. My putting is not usually that good, but it's good here."
Park's 63 was a personal best and included nine birdies. She was playing on an injured knee and the delay may have helped.
"It's getting worse, so I rested it," she said. "That was a good choice."
A day into the new week on tour, Kerr was already thinking of what lay ahead.
"Winning is a great feeling, but you can't stop there," she said. "You've got to be able to set new goals. I've got another tournament (this) week and then I've got another major. So giddy up."