News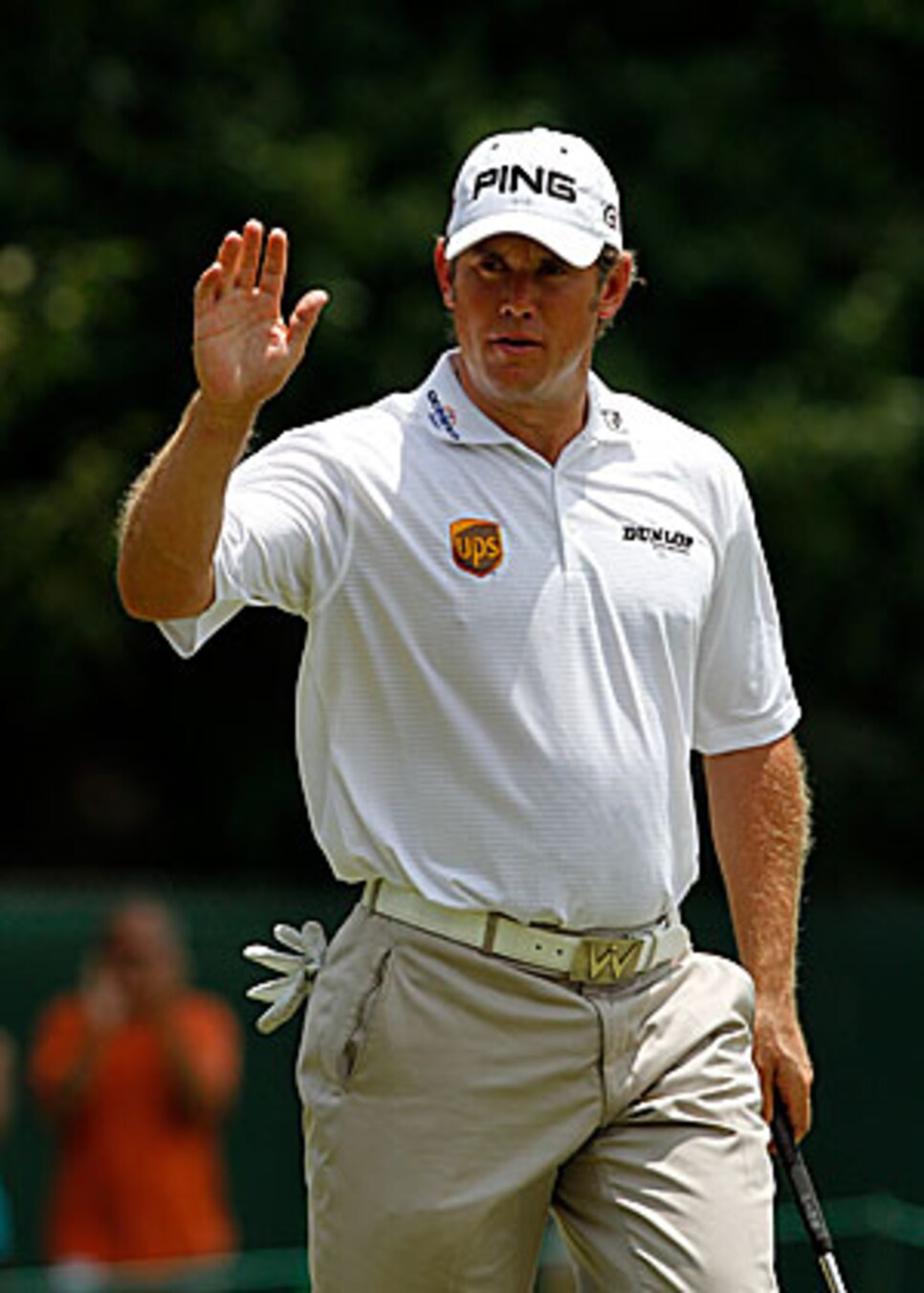 Westwood won with a birdie on the fourth playoff hole.
MEMPHIS, Tenn. (AP) -- Lee Westwood came here for the first time in his career to sharpen himself for the U.S. Open. He wound up putting in a little overtime.
Westwood won the St. Jude Classic for his second career PGA Tour victory and first since 1998, beating Swede Robert Karlsson on the fourth hole of a sudden-death playoff Sunday.
The Englishman became the first European to win the tour's third-longest event only after Robert Garrigus blew a three-stroke lead on the final hole of regulation with a triple bogey. He bogeyed the first playoff hole.
Westwood and Karlsson went par-par-bogey until they returned to No. 18 once again. Westwood stuck his approach 6 feet from the pin on No. 18. Karlsson left his birdie putt from 43 feet away to extend the playoff about a foot short.
Then Westwood, who went 17 straight holes between birdies, rolled in the 6-footer for his first PGA win since New Orleans. He dropped his putter and celebrated with a fist bump.
Westwood started the final round trailing by three strokes, birdied three straight holes to grab the lead. But he bogeyed No. 17 and was ready to head off the course when told to stick around behind the 18th green.
He wound up taking home the $1.008 million winner's check after the longest sudden-death playoff at Memphis with a 68-270 total.
The Englishman also becomes the fourth to win in his first visit to Memphis and first since Dicky Pride in 1994. Westwood came in having played well, not missing a cut in his 10 starts on the PGA Tour this year with four top 10s. He had gone 122 starts on the PGA Tour since winning the 1998 Zurich Classic of New Orleans.
Karlsson, who won his ninth European Tour victory at Qatar earlier this year, still is looking for his first PGA title. He shot a 69, and Garrigus finished with a 71.
Memphian Shaun Micheel, winner of the 2003 PGA championship, shot a 67 and finished tied with Garrett Willis (67) for fourth at 271.
Golfers and fans alike faced another steamy day with the heat index reaching 110. Many golfers and caddies also had maroon ribbons pinned to their caps in a show of support on what could be the final round for an event that first started in 1958 -- unless organizers find a new sponsor by their own deadline of Sept. 15.
Smith & Nephew, a medical technology company, stepped in as a presenting sponsor this year. Tour officials prefer a full title sponsor, which this event lost in March 2009 when Stanford Financial pulled out.
Westwood had the lead or a piece of it most of the final round after starting his day with three straight birdies in the first four holes. But he parred out until he bogeyed No. 17 and finished with a 68. With Garrigus up by three, Westwood was ready to leave when told he should stick around the 18th hole.
He did and quickly found himself in a playoff that neither seemed ready to win until they got back to the 18th again.
Westwood hit a 303-yard drive and was 151 yards away from the pin when he hit his approach well inside Karlsson's. When the Swede's putt was short, Westwood ended the playoff and started his celebration.
He had practiced his putting after the third round, work that paid off as Westwood birdied Nos. 2, 3 and 4 to take the lead back to himself at 11 under. He rolled in a 30-footer on No. 2, and then he holed out from nearly 34 feet on the par-5 third. He stuck a shot on the par-3 No. 4 from 185 yards within 19 feet and sunk that putt.
Garrigus, the 32-year-old pro from Scottsdale, Ariz., came into this event 377th in the world rankings and had never led a PGA event on the final day. The inexperience showed on the 72nd hole.
He put his tee shot into the lake lining the 18th fairway, took his drop and yanked his next shot into the trees left of the lake before punching out over the lake. He two-putted for triple bogey to at least make the playoff.
Playing that same hole again to start the playoff, Garrigus stayed away from the lake.
His 338-yard drive landed in the pine straw behind a tree, leaving him no choice but to shoot back into the fairway. With Westwood and Karlsson parring the fourth-toughest hole, Garrigus had to hole out a 13-footer for par. The putt went just along the right edge for bogey, knocking him out.